Hospital Economics
Times are tough for both tax-exempt and for-profit hospitals, and rural facilities are especially hard-hit.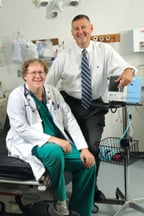 Jeff Marshall hates the term "for-profit." Hates it.
"It's a twist of words, a nuance to make 'not-for-profit' seem somehow more – I don't know – community friendly," says Marshall, a cardiologist and president of NGTC Health Properties, a partnership of more than 40 primary care and specialty physicians.
It's understandable, on several levels, that Marshall might be passionately sensitive over a term that implies mercenary interests over compassionate care.
For one thing, large investor-owned healthcare systems have developed a dubious reputation following years of federal investigations, fraud charges and multimillion-dollar fines.
For another, NGTC Health Prop-erties is a tax-paying (i.e., for-profit) entity, which has entered into a unique partnership with the not-for-profit Ty Cobb Healthcare System to develop a new regional rural hospital in northeast Georgia. And Marshall doesn't appreciate the strictly mercenary tone of "for-profit."
"I don't think it's a fair yardstick here," he says.
Neither does Joe Parker, president of the Georgia Hospital Association (GHA), who says that nonprofit and for-profit hospitals alike are being pinched in the current economic crisis.
"As a group, smaller rural hospitals are probably struggling the most, because they don't have the patient volume or mix to shift costs to patients with insurance. But make no mistake, this economy is affecting for-profits and nonprofits the same way," Parker says.
There are 174 GHA member hospitals and health systems – most of them tax-exempt nonprofits; 31 of them are for-profit. Of the 5,700 registered hospitals in the United States, about 15 percent (873) are investor-owned, or for-profit, according to the American Hospital Association.
Taking location and resources into account, Georgia's for-profit and nonprofit hospitals generally provide equal levels of care. The major differences, of course, are: one pays taxes, the other does not; they raise money differently; and for-profit hospitals often charge more for services.
But the stated missions of each hardly differ.
"No matter what your tax status is, the mission is to heal, comfort and support the people we serve," says Bill Moore, CEO of Atlanta Medical Center, a for-profit hospital – formerly Georgia Baptist Medical Center, a nonprofit, but now owned by Tenet Healthcare, the nation's second largest hospital company.
"The mission language may vary, but for both nonprofit and for-profit hospitals, the object is to take care of the communities they serve while taking in more money than they spend, to remain viable."
Unlike nonprofit hospitals, such as Grady in Atlanta or Phoebe Putney in Albany, for-profit hospitals also are in business to – well, turn a profit.
"All healthcare organizations need to make a profit, or internally generate capital. It's a business requirement independent of whether you're a taxable entity or tax exempt," says John Fox, CEO of Emory Healthcare, which operates both tax-paying and tax-exempt hospitals in its system.
"The distinction is, taxable entities are investor owned and can go raise capital with investors, and those investors expect a return on their capital, growth in cash flow attributable to their ownership interests. Tax-exempt systems don't have that source of capital, but they have the opportunity to be supported by philanthropy.
"And both taxable and tax-exempt systems have sources of debt capital."
Costly Cure?
Joe Parker is worried that the cure might be worse than the disease when it comes to national healthcare reform and how it might affect his constituency, the hospitals of Georgia.
President Barack Obama has been driving hard to overhaul the nation's ailing healthcare system this year in an effort to provide coverage and access to every American.
In July, Vice President Joe Biden announced a deal between the federal government and the nation's hospitals to help fund healthcare reform. The hospital industry pledged to contribute $155 billion in Medicare and Medicaid savings over the next 10 years.
Parker doesn't like the deal.
"The combination of this economy, and the bill for healthcare reform, has the potential to be a real disaster," Parker says. "The idea coming out of Washington is to pay for national healthcare reform by cutting payments to hospitals. There are very few things about this plan that we can support."
Georgia hospitals, taxable and tax-exempt, haven't seen a Medicaid rate increase in six years, and earlier this year Gov. Sonny Perdue proposed cutting $81 million in Medicaid funding. GHA officials say it would have been the last straw for some struggling hospitals, resulting in a loss of $2 in federal matching funds for every $1 cut from the state's Medicaid contribution.
The legislature, though, restored the Medicaid funding during the session. But Georgia hospitals are still wobbling, according to a GHA survey in January, to which 63 hospitals and health systems responded. Some of the findings include:
• Nearly three out of four hospitals experienced increases in bad debt and charity care since October 2008.
• Nearly three out of four hospitals were postponing or reconsidering capital investments in clinical technology/equipment, information technology, and buildings/renovations.
• More than half had seen a decline in charitable contributions and/or philanthropy.
• Six out of 10 said the economy had affected their ability to meet day-to-day expenses.
• More than half had seen declines in elective procedures – often the most profitable procedures for hospitals.
Healthcare is a little behind other sectors of the economy, Parker says. The number of jobless people rises and, eventually, so does the number of uninsured or underinsured people. Joel Wernick, CEO of the nonprofit Phoebe Putney Health System in Albany, calls it a delayed impact.
"It might take a year or so into a recession like this for hospitals to feel the full impact," Wernick says. "It depends on the severance package, or the separation agreement between the employer and the employee. Benefits may carry on for a period of time after the job loss, or the laid-off employee might have COBRA benefits that last for a while."
But COBRA is temporary coverage, and it requires the ex-employee to pay the full cost of the premium – a tough bill to pay for the unemployed, who gradually become the uninsured, and, thus, the delayed impact on the system.
Pride and Profit
Wernick runs a 100-year-old, 443-bed regional healthcare center that gets more than 350,000 visits a year, many from uninsured or underinsured people who live within southwest Georgia's poverty belt. As such, Wernick takes the hospital's not-for-profit status seriously.
"Our mission has remained pretty much intact, going back to the carpetbagger who gave the first philanthropic donation in 1910," Wernick says. "We're here for all the people. By contrast, our cross-town competitor (Palmyra Medical Center) has the broader needs of its ownership factored into how its facility operates. Our owners are the people we serve. Their owners are folks on Wall Street."
Palmyra, a 248-bed hospital, is owned by Hospital Corporation of America (HCA), the largest private operator of healthcare facilities in the world. HCA is owned in part by Merrill Lynch (Bank of America).
Based in Nashville, Tenn., HCA is the company that was founded by the family of former U.S. Sen. Bill Frist, who became the center of controversy after he and other HCA executives sold their company shares two weeks before its stock plunged, leading to a lawsuit by shareholders who alleged the company made false claims about their profits.
In August 2007 HCA agreed to pay $20 million to the shareholders – a bag of shells compared to the $1.7 billion in fines the company paid for Medicare fraud about seven years ago. Tenet has had its share of problems also, having been sued for hundreds of millions of dollars by the federal government for aggressive Medicare billing practices, and fingered for markups of more than 700 percent on drugs it provided to hospital patients in the past.
HCA has ownership in at least nine Georgia hospitals, and Tenet owns five, according to figures from the GHA. Unlawful activity aside, sometimes a deep-pocketed, national corporation such as an HCA or Tenet can be a saving grace for a struggling hospital. Tenet bought Georgia Baptist in 1997 and the hospital has experienced some positive growth.
"The first two or three years we continued to struggle financially," says Moore, the Atlanta Medical Center CEO. "But Tenet has access to capital through its ownership of many different hospitals in different locations.
"Sometimes a hospital experiences hard times related to the local marketplace, so when an organization like Tenet acquires it, it has access to capital, it has corporate resources that allowed us to invest in our hospital," Moore says.
Atlanta Medical Center has become, with Grady, a leading provider of trauma care in the state. In 2001 the hospital treated 800 trauma patients. Last year the number was 2,200. And the hospital has become a leader in bariatric (anti-obesity) surgery in the state.
Palmyra in Albany also has a renowned bariatric surgery center. Bariatric surgery is among those elective procedures that are an important staple of mostly for-profit systems, but also available at plenty of nonprofits.
The cost of routine care can vary widely from place to place, but the price tag is usually higher at for-profit hospitals, according to figures provided by Georgia Hospital Price Check, a service developed by the GHA.
For example, say you're in Atlanta and you go to the hospital for a cardiac catheterization and experience no complications. The average charge incurred at Atlanta Medical Center is $42,347 ($14,116 per day over an average stay of 3 days). At Grady, the average stay for the procedure is 2.2 days with a total cost to the patient/payor of $15,905 ($7,230 per day).
Or, let's say you break your leg in Albany. The average total charge for treating the fracture is $29,283 at Palmyra, for an average stay of 2.8 days ($10,458 per day). At Phoebe Putney it's $25,835 over 3.7 days (average cost per day of $6,982).
Of course, none of that takes into account the rising number of uninsured patients flooding into emergency rooms at both taxable and tax-exempt hospitals.
Emory Healthcare's John Fox says his system (dominated by nonprofit hospitals, but including several partnerships with for-profit companies such as HCA) is treating about twice as many uninsured patients, "courtesy of the recession. That's our reality."
New Partnership
GHA President Joe Parker says smaller rural hospitals are most at risk in an age of stagnant or shrinking Medicaid reimbursements.
"They treat a high number of people with little or no insurance and don't have the patient mix or volume to shift that cost to patients who have insurance," Parker says. "And some counties can't or don't want to continue supporting their local nonprofit hospital, so sometimes it takes an investor-owned company to turn things around."
That's what's happening in rural Franklin County, where the Ty Cobb Healthcare System has had longtime success as a nonprofit rural system.
But in recent years, its hospitals in Royston (Cobb Memorial) and Hart-well (Hart County Hospital) have been teetering financially. System CEO Chuck Adams says more outpatient surgeries, shorter hospital stays and a relatively small population are forcing him to close the two hospitals, both more than 50 years old.
"You need a population of 40,000 for a rural hospital to be viable. We have 45,000 people in our service area, not enough to support two hospitals 15 miles apart," Adams says. "We were competing with ourselves."
About 18 months ago, Adams says, officials started exploring the feasibility of consolidating the two into a replacement facility.
"Then the economy went south, and so did our access to capital as the number of uninsured patients went up," Adams says. "We had to contemplate getting out of the acute care hospital business."
That's when he ran across a physician's group out of Gainesville – NGTC – that was looking to locate a facility in the Franklin County area. Cobb's consultants met NGTC's consultants, and in June they announced a partnership that will result in construction of a new $52 million, 56-bed, modern hospital in Lavonia, equidistant from the two old hospitals.
"It was happenstance that our paths crossed," Adams says.
The new hospital – Ty Cobb Regional Medical Center – will be built on 40 acres near I-85. NGTC Health Properties will finance and develop the project, and the hospital will be managed and operated by Ty Cobb Healthcare System's new operating company, Ty Cobb Regional Medical Center LLC.
In addition to the new hospital, NGTC President Jeff Marshall says the area will experience an influx of new specialists in cardiology, internal medicine, neurology and orthopedics, among others, keeping local patients from traveling out of town for care.
The hospital will have four operating rooms and state-of-the-art medical technology and services, including MRI, CT, digital mammography, a sleep lab and rehab services.
Marshall calls the partnership "a new model for providing care in a rural setting." He also expects the hospital and the operating company running the hospital to be tax-paying entities, and though he hates the terminology, he has no problem with the thought of making a profit.
"Motivated people want to work hard, and when people work hard, whether it's Magic Johnson or the president of the United States, they want to be compensated for their work," he says. "Nobody operates a business to lose money, except the federal government."
Besides, he says, he can't balance a checkbook. He treats patients.
"Before we had a government and laws about who is or isn't a tax-paying entity, we had another law, the Hippocratic oath," he says. "Everybody that goes into medicine – nurse, doctor, brain surgeon, whatever – goes into it because they want to take care of people."