Healthcare Without Walls
Hospitals are forming partnerships and extending outreach efforts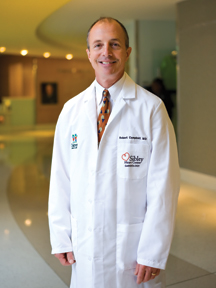 The big man dropped heavily to the ground. He couldn't move his right side, couldn't speak. He'd been having heart problems, but his wife had seen a stroke before and that's what she told the 911 dispatcher. Dr. David Hess knew all of this as he read the CT scan while closely examining the patient from 130 miles away.
"He was a retired professional wrestler, weighed over 300 pounds, about 49 years old, a drywall hanger, out of work. He'd had a big stroke and he was paralyzed," says Hess, who was working in an Augusta office. The patient was at Cobb Memorial Hospital in Royston, a drive of two-and-a-half hours from Augusta, on country highways.
Doctor and patient were linked by REACH Call, a web-based telemedicine system, developed by Hess at the Medical College of Georgia seven years ago.
REACH (Remote Evaluation of Acute isCHemic stroke) is now a critical piece of outreach for about 85 hospitals in seven states, including Alaska and New York, and one of the important tools being used by Georgia's healthcare systems in the effort to extend services and assistance beyond the usual limits.
This month Georgia Trend focuses on three such systems – Children's Healthcare of Atlanta (CHOA), St. Joseph's/Candler (SJ/C) in Savannah and MCG, where Dr. Hess developed a program to give stroke patients a better chance at survival and recovery.
"This is a big issue nationally, not just in Georgia, because we have only one drug for acute stroke," Hess says. "The problem is, the drug has to be given less than three hours from the onset of symptoms, and there is a risk of bleeding into the brain, which makes a lot of emergency room physicians understandably reluctant to use it."
He's talking about tPA (tissue plasminogen activator). Though it's risky, tPA could help about half of all stroke patients. But nationally only three to four percent of stroke patients actually receive it, because most patients either fail to appreciate their symptoms, or wait too long to get help, and many hospitals (which can't afford to have neurologists on call to make a confident diagnosis) don't provide or won't prescribe the drug.
REACH helps clear the geographic hurdle, allowing ER physicians at outlying, smaller hospitals (with CT scanning ability) to consult with neurologists at larger hub hospitals – such as MCG or SJ/C – who are on call 24/7, and from a remote location can diagnose, evaluate and recommend treatment for stroke patients.
Hess prescribed tPA for the retired wrestler from Lavonia, who received the medicine at Cobb Memorial within 90 minutes of his collapse.
"We sent a helicopter to Royston to pick him up, but he was such a big guy I thought he might be too heavy for us to airlift," Hess says. "Fortunately, he made it by five pounds, and he started recovering on the helicopter. By the time he got here [to the Medical College of Georgia Hospital] he was able to speak and was starting to move his right side.
"Over the next 24 hours he recovered completely. This was a perfect example of the 'hub and spoke' model working the way it is supposed to."
Hub And Spoke
MCG Hospital is the hub of a wide-ranging stroke network that includes about a dozen other hospitals spread across Georgia in a diverse collection of towns, including Athens, Dublin, Louisville, Sandersville, Swainsboro and Tifton.
Hess started REACH in 2002, but didn't really commercialize the business until 2006, when the company won the first Georgia Research Alliance/Technology Association of Georgia business launch competition, an award that provided $100,000 in two cash installments and $150,000 in mentoring and professional services. Since then a number of hospitals have purchased REACH technology. St. Joseph's/ Candler started the program this past spring.
"We've been trying for 18 years to get tPA delivered in local hospitals," says Dr. Frank Lafranchise, neurologist and medical director for the SJ/C stroke team.
"We live in the so-called stroke belt – the incidence of stroke and stroke death rates are higher here than anywhere else. This is something we've been wanting to bring to outlying regions for a long time – it should be a statewide initiative."
SJ/C is the hub of a network that includes Wayne Memorial Hospital in Jesup, Meadows Regional Medical Center in Vidalia, Appling Hospital in Baxley and Coffee Regional Medical Center in Douglas. Lafranchise hopes to add another four rural hospitals to the stroke telemedicine network by the end of the year.
SJ/C is the hub for a couple of other programs that are making state-of-the-art medicine accessible beyond hospital walls.
Like a number of other hospitals across the state, SJ/C has a mobile mammogram unit that brings its services to outlying areas. SJ/C is driving its digital unit, and an entire staff (mammogram technologist, clinical assistant and a driver who also does patient registration – all women), to locations in a 60-mile radius of the hospital.
"We started the program to reach out to rural populations, to eliminate a distance barrier," says Julie Schwartz, cancer services coordinator for SJ/C.
Dr. Howard Zaren also is trying to eliminate distance barriers with his work as medical director of the Lewis Cancer & Research Pavilion at SJ/C, and principal investigator in a pilot project designed to make the latest cancer treatments and clinical trials accessible to community hospitals.
SJ/C is one of only 14 hospitals in the nation named by the National Cancer Institute (NCI) to participate in the National Community Cancer Centers Program.
"Part of what we're charged with is bringing the latest technology and treatments and care to patients in other communities, so they don't have to leave their families and loved ones to be treated at some major center hundreds of miles away," Zaren says.
The program encourages collaboration among private-practice medical, surgical and radiation oncologists, and partnerships with NCI's 63 Compre-hensive Cancer Centers. The pilot study also will research better ways to assist, educate and treat the needs of underserved populations and groups with unusually high cancer rates.
As part of the pilot program, SJ/C developed far-reaching clinical alliances, with The Harbin Clinic in Rome and the John B. Amos Cancer Center in Columbus. The Lewis Cancer Center's partnership with the Moffitt Cancer and Research Center (Tampa, Florida) brings Phase II and Phase III clinical trials to patients in Georgia, close to where they live. It also gives SJ/C and its cancer-care partners across the state access to cutting-edge clinical trials conducted by other groups, such as the Eastern Cooperative Oncology Group (ECOG), one of the country's largest clinical cancer research organizations.
The study is in its early stages, Zaren says, but he has his imagination set on a future in which cancer patients won't have to leave their families to get the most advanced treatment and care. It's an image forged during a stint at MD Anderson Cancer Center in Houston, Texas.
"I'd see patients from Saudi Arabia, from England and China, from all over the U.S., who came to be treated at the country's state of the art cancer center," Zaren says. "They'd come and stay in hotels, and quite often their families couldn't be with them through this most difficult time of their lives. That was not in the best interest of the patient."
Kids' Programming
It isn't easy being a kid, not in Georgia, which ranks 40th among all states in overall child well-being, according to a study by the Annie E. Casey Foundation. First the good news – Georgia is 11th in the nation in immunizations for children. Now the bad – Georgia is among the worst in the nation for childhood asthma (33rd), childhood obesity (36th), birth weight (43rd) and child abuse/neglect (45th).
These are the kinds of numbers that grab Ron Frieson's attention. The senior vice president for external affairs at Children's Healthcare of Atlanta (CHOA), Frieson also serves as cabinet chair of the Georgia Children's Health Alliance, which was formed in the spring to turn around those disappointing numbers.
"The thing is, there are a lot of people in this state doing some great things on behalf of children's health, but they're doing it in isolation, they're spread out," Frieson says. "Getting these folks together under one umbrella will lead to much better outcomes. We consciously decided to look at the main issues causing Georgia to languish, and address those in a focused, collaborative way."
CHOA is collaborating with the March of Dimes and Prevent Child Abuse Georgia in the GCHA. Frieson says each organization will grapple with one of three focus areas – March of Dimes takes the leadership role in healthy births, Prevent Child Abuse Georgia will do what its name implies, and Children's Healthcare of Atlanta will focus on childhood obesity (CHOA also is growing a state-wide effort to address child abuse).
GCHA is spending its first year reviewing community programs, clinical care, research and public policy in Georgia, trying to develop an understanding of what already is being done in each focus area.
"Then we'll work on developing specific strategies to address these issues," Frieson says.
Meanwhile, CHOA continues to reach out far beyond its Egleston and Scottish Rite campuses in Atlanta. Last year CHOA, a nonprofit organization, treated kids from all 159 Georgia counties, and provided $103 million in un-reimbursed care (for under-insured, or uninsured families).
"Our name says we're Child-ren's Healthcare of Atlanta, but we consider ourselves a resource for the entire state," says Don Mueller, CHOA's vice president of strategy and business development, and also executive director of the Marcus Autism Center.
CHOA's Sibley Heart Center, ranked among the best pediatric cardiac programs, is delivering specialized care to children all over Georgia. Pediatric cardiologists, most of them based in Atlanta, are treating patients in offices scattered across the state, in places such as Albany, Colum-bus, Macon and Tifton.
"It's an old outreach model, but a good one," says Dr. Robert Campbell, chief medical officer of the Sibley Heart Center. "Our patients don't have to drive three, four hours to Atlanta and deal with the traffic. Organizations like ours, and MCG, are reaching out to them. It's a good business model. We're filling the void."
Campbell says continued expansion of Sibley clinics and services will likely revolve around telemedicine, with its digital stethoscopes, instant access to echocardiograms and defiance of geographic barriers.
"We're excited about the telemedicine model, because it would extend us further out, to many more sites," Campbell says.
Congenital heart disease is the most common birth defect in children, and Campbell tells a story that he says demonstrates why there is a need for widespread access to pediatric cardiology.
"A baby was born in a south Georgia hospital, and the staff was concerned the baby might have heart disease. They didn't have a pediatric cardiologist or access to one in the middle of the night," Campbell says. "They did the echocardiogram, and it was read by a cardiologist who specializes in adult care – and I'm not saying that's a bad thing, but most adult cardiologists don't take care of critically challenged newborns."
The echocardiogram was read as normal, but the baby's condition kept deteriorating, so the hospital sent the child to Egleston, where they did another echocardiogram.
"The baby has critical heart disease. So, it was missed," Campbell says. "If we had a telehealth option with that hospital in South Georgia, we could have looked at the situation in real time, stabilized the child and transported him here earlier."
Sometimes, Campbell says, the difference between a good outcome and a bad one can be measured in minutes. So, like everyone else's, CHOA's outreach efforts typically focus on removing time and distance barriers.
The Kohl's School Nurse Liaison Outreach program, for example, takes CHOA's pediatric expertise into schools across the state.
"School nurses work in isolated practices. They can't turn to another nurse and ask a question. So, they ask us, and we have a great Rolodex," says Joyce Allers, the nurse who manages the program. "We can reach all of the experts, we have an expansive medical library. We can get the answers to the difficult questions school nurses have."
The nurse liaison program offers continuing education for school nurses and has developed a 600-page school resource manual. The program's five nurses, led by Allers and based at CHOA, give over-the-phone consultation (and access to all of CHOA's subspecialists) to any of the 1,200 or so Georgia school nurses who request it, and make site visits to Metro Atlanta schools when necessary.
"The average school nurse has less time to do critical research than we do. Sometimes, they count on us," Allers says.
So Allers' team eases the transition back to school for children diagnosed with diabetes, for example. And they teach the teachers about children with muscular dystrophy, epilepsy and the myriad medical conditions that affect students and their quality of life at school.
Child Protection
Meanwhile, another CHOA program strives to cast a little light on a particularly dark spot in Georgia, where every 15 minutes a new victim of child abuse or neglect is confirmed. CHOA is developing and managing the Child Protection Telemedicine Network, in an effort to prevent child abuse and improve resources throughout the state.
"We want to set up telemedicine centers across the state, so that healthcare providers can perform exams while our experts watch from here, guiding the exam and providing an evaluation," says Dr. Jordan Greenbaum, medical director of CHOA's Child Protection Center (CPC), which is collaborating with Georgia's Division of Family and Children Services (DFCS) and the Georgia Partnership for Telehealth in rolling out the program.
So far, pilot telemedicine sites have been established in Walton and Towns counties. Several more rural counties – Coffee, Emmanuel and Stephens – should be online by year's end. CHOA provides the training for physicians and nurses, and the telemedicine equipment (camera, digital microscope, computer, monitor, etc., at a cost of about $40,000 per system) at each satellite location. This isn't a typical physical examination.
"We're talking about something that is potentially very stressful, so this is an especially gentle examination, and requires some training to get through the process," says Greenbaum, a forensic pathologist. "The biggest challenge we've found is in recruiting medical providers in remote sites willing to become experts in this area."
She did find Dr. Samuel LeRoy Church in mountainous Towns County. Church is demonstrating the equipment in his examination room. He uses the remote to zoom in on himself, and there he is on the wide-screen monitor.
"When we do a child abuse investigation, we're engaged in dialogue with CHOA's super-specialist, and it's almost like they're in the room with us," says Church, who trained with CHOA and does not necessarily need the consultant at the other end of the line. "If I'm not here, we can still get the exam done using nursing assistance. CHOA can offer its expertise without us having to put the child through the stress and extra burden of a two-hour car ride to Atlanta.
"I'm qualified to do the exam myself, but then I've got the best we have in the state looking over my shoulder. It's neat to be part of something like that."