Holding School Boards Accountable
Clayton County schools' loss of accreditation helped focus attention on governance and the proper role of local boards. A high-profile commission wants stronger state controls.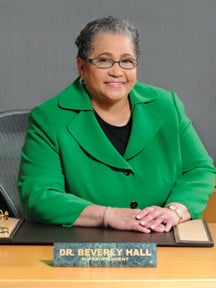 Beverly Hall was at her wits' end, ready to throw in the towel after just six months on the job as the Atlanta Public Schools superintendent.
It's not that Hall didn't know what she was getting into a decade ago when she took the position. She was the system's fifth superintendent in 10 years, counting the interim person she replaced. And she wasn't vain enough to believe that all of the people who preceded her were less competent.
"I knew something was fundamentally wrong with governance," Hall says. "Before accepting the job, I met with members of the school board and expressed my concerns about the board's tendency to micromanage all aspects of the system, hiring and firing everyone from principals to custodians, getting involved in the day to day operation of the system.
"They assured me before I agreed to take the job that they were not going to continue that behavior, that they were willing to establish policies that would allow me to manage the system."
In other words, to do the job she was being hired to do. Instead, she wound up spending almost half of her time trying to manage a dysfunctional board.
It's not a blatantly common problem in Georgia – the dysfunctional school board – but apparently big enough to have caused business leaders, legislators and state administrators to call for strict state oversight in how school boards conduct themselves.
When Georgia's fifth-largest school district, Clayton County, imploded, resulting last year in a loss of accreditation – since regained, it became one of the few systems in the nation to receive the penalty in decades. And it inspired the Georgia Board of Education to ask the Georgia Chamber of Commerce and Metro Atlanta Chamber of Commerce to form a task force called the Commission for School Board Excellence.
The commission recommended legislation that would have given state government new, far-reaching powers to intervene when local school boards cross the line between governance and interference, or behave badly in other ways. The controversial Senate Bill 84 would have granted the state such power, but it did not make it to the finish line in the House, so it will be revisited again in 2010.
"Unfortunately, we had a case which made both local and national news in Clayton County," says Gary Price, commission co-chair, and managing partner of PricewaterhouseCoopers. "That in and of itself was probably enough of an alarm for people to understand that we have a real issue. And that was just one county."
According to the Southern Association of Colleges and Schools (SACS), which took away Clayton's accreditation, there are plenty more local systems on the cusp of dysfunction.
"Twenty percent of the school systems in Georgia have some level of school board challenges," says Mark Elgart, president and CEO of SACS. "And we currently have seven systems that are experiencing governance challenges."
That is, they could be on the same path as Clayton County, where school board members were accused of micromanagement and frequently violating ethics and open meetings laws. Elgart says that Coffee, Dodge, Haralson, Peach, Randolph and Warren counties' systems are on the list.
"A relatively small number, but I will tell you, it's not just a Georgia problem, it's a growing concern in every state, regarding school board governance, because there aren't strong, clear standards for performance for school boards."
Perhaps not, but the issue in Georgia drew a clear line between supporters of more state control and advocates for local control, particularly school boards and the Georgia School Board Association (GSBA).
"We felt that the situation in one county was painting other school boards with the same broad brushstroke, and that isn't flattering," says Julia Bernath, president of the GSBA board of directors, and a member of the Fulton County school board. "The vast majority of boards in Georgia and across the country are working with the best interests of children in mind."
Bad Behavior
John Rice says he was drawn to the school board issue six or seven years ago, when he chaired the Metro Atlanta chamber's education committee. That's when he got to know Atlanta Public Schools' Dr. Hall.
"I remember her telling me that she was still spending, at that point, 40 percent of her time trying to manage her board," says Rice, president and CEO of GE Infrastruc-ture, and commission co-chair with Price and Phil Jacobs, retired president of AT&T (formerly BellSouth) in Georgia.
"Now, if you know anything about business, who in their right mind would want a job where they have to spend 40 percent of their time managing their bosses? Good people won't stay in jobs with that kind of atmosphere.
"But look at the job she's doing, look at the transformation of APS. It's her leadership, and the leadership of a board that now understands what its job is."
Hall was ready to leave her post after that first school year. Despite assurances to the contrary, her board kept behaving as it had been.
"The behavior, the culture was such that the administrative staff expected direction from the board, they were nervous about offending the board, they felt their jobs depended on whether or not certain members of the board liked them," Hall says. "And there were members of the board who were everywhere they shouldn't have been. There was one who even went into a school, interrupted an assembly and started scolding teachers and students.
"I could not get principals and staff to focus on my vision, because they were getting directions from elsewhere. Even the chief financial officer and general counsel were reporting directly to the board, not to me. It was completely bizarre."
So the local business community – the chamber in particular, Hall says – asked the legislature to rewrite the APS charter, clearly defining the roles of the board and the superintendent. The superintendent was made accountable to the board, and she was allowed to manage the district – per her job description.
The arrangement seems to have worked. Since 2002, graduation rates in the APS have climbed from 39 percent to 71 percent. And Hall was named the 2009 National Superintendent of the Year, the first ever from the APS.
She calls it a system-wide honor, one that would not have been possible without the overhaul and stabilization of APS governance. Though most of the old board is gone, there are two members remaining from the pre-Hall era – Emmett Johnson and Brenda Muhammad.
"I think the first thing in understanding the role is to realize that the board is a policy-making entity. We're not there for the day-to-day management of the school system," Muhammad says. "Unfortunately, many people who run for school board seats seem to think they have the authority to delve deeply into the day-to-day administration.
"It has been an interesting turnaround, and it's due to the leadership of Dr. Hall, members of the board, the community we serve and the business community. All have had a stake in making this thing work."
Local Angle
Ted Stone has served on the Jones County school board for so long he likes to say he's seen the system go "from blackboards to greenboards to whiteboards and now, to interactive SMART boards."
The one constant has been Stone, who has served on the board for 32 years, the last 24 or 25 – he isn't sure which – as its chair. The last six or so have been spent in a pitched battle for limited funds.
"It's a fight every year," Stone says. "The state keeps cutting our budget, and now they're cutting our local funding mechanism."
He's talking about property taxes. HB 233, which passed this year, establishes a three-year moratorium on property tax assessment increases.
Talk to any school board member, from rural Jones County to the more affluent Fulton County, and you'll get the same thing.
"Funding, funding, funding," says Sis Henry, GSBA's executive director. "Because we've had years and years of austerity cuts, and years and years of under-funding for education. That means local systems are more and more responsible for more and more funding. It affects everything. Pro-grams have been cut, positions have been cut. And now we're looking at furloughing teachers. It's a critical situation."
Georgia typically ranks near the bottom of the country in student achievement measures like SAT scores. Federal mandates such as No Child Left Behind mean to address student achievement, but are unfunded. President Obama's stimulus package will pump money into Georgia's education system, but it's a temporary fix while the state continues cutting the schools' budgets, Stone says.
"Our state is dragging near the bottom," says Stone, who also serves on the board of GSBA – one of the stipulations in the early version of SB 84 would have prevented local school board members from serving on the GSBA board.
"Every one of our officers would have had to resign from GSBA, or resign from their local school boards," says Angela Palm, director of policy for GSBA. "It would have been a disaster."
In the sausage-like process of crafting legislation, the bill had many additives and amendments before ultimately stalling in the final days of the session. So it will go back to the Senate next year, where it will start over.
At the heart of the state plan is adherence to ethics standards and avoidance of conflicts of interest. Most school boards already have these things covered, say GSBA's officers. But Executive Director Sis Henry says GSBA never opposed the legislation, just some of the devilish details.
"We never tried to kill the bill, only wanted to refine it," she says.
The organization trains school board members from across the state. Also, it has developed eBOARD and eBOARDsolutions, Inc., a wholly owned subsidiary that helps school boards across the country with board governance, meetings management and strategic planning.
Henry's leadership in these efforts earned her a national Award for Excellence in School Boards Associa-tion Leadership from the NSBA (Na-tional School Boards Association).
But, the core of GSBA's agenda is the issue of local governance.
"School boards are a local function," says Columbus financial advisor James Walker, a 16-year member of the Muscogee County Board of Education, and a mentor to new board members across the state as part of GSBA's Mentor Program. "We had one awful situation, in Clayton County. So why do we want to create a monster like this legislation to govern all 180 school boards in the state?"
Mark Elgart has an answer for Walker and everyone else who questions the need for a top-down solution to school board governance. Clayton County's problems didn't start last year – that was only the culmination of years of bad behavior.
The Culture
SACS put the Clayton school board on probation in 2003. Some incumbents were removed from office, the board started playing nice, but eventually reverted to its earlier dysfunctional form. Meanwhile, Clayton County was simultaneously experiencing a Lord of the Flies political atmosphere in several governmental agencies.
"What happened in Clayton County didn't happen overnight," says Phil Jacobs. "We had to stand by and watch that situation unravel, powerless to do anything when it was obvious that the local board was not doing its job."
Over time, the faces had changed on the Clayton board, but not the habits.
"Some of the people changed but the culture [had] not, and that led to their loss of accreditation," Elgart says. "The culture of how they conduct governance and leadership did not change and continued to erode the fabric of the system.
"A mandated state governance model doesn't change the culture of the school system that contributed to these problems, but it does give the state a way to intercede when a system is nearing the stages Clayton County entered before it lost its accreditation.
"I am fully supportive of local control, but with responsibility and accountability."
The governor already has the ability to remove board members who commit ethics violations, and he did so in Clayton County last year, but that process takes time to work through the system – too late to save Clayton's accreditation, Elgart says.
Of course, Elgart and SACS can't do anything about the democratic process. When Clayton County voters had the opportunity to elect new board members last year, they showed up at the polls in a trickle. There was a voter turnout of about 18 percent.
The state wants to pass legislation that allows the governor to remove entire school boards, says Palm, but it can't remove voter apathy.
Some board members resigned under public pressure, one was removed for living outside his district and Perdue removed the rest.
So, an entirely new board was at work in Clayton last spring trying to win back the confidence of SACS, one of two accrediting agencies in Georgia. The 106-year-old Georgia Accrediting Commission is the other. Schools must pay for membership to either. Schools generally must be accredited for their students to be eligible for the HOPE scholarships, and many colleges won't admit students who graduate from non-accredited schools.
"We're working on accreditation and winning the trust of the community," Alieka Anderson, Clayton's current school board chair, said just before SACS made a site visit in mid-April to see how the system was doing.
The efforts apparently paid off. SACS followed up its visit by announcing that Clayton schools have regained their accreditation, and this year's graduates will have accredited diplomas. But the system will remain on probation for the next two years and must continue to address governance and leadership issues or its accreditation could again be revoked.
"We've got our work cut out for us," says Anderson, a teacher in the DeKalb County school system, who is working on her doctorate. "We don't concern ourselves with the previous board. We can't hold anyone accountable for the past. Our goal is only to move forward and do what's right for the children in our school system.
"I think it's a worthwhile challenge."