Life's Work
Georgia's growing biotech industry encompasses research, education, agriculture and businesses involved in healthcare solutions, biofuels, pharmaceuticals and medical devices.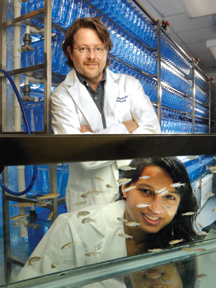 It took Fuller Cochran 10 years to buy his farm in the Appalachian foothills of Whitfield County, beginning in 1932, at a cost of one bale of cotton per year. It was an investment in a future he could not have imagined, a small slice of the multibillion dollar biotech/life sciences industry.
Today, Sleepy Hollow Farm produces organically-grown medicinal herbs and serves as the headquarters for Organi-Pharm, a grower-owned co-op of farms that has become a national leader in the research and production of goldenseal, a natural antibiotic that can enhance the body's immune system and lower cholesterol, among other uses.
"Medicinal plant production is really one of the newer forms of agriculture," says Randy Beavers, OrganiPharm's managing partner, along with his wife Cindi, Fuller Cochran's granddaughter. "Goldenseal is listed as a dietary supplement, and it's been an item of commercial trade since the 1700s.
"It grows primarily in the hardwood forests of the Appalachians, but it was over-collected to the point that it was declared endangered in 1997. Somebody had to figure out how to cultivate it."
So the Beavers submitted a proposal to the USDA, and for the past seven years they have received more than $1 million in grants through the National Institutes of Health (NIH) to develop goldenseal extract for further study.
OrganiPharm, a collection of 12 small farms, most of them in north Georgia, is going after a $2 million phase two grant from NIH in August, as well as $850,000 in U.S. Army grants to study goldenseal's efficacy as an antibacterial treatment.
The company also has taken up residence in the Life Sciences Innovation Center at the Medical College of Georgia (MCG), one of the nation's best technology incubators and part of Georgia's growing biotech toolbox.
OrganiPharm represents a tiny piece of a Georgia life sciences industry that saw $16 billion in sales in 2007, according to the latest analysis from the University of Georgia's Selig Center for Economic Growth. Biotech companies are directly and indirectly responsible for creating 62,000 jobs with earnings of $3.6 billion.
On top of that, research at the state's colleges and universities generates some 15,000 jobs with $616 million in salaries, and $1.3 billion in sales.
"We identified this as the first strategic industry to focus on in Georgia two years ago, and clearly it's a bet that's paying off," says Ken Stewart, commissioner of the Georgia Depart-ment of Economic Development. "The fact is, Georgia is competitive with any place in the country and Atlanta is recognized as one of the leading cities in the world as far as the biotech industry is concerned."
Atlanta will be in the biotech spotlight this month when it hosts the BIO International Convention, the industry's largest gathering, an annual event that has been drawing 20,000-plus attendees the past few years and is making its Southeastern debut (see story, page 32).
The Georgia World Congress Center will be pulsing with brainpower as representatives of the world's leading companies, scientists and venture capitalists gather to exhibit the latest products, share ideas and make deals. Given the state of the economy, and credit crunch, the event's timing couldn't be better for entrepreneurs and early-stage companies, who rely heavily on outside investment.
"Clearly, investment is on top of everyone's list. You have to reach out to where the investors are, and many of them are going to be in Atlanta," says Charles Nawrot, MCG's vice president for technology transfer and economic development, and director of the innovation center, which earned Expansion Solutions magazine's 2008 Award of Excellence in Biotechnology.
"We'll be there, highlighting some of our companies. Like everyone else, we hope to get some mileage out of this event."
Room To Grow
Georgia's biotech footprint, while deepest in Atlanta, spreads from the hardwood forests in the northern part of the state, where natural medicines are being cultivated on small family farms, to the planned pine forests in the south, which are being cultivated as feedstock for ethanol and electricity.
Important assets include research institutions such as MCG, Emory, Georgia Tech and the University of Georgia, where research collaboration is leading toward commercial viability; technology incubators nurturing fledgling companies that are developing some of tomorrow's healthcare solutions; and established companies that deal in agriculture, biofuels, diagnostics and information technology, pharmaceuticals and medical devices.
Biotech has been the state's fastest growing industry since the turn of the 21st century, but Georgia still lags far behind states such as California, Massachusetts, Pennsylvania and North Carolina.
"One of the things we talk about a lot is getting to a critical mass," says Stephen Hill, who spent nine years in Boston, a national biotech Mecca, before moving to Atlanta last year to become president and CEO of Solvay Pharmaceuticals. "There clearly is an argument to be made that with more companies of size based here, we are more likely to be attractive to this industry.
"A second challenge is access to adequate funding, but that is a worldwide challenge at the moment. But having a healthy investment climate based here will help."
Even in the best of economic times, biotech is a risky proposition. But it's been even tougher lately for developing companies in the pre-clinical, or early stages, to find capital to keep the wheels spinning.
"In the venture capital business now, if you have capital to invest, which represents a small portion of existing funds, you'd be interested in late-stage deals," says Tom Weldon, chairman and co-founder of both The Innovation Factory and Accuitive Medical Ventures, based in Duluth.
"You have to be extremely lucky to get financing today. Most venture firms are behaving like commercial banks. We're hoarding our cash, making sure the investments we've already made are protected."
The Innovation Factory, a medical device business incubator, was founded in 1998 by a team of serial entrepreneurs and inventors, like Weldon, with backing from some of the nation's top venture capital firms, such as California-based Versant Ventures. Four years ago Weldon and partners started the venture capital firm Accuitive Medical Ventures, which has raised about $230 million to finance companies within The Innovation Factory, and companies deemed to have outstanding technology and management teams already in place.
"We like a running start. Those are the best deals for us," Weldon says.
Developing a new prescription drug takes, on average, about eight years and a billion dollars. So investors may be more likely to bet on medical devices, which have a shorter path from concept to commercialization.
CardioMEMS is a medical device firm that has developed and commercialized wireless sensing and communication technology for the management of cardiovascular diseases. A graduate of Georgia Tech's lauded incubator system, the Advanced Technology Devel-opment Center (ATDC), the company has raised about $80 million so far, according to COO Sandeep Yadav.
"Our company has done well, we've made progress. That makes us more attractive, so it's easier for us to raise money," says Yadav, whose brother, CEO Jay Yadav, a cardiologist, co-founded the company with Georgia Tech professor Mark Allen, who directs the university's MEMS (Micro-Electro-Mechanical Sys-tems) research program.
With one product on the market to treat abdominal aortic aneurysm, and another targeting heart failure that is in clinical studies now, CardioMEMS is one of the first significant success stories to emerge from the Georgia Research Alliance's (GRA) VentureLab program, a system that began at Georgia Tech and has since been employed at Emory, UGA, Georgia State and MCG, with Clark Atlanta slated to come on board eventually.
VentureLab representatives at each research institution review research innovations, evaluating risk and commercial potential, providing funding and management assistance as early-stage endeavors move from the lab to a business incubator, like ATDC, or Emtech Bio (an Emory-Georgia Tech partnership), or the Georgia BioBusiness Center at UGA, for example.
But VentureLab is only an early boost on the road toward market success, says Lee Herron, GRA's vice president of commercialization. Part of the mission is linking VentureLab companies with experienced management professionals and other strategic partners, including investors, which usually means looking outside of Georgia.
GRA provides the funding for VentureLab, but that funding has been slashed recently in another round of state budget cuts.
"Nobody is immune to what's happening to the state budget," says GRA President and CEO Michael Cassidy. "The state has invested about $500 million in GRA programs since 1990, but all of that has gone into building research capabilities."
The next step, he says, is leveraging limited state funding to turn university-driven innovations into commercial enterprises. So last year GRA launched the GRA Venture Fund, and has so far used $7.5 million in state funding to capture private investment dollars. Cassidy says the fund is up to $20 million, with $30 million as its goal by the end of this year.
Pushing Hard
The life sciences industry has a strong advocate in Georgia BIO, which pushed hard for several pieces of legislation this year, including a Senate tort reform bill that would protect companies against lawsuits involving FDA-approved drugs and medical devices, and House Bill 59, which would eliminate sales tax for free samples of prescription drugs, or drugs and medical devices in clinical trials.
"Prescription drugs, when they are sold, are not subject to sales tax, so why should they be taxed when they are given away as samples or starter packs," asks Georgia BIO President Charlie Craig. "Then, when you're talking about clinical trials, the question is, how in the world can the department of revenue assess a tax on something that doesn't have a market value yet? No other state that I know of assesses a sales tax on clinical trials.
"The last thing we'd want to have in Georgia is for pharmaceutical and medical device companies to take their clinical trials elsewhere because they're being taxed unfairly. Because in many cases, these clinical trials are the last hope for some patients."
Georgia may not have the critical mass that Craig and others would like to see, but the state is well-represented in the biotech arena, especially in the field of healthcare related products, with a number of different success stories in the works or already on the ground.
Sciele Pharma of Atlanta made international headlines last year when it was purchased by Japanese drug company Shionogi for $1.1 billion. Sciele, founded in 1992, began as a drug-marketing firm but has evolved into drug development in recent years. Sciele takes a low-risk approach to drug development, acquiring molecules already on the market and reformulating them into new products.
"For example, we take something that was used to treat hypertension and discover that it also works to treat attention deficit disorder," explains Sciele Pres-ident Ed Schutter. "We don't go after grand slams, we're going after singles and doubles, which have more likelihood of success. The main reason for the merger is, Shionogi likes our lower risk pipeline, which balances nicely with their higher-risk development pipeline."
Altea Therapeutics is located in the Technology Enterprise Park (like Car-dioMEMS), in Midtown Atlanta, next door to Georgia Tech. The company has invested more than $60 million, says CEO Eric Tomlinson, in developing its drug delivery system. The PassPort Patch conditions the skin surface, creating microscopic channels that become a portal for a wide variety of water soluble drugs, including insulin, vaccines and painkillers.
"We're partnering with the pharmaceutical industry at the moment – pharma is our big brother," Tomlinson says. "That brings us several things – cash, which is key. It brings us competency, in terms of their deep understanding of the development process, and it brings us hundreds of people."
Altea has tested the technology in about 2,500 humans and is working on clinical trials with a barrage of drugs.
Meanwhile, innovations in the universities are setting the stage for future applications and commercial success.
For example, Emory was ranked 16th among universities in revenue from commercialization of its research ($17.7 million in licensing revenue in fiscal year 2007). In 2008 Emory made 24 licensing deals, totaling $19 million. Total research funding at Emory was $411 million, while Georgia Tech set a school record with $524.9 million in fiscal year 2008. Not all of this is in biotech.
Dr. Jeff Mumm at MCG is working on a slightly smaller scale. He started his company, Luminomics, as a post-doctorate fellow at Washington University in St. Louis, and moved it to the Life Science Innovation Center last year. Luminomics is working at the molecular level, creating degenerative disease models in zebrafish to discover the pathways that stimulate cell and tissue regeneration.
"This was the perfect marriage of needs," says Mumm, whose business partner is his wife, Dr. Meera Saxena. "MCG was, by far, heads and shoulders above the rest with regards to the infrastructure we need. This incubator has all the equipment we need to accomplish modern molecular biology, as well as a dedicated staff. Basically, it allows us to spend less time feeding fish and more time developing intellectual property and new directions."
Money is tight for Luminomics, and everyone else, so Mumm plans to work the room at the BIO International Convention. "We're looking to make connections that might lead to partnering opportunities," he says.
Collaboration on all fronts has been, and will continue to be, critical to Georgia's ongoing success in biotech, particularly at the university level, where discoveries are made.
UGA, Georgia Tech and Emory have pooled resources to great lengths, most recently at the Georgia Symposium on Nanotechnology in Infectious Diseases, the first step in the effort to make Georgia a leading incubator for emerging nanotechnology industries. The Marcus Nanotechnology Research Cen-ter at Georgia Tech is a hub that supported the research of 500 different users in the past year, from academia and industry.
There is the Georgia Tech/Emory Center for the Engineering of Living Tissues, the Regional Center for Excel-lence for Influenza Research, a UGA-Emory partnership garnering $32.8 million of support from the NIH, and UGA's ongoing work with Georgia Tech to develop biofuels.
One of the newest team efforts is the Southeast Stem Cell Consortium, chaired by UGA professor Stephen Dalton, a GRA Eminent Scholar of Molecular Biology and Georgia Cancer Coalition Distinguished Scholar. Last year, Dalton's research group won a $9.2 million NIH research grant, "to provide a set of tools and information, a data base which can then be used to exploit the potential of these cells for later use in cell therapeutics," he says.
"We want to fast-track clinical development," says Dalton, who is working with researchers at Emory, Georgia Tech, MCG and other institutions, as part of the consortium. "Developing cell therapy that will have an impact that requires the input of a lot of different groups.
"Each institution brings its different strengths to the table. I believe it will take a collaborative effort like this to develop some real therapies that will have a big impact on society."