2009 Family Business Awards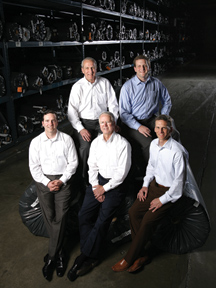 There are always risks in joining family and business, but there are also some pretty substantial rewards. This year's winners are proud of their history, their tradition and their commitment, as well as their successes.
The 2009 recipients were selected by the Cox Family Business Center at Kennesaw State University. The recognition program is sponsored by the center and Georgia Trend.
Awards are presented in small, medium and large business categories; the Century Award is given to a business that has been around for more than 100 years.
This year's large business winner is J+J/Invision in Dalton. Turner's Fine Furniture Company, headquartered in Tifton, is the medium-sized category winner, and Acree Oil Company in Toccoa is the top small business. Savannah's Case Veterinary Hospital is the Century Award winner.
All of this year's winners manage to keep their eyes trained on the future, even as they honor their past.
"One of the great things about being in a family-owned business," says J+J/Invision's Jim Bethel, "you can run it like you think it ought to be run." That includes a strong commitment to reducing the company's environmental impact.
Turner's Fine Furniture Company has made charitable endeavors part of its business. "We don't want to have just a presence in the community," says Fortson Turner. "We want a participating presence."
"Generation one always told generation three that keeping your good name is the most important goal," says Acree Oil's Rebecca Acree Lott.
Keeping up with the times has been key to the success of the 100-year-old Case Veterinary Hospital.
"Pets are not only inside the home," says Dr. Carla Case-McCorvey, "they go on family vacations with us, and they are included in family portraits." – The Editors
Large Business
One Business, Two Families
J+J/Invision
Dalton
J+J/Invision has beaten the odds against family businesses by thriving through three generations and more than 50 years, owned and operated by not one family but two.
Rollins Jolly, one of the original Js, was "an entrepreneur of the old ilk," says Jim Bethel, CEO and son-in-law of the second original J, Tom Jones. Jolly bought companies, set them up, sold them and repeated the process. In 1957 he owned Dalton Cone Co., which bought up dented and damaged yarn cones from the carpet mills. Employees at Dalton Cone would fix them up and resell them to yarn companies. "It was among the first recycling businesses in the carpet industry," Bethel says.
Tom Jones was in the automobile business when he met Jolly, who was interested in buying a truck for his business. Before the deal for the truck was completed, Jones had bought half of Dalton Cone Co. "We don't know who was the better salesman in that deal," Bethel says.
Jones became the driving force in the day-to-day business of Dalton Cone. He recognized that carpet was the up-and-coming industry in the area and spent the first years doing a little bit of everything to build the business, Bethel says. The company manufactured automobile carpet, hooked rugs and made candy-striped carpet, multi-colored carpet created from remnants of yarn too small to be used in the standard manufacturing process – another early foray into recycling in the carpet industry.
In 1966 Jim Jolly, Rollins' son, was discharged from the military. Unbe-knownst to the senior Jolly, Tom Jones hired Jim to work in the family business. The younger Jolly was instrumental in directing the company into commercial carpet manufacturing. Com-mercial spaces were just beginning to use carpeting in the 1960s, Bethel says. The idea of making commercial spaces more like home was taking off, and textiles on the floor were a large component of the concept.
"The decision was made to dedicate the company to commercial," Bethel says. "For the last 40 years that's all we've done."
The company has kept an eye on its environmental commitments as well. In 1999 J+J launched EnAct, a corporate environmental action initiative charged with reducing the environmental impact of the company's facilities by reducing waste of raw materials, energy and water in every department. In addition, J+J recycles carpet samples, allowing customers to mail samples and sample books back to the company at no cost to the customer. They are either reused or recycled into carpet, carpet backing or other products such as railroad ties or cement filler. "We are aggressively looking for ways for used carpet to be recycled, because it still has life after carpet," Bethel says.
The third generation has moved into J+J/Invision (the official company name is J+J Industries, but it's better known as J+J/Invision) now. David Jolly, grandson of Rollins and son of Jim, was named president in 2006. Bob Bethel, grandson of Jones, is the South Creek manager, and Bob's brother, Charlie Bethel, serves as director of human resources.
This new generation faces a tough economy. But, as Jim Bethel says, "one of the great things about being in a family owned business, you can run it like you think it ought to be run." He views the fact that they don't have to answer to Wall Street or shareholders as an advantage in these challenging times.
Bethel admits the business has been fortunate. "Anytime a family business moves to the next generation you need two things: an interest in the business and you have to have a generation that's competent. We have had successive generations interested in the business and competent – clearly able to lead the business." – KK
Medium-Sized Business
A Participating Presence
Turner's fine Furniture Company
Tifton
Just before last Halloween last year, Fortson Turner learned from a Sunday school classmate that a Tifton family with five children was sleeping on the floor of their house and keeping their clothes in plastic bags. In short, the family had no furniture. And Turner, a co-owner of Tur-ner's Fine Furniture Compa-ny, was a fourth-generation expert on providing furniture for South Georgians.
The Turner family rallied to the cause and delivered beds and other furnishings to the in-need children and their parents.
Not long after that, the Turners helped find a donated warehouse and began offering tax-deductible receipts for furniture trade-ins or discards; the charitable cause has become a daily part of the family business. The Turner family also has made significant contributions to each of the communities in which they own stores, including donations for a church, college scholarships, civic club projects and financing to bring the Vietnam Veterans Moving Wall to south Georgia.
For brothers Fortson and Austin Turner, their wives and other family members, filling the needs of others is just as important as nurturing the health of the bottom line. "We don't want to have just a presence in the community, we want a participating presence," Fortson says.
This caring attitude has landed rewards on the bottom line. The Turner's stores practice sensible energy use and work to reduce paper trails. "And we recycle all of our cardboard and plastic [packaging material] instead of putting it in a landfill," Fortson says. "Recycling is cost-saving for us."
With seven stores and a distribution center spread among four south Georgia cities, Turner's Fine Furniture is a familiar brand to residents of the region. The company was founded in 1915, and the two brothers assumed control in 2003, but not without first taking decades-long apprenticeships.
"I can remember picking up trash in the parking lot in 100-degree heat," says Austin, part of the current fourth-generation management team. "We had slowly been assuming more responsibility over the years. Our father [M.W. Turner III] did a terrific job of making a transition over a 10- or 15-year period. That made the transition less stressful."
The modern thinking Turner brothers have developed a rare business model. Austin is in Albany, Fortson is in Tifton and they share management responsibilities for stores in Moultrie and Valdosta. In addition, Austin's wife, Allison, and Fortson's wife, Nan, are accessories buyers for the company's stores. Dad M.W. and mom Elizabeth serve as consultants for long-range planning.
In all, the company employs six Turner family members, but if you asked the Turner brothers, that number is easily 168, the total number of people on the payroll. "We do see our company as one big family," Fortson says. And, like a family, they can come together when challenged. When New Orleans residents fleeing Hurricane Katrina landed in southwest Georgia and were placed in temporary homes, the Turners donated furniture for the displaced families, and employees raised funds for kitchen utensils, linens "and everything else you'd need to get a household up and running," Fortson says.
The brothers say their business has remained steady in spite of the housing crash and other economic maladies that plague the nation, and in some cases sales have actually improved. "I think that is due to our overall team and their willingness to take their efforts up to another level when things turned down," Austin says. "We think, too, that having a presence in the community and being involved in the community makes us more a part of the community. I think that helps with sales."
The Turner brothers say they will be scouting southwest Georgia for store sites this year and hope to make announcements in 2010. – EL
Small Business
The Road To Success
Acree Oil Company
Toccoa
Few paved roads connected Toccoa to surrounding communities in the 1920s, much less to the city of Atlanta. But a lack of paved roads didn't mean a lack of vision by the people of that north Georgia community.
In fact, the scarcity of roads spelled opportunity for Robert Walter Acree, founder of Acree Oil Co., a family business since its inception in 1928. The success of Acree Oil represents a trio of serendipities – being in the right place at the right time, having the right connections and having the foresight to take advantage of both.
Acree and his wife, Sadie, started the company together; a third non-family-member was hired as a driver to deliver the oil and gas products to customers. Acree also had worked in state government, and his ties to several Georgia governors were instrumental getting northeast Georgia roads paved in the 1930s. Not only did this help the communities, says Rebecca Acree Lott, the third generation of Acree Oil, it was part of Acree's business plan. He bought up land for service stations and small grocery stores along what would soon be asphalt roads.
Acree also focused on delivering oil and gas products. During World War II, when gasoline was rationed for personal use, Acree Oil expanded into supplying heating fuel to chicken houses. "At its peak," says Rebecca, "Acree was supplying heating fuel to 350 to 400 chicken houses in and around Gainesville."
And he continued to supply gasoline – to Camp Toccoa, the paratrooper training site established during the war, which required fuel for its trucks.
Following the war's end, Acree continued working with state government to pave more local roads, providing Acree Oil with immediate customers when it received the contract to supply fuel to the paving contractors. The business continued to grow as new customers, connected by the new roads, increased the demand for fuel.
Acree diversified into tires, batteries and accessories when it opened Toccoa Tire and Recapping just across the street from AOC in 1950. In 1951 Richard Acree, son of Robert, joined the company after graduating from college with a business degree. He was brought in through Toccoa Tire, which was later sold to another family member. Richard continues at Acree Oil as CEO and chairman of the board.
Richard Acree also has overseen the expansion of Acree Oil, which bought and sold several additional companies, donating $2.5 million from those sales to establish the Acree Chair at the University of Georgia's Terry College of Business.
Today Acree Oil accounts include municipalities, schools – from county facilities to the University of Georgia – construction firms, fleet accounts, poultry industry accounts and marinas. Hasty Marts, separate from Acree Oil, also are owned by the Acree family.
The future of Acree Oil is now in the hands of Rebecca Acree Lott, Richard's daughter, and Judson Lott, Rebecca's son. "I'm trying to get everything out of Daddy's head," Rebecca jokes. "That's where all the information is."
She says the company is looking into alternative forms of energy, higher efficiency fuels, the future of the mini-market chain and ways to make operations more efficient. "Generation one always told generation three that keeping your good name is the most important goal for which one should strive," Rebecca says. She has no doubt that her son, the fourth generation, will continue to uphold the values of customer satisfaction the founding Acrees put into place. – KK
Cox Century Award
Technology Meets Tradition
Case Veterinary Hospital
Savannah
Carla Case was barely out of diapers when she began accompanying her father to Case Veterinary Hospital, a family-owned business in Savannah. For young Carla, seeing the animals was fun, but there was a downside on those occasions when she might have wanted to feign illness to avoid school, stay home and watch cartoons on TV.
"There was no one at the hospital who wasn't directly related to me," she recalls. And therefore no one at home to look after the "sick" child.
"My father and grandfather were the veterinarians; my mother was the technician/receptionist and my grandmother was the receptionist/bookkeeper," says Carla Case-McCorvey, today, along with her dad, Jerry Lynn Case, a principal owner of the hospital.
Case Veterinary Hospital is observing its 100th anniversary this year, after a shaky start back in 1909 when Case-McCorvey's great-grandfather, Erle Case, arrived in Savannah for a job with a local vet, only to be told the position was no longer available.
The entrepreneurial patriarch started his own practice, which he grew into a hospital for animals large and small, and in 1928 he introduced a veterinary ambulance with stained-glass windows. The windows are still on display at the hospital and a project is under way to reproduce the ambulance, but strictly for historic interest.
"Change was not so rapid in my grandfather's day," Case says. "But he was always on the cutting edge of the profession." And keeping up with the times has become a family characteristic.
As a fourth generation family veterinarian, Case-McCorvey has brought new technology to the hospital, with plans for more. "In 2008, I updated our flexible endoscopic equipment and brought laproscopic surgery to the hospital," she says. "It's very rewarding to be able to fix animals quickly."
Technology upgrades and the family's love of animals have combined to build a devoted following in Savannah. "We do not have any fourth-generation clients," Case-McCorvey says. "But we do have a couple of families that are third-generation clients."
Case Veterinary Hospital did not have its first nonfamily employee until 1979, and he's still at work there after 30 years. Dr. Case-McCorvey's father and grandfather served as president of the Georgia Veterinary Medical Associa-tion, a post she hopes to occupy when her children are older. The hospital's growth from a one-vet operation to 26 employees treating the pets of some 4,500 clients annually is a reflection of a national trend that finds more households counting a furry or feathered friend as a member of the family.
"Pets are not only inside the home, they're sleeping in bed with us at night; they go on family vacations with us, and they are included in family portraits," Case-McCorvey says.
The Case family's historic treatment and care of animals extends into the community as well. The Cases are ardent supporters of the Pet Assistance League of Savannah (PALS), a charitable organization that works to keep the pet population down by spaying and neutering. For more than 20 years, the hospital has hosted an annual Halloween pet costume contest with proceeds going to PALS.
Jerry Case is active in the German Friendly Society, a 165-year-old heritage group that supports the Treutlen House, a small orphanage for troubled kids. Asked to describe the most rewarding moment in his career, he recalls a time in the late 1970s when a new virus was spreading among dogs, causing a deadly bleeding diarrhea.
"I was treating a little Shetland sheep dog on a Sunday night by myself," he says. "It was so sick I didn't think it would live, and I was having to put IV catheters in this little puppy, and I could tell I had hurt the puppy and it raised its head. But instead of trying to bite me, it licked me. That was sort of cool."
The puppy lived. – EL
Finalist
Large
Bennett International Group
McDonough
Butler Automotive Group
Macon
Medium
N.A. Williams Company
Atlanta
Traton Homes
Marietta
Small
Jones-Wynn Funeral home
Douglasville
Orkin & Associates
Milton