South Metro Atlanta: Development And Redevelopment
Hartsfield-Jackson is the driving force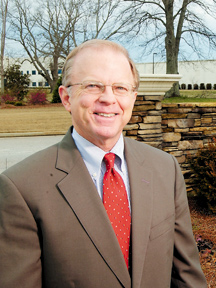 Business stories these days all seem to lead with bailout, economic downturn, layoffs or stimulus package. But the story in South Metro Atlanta is not about any of those things. While people in the six counties – Clayton, Coweta, Henry, Fayette, Spalding and South Fulton – have experienced their share of economic hardship, overall the story is about development and redevelopment.
The area known as south metro includes Fulton County south of Interstate 20, which takes in a good bit of real estate and includes what everyone recognizes as the driving force behind the area's economic success – Hartsfield-Jackson Atlanta International Airport.
Scheduled to open in 2009 are the airport's new car rental facility and a people mover (similar to the trains in the airport but above ground) that will carry passengers to the facility on the opposite side of Interstate 85 from the airport, with a stop at the Georgia International Convention Center (GICC). The direct connect to the airport, coupled with a need to offer on-site hotel rooms, led to significant construction at the GICC. A full-service, 403-room Marriott is scheduled to open in summer 2010. The hotel was designed by the same team that designed the conference facility, so the two should complement each other well, says Hugh Austin, GICC executive director.
Scheduled to open in spring 2010 on the property is a 147-unit Springhill Suites. Also under construction is class-A office space, which is slated to open in September. The addition of the hotels, office space and direct access to the airport and car rental facilities will allow the GICC to achieve its full potential, Austin says.
Growth at the GICC is just the beginning of what's going on in College Park. Austin points to Main Street's resurgence with new restaurants in old structures, such as Brake Pad Restaurant and Bar, in a former gas station, and a new boutique hotel, Hotel Indigo, located next to the MARTA station, which is scheduled to open this fall. The two – downtown College Park and the GICC – are establishing a firm foundation for the area as a hospitality destination, Austin says.
Elsewhere in South Fulton, business leaders are looking at creating a Community Improvement District along Fulton Industrial Boulevard. A CID is a mechanism for property owners in a defined area to tax themselves, then use the money for specified improvements within the area. "We see it as an investment to improve business and marketability," says Leslie Hamrick, president and CEO of the South Fulton Chamber of Commerce.
The chamber is supporting the CID's creation. The next step in the process is getting the signatures of area property owners who back the initiative.
The landscape at Interstate 75 just south of I-285 has changed dramatically with the closing and demolition of the old Ford assembly plant. Jacoby Development, which developed Atlantic Station, closed on the property in 2008, and expects to begin construction on the as-yet-to-be-named mixed-use project later this year, says Chris Montesinos, the city of Hapeville's planning and zoning director. The project is slated to include office space, retail, a conference center, hotel, airport parking and industrial space.
The necessary residential component will be located in adjacent Asbury Park, being developed by Interciti Development. The 25-acre Asbury Park will provide condominiums, town homes, apartments and retail.
New Developments
Spalding County, the southernmost south metro county located between interstates 75 and 85, also has seen some residential construction, despite the bursting of the housing bubble. Sun City Peachtree, Georgia's first Sun City development, plans 3,400 homes just north of Griffin.
"From what we understand," says David Luckie, executive director of the Griffin-Spalding Development Authority, "this particular Sun City sold more houses in 2008 than any other Sun City. So we're still excited about their presence.
"I'm sure the economy's had some effect, but it's still great news to hear that it's doing well," Luckie adds.
But the big news in 2008 for Spalding was the passage in November of a Special Purpose Local Option Sales Tax (SPLOST), which allowed the development authority to purchase 578 acres for an industrial park – the first new industrial space in Spalding in several years. Located along Highway 16, about seven miles west of I-75, the new site is adjacent to Green Valley Industrial Park.
Luckie says the new definition of industrial development includes technology businesses. He's targeting light manufacturing, assembly and tech companies for the new park.
"This election brought out an enormous number of people, and they voted for it," Luckie says of the SPLOST. Having the infrastructure to attract new industry is the best way to grow jobs in the area, he adds.
East of Spalding, straddling I-75, sits Henry County, where officials have been at work on a new economic development plan aimed at broadening the area's industrial mix.
"The county is finalizing a comprehensive land use plan," says Henry County Development Authority Executive Director Bob White. "We've also completed a comprehensive transportation plan, a systemic way of looking at transportation needs going forward. The economic development plan was a logical outgrowth."
Henry County has been a bedroom community for years, and was one of the fastest-growing counties in the nation around the 21st century, with 69 percent of people commuting outside the county to work, White says. County leaders are looking to keep people working within its borders in order to enhance quality of life for residents and broaden the tax base – increasing the percentage that comes from commercial and industrial sources.
Leaders are taking their time with the strategic economic development plan. They've met with the Atlanta Regional Commission and state economic development team, and also with local stakeholders to identify areas of concern, strengths, weaknesses, best opportunities and resources needed.
"We've been very successful in attracting industry in the past," White says. Thanks to the interstate, Henry is home to various distribution centers. "Now, we're interested in diversifying." This economic downtime is the perfect time to do some long-term planning, he adds.
Another long-term plan that may be coming to fruition is a technical college in Henry County. Thanks to the Henry County Education Foundation's taking it on as a project, some movement in that direction has been made, White says. The school system made a commitment to providing land for the college next to Henry County High School, which will facilitate high school students taking tech classes. "Now, a technical college satellite for Henry County has been added to the technical college system budget," White says. "Obviously there are still a lot of challenges for funding. But hopefully we will continue to be able to plan."
Meeting Challenges
Heading west out of Henry County one reaches Fayette County, which as a bedroom community (75 percent of the workforce commutes out, says Matt Forshee, president and CEO of the Fayette County Development Authority) has also faced serious challenges with the downturn in the economy.
In 2008 Panasonic, one of the county's largest employers, announced it was moving 500 of its 1,100 jobs from Peachtree City to Mexico. That was a big hit, but the expansion of NCR, which currently employs 250 people and expects to add 600 more over the next three years, has helped to ease the pain.
Not only will NCR add more full-time employees, the company also plans to bring 6,000 people per year to the Peachtree City facility for training. That's 125 people each week, "the equivalent of 125 more full-time jobs," Forshee says. Hotel and restaurant owners in the area also are very excited about the influx of people, Forshee adds. "I'd like to see us push training," something that several businesses in the county already do.
In 2007 the Chinese company SANY America announced it was moving to Peachtree City. In 2008 the firm began clearing land in Peachtree City Industrial Park for a heavy construction equipment manufacturing facility. The firm hopes to open the facility by fall 2009, Forshee says, and hire more than 600 people over the next 10 years. Ultimately SANY will have its headquarters, three assembly facilities and a research and development facility – all built with LEED (Leadership in Energy and Environmental Design) certification – in the county.
Though modifications may need to be made to the timetable and building plans due to the economy, SANY's presence is a great benefit to the industrial park, says Virginia Gibbs, president and CEO of the Fayette County Chamber of Commerce.
Piedmont Fayette Hospital is going through another expansion, Gibbs says. The facility is bringing in a linear accelerator, which is used in cancer treatment. First class healthcare is important in an area of retirees and growing families, she adds.
Peachtree City, the planned community of trees and golf carts, celebrates its 50th anniversary this year. That's a mixed blessing in terms of economic development. "Peachtree City has fueled Fayette's growth," Forshee says. But the fact that the city is almost built out means it must seek other areas to grow.
Redevelopment drives the economy in Clayton County. At Fort Gillem the army is moving out and the Forest Park/Fort Gillem Local Redevelopment Authority is working on an operational plan and a business plan for the 1,190 acres it hopes to soon own. In Riverdale, the Riverdale Town Center project is under way.
The economic impact of Fort Gillem's redevelopment was pegged in 2007 at $750 million over 10 to 15 years, with 17,600 permanent new jobs and $243 million in real property tax revenue for the city. "It will more than double the real tax base," says Fred Bryant, executive director of the local redevelopment authority.
On the site of a former park, the 37-acre Town Center in Riverdale will be a pedestrian-friendly district of retail, residential, office space and government buildings for a city that's never had an identifiable downtown. The first phase of the project includes a 37,000-square-foot city hall complex, a community center and a plaza/amphitheatre.
Projects in Newnan and Coweta County vary wildly, from the department of agriculture's new National Detector Dog Training Center to MC Precast. The ag department's facility will train dogs to work at airports, ports and along our borders to protect the nation's food supply. While the project will only directly employ about 30 people, some 300 people per week will come in for training, says Bill Harrison, president of the Coweta County Development Authority. And, he points out, those people will need hotel rooms and restaurants and entertainment during their stay.
MC Precast opened its doors in 2008 in the Newnan South Industrial Park. With 60 employees and plans to hire 100 more in spring 2009, the company manufactures hollow-core pre-cast concrete panels.
Harrison believes Coweta's location along I-85, what he calls the "last great unclogged transportation corridor in Metro Atlanta," will be what saves the area during this economic drought. "We are very fortunate. We're on 85, 20 minutes from the airport, 40 minutes from Kia," he adds. "I think, that with very few exceptions, the communities [of south metro] are faring a little better than others."
Perhaps Michael Hightower sums it up best. He is founder and managing partner of the Collaborative Firm, a real estate and strategic planning firm that sponsors the South Metro Development Outlook, an annual conference of professionals from six south metro counties with an interest in fostering smart growth in the area.
During this down economy lots of areas are focusing on "preparation for the new wave of growth that's going to occur," Hightower says. Redevelopment is a key issue for cities, he says, and can be accomplished with tools such as Tax Allocation Districts (TADs) and Livable Community Initiative (LCI) grants. Planning now, "while keeping a watchful eye on the challenging economy," is the way to empower cities and counties for the future.
Community Snapshot
Local Chambers
Clayton Chamber of Commerce
www.claytonchamber.org
Fayette County Chamber of Commerce
www.fayettechamber.org
Griffin Spalding Chamber of Commerce
www.griffinchamber.com
Henry County Chamber of Commerce
www.henrycounty.com
Newnan-Coweta Chamber of Commerce
www.newnancowetachamber.org
South Fulton Chamber of Commerce
www.sfcoc.org
Clayton County
Population
(2007 Estimate)
272,217
Per Capita Income
(2006)
$22,751
Unemployment *
10.3 percent
Coweta County
Population
(2006 Estimate)
115,291
Per Capita Income
(2006)
$28,319
Unemployment *
8.1 percent
Fayette County
Population
109,624
Per Capita Income
(2007 Estimate)
$30,485
Unemployment *
7 percent
Fulton County
Population
(2007 Estimate)
987,548
Per Capita Income
(1999)
$30,003
Unemployment *
8.8 percent
Henry County
Population
(2007 Estimate)
196,080
Per Capita Income
(1999)
$22,945
Unemployment *
8.5 percent
Spalding County
Population
62,826
Per Capita Income
$26,481
Unemployment *
12 percent
* Unemployment figures for January 2009; Georgia unemployment rate 8.8 percent
Sources
Georgia Department of Labor, local chambers of commerce and/or
economic development authorities