Keeping Georgia Moving
Is this the year we break the gridlock?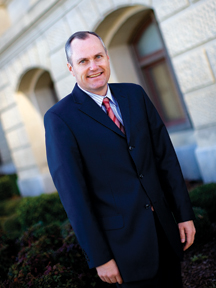 Atlanta's epic, daily traffic congestion, and the hapless drivers who grow old as they creep sluggishly from place to place, have long been the fodder of jokes and ridicule. But as leadership talked much and did very little to loosen up the stagnant parade of auto-addicted commuters, the situation has morphed back and forth between laughable and nightmarish.
"I'm surprised the people of Metro Atlanta haven't stormed the state capitol with torches, pitchforks and sickles," says State Sen. Jeff Mullis (R-Chickamauga), who chairs the Senate Transportation Committee. "They can't get there be-cause they're stuck in traffic."
The same could be said for state leaders. They've been stuck in idle for years while traffic has worsened, infrastructure has aged, and transportation funding has all but disappeared.
"The state is suffering because there hasn't been a lot of progress in transportation issues for a long, long time. We have a lot of catching up to do," says Kessell Stelling, president and CEO of Bank of North Georgia, former chairman of the Metro Atlanta Chamber of Commerce, and co-chair of Get Georgia Moving, a coalition of more than 100 groups (including business and government leaders, transit advocates, planning agencies, road builders and environmental groups, among others) that lobbied hard – but unsuccessfully – for funding solutions in the 2008 session.
Last year the legislature considered a proposal for a constitutional amendment allowing voters to authorize a regional transportation special purpose local option sales tax (T-SPLOST). That measure would have been on the 2008 ballot; but the proposal, which cleared the House, failed in the Senate by three votes on the last day of the session, infuriating the business community.
"The reaction was raw emotion – anger, shock and surprise," Stelling says.
Instead, Get Georgia Moving re-newed its efforts to keep the legislature focused on transportation, with high hopes for this year's session. The proposal that failed last year is basically the same proposal that Lt. Gov. Casey Cagle promised to introduce early in this session (this one wouldn't go before voters until 2010).
"It's just one tool. The reality is, this is a problem that's going to require many tools," Cagle says. "Atlanta has the second worst traffic congestion in the country, and it's costing us not only time and money, but jobs. We've seen it time and again – companies that have shown interest in locating to Georgia have indicated that one major reason for not doing so is our terrible traffic congestion."
The Game Plan
The broad-based transportation game plan has many strategists in Georgia, from the Department of Transportation and the governor's office, to regional planning agencies and public transit advocacy groups, all of whom have expressed the state's many needs and delivered far-reaching projections, goals, plans and funding ideas.
• Gov. Sonny Perdue, who opposed last year's T-SPLOST proposal (and whose administration had been little more than an idle bystander while commuters simmered in ever-worsening traffic), took a significant step last summer, introducing a program called Investing in Tomorrow's Transportation Today, or IT3. His task force determined that Georgia could create 320,000 new jobs and more than $500 billion in economic benefits if it can generate about $160 billion for new transportation investments over the next 20 years. Voter-approved funding mechanisms (such as the T-SPLOST) suddenly became more attractive.
• In November, Georgia learned it would receive $110 million in federal funding to help relieve Atlanta traffic congestion. That means Atlanta would follow in the tire tracks of other U.S. cities with the introduction of High Occupancy Toll lanes. HOT lanes, often referred to as "Lexus Lanes," charge a higher rate during rush hour, ostensibly allowing drivers to travel quicker and save time.
• In December the Atlanta Regional Commission (ARC) unveiled a $54 billion idea for mass transit, including streetcar and bus service into the northern suburbs, and commuter rail lines and express bus lines to outlying counties. Such mass transportation would annually save the region about 176 million gallons of fuel and $12 billion a year in congestion relief.
• Shortly after the ARC (with the Transit Planning Board) introduced its transit plan, Perdue shared with state lawmakers his idea for an aggressive package of borrowing to fund infrastructure construction – including transportation – capitalizing on Georgia's AAA bond rating.
"Seeing the governor take a proactive stance is refreshing, and I hope that this legislative session reflects that," says Stelling who, along with Cagle and others, expressed concern when House leaders such as Speaker Glenn Richardson suggested the legislature might wait until 2010 to address the transportation funding issue.
"We can't afford to miss another year," Stelling says.
"Delaying the process only makes the situation worse," Cagle adds. "We're always working to recruit more jobs and companies to Georgia, and one of the key ingredients in doing that is having a clear plan in place to solve congestion problems."
The time is right to articulate a transportation and funding plan, says Mullis, because, "sometimes political will leaves us in an election year. This isn't an election year. Some legislators are more likely to do something that may appear tough in a nonelection year."
The Train Angle
Mullis, who has advocated for a high-speed rail line linking Atlanta with Chattanooga (which sits alongside his district), is working the train angle again this year.
"Georgia has done a terrible job with rail planning. We need high speed commuter rail to all of our major cities, something that probably should have been done 50 years ago," he says. "So, today is the first day we start moving forward on that issue."
State Rep. Vance Smith (R-Pine Mountain), who chairs the House Transportation Committee, is less concerned with expediency, but wants to be ready if and when the new Obama presidential administration makes infrastructure funding available for states, as promised.
"We need to be able to say, 'Here is our strategic plan, here are our matching funds,'" Smith says. "But I don't think it's wise to rush into anything. Better to have the right plan than a quick plan."
He'd like to see investment in transportation routes that take freight traffic from Georgia's ports outside of the Atlanta congestion zone.
"If you consider taking 30 to 40 percent of the traffic out of Atlanta, you're talking about addressing the congestion issue, and improving air quality," says Smith, who stresses state lines, not city limits.
As transportation chairman, he says, he's taking a wide-angled look at solutions that benefit Albany, Augusta, Columbus or Savannah, as well as Metro Atlanta. But he understands the shape and nature of bottlenecks.
"I may live in Pine Mountain, but let's face it, Atlanta is the hub of Georgia and the Southeast. And the better Atlanta is moving, the better it is for the rest of us."