Cherokee County: Promising Partnership
Working together to build the economy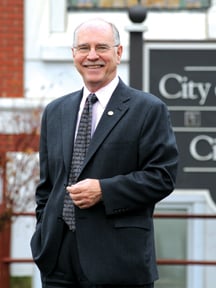 Around Georgia and around the world, economic concerns are growing almost by the hour. But in Cherokee County, despite state budget cuts, falling tax revenues, and the housing bust, people are surprisingly upbeat.
Located north of Atlanta up Interstate 575, Cherokee has long been a bedroom community with 70 percent to 75 percent of the population commuting outside its borders for work. Local leaders are using this economic downturn to figure out ways to strike a balance by drawing commercial, rather than residential, development to the area.
In Woodstock, in southern Cherokee, residential construction has not ground completely to a stop. The Toll Brothers' development, Woodstock Knoll, in the northern part of the city, has been pulling "two to three permits per month," says Woodstock Mayor Donnie Henriques. That company is the only one solely building homes now, he adds.
But not the only one building, he continues. Just south of downtown along Highway 5, developer John Wieland has purchased a 95-acre former horse farm and plans a mixed-use development, with upscale retail and office space in the front and residential units in the back. Other high-end shopping is going in northwest of town, at 575 and what will be a new interchange at Exit 9, the Ridgewalk interchange. Cousins Properties has acquired the land for an Avenues shopping center. The new interchange will not only help with traffic, Henriques says, but also be an economic stimulus for the area.
New retail also has gone in at Towne Lake Parkway and 575, due west of downtown Woodstock. Madison Pointe, a mixed-use development offering rest-aurants, shops, a BB&T Bank and a Walgreens.
It isn't only about commercial growth in Woodstock. The city is working on Greenprints, a citywide project including parks, 60 miles of trails and greenspace. The Greenprints Project Plan Document was approved by the Parks and Recreation Advisory Board and Planning Commission in June. The first half-mile of trail was dedicated in September at Rope Mill Park.
But city services don't come without a price tag. Henriques acknowledges the city had to raise its millage rate for the first time in 10 years in 2008. "It's never a popular thing to have to raise taxes," he says. The small increase means the city has not had to borrow money to meet its obligations.
Diverse Developments
The story in Canton, Cherokee's county seat, also centers on commercial development. Canton Marketplace is set to open in the spring at I-575's Exit 19, where it intersects Highway 20. The shopping center, developed by Flor-ida's Sembler Corp., will encompass 800,000-plus square feet in the midst of additional development that includes a new 360-bed Northside Hospital Cherokee.
The project also will include a new parkway east of 575 connecting Highway 20 to Highway 140. Target, Kohl's and Olive Garden are among the shops and restaurants that will call Canton Marketplace home.
Downtown Canton is getting a facelift thanks to its Main Street program. The city budgeted for a director beginning in January. "We've changed ordinances to give incentives to develop downtown," Canton Mayor Gene Hobgood says. The area is fairly dense, making the costs to developers higher than developing more open space. "If we can relieve them of some fees – impact, connection – we can help them decide to come to downtown."
Water won't be a problem for any businesses choosing to settle in Canton. The city, in partnership with Cobb Marietta Water and Sewer Authority, developed a drought contingency lake at Exit 20, off Bluffs Parkway. Hobgood anticipates the 300-acre, $100-million lake, which is filled by the Etowah River, will be full sometime in the spring of 2009.
The reservoir is within sight of The Bluffs of Technology Park, a 700-acre, mixed-use development that is home to a new county administration building and the Northside Conference Center. Located along 575 northwest of Exit 20, the TPA Realty Services development also will be home to a new campus of Appalachian Technical College (which will become part of Chattahoochee Technical College in July), along with office space and housing. With an available hotel site that would connect to the conference center, which is in the same building as county services, leaders hope the facility will draw groups and meetings from all over north Georgia and beyond. A hotel group has expressed interest in the site, but nothing has been finalized.
Ultimately the development will be connected to the Cherokee County airport, creating a viable business corridor. Airport expansion is vital to this part of the county, says Buzz Ahrens, chairman of the Cherokee County Commis-sion. Extending the airport's runway from a 3,400 feet to 5,000 feet is "key to economic development. And it's not 'gonnahappen.' It's being done," Ahrens adds.
Another key to economic development is paying attention to what Ahrens calls the softer side – the amenities an area offers. County voters passed a $90 million parks and recreation bond in November in an effort to address deficiencies in one of the softer sides of economic development.
"We're very uncompetitive," Ahrens says about the state of parks in the county. "Companies want a certain level of amenities."
Plans for the money include walking and equestrian trails (Cherokee County has the second largest equine population in the state, Ahrens, a rider, says), an aquatic center, greenways, plus athletic parks and fields.
A Working Education
The Cherokee County School District is doing its part to aid economic development by providing students career information as early as elementary school, when kids are introduced to different career paths. In middle school they explore a variety of jobs, perhaps meeting people or even visiting the workplace of professionals with careers in the field the student chooses.
Ninth graders take career pathways, a class "that connects world geography with jobs that are emerging as part of a world-based economy," says Superintendent Frank Petruzielo. Students choose a general area of interest such as healthcare or engineering, then teachers, administrators and parents help them research the ramifications of their choices.
"How much more productive could Americans be if they got [career advice] at a younger age?" Petruzielo asks. If people didn't have to spend the first earning years (or longer) in careers they didn't like, he says, while they tried to figure out what they were more suited for, they'd be happier and more efficient.
Career education is just one of many things this school district is doing right. The Cherokee County School Board was named a grand prize winner by the national Digital School Districts Survey for its use of technology to govern the district, communicate with students, parents and the community and to improve district operations. In addition, the district has received national recognition for its Teach 21 program, a two-year effort to train teachers to use technology in the classroom.
Much of this innovation has happened despite more than $4 million in budget cuts this year, and will go on as the district seeks its ultimate goal: $7.5 million to $8 million in cuts by next year. "We are trying desperately to protect the classroom from cuts," Pet-ruzielo says. Instead, teacher development has been cut, bus routes consolidated and purchases of new vehicles and equipment have been delayed, among other cost-saving measures.
Aggressive Efforts
The school system isn't the only organization trying to save money in these cash-strapped times. "We are all trying to do more with less," says Misti Martin, executive director of the Development Authority of Cherokee County. "Our budget comes from the county commission. We had to cut back for 2008. We were happy to do that. We know what our county's going through."
The development authority, working with the local chamber, focuses equally on retaining local business and industry and on recruitment. Its efforts have paid off. In 2008 the county saw more than $7 million in investment and almost 100 jobs preserved or added by five local businesses.
The goal now, Martin says, is aggressive recruitment of white-collar employment, which will do two things, bring in good jobs, but also cut down on the exodus of workers from the county each morning.
It's hard to keep people engaged in the community when their commutes have them leaving home in the dark and returning in the dark. "We offer a lot here, but if you can't enjoy it, we haven't done our jobs," says Pamela Carnes, president and CEO of the chamber.
Entrepreneurship is another big focus for the chamber and development authority. In support of the Entrepreneur Friendly designation the county received from the state in 2006, the chamber and development authority created an online business start-up kit.
"It walks you A to Z what it's like to open a business," Carnes says. More than 450 people downloaded the free resource in 2008. Martin and Carnes and their staffs are updating it for 2009.
To hear Steve Buckner, owner of SMB Machinery Corp. in Ball Ground, talk, Martin is the single most important reason he moved his business from Cobb County to Cherokee four years ago. "Misti is the most competent business development individual I've ever met," Buckner says. "She's honest, driven, brilliant, committed. You couldn't ask for a better partner."
Partnerships are important in Buckner's business. He bought the former EvenFlo baby products building almost before EvenFlo was out the door, despite the space being more than twice as large as he wanted. He now uses about half the space for his business, which recycles and refurbishes manufacturing equipment, leases space to Meyn America LLC, which manufactures poultry equipment, and provides short-term leases to companies that need to store machinery for a time. Martin paired him with Meyn and also sends businesses his way for short-term storage.
"We operate together in the building without walls," Buckner says of his partnership with Meyn. "We cooperate with each other, help each other." And together, they've brought some 300 jobs to the area.
"I was looking for a champagne building on a beer budget," Buckner says. But what he found was a technically skilled workforce with a solid work ethic. "That defines Cherokee County."
Cherokee County Community Snapshot
Local Leaders
L.B. "Buzz" Ahrens
Chair, Cherokee County Board of Commissioners
678.493.6001
lbahrens@cherokeega.com
Pamela Carnes
President and CEO
Cherokee County Chamber of Commerce
770.345.0600
pam@cherokeechamber.com
Misti Whitfield Martin
Executive Director
Development Authority of Cherokee County
770.345.0600
mmartin@cherokeega.org
Population
(2007 Estimates)
Cherokee County, 212,911; Woodstock, 22,965; Canton 21,464; Holly Springs, 7,956; Ball Ground, 931; Waleska, 856
Unemployment
(November 2008)
Cherokee County, 6.5 percent; Georgia, 7.2 percent
Major Industrial Employers
Pilgrim's Pride, Universal Alloy Corporation, Meyn America, LLC/Hill Parts, Chart Industries, Piolax Corporation
Sources
Cherokee County Chamber of Commerce, U.S. Census Bureau, Georgia Department of Labor