Staff Of Life
Thomasville's Flowers Foods has been selling fresh bread for 90 years. It's a beloved commodity that's virtually recession proof.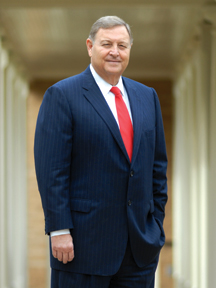 It's midmorning and Flowers Foods CEO George Deese is near the end of a 30-minute meeting when he's gently reminded by one of his executives that he has a plane to catch. Rising from his chair, Deese announces he is off to board a flight to Phoenix, where he has a rendezvous with a stranger in a supermarket to talk about … bread.
Deese, also chairman of the board and president of the 90-year-old Thomasville-based company, is on his way to Phoenix primarily to take care of some business that accompanied the acquisition of two bakeries there, a move designed to give Flowers a larger presence in the West and Southwest. But he gives equal weight to his plans for a visit to a supermarket where he will watch the habits of shoppers, particularly those strolling down the bread aisle. And when customers drop a loaf of bread in the cart, Deese might ask why they chose a particular brand or type of bread.
"We sell freshness," Deese says. And his product has something of a hedge against the vagaries of the marketplace. "As we go through the tough economic times we're in now, people will eat," he says
If Flowers sees itself as a family, Deese is the patriarch who sets the example, lives the culture and almost perfectly exemplifies what it means to work for Flowers Foods, a $2.04 billion business (2007 sales) that sells bread, buns, rolls, snack cakes and pastries in markets ranging from Southern California to Delaware.
Flowers' Mrs. Freshly brand of frozen baked goods is sold nationally. The acquisition of two Arizona bakeries is spurring the company's growth westward like ink on a blotter and adding to the 8,800 Flowers Foods employees across America.
Meanwhile the company's stock values have been strictly heading north, even in times when the American economy is going south. In 2001, for instance, a modest 100 shares of Flowers stock had a value of $2,020. On Oct. 30, 2008, the value of those shares was $15,257, according to figures supplied by the company.
Such share performance is fueled by Flowers' history of constant investment in the latest technology and its uncanny speed in reacting to the changing tastes of American consumers, anticipating their diet trends well ahead of competitors.
Another Flowers tactic has been the acquisition of competitor products and facilities, accomplished with the cold-eyed, calculated resolve of a riverboat gambler. And fate has dealt Flowers some good hands over the years, the biggest jackpot coming in 1977 when the company rolled out a little-noticed product in Atlanta that George Deese nurtured from a troubled birth to its stellar prominence as today's royalty among breads.
Ahead Of The Curve
The Nature's Own brand of whole wheat and fiber-rich breads may be familiar to shoppers today, but back in 1977 the health conscious consumer who favored such products was a market oddity – except in California. "My belief is that what happened on the West Coast yesterday may be in New York today," Deese says. "And finally gets to the Southeast tomorrow."
A few years prior to 1977, Flowers executives were visiting the West Coast and noticed small local bakeries doing well with darker, whole grain breads. The company was convinced such breads would soon be in the Southeast and brought its product, Nature's Own, from the oven and served it up to the public.
"We started out with one little product in Atlanta, Georgia, called Nature's Own," Deese says. "And that was nothing like the product we have today. But it was the first little test of the brand 'Nature's Own.' We could see the product had appeal – it's a wonderful name. Upfront, it had no artificial colors, flavors or preservatives because that trend was coming." The early Nature's Own bread also had a 100 percent whole-wheat variety still popular today.
But in 1977 it seemed the new Nature's Own products couldn't get a rise from the buying public. "It was bloody," recalls Deese, who in 1977 was vice president of sales for Flowers' Atlanta bakery. "The first six, eight, ten weeks it seemed like we were bringing back more [bread] than we put into the marketplace. It was bloody with the P&L [profit and loss] statement. And we always talk about being on the cutting edge, not the bleeding edge."
While the new brand was stalled on the shelves, company executives gathered in Thomasville to discuss pulling it out of stores, but just the opposite occurred. "It was the firm conviction of the company that this is our future," Deese says, "so let's make more investment, more television advertisement so people can find out about it."
The Nature's Own brand was ready when the natural foods trend began, and today Nature's Own registers $800 million annually in sales and is online to become the country's first billion-dollar-a-year bread. "We're growing at double digits," Deese says of annual Nature's Own sales.
Another Flowers product – a low carb bread introduced just before the Atkins low carb diet became all the rage – seemed eerily prescient when it went to market. "We were 10 months ahead of our competitors," says Flowers Execu-tive Vice President of Corporate Re-lations Marta Turner. "Our sales never lost ground during that two-year period, where other bakers suffered mightily, especially those dependent on white bread sales. The American palate was changing."
Flowers celebrates 90 years of good business decisions in 2009. The company was founded in Thomasville at the end of World War I by the Flowers brothers, W.H. and Joseph, Georgia-born children of a transplanted Alabama family, who began their business careers as ice cream makers. According to family lore and company legend, the Flowers interest in baked goods arose when a 1919 market study – that's the claim – showed the demand for bread far outweighed the demand for ice cream.
"Commercially-baked bread was being shipped in from Savannah by rail," says Turner, who also serves as company historian. "They knew they needed a bakery, but that was a larger capital investment and it took longer to build." But build it they did.
In 1929, the ice cream operation was sold to Foremost Dairies, the company's first divestiture, making baked goods the staff of life for the young enterprise. "The news accounts of the time described the bakery as being the most modern in the country," Turner says. "They really did look for the best technology, even in 1919."
Two critical facets of the early years, the dependence on market research and the drive to use technology for efficient production, have become cornerstones of the company's success.
"Over [the last] five years, we have invested over $300 million in improvements or new production lines, not including acquisitions," says Steven Kinsey, the Flowers CFO. There have been acquisitions, notably the purchase of cookie giant Keebler in 1996. But the Keebler brand stayed in the Flowers family for only five years before being divested in 2001, a corner-turning year for the company and its shareholders. "Our interest in Keebler was about $350 million," Kinsey says. "And we returned directly to shareholders $1.2 billion when we divested [it]."
For Turner, risk and gamble are not synonymous, but part of growth. "You did see some things in history that showed we stepped out and did do something a little bit differently," she says. "It's risk, but calculated risk." When the cost of acquiring bakeries soared in the 1980s, the company backed off and headed in a new direction. "In the '80s we diversified," she says. "For a few years there we had a peanut company and several other things. And that's one of the times you [might] look at and say, 'What were you doing? What were you thinking?' Then we decided to pull back in, and we divested those and focused again on the baking business. So we came back to our roots."
Innovative Strategies
While Deese is headed to the airport for his flight, at Flowers Foods' Product Innovation Center employees are sampling hot dog buns and offering opinions on their taste. This is where new products are developed, in a small baking area that serves as a lab. The activity here – no public allowed – occurs amid a symphony of aromas wafting from the company bakery next door. The sweet smell of success coming from the huge ovens includes snack cakes, honey buns, and, above all, bread – perhaps the most evocative aroma in all of mankind.
The bakery, one of 39 in the Flowers family – there are five in Georgia – is a much-modified, upgraded and retooled version of the 1919 original, the signature example of the company's devotion to constant modernization. About 1.8 million pounds of baked goods – a loaf of bread in the store weighs about a pound – can be produced here each week. Items coming off an array of twisting, thumping, swooshing and mesmerizing production lines this afternoon will be in stores tomorrow morning, delivered by Flowers' independent distributors – today's entrepreneurs and the most important link in the trip from the oven to the checkout line.
It's a route with which the company's CEO is familiar: George Deese began his career with Flowers 44 years ago as a bread truck driver with a route to tend. In those days, Deese says, "Flowers had the Thomasville bakery and one in Jacksonville and sales of less than $10 million."
The company's credo – selling freshness – has not changed through the years.
To make sure consumers always have fresh Flowers products in their diets, the company decided in the 1980s to test an idea: the use of independent distributors to get products from the warehouse to the retailer. "We needed people incredibly motivated to build the business," Turner says. The critical initial try at putting entrepreneurs in charge of delivering the Flowers products took place far from the prying eyes of competitors.
"We did it first in Key West," Turner says, "because the thought was if it didn't work down there it's so far away nobody will know. We put together a plan and structured it to have a geographic territory bought by an individual; most of them are people who were salespeople, and they have the rights to distribute. And while they are growing their business they're also growing their weekly income and the equity in their business. It has worked beautifully."
Flowers' continuous investment in technology extends to the bread truck drivers. Early shoppers at supermarkets have long noticed vendors lined up to have their products checked in before placing them on the shelves. It is a time-consuming practice for both stores and vendors.
In 2000, Flowers introduced its scan-based trading for distributors, which allows the distributor and Flowers to be paid electronically when the product passes over the register scanner. The hand-held computer technology used by the distributor frees the entrepreneur to build his territory and more carefully manage the flow of baked goods by saving huge chunks of time in the workday, time that can be used to court new customers.
"We have the majority of inventory risk," Kinsey says. "And scan-based inventory management saves the store significant manpower costs. About 35 percent of the company's sales are managed this way. It also gives us a tremendous amount of information when we're trying to gain shelf space over a competitor. We collect much faster, so that helps our cash flow."
Other company assets include a strong institutional memory and experience among its leadership corps. "If you look at our top 147 positions," Turner says, "we have an average of 26 years experience with the company, and their average age is 48. So they have spent their careers with the company, helping to create the strategies. These are the people who live, eat and breathe the baking industry."
To the community that serves as home to the Flowers Foods corporate headquarters, the company is a most important citizen, creating economic development far beyond the jobs it provides. When the company relocated 160 employees of its shared services and IT staffs into two long-empty buildings in downtown Thomasville, the move poured new energy into the central business district.
"They took two abandoned white elephants, the old Scott Hotel and the JCPenney department store, and transformed them," says Karen Smith, director of Main Street Thomasville and the city's tourism efforts. "Putting those 183 people downtown added new energy to the businesses there."
The last of the Flowers immediate family to preside over the day-to-day operation of the company retired in 1985, although two sons-in-law still serve on the board. But the company legacy of serving up fresh bread and fresh ideas for growth still guides the Flowers business model, even after 90 years.