Douglas/Coffee County: Lessons From the Past
Drawing on a half century of cooperation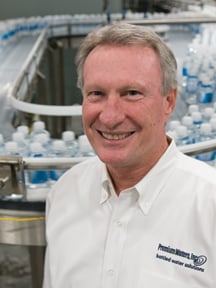 The Douglas-Coffee County Economic Development Authority celebrates 50 years since its charter this year. It's one of only three such entities in Georgia that have been operating continuously since the 1950s.
To mark the occasion, county business, civic and government leaders are devising a capital campaign to raise money to purchase and develop a new industrial park. For inspiration, they're looking back at the beginnings of industrial development in the county, when locals raised $250,000 in two weeks to buy stock in an industrial development corporation aimed at luring new business to the area.
Coffee County, with its population of about 40,000 people, sits in south-central Georgia, not an area known as a hotbed of economic development activity. But with 50 years of experience under their belts, people here know how to lure and retain businesses such as Premium Waters, Elixir, even a Walmart Distribution Center – even without immediate interstate access.
JoAnne Lewis, executive director of the Douglas-Coffee Chamber of Commerce and Economic Develop-ment Authority (EDA), likes to tell people that though the county isn't located right on an interstate, it is "centrally located between four interstates – I-75, I-95, I-16 and I-10."
In addition, the county is a fairly easy drive from the ports of Savannah and Brunswick and international airports at Jacksonville and Tallahassee, Fla., and Atlanta. Given the hurdle of a somewhat out-of-the-way location, what has made Douglas-Coffee County successful at drawing and keeping business and industry? "The people," seems to be the universal answer.
After the big development push in the 1950s, which brought in Swift (now Pilgrim's Pride poultry), things stalled a bit until the early 1970s when the chamber and development authority geared up in an effort to diversify from the county's core business of agriculture. TRW, now PCC Airfoils, "said they'd move here if we'd extend the runway to accommodate corporate jets," says Douglas Mayor Jackie Wilson, who has worked for the city in one capacity or another since 1962. The community did the work on the airport, which has since been upgraded again, and TRW arrived.
Next came Fleetwood Homes and following that, the EDA built and sold its first spec building in 1979.
The arrival of a Walmart Distrib-ution Center 22 years ago signaled to locals that big business could be had even without the luxury of a prime interstate location. "Most communities go nuts when Walmarts come," Lewis says. "But I can't say enough about Walmart and what they do for our community."
Lewis reports that Walmart, including the distribution center, logistics and the local store, is Coffee County's largest taxpayer, with a $90 million payroll and some 1,600 employees.
That Walmart has been able to run a successful distribution center with more than 170 trucks in and out of town for more than two decades, despite a lack of direct interstate access, has helped to bring in other industry. "We don't have to sell our community," Lewis says. "Our industries will do that for us."
Working Together
What's so special about the people of Douglas and Coffee County that makes the area an easy sell to industry? Everyone seems to agree it's the degree of cooperation among county and city government officials and business, community and education leaders.
As an example Lewis waves her arms around her office in the Ashley-Slater House, a 1914 mansion just off Main Street in downtown Douglas. The home was a private residence when it came up for sale in the early 1990s, in an area that was going down rather than up. Local businessmen paid $175,000 for the property, determined to save it and, they hoped, inspire renovation in the neighborhood.
When the group proposed the building for a welcome center, the city found federal funds to help. The city eventually bought and renovated the beautiful brick building, which now houses the chamber, economic development authority, welcome center and downtown development authority. Though the business group that originally proposed the idea had no guarantees when it first bought the building, it achieved its other goal as well: 11 old homes have been renovated in the years since work began on the Ashley-Slater house.
"That's how we work here," Lewis says. "A lot of businesses will ante up first, then go for assistance." She says that works better than approaching government funding sources with hat in hand, without any financial commitment from people in the area.
Pooling resources brought a much-needed truck-driving school and range to the county, and classes have been full since the program began in the spring. "We had a critical shortage of quality truck drivers," says Brandy Wilkes, vice president of economic development at East Central Technical College (ECTC) and this year's chamber chairman. The area's industry leaders approached ECTC about offering a program to train new drivers. The college expressed a willingness to provide the instruction, but didn't have the land for a driving range – a necessary component of the program. Turned out the EDA had a tract of land that would work for the program, which it deeded to ECTC. The city provided a temporary site for the range (the permanent site has since opened), and businesses donated trucks and other materials. "There are no turf wars [in the county]," Wilkes says. "Everybody comes together, finds the problems and the solutions."
In fact, a problem and possible solution were laid on the breakfast table as Wilkes, Lewis and Mayor Wilson talked to a reporter about the importance of working together. Wilkes mentioned that the college is trying to put together welding and diesel mechanics' programs, both of which can lead to high-paying jobs following graduation, but the lack of space at ECTC had stalled the initiative. "We've got space at the airport," Wilson says. It wasn't a done deal before the plates were cleared, but Wilson and Wilkes planned to discuss it further.
Lewis calls ECTC one of the most important industrial recruitment and retention tools in her toolbox, from the Quick Start program, which provides tailored training to fit the needs of specific industry, to literacy classes. Lewis makes sure businesses know they can find the educational resources they need right in the community.
ECTC also works with the students who attend on their own. The longest program is just 18 months, Wilkes says, so students are in and out quickly without a lot of student loans. And the college has a 98.6 percent job placement rate for graduates.
The most recent industrial success in Douglas is Premium Waters, which produced its first case of bottled water in January. With a small plant in north Florida that could no longer support the bottled-water growth in the Southeast, Premium Waters was looking for a new site, says Dave Bauereis, plant manager. The company narrowed the search to Cordele, Valdosta and Douglas. "We evaluated all the different criteria, and Douglas came out on top," Bauereis says.
The things that tipped the scales in Douglas' favor, Bauereis says, included the good freight lanes (despite a lack of direct interstate access, which had originally been a deal-breaker); an available spec building owned by the development authority that was "perfect for us," (though they added an additional 100,000 square feet to the existing 100,000-square-foot space); employee availability; and the local technical college to provide any training needs. But the most important factor: "This is the place we felt most welcome, the most warmth. You won't find that on any of our check sheets, but it's important," Bauereis adds.
Premium Waters currently has 100 employees, but expects to grow to 200 in the next couple of years. The company produces and bottles purified, spring, distilled and mineral water in a variety of bottle sizes.
Spring and early summer are the busiest times at the plant as the bottler gears up not just for the heat of the summer, but also hurricane season. "When hurricanes come it's crazy for us." The company works with several brokers who sell to FEMA, which needed 150 truckloads of water per day just for Texas, following Hurricane Ike this summer. While Premium didn't provide all of that, its orders definitely grew following the storm.
The plant produces 750,000 pre-forms, small plastic forms that are molded into bottles, every 24 hours, for its own use, as well as for use in other plants. (Premium Waters has six plants across the country.) Once the pre-forms become bottles, they are filled to the tune of 650 per minute, 24 hours a day, five days a week. Come spring, the production schedule jumps to seven days a week.
Expansions And Infrastructure
People in Douglas believe it's as important to nurture existing industry as it is to seek out new industry. The payoff from this attitude has been the expansion of Spectrum Distribution, which distributes men's and women's coats. Spectrum completed a 50,000-square-foot expansion in 2007, then realized that wasn't large enough and finished an additional 80,000-square-foot expansion in June 2008.
Elixir, which manufactures components for windows and doors, also added 50,000 square feet to its Douglas operation in 2007. The two expansions created 75 new jobs for the community.
Over in the new Park West industrial park, a smaller park being marketed to high-tech firms, the Georgia Department of Labor opened a 15,000-square-foot regional career center this year.
The Premium Waters facility was the last spec building owned by the EDA. In order to have something to market to prospects, this summer the authority purchased a vacant 100,000-square-foot building that it had owned several years ago. With a serious prospect looking at that facility, city and county leaders are planning ahead.
"We know that without infrastructure, we can't continue to grow," Lewis says. The EDA is looking for 150-200 acres for a new industrial park that will include a spec building. Total cost of the land acquisition, park development and spec building construction is estimated at $20 million. The EDA hopes to raise $2 million through private seed money, much like its forefathers did in the 1950s, then seek out grants or use Special Purpose Local Option Sales Tax (SPLOST) funds, which Lewis says have been used successfully in the past, to fund the rest.
Industry isn't the only business success in Douglas. "At a time when the economy is not getting rave reviews across the nation," the chamber shows 153 new jobs from small businesses in Douglas in the first six months of 2008, Lewis says. These jobs follow the recent openings of a new eight-screen movie theater, a bowling alley, four new national franchise restaurants and a new Holiday Inn Express, which represent investments totaling more than $12 million and more than 100 new jobs, she says.
All this industrial and small business activity means more county and city services are needed. The county recently invested $5 million in water expansion including a new water tower and tank and $30 million in a new jail, says County Commission Chairman Frank Jackson.
Douglas also faces challenges with its aging infrastructure. "A lot of people would love to have our challenges," says Terrell Jacobs, Douglas' new city manager. The biggest challenge: growing water and sewer infrastructure to meet industrial needs. The city is developing a water/sewer master plan, which will carry a $70 million to $100 million price tag. But that infrastructure is "key to moving us to the next level," Jacobs says.
County leaders met at the end of October for the Building Economic Strengths Together (BEST) retreat. Representatives from the department of education, the chamber, the city, the county and private citizens attended to plan the area's future.
That willingness to work together and the sense of community are major reasons given by industry leaders for moving to or staying in the area. "This is very peculiar, but it's a good peculiar, the way governments get along," Jacobs says.
Douglas/Coffee County
At-A-Glance
Population
(2006)
Coffee County, 40,250; Douglas (county seat), 10,639; Ambrose, 320; Broxton, 1,428; Nicholls, 1,008 *
Unemployment
September 2008
Coffee County, 8.6 percent; Georgia, 6.6 percent
Top Employers
Coffee County Board of Education, 1,200; Pilgrim's Pride, 1,100; Walmart Distribution/Logistics, 1,000; PCC Airfoils, 900; Coffee Regional Medical Center, 700
Sources
Douglas-Coffee Chamber of Commerce and Economic Development Authority, U.S. Census Bureau, Georgia Department of Labor
* City population figures for 2000