The Best Places To Work In Georgia
Meet 15 employers – including a pair of banks, a city government and an ambulance service – whose employees say they are the best.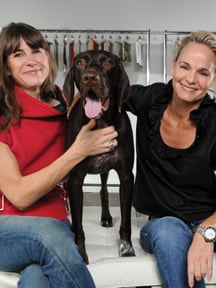 It's easy for a CEO to say he cares about his employees. But Ben Hinson of Mid Georgia Ambulance Service in Macon puts his words into action, giving loans up to $3,000 to employees who are struggling financially. If the employee stays for a year, the loan is forgiven.
Function, a public relations and marketing firm in Decatur, pays 100 percent of health premiums, even though it has just 15 staffers. Atlanta healthcare company Connecture allowed an employee to work remotely from Guatemala for months while adopting a baby.
To determine what makes a great workplace, we went to the experts – the employees. For the third year, Georgia Trend asked readers to tell us why their particular companies or organizations are the best places to work. And they did. From more than 400 nominations, the editorial staff selected 15 companies, listed alphabetically on the following pages, for our 2008 roster of The Best Places to Work in Georgia.
Bank of North Georgia
Alpharetta
Kessel Stelling, President and CEO
Whether it's chaperoning a child's field trip, taking an elderly parent to the doctor or volunteering at a homeless shelter, employees at this bank know their supervisor will help them find a way to balance their work and home life.
"If they're not happy at home, they're not going to be happy at work," Stelling says. "It's part of our culture that we value our team members. We try to be team-oriented and family-friendly."
The company, which has about 650 employees and makes its second appearance on Georgia Trend's Best Places to Work list, has a long-standing open-door policy that has made it easier for employees to handle the uncertainty in the banking industry. "Whether it's one-on-one or through bank-wide conference calls, I talk to our colleagues about what's going on in our industry," Stelling says. "We're honest about how we're doing and what we're doing."
Employees appreciate the approach. Says Matt Davis, Business Banking Relationship Manager: "It is the corporate culture of servant leadership that permeates from the top down."
The Beck Group
Atlanta
Brad Phillips, Managing Director
This design and construction firm, based in Texas with an Atlanta office that employs 65, prides itself on its commitment to training.
The firm budgets $2,500 per employee for 40 hours of "very targeted development for them to reach their future goals in the organization," Phillips says.
Supervisors provide intense coaching for employees in determining the type of training they need. "We help them answer the question, 'What do they want to do in the next stage of their career?' "
Project manager Michael Monce says he is continually challenged in his job, which allowed him the opportunity to work on the Nasher Museum of Art at Duke University and The Michael W. Krzyzewski Center for Athletic Excellence. The process is set up so employees get to be involved from start to finish. "Each person is challenged with learning the aspects of each other's profession," Monce says, adding that Beck paid for his final semester at college after he interned with the firm.
Carroll EMC
Carrollton
Ernest A. "Chip" Jakens, President and CEO
This electric cooperative is charged with keeping the lights on. To that end, its 129 employees do whatever is necessary, whether it's reporting to work on Mother's Day to help out after a storm or responding to outages in the middle of the night.
Since its inception in 1936, the cooperative has made safety its top priority.
"Being safe not only lets them go home to their families, it also makes us good stewards to our members," says Susan Lester, vice president of member services, adding that the company's linemen compete in international "safety rodeos."
The walls at Carroll EMC are covered with plaques awarded for its safety program. Employees take their safety-first message into the community, "from providing help with repairing ball-field lights to educating children on the dangers of electric power lines," says Alan Johnson, manager of construction. "Our company has the best employees who care about the members they serve."
City of Decatur
Decatur
Peggy Merriss, City Manager
Tony Parker says his workplace is a nonconformist's dream. "I have spent 23 years working in an environment that rewards independent thought and crazy progressive ideas and where failure means we get to try again," says Parker, assistant city manager for emergency services. This DeKalb County city of about 18,000 is east of Atlanta and covers a little more than four square miles.
Managers for the city of Decatur, which has 207 full-time employees, read and discuss a book each year. Past selections include Good To Great, by Jim Collins and A Whole New Mind, by Daniel Pink. "We are constantly challenged to find opportunities for personal and professional growth," says Meredith Roark, a management analyst.
On nice days, she sits outside with her laptop and enjoys the citywide wireless network built with funds from a state grant. When Roark showed an interest in emergency preparedness, she had the opportunity to get certification even though it isn't her primary job focus. "I am proud to be part of a forward-thinking team with its commitment to nurturing and sustaining me and the community," she says.
Connecture
Atlanta
Dan Maynard, President and CEO
This company, which sells automated solutions to the healthcare industry, takes the idea of working remotely to extremes. An employee once worked from Guatemala for more than three months while adopting a baby.
Several employees work exclusively from home to care for children and elderly relatives. Another leaves work during the day to attend college. "We try to say yes to our employees when they reach out with an option to achieve this balance for themselves and their family," says Megan Riddle, marketing specialist.
The company, which has about 150 employees, does not adhere to rigid human-resources policies. Instead managers consider each request on a case-by-case basis, says Robin Spera, head of recruiting.
"Everyone knows each other," Spera says. "Executives empower managers to let their employees work in that sort of environment where, when certain circumstances arise, any request is taken into consideration."
Floyd County Health Department
Rome
Pat Townley, County Nurse Manager
More than a third of this agency's 40 employees have worked there for 20 years or more. They call themselves "lifers," and wouldn't have it any other way.
"We stay because those we serve are so appreciative of the care and services given," Townley says. "That means over 80,000 hugs and thank yous each year."
When someone comes to the health department looking for food, housing or another service the department doesn't provide, an employee will help that person get help from the right agency.
"We live in this community," Townley says. "We are seen as providers of care."
They also care about one another. Employees have seen one another through marriages, births, divorces and deaths of family members. "We celebrate the good things and help each other through the bad times," Townley says. Lately, there's been a lot to celebrate. A co-worker just got married, and they've enjoyed a spate of five births among younger employees. The young folk aren't lifers … yet. "Once you get here," Townley says. "You're here for life."
Fort Valley State University
Fort Valley
Larry E. Rivers, President
The first thing that jumped out at Misty Cline when she went to work at Fort Valley State University was how many people who worked at the college previously attended it.
"This is the only place I've ever been where you really are a family," says Cline, a public relations specialist at the college, which has more than 500 employees. "There is an incredible sense of history here."
Fort Valley's president, Larry Rivers, is a graduate who eats his meals in the cafeteria alongside students. "Our administrators are out there," Cline says. "They're directly responsive to everybody. They're accessible. They'll get your issue taken care of."
The family philosophy extends from faculty to students who, being young adults, sometimes don't return calls from their parents. "If a parent calls and hasn't heard from their child, the Fort Valley State University family tracks that child down and puts a phone in his or her hand," Cline says. "There are aunts you can tell anything to, the funny uncles who have great stories, and enough cousins around so you never have to feel like you are going through something alone."
Function
Decatur
Dana Castle, Managing Partner
Every Friday is bring-your-dog day at Function, a marketing, design and public relations agency. The pet-friendly environment is just one way the company, which has 15 employees, promotes the creativity that has been the key to its success.
"We don't micromanage," says Castle, who founded the company a decade ago with Michele DeHaven. "We created the environment to be a place we would want to work. We give people room to grow. It helps keep ideas fresh."
The pair decided early on that every employee would feel valued. They committed to paying 100 percent of employees' healthcare premiums. They decided everyone would help each other out, regardless of position, and led by example.
"It makes me happy to come to work every day, excited to see the company grow and feel like I had a hand in it, like we are all in it together," says Joslyn Fagan, director of public relations. "Function is a relaxed environment that encourages employees to bring the very best of their abilities to the table and where employees really want to do so."
J & J Industries
Dalton
Jim Bethel, CEO
This Dalton carpet company was founded 51 years ago with the idea that leftover yarn could be turned into rugs.
That spirit of recycling has continued, and the company is proud of its Campus Green program that promotes reduction in water, electricity and waste in all areas of the business. The company created a wetland area on site for the community and wildlife to enjoy.
Respect for the environment is just one reason employees say they love working at J & J. Still family operated, the company has about 800 employees. "The stage was set for us by the founders, and it has been our task to stay attuned to the principles they set," Bethel says.
The company rewards employees for their service through profit sharing. A Christmas dinner also makes employees feel valued. In difficult economic times, J & J's longstanding policy of open communication helps employees feel secure. "Business isn't all about money and your employees know that," Bethel says. "Your employees are truly partners in the business."
Jackson Spalding
Atlanta
Glen Jackson and Bo Spalding, Co-Founders
Founded in 1995, this Atlanta-based marketing communications firm prides itself in an entrepreneurial spirit. Its 70 employees do not have job titles. Everyone gets a day off to do volunteer work. Spouses are invited to the company retreat. At least 10 percent of employees work on a flexible schedule to help balance the demands of family and work.
"Our families need to be our top priority," says Jackson, who describes the atmosphere he and Spalding cultivated as a "relaxed sense of concentration."
The family-friendly approach was inspired in part by Publix, one of the firm's first clients. Jackson and Spalding admired how Publix treated its employees.
Some companies discourage flexible hours for fear it will hurt productivity, but that hasn't been a problem at Jackson Spalding. Says Jackson: "Everyone who takes advantage of flexible scheduling is so appreciative, they work harder for the client."
Mid Georgia Ambulance Service
Macon
Ben Hinson, CEO
At this company, paramedics and emergency medical technicians must live up to high expectations.
"We expect them to be the best every single time," says Hinson, who founded the company 31 years ago. "If they're good enough to pick my mama up, they're good enough to work for us."
In return, Hinson takes care of his 200 employees through good salary and benefits, paid training and quality equipment. Still, some are struggling in a challenging economy. To help them through tough times, the company offers loans of $500 to $3,000. "If the employee works 12 months, I'll forgive the loan," Hinson says.
In treating his employees well, he empowers them to treat their patients with exceptional care. For example, a team recently drove a dying man from the hospital to his house in what everyone knew would be his last ride. The pair drove out of their way to take the man to his church, so he could see a new building he helped raise money to build. If a patient is stressed out about the bill, the paramedic may write off the charge.
The approach makes good business sense, because there is a shortage of quality paramedics. But Hinson's motivation goes beyond profit. "The bigger issue is to do the right thing for the right reason."
Morris, Manning & Martin
Atlanta
Robert E. Saudek, Managing Partner
The mantra at this law firm is "no jerks allowed." The attitude encourages a nonelitist culture, where everyone is treated with respect. "The tone is set from the top down," says Vanessa Goggans, administrative partner for human resources. "It's a priority to make sure people feel appreciated."
The firm's partners vote on how much each should be paid, ensuring fair compensation. An Associates Council gives young lawyers input into management decisions. The lavish holiday party is for everyone, not just lawyers. Staff members get at least 20 paid days off and may donate unused time, as they did recently for an employee with a sick child.
During financial crunch times, the firm has taken a look at its "Cadillac" benefits package, but partners are adamant about not changing it. "That is one of the reasons people choose to work here and stay," Goggans says.
With about 350 employees in Atlanta, Morris, Manning & Martin is community-minded, encouraging employees to volunteer. They also take care of each other. "When something bad happens, we rally around that person," Goggans says. "We pitch in and help each other out."
Nalley Automotive Group
Duluth
Henry Day, CEO
By giving its 1,450 employees opportunities for personal and professional growth, this Duluth-based company has avoided the turnover that is common in the car business. The average tenure among managers in the service, parts and body shop is almost 20 years.
"Anything the company does strategically it has to benefit the employee, the customer and the company," Day says. "We try to create a culture of teamwork and goal-setting and work with each employee to understand what their short-term and long-term goals are."
Day encourages his employees to look at the challenges in the car industry as opportunities to do things differently, such as keeping the service department open on Sundays.
"We believe in trying to get our employees involved with ideas on how we can serve the company better," Day says. "We like challenging times because it gets to separate us from the competition."
Owen, Gleaton, Egan, Jones & Sweeney
Atlanta
H. Andrew Owen, Senior Partner
Amy Kolczak started her legal career with a goal of being a good lawyer and "having a life." She found what she was looking for at Owen, Gleaton, Egan, Jones & Sweeney, where she is managing partner over personnel.
Many firms require lawyers to bill 2,000 hours a year, but this Atlanta firm has a goal of 1,750. Yes, lawyers who bill more earn more, but for Kolczak and the firm's dozen other partners plus 29 employees, "It's worth it," she says. "It's a conscious decision. We've all made that decision."
Partners encourage all employees to have outside interests and to be involved in community service. Everyone socializes together during an annual field day in Piedmont Park and other events. A transportation stipend, full health coverage and other benefits keep employees confident in their choice of firms.
"We are not the highest-paying firm in Georgia by a long shot, but I would venture to say we're universally one of the happiest law firms in Georgia," Kolczak says.
The Peoples Bank
Winder
Christopher B. Maddox, President and CEO
This bank is where kids often go to open their first savings account and then, impressed by the customer service, return years later as employees. It's been that way since the bank opened in 1926.
"Our slogan of doing more transcends everything we do," says Allyson Summerour, director of human resources. "It started out as a tagline [but] has become a way of life."
Brandy Johnson, now head teller, had to be rushed to the doctor's office by her branch manager when she went into premature labor four years ago. "The support my husband and I received from my bank family was amazing," she says. Other employees recall an outpouring of compassion when an elderly parent was injured and when a husband was diagnosed with cancer.
The bank, which has about 130 employees, is inundated with charitable requests and has a committee of employees decide how to distribute funds. Says Margaret Whieldon, executive vice president of marketing: "We want our employees to feel part of the decision making."