Rockdale County: Dynamic Vision
Promoting tourism and grooming entrepreneurs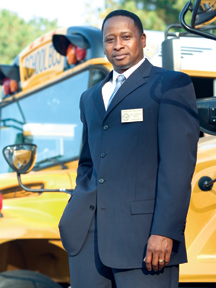 In this Olympic year, many people in Georgia were waxing nostalgic about the 1996 Atlanta games. Folks in Rockdale County, however, don't have to reminisce. A trip to the Georgia International Horse Park, built for the 1996 Olympics and still in use as an equestrian venue, is all the reminder they need. That venue and the people it has brought to Conyers (the county seat and only municipality in Rockdale) have left a mark on the area that is felt to this day.
Located less than 30 miles east of Atlanta on Interstate 20, Rockdale County is Georgia's second-smallest in terms of land. But don't let the size fool you into assuming people in Rockdale think small. Leaders have a vision that includes entrepreneurship, industry, technology, healthcare and tourism.
Tourism in Rockdale County starts with the horse park. The 1,400-acre venue hosts more than 400 events each year, says Conyers Mayor Randal Mills, and has brought in more than $100 million in revenue since the 1996 Olympics. "We're the only venue still doing what we set out to do 12 years ago," Mills says.
That doesn't mean the park has been stagnant for 12 years. Besides equestrian events, the horse park offers bike trails, banquet facilities and a nature center and will soon feature a gated housing development nearby – the first such community in Rockdale. But horses are still king at the park, where a recent $2 million investment in new barns means more horses can participate in events. The market for bigger and bigger horse shows is growing, Mills says, and "we're going to grow with it."
A hotel tax, with funds earmarked for capital improvements and new projects at the horse park, means that folks from out of town who often use the park will help pay for needed upgrades, such as a climate-controlled arena.
Town And Country
Hoping to lure horse park visitors and others, into shopping, eating and enjoying the arts in Conyers, leaders have developed a vision for downtown, known as Olde Town Conyers, that will provide food for the body and sustenance for the soul.
Five years ago, a $2 million investment was made in the downtown Conyers area for utilities, streetscape and sidewalk improvements. Since then, a few shops and restaurants have opened, but retail is not where city leaders would like it to be, Mills says.
The city and county are working together on a downtown vision. Roy Middlebrooks, chairman of the Rockdale County Board of Commissioners, says the two entities have put out a request for proposals for an evaluation of city and county properties, with the goal of planning something together for Olde Town Conyers. Additional space is needed for judicial services, a county function that currently resides in Olde Town, and the city would also like to house some of its offices downtown.
In addition, a plan is in the works for more housing units and a parking deck in Olde Town. Added city and county employees plus more area residents would provide an economic incentive for more restaurants and shops to locate in the area's cute, painted-brick shops.
"There is a vision," Mills says. "We're just trying to make all the pieces come together."
As Middlebrooks and Mills enthuse about the easy, respectful working relationship between city and county, it seems clear that the pieces will come together. "We see our community as one community," Middlebrooks says. "That is a big deal."
The Conyers-Rockdale Council for the Arts is doing its part to bring visitors downtown. With a number of famous actors, including Holly Hunter and Dakota Fanning, hailing from Conyers, it's no surprise that drama flourishes. The 99-seat black-box theater and arts council offices are located in Olde Town and feature local shows, including plays performed by the community theater group the New Depot Players. The stage also hosts nationally known talent in a variety of genres, such as improv groups and a Grammy-winning Latin jazz group.
Bringing diverse artists to the growing, culturally expanding community is important to the council's mission, which is to make the arts accessible to everyone. The organization is trying to cater to new audiences, while staying true to its roots.
Those roots include art camps, art education and performances for kids. The newest initiative is an art gallery scheduled to open this fall across the street from the theater. With the new space, the council will be able to show works by a greater range of artists. Classrooms on the second floor of the building will allow for art classes, including painting, drawing, sculpting and pottery for children and adults.
Other plans, which will draw in the community, include clinics taught by national artists visiting the area, along with various competitions. A photography competition, Second Look, is open to adults and students and will feature photos showing local landmarks in a whole new light. The arts council also will sponsor a short film contest on family life.
Revitalization isn't confined to Olde Town. Projects are ongoing throughout the county. Streetscaping is planned or under way along West Avenue and Highway 138, two exits off Interstate 20. West Avenue, exit 80, is undergoing a $1.5 million redevelopment, including streetscape, sidewalks and the I-20 interchange, Mills says.
Highway 138, accessed from exit 82, also is scheduled for beautification. Plans call for the look to complement that of the West Avenue streetscape. The Georgia Department of Transportation has approved the project, but Middlebrooks says, it's being held up by the drought. The county is seeking approval from the state Environmental Protection Division to begin the work.
In addition to streetscapes and road improvements, Rockdale now has its first walking/biking trail. The South River Trail is a 12-foot-wide concrete path along the county's southern end, Middlebrooks says. With three miles completed, the trail will ultimately stretch 13 miles from the DeKalb County line to the Monastery of the Holy Spirit. Also in the works is the Olde Town Conyers Trail, a proposed 10-mile greenway that will connect historic downtown Conyers with the Rockdale South River Trail.
Planning Ahead
Though the Highway 138 project is on hold, Rockdale County actually is in good shape, water-wise. Current leaders credit the vision of those who came before for their good fortune in these tight water times, and they are planning ahead themselves. Middlebrooks says that while the reservoir is in good shape, leaders are seeking approval to raise the height of the dam by five feet, which will provide 1.4 billion more gallons of storage capacity. Leaders also are considering adding wells to meet future water needs.
As always, paying for projects is an obstacle. The county uses a combination of Special Purpose Local Option Sales Tax (SPLOST) funds, which have paid for road resurfacing and parks and recreation improvements, and a 1 percent Homestead Option Sales Tax (HOST), which has been used to give a 100 percent homestead tax exemption.
Industrial development continues in Rockdale County, which already is home to such heavy-hitters as Solo Cup Co. and BioLab Inc. Pratt Industries Inc., a paper and packaging manufacturer located in Rockdale, recently invested $65 million in its own power generating plant, says Glenn Sears, executive director of the Conyers Rockdale Economic Development Council. In addition, developer Ashley Capital is building a new distribution facility on 212 acres at Sigman Road and Gees Mill Road in the eastern part of the county, he says.
One of Sears' goals as economic development director is to attract high tech manufacturers to the area, specifically in plastics, a field that already is well represented. One tool being used to attract and keep industry is the Georgia Work Ready Initiative, which uses skills assessments and training to match people and jobs.
Sears says the initiative is a "high value program for us with existing business." Assessments are made at DeKalb Technical College and given to high school students at the Rockdale Career Academy, a public charter school. Sears also has approached the Rock-dale County jail about offer-ing assessments to people earning their GEDs while incarcerated.
Sears says he is committed to meeting the staffing requirements of existing business and industry with high quality employees, and is exploring every avenue available to meet that goal.
Promoting Entrepreneurship
While Sears concentrates on large business and industry, Fred Boscarino, president and CEO of the Con-yers-Rockdale Chamber of Commerce, focuses his energy on a different sort of enterprise. "The backbone of our country is small business, he says. "You have to be prepared to help your small businesses."
One way the chamber helps is through Opportunities for Promoting Entrepreneurship and Networking (OPEN), a program the chamber sponsors to teach people how to start, grow and succeed in a small business.
The program, Boscarino says, is all volunteer run and entrepreneur driven. "My job is to fill the seats and bring food."
Julian Harwell, who owns Financial Designs and Solutions, co-chairs OPEN, which is a six-week class, offered twice each year.
Harwell and co-chair Brian Howe are responsible for the curriculum and finding entrepreneurs to teach it. Harwell claims it isn't hard at all. "Eighty percent of our original presenters are still presenting," he says. These business owners give the class members "realistic information on what they'll be facing if they open their doors," Harwell says.
Presentations on accounting, banking, marketing, identity theft, insurance and retirement planning are all part of the curriculum. "Just about every aspect of business they'll need to think about, and most of them haven't," Harwell says.
He estimates 60 percent to 70 percent of the people who sign up for the class end up not going into business for themselves. He doesn't view that as a failure, but rather as a success. They've made that decision after thoughtful consideration of the process, he says.
One OPEN class member who has made a success of her business is Patti Bryson, owner of SIFT Inc., a human resources consulting firm. Bryson, who calls herself a "seasoned individual," has been in business 30-plus years, but always worked for someone else. When she bought SIFT in 2005, after having worked as an employee since 1997, she realized she didn't know about running a business of her own. "That's why OPEN appealed," she says.
The only regret she has about taking the course is that she didn't have the opportunity to do it before buying SIFT. The biggest benefit to her from the program? "OPEN enables you to know who to go to." Not a specific person, she explains, but because the program offers an introduction to various aspects of running a small business, business owners know which people in which professions can help with which problems.
"We know we've saved a lot of people heartache, time and money," Harwell says.
Rockdale County At-A-Glance
Population
(2007)
Rockdale County, 82,117; Conyers 11,856
Unemployment
(August 2008)
Rockdale County, 8.5 percent; Georgia, 6.4 percent
Top Employers
Rockdale County Public School System, 2,175; Acuity Lighting Group, 1,200; Rockdale Medical Center, 1,150; Pratt Industries, 950; Hill-Phoenix, 750
Sources
Conyers Rockdale Economic Development Council, Georgia Dept. of Labor