Gainesville/Hall County: A Changing Landscape
Urban upgrades, healthcare expansions, lakefront luxury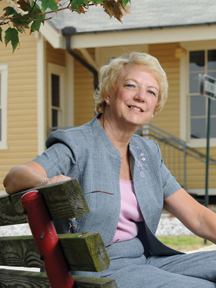 Redevelopment is spreading like kudzu from one end of Hall County, about an hour northeast of Atlanta, to the other.
Small towns in south Hall are reinventing themselves. The midtown area of Gainesville, the county seat, is being reinvigorated with new office space, a proposed hotel and a Communiversity. Lake Lanier Islands resort is working through a major renovation. In addition, Gainesville is rethinking healthcare delivery in compassionate and creative ways, and a lake community is bucking the housing downturn.
Tiny Flowery Branch, in south Hall, has recently completed improvements to its one-block Main Street. Bright paint on the brick buildings, new sidewalks, benches, trash cans and newly planted trees and shrubbery are "just the start of redevelopment in downtown Flowery Branch," says the city's first woman mayor, Diane Hirling. Next up, a $15 million mixed-use development starting at the corner of Main Street and Railroad Avenue and running three to four blocks along Railroad.
The plans, from Hortman and Dobbs Developers out of Buford, call for retail, including a grocery store; restaurants and office space downstairs with lofts upstairs; a parking deck; a small park and townhouses, Hirling says. Groundbreaking is scheduled for October with completion expected in late 2009.
"This is going to change the whole of Flowery Branch," Hirling says. "You'll be able to live and actually walk into town to get what you need."
Up the road a bit, even tinier Oakwood is creating an entirely new city, almost from scratch.
Oakwood's current city hall sits well off any main street, with few buildings surrounding it. But a master plan – Oakwood 2030, the Shape of Life to Come – if approved, will turn a blank canvas of more than 600 undeveloped acres within the city limits into a well defined small town.
The first phase will create a government center on 23 acres on the north end of town. On the other end of town, Thurmon Tanner Parkway, which offers easy access to I-985, will become the commercial center. Between those two points will be a transit station; Main Street Village with shops and a new public safety headquarters in the current city hall; and the "historic neighborhood," an existing residential district that will be redeveloped and offer sidewalks, pocket parks and homes with front porches. Walking paths and bike trails will connect the entire development.
City officials envision a public-private partnership, with $150 million to $200 million in private development money and $50 million from the city over the next 20 years, the project's length. The city's investment would primarily cover infrastructure costs, says City Manager Stan Brown. Already Oakwood has invested $800,000 in the study and design phases. In addition, the area has been designated a Tax Allocation District (TAD) to cover approximately 40 percent of the infrastructure costs.
"We're talking about a downtown area for today and 50 years from now," says Oakwood Mayor Lamar Scroggs.
Growth In Gainesville
In Gainesville, redevelopment shines the moment you get off I-985 at exit 22, with rehabbing of the long-vacant Warren Featherbone Co. building into Feather-bone Communiversity, an intergenerational learning venue, as Gus Whalen, a partner in the effort, calls it.
The building, once home to a baby-clothes manufacturer, now houses Lanier Technical College's Manufacturing Development Center, a small-business incubator with 10 enterprises in residence. Interactive Neighborhood for Kids (INK) a hands-on children's museum, features a kid-sized community where children can explore a grocery store, police station – including a real police car – and an airport with a real airplane. Atlanta Parent magazine recently named INK one of metro Atlanta's 10 Timeless Treasures. The third resident is Brenau University, which located its nursing school there and offers some of its senior learning classes on the premises.
Featherbone Communiversity is the "entrepreneur site of the community," says County Commission Chair Tom Oliver, who is pleased at the addition to the county. "Small business makes the world run."
The nearby Midtown office towers and hotel complex will be constructed on an underused shopping center site. The project, slated to begin in late 2008 or early 2009, will be a major boon to redevelopment in that area, says Bryan Shuler, Gainesville city manager.
The hotel site is across busy Jesse Jewel Parkway from the Georgia Mountains Center, a meeting facility built in 1980. Studies show the center requires an adjacent, quality hotel, in order to draw more meetings, Shuler says.
The city is committed to building an elevated, enclosed pedestrian walkway over Jesse Jewel that will connect the hotel and Georgia Mountains Center. "We hope there may be interest from the eventual hotel developer to operate the Georgia Mountains Center with the hotel," Shuler says.
In a public-private partnership, the city, the county and private developer Pattillo Construction, are moving forward on the Gainesville Business Park, a 170-acre park slated to begin construction this fall. The last industrial park in Gainesville was started in 1997, says Tim Evans, vice president of economic development with the Greater Hall County Chamber. "So this is important to us. By the time we run out of old park space, this will be ready."
The expansion of ZF Industries, a tier-1 German automotive supplier of automatic transmissions for Nissan commercial vehicles, is one reason industrial park space has become scarce in Hall County. ZF has recently made a $40 million investment in a 23-acre site in Gainesville Industrial Park West. The company expects to employ 150 people and break ground on its 110,000-square-foot building in January 2009.
Healthcare Innovations
Throughout the county, rising healthcare costs have not responded to traditional remedies, leading people in Gainesville to develop innovative clinics to maintain a healthy citizenry while keeping costs down. The first clinic is for city employees and their families. The second is for low-income Hall County residents without access to health insurance.
"Like most governments and businesses, we're struggling with the rising cost of health insurance," Shuler says. "We began looking at options for containing healthcare costs."
The option the city chose is Care Here, a company that will set up a clinic, contract with local physicians for staffing and stock the pharmacy. After studying one of its clinics for city of Chattanooga employees, Gainesville leaders were sold.
The clinic, set to open in September, will serve current and retired city employees and their families. It won't replace city-offered health insurance; it will just offer one more option. Shuler says the city is banking on costs dropping as more and more people use the clinic. Incentives include no co-pays, no cost for prescription drugs and no waiting. Patient visits are scheduled every 20 minutes.
The clinic also will offer a wellness component. In addition to saving money, the clinic's other goal is a healthier workforce.
Gainesville city employees aren't the only folks with new healthcare options. Good News Clinics and Health Access Initiative are ensuring that Hall County residents without access to health insurance – some 21,000 of them – have somewhere to receive not only primary care, but also specialty care when needed.
Initial discussions about Good News Clinics started in 1992, says Cheryl Christian, executive director, with a group of physicians who were concerned about the number of uninsured people in the area. In addition to not receiving basic healthcare, the uninsured also were taxing the hospital's emergency room by using it as a primary care clinic. Good News Clinics opened in 1993, in response to this critical need, and added dental services in 1997.
The largest free clinic in Georgia, Good News Clinics log more than 15,000 medical and dental patient visits each year. The number is so high, Christian says, because of the variety of services the clinics offer. Volunteer physicians in specialties including gynecology, allergy and dermatology offer services through the clinic to patients who pay nothing for the visit or any prescribed medications.
A patient who needs more care or tests than are available at the clinic can be referred to the Health Access Initiative. A consortium of more than 170 physician volunteers in 22 specialties, these practitioners see patients for free in their offices in order to provide tests and services – including surgery and treatment for chronic conditions such as diabetes – that can't be done in the Good News Clinics. Patients are screened at HAI, and receive a patient ID card, which they present at the doctor's office at the time of their appointment.
HAI had "$4.7 million in donated healthcare last year," says Kim Smith, the project's executive director. Funding comes from private grants and donations, including the Medical Center Foundation and Northeast Georgia Medical Center. There is some state and federal funding as well. Good News Clinics operates entirely with private donations and grants, and receives no state, federal or local government funding.
Lanier's New Legacy
Lake Lanier Islands has been offering Georgians not so much what they need as what they want ever since the islands appeared when the lake was flooded in the 1950s. In a complicated series of relationships, the Army Corps of Engineers owns the land, which it leases to the state of Georgia, which set up the Lake Lanier Islands Development Authority (LLIDA) in 1962 to manage and develop the islands as a recreational venue for Georgians.
In the 1990s a private California company contracted with the state for daily management of the facilities, which by then included hotels, a conference center, a waterpark, marina and golf courses. In 2005 a lease interest in the facilities was sold to LLI Management, owned by the Virgil Williams family of Gwinnett County. Which brings us to the present refurbishment, renovation and renewal of Lake Lanier Islands. (Editor's note: Williams is a former owner of Georgia Trend.)
The Williams family brought in Canin Associates, a resort planning company from Orlando, which spent a year developing a master redevelopment plan for Lake Lanier Islands, says Grier Todd, chief operating officer of Lake Lanier Islands Resort. The goal was to ensure LLI provides something "attractive to all citizens of the state of Georgia. It belongs to the people," Todd says.
Renovations started in January 2007 with the old Emerald Pointe Hotel, now known as Legacy Lodge & Conference Center. The $12 million renovation, which looked to the great lodges of America for its theme, included all 220 rooms, the exterior, the lobby and BullFrogs, the restaurant, which doubled in size. In addition, six new six-bedroom villas were constructed to the tune of $1 million each. The old Emerald Pointe Golf Course also was closed for a $4 million refurbishment and is scheduled to reopen in spring 2009.
The new owners also recognized that the infrastructure, much of which was 35 years old, needed upgrading. The LLIDA, which still maintains the land, has begun $35 million in improvements to roads, sewer collection systems and security lights. One of the most visible changes will be the addition of 10-foot sidewalks throughout the resort, with pedestrian tunnels and bridges crossing the main road.
"All of these projects are paid for by money generated by the islands," Todd says. "Not one red cent will be paid by taxpayers for infrastructure or upgrades."
As the renovations to Legacy Lodge wrapped up, other work was just beginning. The Pine Isle Hotel came down. Resort leaders are talking with hotel developers about a new four-star hotel to go up in its place. The new hotel's economic impact would be 250 to 300 new jobs, a $15 million annual payroll, plus payroll during construction and taxes generated at the hotel, Todd says. Pine Isle Golf Course also will be remodeled once the Legacy course reopens. Improvements to the resort won't end there. The expansive master plan calls for an indoor/outdoor waterpark, a family hotel and more rental villas and houses spread throughout the park, overlooking the golf courses, the beach and the lake.
On the lake's northern end sits Marina Bay, a high-end subdivision that's bucking the housing downturn with continued sales. In fact, Marina Bay sold $16 million in homes in 2007, and continues to sell well in 2008.
John Schwartz, Marina Bay's sales manager, lists two reasons for the community's success: quality of the developers and 280 permitted boat slips. The developers are "strong financially and committed to the long-term vision of Marina Bay," Schwartz says.
The boat slips also are a huge advantage. With a corps moratorium on new boat slips, Marina Bay still has 230 to sell, and they sit in deep water. Eighty percent of homebuyers purchase a boat slip, Schwartz says. The $70,000 slips are available only to Marina Bay homeowners.
In addition to boat slips, Marina Bay offers homesites overlooking the lake, parks within the development, a playground, a chipping green and Tennis Village, where a series of cottage-style homes, like something out of a fairy tale, overlook lighted tennis courts.
The needs of Hall County residents, whether for recreation or healthcare or something in between, are being met by the current boon of development and redevelopment.
Gainesville/Hall County
At-A-Glance
Population
(2007 estimates)
Hall County, 180,175; Gainesville, 35,000; Oakwood, 3,408; Flowery Branch, 2,087; Lula 1,878; Clermont, 662; Gillsville, 204
Unemployment
July 2007
Hall County, 5.4 percent; Georgia: 6.5 percent
Major Employers
Northeast Georgia Medical Center, 4,700; Hall County School System, 3,400; Fieldale Farms, 2,520; Gainesville City School System, 1,861; Hall County Government, 1,646
Sources
Greater Hall County Chamber of Commerce, Georgia Dept. of Labor