Bringing The World To Georgia
Last year Georgia's international trade totaled $82.5 billion, and there are more trading partners ready to cash in. Brazil's newly opened consulate in Atlanta is charged with promoting economic development and helping businesses and inve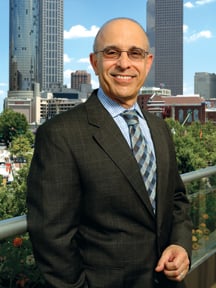 In the gap between opportunity and sealing the deal they paced the halls, wearing intersecting paths in the carpet, these polished, well-dressed men and women with hands-free communication technology, holding conversations with telephone phantoms half a hemisphere away. Spanish and Portuguese and English, intertwined, respectfully hushed, global commerce on the fly.
Welcome to the Brazil Road Show on Infrastructure Projects, a traveling sales pitch at the Metro Atlanta Chamber of Commerce for the South American nation's Program for the Acceleration of Growth, a $300 billion initiative to build and repair highways, airports, seaports, rail systems, water and sewer systems and housing in this large, booming country of some 190 million people.
"The government of Brazil is trying to attract foreign companies and investors for this huge private-public project, the largest infrastructure program ever in our country. We see many, many opportunities for American companies," says Ambassador Adalnio Senna Ganem, Brazilian Consul General in Atlanta and, therefore, top man at the city's newest consulate general office.
"We are very focused in the Southeastern United States, and Atlanta is the best fit. Many companies are established in Atlanta, companies that have investments in Brazil. We see a good opportunity to establish cooperation in technological fields with the universities here, and there is huge potential for further cooperation in terms of business and education."
Consular offices generally are involved in protecting the interests of their citizens residing in the host city, issuing passports, promoting tourism, providing legal assistance or the opportunity to vote to expatriates.
But more often than not, for many nations in the global economy, the consulate's primary function is facilitating trade and economic development, assisting businesses and investors, importers and exporters, in their country and their host city or country. This is a meaty role in Georgia, where international trade totaled $82.5 billion in 2007 (including exports that originate in Georgia plus imports, which may be headed anywhere once they pass through Georgia), according to the Georgia Department of Econo-mic Development.
"Georgia, ever since the 1996 Olympics, has been on the forefront of global business growth," notes Gov. Sonny Perdue, who has worked to accelerate Georgia's global trade, last year dedicating $5.1 million to the "Global Georgia" initiative. He credits the local footprint from abroad for much of the state's success to this point, interest driven and drawn by the Brunswick and Savannah ports, and Hartsfield-Jackson Atlanta International Airport, the world's busiest.
"Atlanta has served as a great venue for many of these consulate offices, as well as bilateral chambers of commerce and trade offices," Perdue says. "Georgia is the logistical nexus for international trade. We own a corner store in the global marketplace."
Based on imports and exports passing through Georgia, China is Georgia's top international trade partner, to the tune of almost $15.7 billion in trade for 2006, according to WorldCity, a media company focused on global trade. Accordingly, Georgia delegations have been visiting the nation of 1.3 billion to strengthen those economic bonds.
Diplomatic Hubs
Georgia has been a home away from home to top trade partners and foreign diplomats since 1904, when Germany opened a consulate general office in Atlanta.
There are more than 60 official and honorary consulate offices in Georgia, and about 39 bi-national chambers of commerce, the vast majority of these organizations in Atlanta. The summer event at the Metro Atlanta chamber served as both a kickoff for the infrastructure road show and recognition of Brazil's official stake in the Southeast.
The Consulate General of Federative Republic of Brazil began operations in May as the hub for a six-state region (Georgia, Alabama, Mississippi, the Carolinas and Tennessee), adding to a diverse and imposing diplomatic roster that enhances the city's international image while throwing open the door to economic development here and around the world.
"The growth in consulate offices is active recognition by foreign governments that Atlanta is the center of the Southeastern economy," boasts Tim Perry, an international business lawyer with Miller & Martin and honorary consul for Brazil from 2007 until this year.
"When a country decides to locate a consulate office, it's a major financial decision. If you're a foreign investor, it's like a pre-approval by the government," Perry says. "If you're asking yourself as a foreign investor, 'Where should I locate my headquarters in the U.S.?' one of the main indicators is where your government chooses to locate its consulate offices."
Brazil's presence in Atlanta also represents a resurgence of that country's economy.
"They had a substantial presence in Atlanta before and during the Olympics, but soon after that they folded their tents and closed their consulate offices all over the world because of an economic reversal back home," says Phil Bolton, publisher and founder of GlobalAtlanta.com, GlobalSavannah.com and GlobalGeorgia.com, who has been publishing international business news for 15 years.
"People want to be where they are wanted, and the Brazilian economy has come back in a strong way, which is exciting because they have strong sectors that dovetail nicely with Georgia. And this consul general [Ganem] is impressive. Yes, he's all about creating business, but he also wants to share the culture. It's very reminiscent of what was happening in the 1990s around the time of the Olympics."
The consulate general's official opening this past summer was the final touch in a project that actually began four years ago, when Perdue announced that Brazil would establish the office to strengthen business and cultural ties to the region.
"It took a while because bureaucracy moves at a different rate of speed than business," says Chris Young who, as chief of protocol for the Georgia Department of Economic Development, acts as the main liaison with foreign consulates.
Basically, a nation makes its decision on if and where it wants to open a consulate based on recommendations from field offices, like bilateral chambers of commerce, for instance. Then it petitions the U.S. Department of State, outlining the reasons why a consulate general office is a good idea in a particular city.
"Once that case is made, the timeline is anybody's guess," Young says. "Every case is truly unique. It's no secret that we are heavily focused on getting a Chinese consulate here in Atlanta. Everything is in the hands of the state department right now."
Broadening Vision
The Metro Atlanta Chamber of Commerce has taken an increasingly active role in global business affairs since it joined efforts to land headquarters of the Free Trade Area of the Americas (FTAA), an organization that never quite earned its wings.
"Unfortunately, the FTAA went nowhere, but we realized global commerce was here to stay, and it flattened the world," says Jorge Fernandez, vice president of global commerce for the Metro Atlanta chamber, which has partnered with the Georgia Department of Economic Development to forge alliances with the BRICs – global economic powers Brazil, Russia, India and China.
"We have prioritized our markets for trade development, investment development and foreign investment coming our way," Fernandez says.
"The BRICs are the biggest developing economies in global commerce and an integral part of our strategy, which is to promote our region in the global marketplace, attract foreign investment into Atlanta and find opportunities for metro area companies in the international marketplace.
"Within that strategy, equally important as attracting foreign businesses into our region, is growing the number of consulates, or trade delegations, or bilateral chambers of commerce."
Of the BRICs, only Brazil has a full-time, official consulate general. Russia did open a Russian American Chamber of Commerce in Atlanta two years ago to help foster increased business interest.
"Our activities aim to attract medium to large Russian corporations to open offices in the Southeast, and promote market access for U.S. companies," says chamber president Sergio Millian, whose organization covers 15 Eurasian countries, including Georgia – the other Georgia.
Millian says he has spoken at length with the Russian government and Georgia officials – this Georgia and his organization has received unofficial support from the Russian Embassy in Washington, DC, to start the process of developing a consulate office in Atlanta.
"The next step is to bring Russian diplomats to Atlanta, and that will probably happen within the next few months," says Millian, who has partnered with the Metro Atlanta chamber to raise awareness of the region in the Russian market.
Foreign Fuel
This November the Georgia-European Union Summit will bring economic developers from across the world together for the eighth straight year, not in Atlanta but about 85 miles south, like always, in Macon.
"Macon is the hub of the Georgia international commerce corridor," explains attorney Christopher Smith, honorary consul of the Kingdom of Denmark. Macon's other honorary consul is Bruce Allen, who represents Liechtenstein.
"Think about it. The ports are in Savannah and Brunswick, the airport is in Atlanta and we're right in the middle of it. We can serve the entire state from here," says Smith, who earned his honorary post through years of work as a lawyer representing Danish firms in Georgia.
Smith says there are about 60 companies in Georgia of Danish origin and/or ownership, and that Georgia was among the top five states in exports to Denmark. The system works, he says, and the relationship is strong, thanks to the work of two honorary consuls (Macon and Atlanta), the Trade Commission of Denmark and the Danish-American Chamber of Commerce (both in Atlanta).
"Denmark is well represented in Georgia," Smith says.
Denmark obviously makes it a point to be. At the Brazil road show in June, the Trade Commission of Denmark was the only official foreign delegation (besides Brazil's) trolling for opportunity in the South American nation's $300 billion mega-plan.
The road show brought Atlanta's newest consulate general into a room full of potential investors, builders and businesspeople.
"These are going to be projects of continental scale," Tim Perry says. "The opportunities for a construction business are extraordinary. And Brazil is looking to the Southeast as a place to find those companies."
Representatives from construction and engineering firms, investment firms, energy companies, railroads – all were packed into the Metro Atlanta chamber conference room to hear Brazil's plans to modernize its infrastructure and meet the new Brazilian presence in Georgia.
The connections between Georgia and Brazil are logical and were made obvious to the hungry throng: Brazil is famously energy independent, and Georgia is striving to be. In addition to having recently discovered oil deposits, Brazil is the world's leading producer of ethanol; has decades of experience in renewable fuel research, manufacturing and use; and is looking to dramatically increase its output and distribution into the United States.
Georgia has the ports and transportation infrastructure to serve as an entry point. Georgia has abundant timber feedstock for cellulosic ethanol and leading energy research centers at the University of Georgia and Georgia Tech. Brazil wants to make cellulosic ethanol from sugarcane biomass. But the biggest roadblock to growing Brazil's ethanol industry is the country's outdated or nonexistent infrastructure.
Three Georgia trade missions to Brazil in the past year and a half have gotten an up-close peek at both the bioenergy scenario and the potential for building the country's infrastructure, the last one in May led by Lt. Gov. Casey Cagle.
"We've facilitated a memorandum of understanding between Brazilian universities and Georgia universities to collaborate on the issue of ethanol, to perfect the technology," says Cagle, one of the keynote speakers at the Brazil road show in Atlanta. "And we introduced Brazil's leaders to some important financial partners, possible investors in Brazil's $300-million infrastructure campaign.
"Having a Brazilian consulate general office here is helping to make all this happen, and it's creating opportunities for business development and job growth for our state and Georgia companies."
There are at least seven Brazilian-owned companies in Metro Atlanta, about 22,000 Brazilians (according to the U.S. Census Bureau – Ambassador Ganem thinks the number is closer to 40,000), dozens of Atlanta firms with a presence in Brazil (Coca-Cola, Delta and UPS being the largest), and about $1.2 billion in trade activity between Brazil and Georgia.
So when Brazil finally opened its consulate general office in Atlanta, it wasn't a matter of "about time." To the veteran foreign diplomats already accustomed to the Braves, Six Flags, Fortune 500 glass towers, college football, Southern accents and extreme drought conditions, it was more like, "What took so long?"
"Atlanta is up there now; it's joined this club of cities that are international outlets to the world through a large, thriving consular corps," says Ambassador Reda Mansour, Israel's Consular General in Atlanta.
Foreign visitors such as Mansour and Russia's Sergio Millian may sound cautious when discussing their host city's – their host country's – economic troubles of late, the real estate crunch and the weakening dollar. But they're not mourning.
"A crisis to some people means opportunity to other people," says Mansour, who notes that his countrymen, like Millian's, have found good bargains on American soil. They see real estate, particularly commercial real estate, as a good long-term commitment.
But it isn't always about business, not for Mansour, who seems more interested in grist than in real estate. A poet and historian, he has published three books of Hebrew poetry, finding inspiration close to home in the beautiful landscapes of northern Israel, and all over the planet, in the lines of people's faces.
"I've been in the foreign ministry for 18 years, seen the European way of life, the Latin American way of life, the North American way of life. I've seen life as it happens in developing countries and industrialized countries," Mansour says.
"It happens with many diplomats, this exposure. Not as a tourist, but this very deep exposure into what I call the human situation.
"It's fascinating, all of it, and it makes you think deeply about life and people."