The Power Years
Fresh starts, second careers and volunteer work characterize Georgia's retirees. They're impacting every aspect of the way communities plan for the future.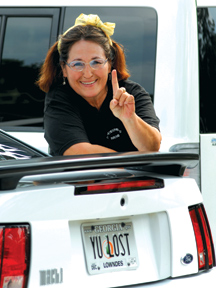 Cathy Gaddis spent her career under the hoods of other people's cars, a single mom raising two sons around a rotating menagerie of pets and in the pits of Oklahoma dirt tracks where she drove her own Fords – "Fords! First on race day," she says, as if you should know this already – for a little extra cash and the fun of it.
She was the first female mechanic at the Sears in Oklahoma City, a woman who calls you "angel" and means it, a mentor who taught her boys how to drive a standard shift sand buggy in the Wyoming dust, because a manual transmission is better than an automatic.
When Gaddis, 60, retired and moved to Valdosta three years ago to live with her oldest son, Ken, she wanted to be part of something bigger than cars – though she still does plenty of that as member of a drag racing team with Ken. So she volunteers as a pet therapist, visiting nursing homes and hospices with Tommy, her mixed terrier.
In the opposite corner of Georgia, near Cleveland, Jane Vollbrecht is finally doing what she always wanted to do. Since retiring from the Internal Revenue Service in 2004, after 30 years on the job, she's built a house in the woods, learned to play piano and written novels. She's published five so far.
"I've lost money on each one, but there are thousands of ways to be rich. I do this because I can and because I love it," says Vollbrecht, 56. "Besides, I'd had about as much fun working for the federal government as I thought was right for one person. I had an opportunity for an early exit, and they didn't have to ask me twice."
About 30 miles south of Cleveland, Billy Sloan is well into his second career. Two months after retiring from the Hall County School System – where he spent almost 40 years as a social studies teacher, coach and principal – he took a job as executive director of the Georgia Retired Educators Association.
"I just wasn't ready to stay home," says Sloan, 63.
These three people are typical in their differences, members of the fastest-growing segment of Georgia's population – so-called older adults, the 55-and-over set. Their numbers bolstered by a surging generation of baby boomers, older Georgians are retiring, un-retiring, volunteering in their communities, working longer and impacting the way we plan almost every aspect of our future.
"This is the most dramatic, fundamental demographic shift we have ever experienced," notes Kathryn Lawler, who works as a consultant for the Atlanta Regional Commission and helped direct ARC's extensive 2007 report on older adults for the Metro Atlanta region. "This shift offers some tremendous opportunities and challenges for communities everywhere. But it's happening here at lightning speed, so our window of opportunity is smaller."
This growing senior force is the most influential slice of Georgia's population, when you get right down to it, for its sheer size.
"They are a real force for change," says Doug Bachtel, demographer extraordinaire and professor of Housing and Consumer Eco-nomics at the University of Georgia. What kind and quality of change is open for discussion.
"I'll go ahead and say it – they have a bigger impact here than they do in other states," says Bachtel, 63. "The reason why is, we have a real pitiful voter participation record. The last time a majority of eligible Georgians voted for president was the Hayes-Tilden election, and we went for Tilden.
"In the last gubernatorial election, about a third of the eligible population voted. Older people tend to vote more and women tend to outlive men, and white people tend to outlive black people. So who is running this state? Older white women.
"That scares the fool out of me because you want a diversity of voters. Older people tend to have narrow interests. They have a different developmental agenda. They're living on a fixed income, they have health problems, they fear crime, they probably lost a spouse, and they probably don't want that new school in their neighborhood because of all the screaming kids."
Outside Bachtel's office is a playground, where kids are screaming.
"So, they have a narrow agenda," he says. "And we don't need that because the future is young people."
That's inevitable. Everything dies off eventually. But for the next few decades, codgers will be pushing most of society's important buttons.
Some were born here or moved here for jobs and have been aging in place for decades; others came specifically to retire, because they like the weather, the coast, the mountains. And it's to Georgia's advantage that a lot of these older people are making helpful choices.
Volunteer Force
Every year at tax season the AARP puts its volunteer number-crunching army to work.
"We have about 800 volunteers who do tax assistance," says Ken Mitchell, AARP Georgia state director. "This year alone they did $3 million in tax returns for low income people. That's three times the average. More people filed because of the economic stimulus package."
Mitchell says more than 60 percent of AARP's membership is engaged in some kind of volunteer activity. AARP has 39 million members nationally, just over a million in Georgia, making it one of the world's largest organizations for people 50 and over.
Patricia Bassett, who taught math for 35 years in central Georgia, is one of AARP's strongest volunteers, heading its "Divided We Fail" campaign in her region. "We're working to get people to vote for the candidates who can best assure financial security and affordable healthcare," says Bassett, 67, former president and area director of GREA, the retired educators organization.
GREA has 144 local units across Georgia, and part of Bassett's role has been to gauge local volunteer activity.
"Forty of them responded, and they had more than 100,000 volunteer hours. I suspect that the actual number of all our units is triple that," says Bassett, whose husband, Billy, also a retired educator, works with her in community service.
"We stay very busy. So my husband suggested that maybe we should give something up. I asked, 'What about AARP?' He said, 'I don't think so.' So I asked, 'what about retired educators?' Again, 'I don't think so.'
"So, we just keep doing it."
Down in Valdosta, 70-year-old Eva Rucker does Tai Chi twice a week, yoga once a week, and volunteers at a local school where she works with a developmentally disabled 7-year-old boy.
"He is visually impaired, can't walk, can't talk, but he sure does respond when I read to him," Rucker says. "Especially when we come to the word 'monkey.' He just laughs and laughs, and that proves to me that he's paying attention."
She left Valdosta after high school, spent 40 years in Cleveland, Ohio, working in healthcare, retiring from her job as a certified dialysis technician eight years ago, and came back home, where she lives in a senior citizen apartment complex. Rucker volunteers at the Red Cross, shops for some of her neighbors, gathers clothes – and launders them – for the homeless, puts potted plants on the porches of seniors and homeless shelters that need a little color.
"I collect cans to recycle from friends to raise the money for the plants and doing the laundry," Rucker says. "I have a cousin who drinks beer, and I get quite a lot of cans from him."
Rucker found opportunities to serve through the Senior Volunteer Connection of South Georgia, like Gaddis and like Ron Dixon, who is retired from two careers. He spent 20 years in the Air Force, then 25 years in what is now called information technology at South Georgia Medical Center in Valdosta.
"I retired for health purposes – had cancer in my right kidney," says Dixon, 73, who volunteers at the Red Cross and a Lowndes County food pantry. "I'd been bumming around a little while, working part time jobs, then got into community service."
Dixon has his military pension, social security and receives a retirement check from the hospital. "We're comfortable, not splurging, but very fortunate."
Gaddis considers herself very fortunate to have an opportunity to serve an aging population in her new city. Sometimes she doesn't even need Tommy, her therapy dog and best friend. Sometimes she just needs to be there.
"When I visit a nursing home, a patient that has no family, and walk into their room – even if they're asleep or getting ready to pass away, they know I'm with them," Gaddis says. "I've held their hands, read to them, shown them pictures knowing that they're not seeing them. So I'll describe it to them, because that's what I'd want done if our roles were reversed."
Author Vollbrecht in northeast Georgia has thrown herself into several home makeover projects for local families. Most of her time is spent on the next book, but sometimes she thinks longingly of the income she gave up at a relatively young age.
"Had I known how drastically things were going to change when I retired four years ago – look at the price of gas, basic supplies at the grocery store – I probably would have hung on a while longer to build a larger reserve," she says. "I don't regret having walked away from the job, but I do regret walking away from the paycheck."
Diverse Dotage
Ken Mitchell knows exactly what he wants to do when he retires.
"I'm 55 and plan to work another 10 years," says the AARP state director. "And I'm thoroughly convinced that when I retire I'll take a part time job at a golf course."
It's as much a sign of the times, as it is an indication that Mitchell likes hanging around golf courses – in addition to living longer, people are working longer.
A groundbreaking study released by Georgia AARP last year shows the number of American workers 55 and older growing four times faster than the rest of the workforce over the next decade, while the proportion of younger workers declines.
"As boomers reach retirement age, about half of them stay in the workforce because they haven't saved for retirement," Mitchell says. "Over the next 10 years the number of older workers will continue to grow rapidly. The question is whether or not employers are prepared to make the changes that will allow an employee to continue working there."
The report, White Collar, Blue Collar, Gray: The Changing Compo-sition of America's Workforce, suggests employers build flexibility, accessibility and retraining into the workplace to attract and keep older workers. Some industries are making moves in that direction. GREA's Director Bill Sloan notes that his organization just helped get a bill passed that allows retired teachers to return to the classroom at full pay.
"This is big, because if you think we need teachers now, just wait five years," Mitchell says.
Rather than wait, the ARC is trying to act now to help plan for impending regional aging. Last year ARC released its study, Older Adults in the Atlanta Region: Preferences, Practices and Potential of the 55+ Population to "help communities plan and prepare for this growing population," says Cathie Berger, ARC's aging division chief, who counts her self in the 60-and-over group.
"The realization that the older population is growing at such an exceptional rate is driving us to prepare differently. I'm aging very differently than my mother or grandmother did. When we look at this 55-and-over population, you see that reaching the age of 100 is no longer a rare exception."
The ARC study promotes a lifelong communities initiative, focusing on housing and transportation options, encouraging healthy life-styles, and increasing access to information and services important to an aging population. The tools for senior citizen Nirvana include increased transit options, walkable routes or parks, accessible homes. In Georgia, about 80,000 homes already have an "Easy Living" seal, built to accommodate people who go on two feet or two wheels.
"This has to happen on a local, community level, because nobody is going to step in and save us, there's no money from the federal government to save us," Lawler, the ARC consultant, says.
Among other things, the ARC found that 64 percent of people surveyed would stay in their current home as long as they can, aging in place.
A significant number of Geor-gians have no choice about aging in place, and it's getting costly, UGA's Bachtel notes. "The baby boomers in the prison system are really going to have an impact," he says. "Because the older you get, the more health problems you have. It costs more to keep you in jail the older you get."
Nearly one in 10 of Georgia's inmates is 50-plus, and this population is 20 times more likely to be assigned to a medical bed than younger inmates. The over-50 cohort of inmates numbers almost 6,000 now and is expected to reach 6,900 by 2010. In other words, the inmate population is mirroring the aging growth trend.
Georgia's population is expected to reach about 14.5 million by 2030. Today, about 1.8 million Georgians are 55 or over. By 2030, one in five Georgians will be over 60 as the boomers list toward retirement, or wherever. There's just no telling. A lot of it depends on your community, or the company that you keep.
"The baby boom generation is not homogeneous, they're not all well and happy and driving SUVs," Bachtel, the number-crunching keen observer says. "They're very heterogeneous, just another cut of society.
"So, there are baby boomers that are in prison, in mental institutions. There are some who have great jobs, some who are unemployed, some living in the back of station wagons, some doing very well, better than their parents, and a whole bunch that tend to be white. Just because you're a baby boomer, doesn't mean you're a fat cat.
"It sort of depends on who you're hanging around with."