LaGrange/Troupe County: The Kia Effect
A defining moment for the region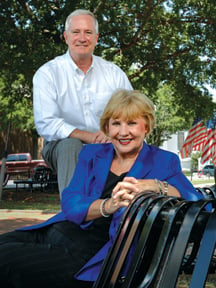 Just a few years ago Troup County, the westernmost county in Georgia along Interstate 85, could claim the title of former textile capital of Georgia, and not much else when it came to major-league economic development.
Now, although there are a couple of textile manufacturers still operating in the county, the story out of Troup is international automotive manufacturing in the form of South Korea-based Kia. While Kia isn't the only thing happening in Troup County, not by a long shot, the advent of the Kia plant is one of those defining moments for the entire region. Things are discussed in "before Kia" and "after Kia" terms. This after Kia time is very exciting.
For the few people in Georgia who aren't familiar with the Kia story, here's a brief recap. A Kia plant is currently under construction in West Point, along Interstate 85 at the new Exit 6 interchange. When complete, Kia will directly employ 2,500 people. Its suppliers, also getting up and running, will employ an additional 3,000 plus. Kia is an enormous project, not just for West Point, which has a population of only 3,300, but, as everyone in Troup County says, for the entire region.
Why tiny West Point, then? Many reasons, as it turns out, says Randy Jackson, director of human resources and administration for Kia, and the senior American at the Troup County site. State, county and city support were vital and were there from the start; good interstate access (the plant is visible from I-85.); flat land (hilly land is more expensive to grade and develop); the sister facility, Hyundai, with whom Kia will share suppliers, is in nearby Montgomery, Ala.; Hartsfield-Jackson International Airport is just up the road; a strong workforce; and warm, welcoming people are all cited by Jackson as reasons Kia chose the West Point site.
Kia, with the support of Georgia's Quick Start program, took applications for hourly positions in the spring. They received 43,000 applications for 2,500 jobs in 30 days through the online process. Those hired will be provided with training, around the country and in Korea, and the first cars will roll off the line for sale in November 2009. Once two full shifts are up and running, by late 2010, some 300,000 units will be manufactured each year.
Now that the Kia plant is under construction on 2,300 acres, it seems as if it was meant to be. But assembling the property was just one of many challenges for local leaders. In December 2005 the job fell to Drew Ferguson III, chairman of the West Point Development Authority, to convince the 36 property owners that it was in their best interest, as well as the best interests of the community, to sell their property along Interstate 85 to an undisclosed company for an unknown amount of money.
Ferguson, and few others, knew the discussion was about Kia, but they couldn't let the word out when negotiations started. "We had to have all properties," Ferguson says. "It was an all or nothing proposition." He had 60 days to do it.
Obviously he got it done. The final option was signed March 5. A group, including Ferguson, went to Korea March 6 to get the papers signed. They were gone 70 hours total. An announcement about the Kia deal came out of the governor's office when the group returned.
"We were ready for a breather then," Ferguson says, "and never got one."
New Challenges
West Point certainly hasn't had a breather, though leaders agree that the Kia effect spreads far from the city limits. "We are at the center of what will become the most important manufacturing center in Georgia," says Mayor Drew Ferguson IV, son of the development authority chairman.
"West Point is a hybrid community," the mayor says. "We are in two counties [Harris and Troup] and also closely tied to Alabama." He admits that dealing with two counties presents challenges for the small town, but adds that opportunities are there as well. "When you have good leadership, it's amazing what you can get done." And all the area's leaders are looking at economic development from a regional standpoint.
The biggest need Mayor Ferg-uson sees in West Point right now is public education. "We have a wonderful elementary school." But there is no middle or high school in the city limits. "The current formula for education funding is not working," he says of the state's approach, which bases money on students who are already in the system, not on students who will be coming through the system in the near future. "If you don't have great education opportunities people will live far away and drive [to work]. Schools should be looked at as an economic driver." They are a way to help recruit good strong families to an area, he adds.
The Kia announcement brought an onslaught of activity from suppliers and others eager to be part of the growth that's coming to the region. Several Tier 1 suppliers (those companies that supply products directly to Kia) have announced plans or have moved into the area, says Diethard Lindner, chairman of the Development Authority of La-Grange. "We had a new industrial park put together right before Kia announced," Lindner says. "It was perfect timing."
The new park is Callaway South Industrial Park, where Sewon Amer-ica Inc., Kia's largest supplier, announced it would locate with a $170 million investment. When up and running, Sewon will employ 700 people to manufacture the major metal framework for the Kia automobiles, Lindner says.
In order to prepare for Kia and its suppliers, a group of people, including Ferguson III, Lindner and Jane Fryer, president of the LaGrange-Troup County Chamber of Com-merce, met with counterparts at the Montgomery, Ala., chamber to find out what to expect after the Kia announcement. The Montgomery area had been through a similar situation when a Hyundai plant opened there. The Alabamians had nine five-inch-thick notebooks documenting the Hyundai project, Ferguson recalls.
Fryer called the meetings with her Montgomery counterparts inval-uable. Because of what they learned, the Georgia group hired a family support coordinator, who is housed in chamber offices and paid by the county, the West Point Devel-opment Authority and the city of LaGrange. Susan Ferguson (no relation to either Drew) works with Kia and supplier families from the moment they arrive in Troup County. She helps them find housing, sets up tutors for those who don't speak English, helps with doctor's appointments, enrolling kids in schools and getting Social Security numbers for everyone. She's even been at the hospital when one Korean woman delivered her baby and helped choose an American middle name for the boy.
The chamber also helped hire a project coordinator, who works on the Kia site with Korean contractors to help guide them through permits, wetlands issues and other distinctly American building processes. "That was the smartest thing we did," Fryer says. He allows us "to know that our investment is being taken care of."
Folks in LaGrange have a history of doing smart things. It's almost as if they've been preparing for something as big as Kia, without quite knowing what it would be, for years. In 2000, for example, LaGrange received the Intelligent City of the Year award of the World Teleport Association for being the first city in the world to provide free Internet access to its citizens, says Jeff Lukken, mayor.
The city continues to stay ahead of the technology curve, this time in the landfill arena, with a new biomass reactor. A $5 million investment by the city will create a $26 million return from the sale of methane gas captured at the landfill. Milliken and InterfaceFLOR helped develop the idea with the city and both agreed to purchase the gas, which provides a green energy source. The reactor also extends the landfill's life by 16 years.
The project caught the attention of the United Nations and CIFAL Atlanta, Lukken says, which sent representatives from island nations and third world countries to study and replicate the biomass reactor. "We took a liability, household garbage, and turned it into a revenue generating asset," Lukken says.
Residential Boom
On a countywide scale, people are preparing for growth, not just from Kia and its suppliers, but also from the Department of Defense's Base Realignment and Closure Commis-sion (BRAC), which made decisions that will result in a population increase at Fort Benning in nearby Columbus of 35,000 people. Also adding to the mix: sprawl creeping south from Atlanta. County leaders have taken several steps to ensure quality growth in the area, including a moratorium on residential development that was due to be lifted in July.
With the moratorium in effect, the county has been working on a strategic plan for comprehensive development with help and support from Georgia Tech. Now one year into the two-year study, the plan seeks to answer such questions as, "What are we doing well?" "What are we not doing well?" "What needs improvement?" "How do we ensure smart growth?"
"We know the number of jobs," says Ricky Wolfe, Troup County Commission chairman, speaking of Kia and its suppliers, "but where the people will live remains to be seen." The feeling is that due to the increasing cost of fuel, those who can choose will live in Troup County. But, Wolfe admits, "Kia will draw from Newnan to Montgomery."
One thing the county will enact to ensure smart growth is a residential development scorecard, Wolfe says. A scorecard "sets up a rating system for criteria your community thinks is important" in development. For example, points could be given for green development or for building in an area with infrastructure already available. In the past, a developer presented his plans to the county and ultimately politicians decided whether or not the project was approved, Wolfe says.
Developers have responded favorably to the scorecard idea, he adds, because projects are not subject to the whims of politicians. The system is scheduled to go into effect once the moratorium is lifted in July and will be the first such system in use in Georgia.
New communities such as Bryant Lake LaGrange are catering to the cry for natural amenities, offering a mix of lakeside trails and greenspace parks, with homes ranging from the $170s to $300s.
Another issue facing Troup County is transportation. The state is investing $130 million in a new Interstate 85 interchange that will serve Kia, but the county is responsible for the roads off the exit, Wolfe says. A six-year special purpose local option sales tax (SPLOST) will raise $75 million, with most of that going for transportation, he says.
One of the major things Troup County has going for it, for residents and visitors alike, is West Point Lake, which not only offers recreational opportunities and lakefront housing, but also is an economic force for the area. The West Point Lake Advisory Council, a chamber of commerce committee, commissioned an economic impact study, which was completed in December 2007, says Jeff Brown, who chairs the council and lives on the lake.
The council is trying to work with the U.S. Army Corps of Engineers to keep the lake at full pool, 635 feet above sea level. Currently the corps takes the level down as low as 628 feet in order to provide water downstream. The study showed that the annual economic impact of the lake to the surrounding community is $153.7 million at 630 feet. Raising the lake level to 633-635 feet brings the impact up to $709.7 million. The difference is due to an increase in housing values and more lake activity, which results in more money spent at marinas, on fuel and on area hotels and restaurants, Brown says.
With recreation opportunities provided by the lake, competitive employment from Kia suppliers and the many Fortune 1000 companies already in residence in the county, plus forward-thinking leaders, Troup County may soon reach West Point Mayor Drew Ferguson's goal of being the best place in Georgia to move to.
WEST GEORGIA TECH EXPANDS
Daryl Gilley, president of West Georgia Technical College, had three goals when he arrived six years ago: Get through the Southern Association of Colleges and Schools accreditation process; secure additional space for the college; and raise $1 million. "I didn't realize we'd have to do it all in one year," he says.
The SACS accreditation was important, Gilley says, because it allows the college to offer more comprehensive education to the community, including more general education classes that are transferable to a four-year institution, if that's what a student needs. That ability has led to partnerships with Southern Polytechnic State University in Marietta and Grand Canyon University in Arizona, both four-year institutions.
The grueling accreditation process came up at the same time that discussions started on purchasing the 243,000-square-foot former Hughes Aircraft/Raytheon building in the LaGrange Industrial Park. While the state kicked in the bulk of money for the expansion, $6 million, the college was responsible for raising $1.5 million in a community of 27,000 people.
When the final program moved from the old campus, about 3,000 feet away as the crow flies, but about four miles by car, in June, Gilley achieved the third of his major goals, just in time for his retirement Aug. 31.
The move came at exactly the right time to provide one of the incentives that Kia and its suppliers needed: office space while the Kia plant and supplier spaces are under construction. Kia is occupying 35,000 square feet of West Georgia Tech's new building now.
"It's a great recruiting tool," Gilley says. The building offers space, broadband and phone.
Despite the new facility, some of the most exciting changes are happening on the old campus, where the college will keep four of its six buildings. One building is being completely renovated to house the Center for Integrated Manufacturing, a new program that came about as a "direct result of the new manufacturing environment," Gilley says.
The center "will educate a person to work in an advanced manufacturing plant," Gilley says, just the kind of plants that are coming to Troup County over the next year or so. Using industry-standard equipment, students will be educated to meet the manufacturing community's workforce needs.
In fact, the manufacturing community already is calling on the center. DaeLim, a supplier to Kia and Hyundai (the latter has a plant nearby in Alabama), expressed interest in students doing prototyping of plastic parts once the center, which opened June 1, is up and running.
"We've left a good platform on which to build. We have good faculty, good staff. I think we have good community relations," Gilley says of his time at West Georgia. Then he looks to the future and what he'll miss most about his job. "We offer programs that allow people to get better paying jobs. I'll miss having the power to make decisions that change people's lives." – Karen Kennedy
LaGrange/Troup County
At-A-Glance
Population
(2008 Estimate)
Troup County, 63,245; LaGrange, 27,652; West Point, 3,354; Hogansville, 2,909
Unemployment
(May 2008)
Troup County, 7.9 percent; Georgia, 5.6 percent
Largest Employers
Troup County Schools, 1,807; Milliken Floor Covering, 1,660;Wal-Mart (distribution center), 1,600; West Georgia Health System, 1,336; InterfaceFLOR, 1,080
Sources
LaGrange-Troup County Chamber of Commerce, Georgia Dept. of Labor