Hart County: Town And Country
Attracting new industry while honoring rural roots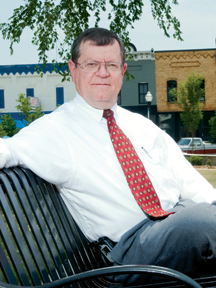 Even when you're tucked away in the scenic hill country of Northeast Georgia amid verdant forests and crystal clear waters, you can't ignore the rest of the world.
Hart County has learned that lesson the hard way over the past few years. Once a stronghold of the textile industry, the region has seen large employers shut down and head to lower wage countries. Although it's a process that started decades ago, each new closure brings fresh pain to communities.
When Springs Global shut down in 2006, it left the county with a single remaining textile mill and one of the highest unemployment rates in Georgia. More than 800 textile jobs have slipped away in the last few years and replacing them hasn't been easy. While times have been tough, a new vision for Hart has emerged that looks beyond the old days and sees a different kind of future for the county.
"With all our eggs in the textile basket it really hit this community hard, so we are trying to diversify in the type of industry that we draw in," says County Manager Jon Caime. "We are also looking to diversify in size. For several reasons, the bigger elephants are harder and harder to find; but also it's also a less of a hit to the community when you get some smaller shops in different areas."
Over the last 12 months Hart has attracted four new industries and seen two established industries expand, says Dwayne Dye, executive director of the Hart County Industrial Building Authority.
The big news has been the relocation of Fenner Dunlop to a $54 million dollar facility in the Gateway Industrial Park. The maker of industrial conveyer belts for industries ranging from manufacturing to mining is planning to hire 130 workers.
"Even though we sustained some pretty hard hits we've gotten some great traction and we are bringing in companies to backfill those losses," Dye says. "They have also given us a much better diversification of jobs so that in an economic upset if one sector goes down we don't get cleaned out."
A New Approach
Those earlier losses prompted officials to take a long hard look at the community and what qualities were needed to attract new industry to the region. They knew that Hart had a real asset in the guise of its prime location halfway between Atlanta and Greenville, South Carolina and easy connection via Interstate 85.
Joining with the surrounding counties of Stephens and Franklin, Hart constructed a new 260-acre industrial park along a full mile of interstate frontage. The city of Hartwell, which lies about 10 miles west, ran gas and sewer lines just in time to land TI Automotive, a maker of fuel tanks for the auto industry.
"They were literally flushing the toilets as we were connecting the water main," Caime jokes.
Along with TI, the county has succeeded in attracting a wide variety of companies including firms such as Milbro Refractories, County Boy Meat Stix and Pharma Tech Industries. Each has helped bring down the unemployment while building that diverse industrial base.
Officials are also becoming more careful about the types of industries they court. With tourism a major source of revenue, some industries just don't fit in the county – particularly those such as poultry plants whose odors might offend tourists or homeowners.
"We are going to be very particular," says Doug Cleveland, president of Pinnacle Bank and chairman of the Industrial Building Authority. "We've always said we don't want the rendering plants and industries that [are] going to put a lot of pressure on our environment and on our infrastructure."
Along with creating incentives for business to relocate here, development officials say the biggest draw is a skilled and educated workforce. Over the past two years the county has undertaken a program to both raise the graduation rate for high school seniors, while also instituting a testing program – called Work Ready – that certifies workers as possessing certain job-related skills (See story, page 32). Those efforts have already brought the high school graduation rate up from the mid-60s to almost 80 percent.
"You will see, probably before it's over, one of the highest graduation rates in the state," Dye says.
Local residents have an added incentive to be "Work Ready" these days because companies such as Fenner-Dunlop have agreed to accept applications only from prospects who have passed the test.
The county also worked to prepare these workers specifically for their new employer. Athens Technical College set up a training center just for the company in the old Hart County Academy. Using a $200,000 loom donated by the company, instructors are teaching new hires how to operate the complex piece of equipment to manufacture conveyor belts. With this training completed before the company even opens, workers will get off to a fast start.
"Now we have a presence of Athens Technical College right here in the community which we hope we will be able to expand in the future to include more classes," Dye says.
Hart also will be getting help from the University of Georgia through its Archway Project. Designed to provide assistance to counties facing economic development issues, the project opens up the university's considerable resources.
"The University of Georgia facilitated a community meeting and [we] are waiting for them to compile the data and tell us what we want, what they heard; but, basically, however we end up using that it's going to bring the full strength of the resources of the University of Georgia into our community," explains Jack Edmunds, executive director of the Hart, Franklin and Stephens Joint Development Authority.
The university will station a professional in the community working directly with local leaders to help get local projects under way.
Looking To The Lake
While Hart is seeking industry and new jobs, locals are also well aware that perhaps the biggest attraction is Lake Hartwell. The 56,000-acre Army Corp of Engineers made lake attracts more than 13 million visitors each year. Those tourists leave behind lots of dollars both for local businesses and for county government – Hart has one of the lowest millage rates in the state.
"We have bowed out of some projects and failed to provide the most aggressive incentives for businesses that don't really mesh with a tourism town," Dye says. "We don't want anything that is going to pollute the environment and we certainly don't want anything that is going to give off obnoxious smells or is going to be an unattractive industry."
A growing number of out-of-towners have discovered the lake in recent years, particularly as the better-known Lake Lanier has grown expensive and crowded. Visitors to Lake Hartwell can still find peace and quiet and even a secluded cove. Many lake property buyers are from Metro Atlanta, especially the city's east side.
"Gwinnett County has experienced a tremendous amount of growth and that has fed our secondary home market because we are only an hour away," says Tina Howard, owner of Prudential Lake Hartwell Realtors and chair of the Hart County Chamber of Commerce.
That makes it easy to slip away to the lake for the weekend, although Hartwell has long attracted homebuyers from across the country. Bill Griggs, an owner of Docks South, says he recently installed a dock here for someone from Alaska. Other customers have hailed from Connecticut, Rhode Island, Massachusetts, New York state and Florida.
"We've got more docks on Lake Hartwell than Lanier already, but we are a much larger lake than Lanier and our shoreline management plan here is going to be much larger than any in the state of Georgia," he explains. "It's actually going to be the largest one the corps has. So there is a fair amount of land here that is available."
While the housing market has slowed down recently along with the rest of the county, home prices for lake lots are holding up, Howard says. Many people are moving here for the same reason that businesses find it an attractive venue – location.
"I've heard an awful lot of people saying that they are moving to this area because their business covers the Southeast," she says. Within a two-hour drive of Hartwell, "you can reach Atlanta, Charlotte, Asheville, Augusta, Athens, Greenville, Gainesville, and a ton of markets from this area," she says. "So Hartwell is in some ways ground zero of the business center of the south, believe it or not."
Increasingly they're settling in Hart and helping to change the face of this rural county into something a little more diverse and cosmopolitan. Many get involved in the community when they're not opening businesses that cater to their own tastes and talents.
"We also have a large retiree [population], having 17 percent retirees here as well," says Hart County Chamber of Commerce Pres-ident Michele Dipert.
These settlers range from Northerners tired of cold winters to Florida residents fearing another severe hurricane season, she adds.
Historic Hartwell
As the county's only city, Hartwell has also been showing new life, particularly in its historic downtown. A recent $1.5 million streetscape project spruced up the area with new sidewalks, lights, greenery and other amenities while hiding power lines and adding new gas mains.
A row of dilapidated buildings on one side of the square was recently torn down to make way for a CVS Pharmacy. The block once contained the local hardware store – which moved to a bigger location in town – and a World War II-era Quonset hut that once served as a movie theatre.
"The interesting part of that is that it's part of an historic district," says City Manager David Aldrich. "So we had to have CVS modify their prototype, the things that they would normally put in and to be a little more sensitive to the historic district and a little more period."
Aging buildings have also received a new lease on life. The historic Haley Building – long a burned out shell – has been reconstructed by a local developer and is now being leased as office space, as the traditional town square has undergone some major changes.
The city was really looking to ensure that new projects and renovations alike look as authentic as reasonably possible, Aldrich says.
Like many revitalized towns, Hartwell has attracted a wide variety of boutiques, shops and restaurants. The Taste of Georgia offers a wide selection of wines along with a menu that features locally grown organic vegetables and cheeses. On the other side of the square you can purchase gourmet coffee and desserts at the Green Bean Café – a first for the town.
"You can still buy property in some places in downtown Hartwell as low as $50 a square foot," Howard says. "And that makes it very economically feasible for businesses to move into the area and start up."
Industry and tourism aside, Hart County is still quite rural and you don't have to travel far to see that farming and agriculture play an important role in the life of the region. In fact, farming produces about $278 million – the seventh highest amount for a county in Georgia, says Charles Rice, Hart County Extension Service Agent.
From beef cattle and poultry to flowers and trees, Hart has a diverse and vibrant agriculture industry. Horticulture is the fastest growing sector, including turf production and an extensive number of in-ground tree farms. Poultry is also big business here as well, although the rate of increase in chicken houses has leveled off after years of rapid growth. While the industry has reached the saturation point here, there's been no decline in the number of farms.
This diversity has helped maintain the large number of family farms – 554 at the last census.
"It has really kept our family farms in business and that's huge," says Rice. "That land didn't have to be split up. It didn't have to be sold."
Hart County At-A-Glance
Population
(2007)
Hart County, 24,240; Hartwell, 4,342
Unemployment
(May 2008)
Hart County, 8.1 percent; Georgia, 5.6 percent
Top Employers
Royston LLC, 300; Pharma Tech, 180; Hartwell Classic Apparel, 130; TI Automotive, 130; Milliken, 115
Sources
Georgia Dept. of Labor, Hart Co. Industrial Building Authority, U.S. Census Bureau