The Doctor Dilemma
Georgia's medical schools are in a new era of expansion, trying to keep up with the demands of a rapidly-growing state already lagging behind in the number of physicians available to treat its citizens.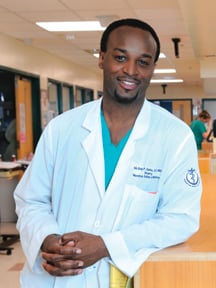 Charles Kemp grew up in rural southwest Georgia, on the frontier of primary healthcare, traveling from farm to farm with his father, a veterinarian based in Camilla. Kemp is 24, a third-year student in the Mercer University School of Medicine.
Nii-Daako Darko, 29, grew up in New York City and Newark, NJ, the son of blue-collar immigrants from Ghana, West Africa. A graduate of the Kansas City University of Medicine and Biosciences, he's finishing the second year of his residency through the Morehouse School of Medicine, working 30-hour shifts at Atlanta's Grady Memorial Hospital.
The two young men from different galaxies share a common goal. Both see themselves working in underserved areas when their training is complete, most likely in Georgia.
They won't be lacking for opportunities.
Georgia, the ninth most populous and fifth-fastest growing state, is 40th in the number of doctors per capita. The state is expected to add 3 million new residents by 2020, and be could be facing a shortage of 2,500 physicians – about 1,500 needed in already underserved areas.
"The challenges are very real," says Dr. George Rust, director of the National Center for Primary Care at Morehouse School of Medicine. "It's more important than ever that we encourage our medical students, and particularly support those who want to work in underserved areas, in inner city or rural settings, serving low income and uninsured patients."
Medical school is a big business in critical condition. A 2007 study by consulting firm Tripp Umbach for the Association of American Medical Colleges (AAMC) claims Georgia's medical schools have a total economic impact of $10.1 billion, including $344 million in sales and income tax revenue.
Another Tripp Umbach report released in January – outlining a plan for expanding the Medical College of Georgia – predicts Georgia will be last in the nation by 2020 for doctors per capita without new investment in medical education and residency slots, a tough pill to swallow for a rising population of elderly in a state already ranked 40th in overall health status (based on the prevalence of smoking, binge drinking, obesity, infectious disease and other factors) by the United Health Foundation. "We're not producing enough physicians to satisfy the needs of a growing population that is getting older, living longer and living longer with chronic disease," says Dr. Bill Bina, dean of Mercer's School of Medicine.
And while countless statewide and national reports expose gaping disparities in health and access to care between different population groups and geographic regions, ultimately it's one big leaky boat.
"We all breathe the same air, we all are exposed to the same infectious diseases," Rust says. "There is no gated community you can hide behind if pandemic flu spreads through the community. We're all in that boat together."
So, to help stave off a grim scenario, addressing a request by the AAMC to increase enrollment by 30 percent, Georgia's medical schools are expanding programs or adding facilities, growing the doctors needed to treat an ailing, rapidly aging population.
Meanwhile, one new medical school has opened its doors to help feed the physician talent pool.
Philadelphia College of Osteopathic Medicine (PCOM), a 110-year-old institution that may be the largest civilian producer of U.S. military physicians, crossed state and regional lines to open a 19-acre state-of-the-art campus in Gwinnett County for 80 students in August 2005, with total enrollment in the physician program expected to reach 320.
PCOM's dean at the Gwinnett campus, Dr. Paul Evans, says the school will consider increasing enrollment after the first class graduates in 2009, when he can better gauge the clinical training network for third and fourth year students.
"The other issue in Georgia is the number of residency slots to support the number of medical school graduates," Evans says. "The number of medical students may be growing, but the graduate opportunities have not expanded, and that's a concern not just for us but all of the medical schools in Georgia."
Divergent Degrees
Traditional medical schools (Mercer, Emory, Medical College of Georgia, Morehouse School of Medicine) that offer graduates an MD degree fall under the "allopathic" designation. Schools offering a DO degree (such as PCOM) are "osteopathic." The significant difference between the two is osteopathy's holistic angle, which emphasizes the musculoskeletal system as a key element in health and stresses preventive medicine.
Osteopathic and allopathic school curriculums are almost identical, and licensing agencies, hospitals and residency programs typically give equal weight to either degree.
"There are differences between the two, some subtle differences, but DOs and MDs are professionally and legally equivalent," says Ben Robinson, executive director of the Georgia Board for Physician Workforce. "They are licensed by the same boards, their medical schools produce doctors who will be able to practice and prescribe medicine."
Darko, a DO serving his residency through an MD-granting institution, sees osteopathy and the Morehouse School of Medicine (MSM) tradition as instinctive fits for him.
"When I was in high school, my primary care doctor was an osteopathic physician. As I grew up, I realized that approach resonated with me more than allopathic medicine," says Darko, a general surgery intern. "I grew up in an underserved, inner-city area. And the overarching theme of what my parents taught me was the need to give back to the community. I want to be in a place that needs physicians who care about the community."
MSM third-year student Sarah Rodriguez, whose parents emigrated from Puerto Rico, grew up in Marietta and would like to stay in her home state, serving a growing Latino population.
"My father was a pediatrician, and when I was a kid he'd take me to the hospital. I did rounds with him, and being a kid helped me empathize with the sick children," says Rodriguez, who wants to be a pediatric primary care physician.
Darko and Rodriguez epitomize the MSM mindset.
"Our emphasis is on people of color and the underserved urban and rural populations of Georgia and the nation," says MSM President Dr. John Maupin, noting also the school's commitment to growing a diverse physician workforce.
Maupin says MSM plans to gradually increase MD enrollment, from 52 entering students to 70, and is developing a campus master plan to include new facilities and/or renovations to accommodate expanding educational and research programs, and administrative space needs. MSM also has acquired property adjacent to its main campus, the future site of a new clinical facility.
All of this is helping to advance the MSM mission.
"This is a mission-driven institution from top to bottom," Rust says. "Talk to a secretary, the president of the school, faculty, residents, students. They get it. It's about improving health outcomes, particularly for the high disparity populations, the underserved. It's part and parcel of almost everything we do."
Primary Concerns
MSM and Mercer both place heavy emphasis on training students for practice in the primary care realm, where doctors establish long-term relationships with patients and families. And both focus on the challenges at home.
"We're proud to have consistently trained high numbers of physicians who choose primary care residencies – 70 percent or greater versus an average of 35 percent nationally," says Maupin, who adds that more than 70 percent of MSM's graduates also choose to stay in Georgia.
At Mercer, Bina says, about 65 percent of the graduates choose Georgia. And the School of Medicine intends to eventually increase MD enrollment from 240 to 480 – all incoming students from Georgia.
Mercer had been keeping 40 of its third- and fourth-year students in Macon for clinical training (primarily at the Medical Center of Central Georgia), sending 20 students to Memorial Health University Medical Center in Savannah for their clinical training. But this August, Mercer's incoming MD class size will increase from 60 to 90 as a full, four-year medical school program begins in Savannah.
This should equate to more physicians in deprived settings – of the Mercer graduates who stay in Georgia, about 85 choose to work in underserved regions. But this is typically not the most cost-effective choice.
"Some of our graduates are looking at the compensation of primary care and wondering whether they're going to be able to pay their debts fully. So we're seeing a national shift toward more sub-specialty training," Bina says.
The income gap between primary care and other physicians has widened because of a disparity in Medicare reimbursement. The average educational debt for a med school grad hovers in the $140,000 range.
"The reimbursement system has been set up to reward procedures more than listening to patients and long-term, continuous-care relationships," says Rust, who helms one of the leading primary-care training centers.
"And yet, the data from this country, from all over the world, suggest that if we built up our primary-care system, we'd have better health outcomes, a more cost-effective healthcare system."
This is the jumbled, "bizarro world" of healthcare Charles Kemp is preparing for as he enters his last year of medical school at Mercer. But his eyes are wide open. "There are so many examples of, let's say, the patient who comes into the emergency room with a heart attack, then requires two to three weeks of inpatient treatment, runs up a bill of $50,000 and then isn't able to work," Kemp says.
"In a perfect world, if he'd been seeing a family primary care physician who would have been on top of the patient's blood pressure situation, seeing him every three months, making sure he was taking his medicine, you're talking about the difference between maybe $800 to $50,000.
"When you talk about making sure every person has access to healthcare, it sounds like a monumental task. But actually, in the long run, I firmly believe it is the most economically sound thing to do."
Living Classroom
More than 1.6 million Georgians have no health coverage, and many of them show up at Grady Memorial Hospital, a key training ground for students from MSM and Emory.
Last year Grady was staggering toward extinction, bleeding from deep budget cuts and a $55 million shortfall – including millions of dollars owed to Emory and MSM, which provide the bulk of the physicians and residents to the 953-bed hospital. Then the Fulton-DeKalb Hospital Authority handed operation of the hospital to a new governing body, the nonprofit Grady Memorial Hospital Corp. (GMHC), which promised an infusion of private and public money.
Soon the Woodruff Foundation promised $200 million over four years, and Emory's School of Med-icine and MSM agreed to renegotiate their contract and debt obligations with Grady. But the state legislature failed to pass a trauma care funding bill that would have helped the hospital's recovery. In other words, the patient is still listed as critical.
"A big challenge remains in managing such a vital safety net hospital in an environment in which there's been more than a decade of progressive neglect by state and local government," says Dr. Art Kellermann, associate dean for health policy at Emory's School of Medicine.
Nonetheless, he considers the re-energized Grady as part of "an Emory hat-trick." The other two thirds are a new curriculum and the $58.3 million School of Medicine Building, a 162,000-square-foot facility that opened last year. Also, work has begun on a new Emory Clinic, a 470,000-square-foot, $365 million facility.
All this is part of what Emory touts as its integrated, interdisciplinary "patient centered" approach to health and healing.
Med school students are being weaned accordingly and facilities are being designed says Dr. Wright Caughman, Emory's vice president for clinical and academic integration, "for the physicians of tomorrow."
The new curriculum stresses mentoring and interactive small-group sessions, and gives students front line healthcare experience early on.
"One reason I was drawn here was the fact that Emory puts first-year students in outpatient clinics, in a wide variety of settings," says Sarah Rae Strunk, who just finished her first year of med school. "The new curriculum condenses the first two years of med school into a year and a half."
Strunk, who earned her undergraduate credentials in biology and art history, spent winter break of her third year at the University of Virginia shadowing an ER doctor at Grady.
"I thought, 'If I could do this every day of my life, I'd be a lucky person.' I knew this is the sort of work I wanted to do," says Strunk, who hasn't yet decided what discipline she'll pursue.
"We've never been a school that aims to produce specialists or primary care physicians – our goal is to develop students who want to go in any direction they choose," says Dr. Bill Eley, executive associate dean of Medical Education and Student Affairs at Emory's School of Med-icine, which increased enrollment from 455 to 480 for the 2007-08 school year.
But the most ambitious growth in medical education is emanating out from Augusta, across the state like spokes on a wheel.
MCG Evolution
If Georgia wants to avoid a public health crisis, the Medical College of Georgia (MCG), home of the state's only public school of medicine, has to undergo a dramatic, statewide expansion.
"The Tripp Umbach roadmap lays out a strategy with mobile parts that have to work in concert for any one part to succeed," says Dr. D. Douglas Miller, dean of MCG's School of Medicine. "We should have a positive impact on the physician workforce in Georgia, but it means our expansion must take place statewide."
In January the Board of Regents accepted the plan to boost MCG's medical school enrollment from 745 to 1,200 by 2020, requiring a state investment of more than $200 million for facilities; without this increase, a shortage of doctors could cost the state $5 billion a year in emergency room visits.
The state allocated $10 million this year for MCG to begin developing a four-year program in Athens. That partnership between MCG and the University of Georgia would ultimately have 240 students.
The plan also calls for development of clinical campuses, for third- and fourth-year students, in Albany and Savannah (with the possibility of additional sites in Columbus, Rome and other far-flung cities); a new medical education facility at MCG's Augusta hub (where enrollment would increase to 900); and additional medical research facilities in both Athens and Augusta. Taken together, it represents a 62 percent enrollment increase, 545,000 square feet of space and a state investment of more than $210 million over the next 12 years.
"But to seal the deal on that investment in undergraduate medical education, there has to be an investment in growing residency education," Miller says.
Georgia ranks 34th in med students per capita and, more significant perhaps, 37th in medical residents per 100,000 of population. The state plan requires at least 200 new residency positions in Georgia by 2020 to assure an adequate supply of new physicians.
"It doesn't matter how much you expand medical school enrollment if you don't expand residency," Ben Robinson says. "Residency – not medical school – is the single most important and powerful predictor of where someone will practice medicine."
Which makes Kristen Collier's path clearly predictable. The recent MCG graduate will begin serving her general surgery residency in Macon at the Medical Center of Central Georgia, about 75 miles from her hometown, Americus, in southwest Georgia.
Collier is beginning her second career. She was a physician's assistant for Americus surgeon Dr. Douglas Joyner, who is on staff of Sumter Regional Hospital, which is rebuilding after being destroyed by a tornado in March 2007. Collier has five years of residency followed by, she reckons, a homecoming.
"They just opened an interim hospital in Americus, and over the next three or four years a brand new hospital will be up and running, and I plan to be there," Collier says. "You can develop relationships anywhere, but in a small town, patients are a lot like family."