Harris County: The Spillover Effect
Nearby growth supercharges small towns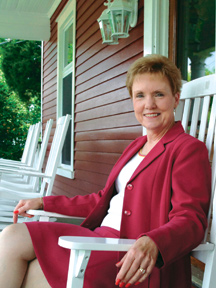 The small-town way of life is touted and respected in Harris County, which lies just north of Columbus and adjacent to the Alabama line. Several cities, none with a population much more than 1,000, give the county a fragmented feel, some residents say. But big changes to the north and south have drawn the county together, as leaders plan for the change they see galloping toward their small-town ways.
"Along with the county commission, mayors and development authority, we did strategic planning," says Phebe Callaway Robertson, chair of the Harris County Chamber of Commerce. "We are to some extent a bedroom community for Columbus. We need to work with that."
The bedroom is going to need to add a lot of beds between now and 2011, if Fort Benning grows as expected, due to consolidation resulting from Base Realignment and Closure (BRAC) decisions. According to the Columbus Chamber of Com-merce website, BRAC-related expansion at Fort Benning will bring an additional 27,500 people, including military and civilian personnel, spouses and children, to the region.
"We need businesses to support the residential growth," Robertson says. She includes enterprises as ordinary as grocery stores and those as vital as medical facilities.
The Grove, a 1,100-acre mixed-use community in the south end of Harris County, will provide some of the residential and commercial facilities needed to accommodate Fort Benning's growth. The development, which County Manager Daniel "Danny" Bridges refers to as self-contained, will offer some 2,200 residential units, from apartments to custom estates on two acres or more. The development also will include two school sites, lakes, parks – with a plan to leave 20 percent of the development greenspace – and 3.3 million square feet of commercial space.
The new Kia auto assembly plant to the north in neighboring Troup County has yet to open, but changes in its wake already are being felt in Harris County.
Not five miles from the Kia plant is the county-owned Northwest Harris Business Park. The 380-acre industrial park is home to Xpress Materials, a concrete and earth-moving company. "The Kia plant is probably the thing that brought them to this part of Georgia," Bridges says.
This spring Daehan Solution, a Korean company and Kia supplier, signed a contract to move into the park, promising a 160,000-square-foot building on 30 acres, with a $35 million investment and 300 new jobs.
"We probably wouldn't be where we are today [in terms of the industrial park] without Valley Partnership," Bridges says. The Valley Partnership Joint Development Authority is an economic development entity that helps draw business to the region of Alabama and Georgia that includes Harris County. The partnership was instrumental in luring Daehan Solution to the new industrial park, Bridges says.
Recognizing the business park's importance, the OneGeorgia Authority awarded a $1 million grant in March to the Valley Partnership to help construct public water and sewer improvements there. In addition, the Development Authority of Harris County and Xpress Materials were jointly awarded a $150,000 grant to help with road improvements in support of Xpress Materials' facility.
"When you look at where Harris County sits, with Kia to the north and Fort Benning to the south," Bridges says, "it's an ideal location that should push us a little ahead of everybody else."
Heating Up Hamilton
Hamilton, the county seat, lies near Harris' geographic center, and is preparing to welcome new residents in the north and south with two subdivisions. Sweetbay, on Highway 27 north of downtown, has been in the works for a decade.
"We annexed the land then spent 10 years choosing a developer," says Becky Chambers, Hamilton's mayor. Dixon Built Homes, out of Fayetteville, got the job. Construction was to begin on the first of 300 homes this spring. On the south side of town, a new subdivision of 35 homes is just getting under way.
Chambers, currently serving her second term, is Hamilton's first female mayor. "It made headlines when I was first elected," she says. But she had served on the city council before running for mayor and was a known quantity. The four-member city council also is all female. "It works extremely well. We do get things done," Chambers says. "We have a small-town atmosphere, but don't have a small-town mentality."
Among the things these women are accomplishing is bringing in the kinds of businesses and services that residents require. The county's first dentist opened his practice in downtown Hamilton in November 2007. Dr. Alan Arrington says the demographics (a county of approximately 30,000 people and no dentist) and the schools (he has three young children) lured him to the area.
"I looked in Columbus, south of Atlanta," Arrington says. "I wanted this area, but wasn't sure where." So far, he has no regrets. "The people are great. The county is rural and committed to being rural and having a down-home feel. I wouldn't have done anything different."
Chambers says the city is actively negotiating to bring a large, chain grocery store to a site near Sweetbay. Hamilton also is working with the county to open a business park designed for small enterprises on Highway 116, east of downtown.
With Harris' recent designation as an Entrepreneur Friendly Community by the state department of economic development, the focus on small business seems right in line. "We have 550 small businesses in the county," says Lynda Dawson, chamber president. "That's a lot for a rural county."
But Harris' leaders aren't averse to adding more. Many of its existing small businesses are located in Pine Mountain, home to Callaway Gardens and retail shops, and the county's largest city. Located in Harris' northeast corner, the city is actually shared with Troup County. "It's a tourist town," Dawson says, with quality shops, but locals, many with new homes in Callaway Gardens, also shop there.
A New Take On Tourism
Callaway Gardens may be primarily a tourist destination, but as it welcomes its first year-round residents, the face of the gardens and the surrounding area is changing (see story, page 79). "Callaway's growth will bring a level of affluence to the county we've never seen," says Derek Williams, president of First Peoples Bank, with branches in Hamilton and Pine Mountain. "It will change a lot of the way we do business."
But it won't change the fact that Pine Mountain and Callaway Gardens are tourist destinations. In fact, Dawson says tourism is the number one industry in Harris County. Between Callaway Gardens and Franklin D. Roosevelt State Park, Georgia's largest state park, hikers and outdoor enthusiasts have some 50,000 acres of gardens and trails to explore.
Hoping to enhance the tourism experience – and quality of life for residents as well – the county is trying to buy up the abandoned railroad that runs from Pine Mountain to Hamilton to create a paved walking and biking trail between the two towns. The path also would connect both towns to Callaway Gardens and FDR State Park and run right past Sweetbay.
The success of tourism in Harris County has led an unlikely group of people to look at tourism options. Farmers in the area are considering agritourism. "So much of the time farming is not a money-making opportunity," Dawson says. Tours would increase revenue opportunities on area farms. She points to after school groups as potential tourists. "How many people in Atlanta have even seen a cow?" she asks.
The chamber recently helped conduct a two-day conference that brought farmers from around the state who are giving agritourism a try to talk to local farmers about the experience.
"The beauty of tourism," Dawson says, "is tourists come, spend their money, then go home. We don't have to educate their kids or provide water and sewer."
Excellence In Education
Not that educating kids is a problem in Harris County. "People locate here just because of the schools," Dawson says. "They're more interested in where their child goes to school than where they live."
A significant reason the Harris County schools are so good is Superintendent Susan Andrews, who was one of four finalists in the National School Superintendent of the Year program for 2007, presented by the American Association of School Administrators. The program honors creativity in meeting the needs of children in the system, communication, professionalism and community involvement.
Andrews says the Harris County School District's success belongs to its students. "We have some very great students who come from families that respect and support public education."
The district's mission is to provide an excellent education to all students in Harris County schools. Andrews says it was parents who insisted on the word "excellent" being in the mission statement. Her staff laughs at her annual "mediocrity speech," which she gives to all newly hired and prospective teachers. "If you want to be a mediocre teacher, go somewhere else," Andrews tells them. "We demand excellence."
The school board is always asking, "What can we do for kids in the district?" Andrews says. That question has led the district to improve technology, with computers in the schools going out of service and being replaced every three years, so that students always have state-of-the-art equipment.
"Our board and community decided arts is part of a basic education, not a frill," Andrews says. The elementary schools started with part-time art and music teachers, but now employ full-time instructors. Once the students arrive in middle school and high school, drama is added to the artistic mix.
"It's part of what makes well-rounded education," Andrews says. "Great academics, great fine arts and great athletics, those are the things that kids need."
Thanks to a strategic planning process that the school district started 20 years ago and updates every five years, the district is ready to face the coming growth. "We're constantly reviewing the facilities plan," Andrews says. Under construction now is an "intermediate school," for fifth and sixth grades, which will open in August 2009.
Designating the school for fifth and sixth graders opens up sorely needed space in both the elementary schools and the middle school, she explains. The district has purchased property that it's holding for future expansion. Next up will be the difficult discussion in the community about a new high school, she says. The county has just one, which was new in 1999, and has already outgrown it.
Tough discussions are being made all over Harris County as residents grapple with growth and the changes it brings.
"Harris County always felt really segmented because of the many cities," Williams says. He believes residents are working well together and ascribes credit for a new sense of unity to the Vision Team, which consists of representatives from the Valley Partnership Development Authority, the Harris County Chamber, county commissioners, the county development authority and interested individuals, who come together to try to manage growth.
Harris County At-A-Glance
Population
Harris County, 30,000; Pine Mountain, 1,000; Hamilton, 700; West Point, 700; Waverly Hall, 700; Shiloh, 500; Barwick, 333
Unemployment
(April 2008)
Harris County, 3.6 percent; Georgia, 5 percent
Largest Employers
Callaway Gardens, 1,200*; Harris County School District, 700; Cagle's Inc., 500; County government, 250
* Seasonal
Sources
Harris County Chamber of Commerce, Georgia Dept. of Labor