Classic City Classic
Allen's, an Athens fixture for nearly 50 years, is back. The legendary bar and grill that hosted generations of students and locals has a new location, new owners and a new business plan.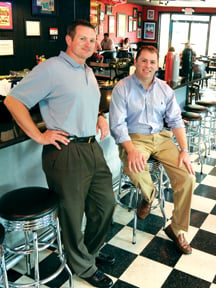 Of all the college hangouts in Georgia, perhaps only the Varsity and its famous carhops Nipsey Russell and Flossy Mae could vie with the colorful denizens of Allen's, a rundown bar in an Athens neighborhood called Normaltown. There, Lewis Grizzard spun tall tales, a young Zell Miller once worked for "for $7 a night, and all the hamburgers I could eat," and the B-52's found inspiration for "The Deadbeat Club."
Regulars included Terry "Mad Dog" Melton; Fast Eddie the grill cook; the professorial Ort Carlton holding court about records or books; and, in later years, an unofficial, country-tinged house band, the Normaltown Flyers.
Occasional drop-ins included a preacher's kid named Saxby Cham-bliss (now U.S. senator) and an aspiring rock 'n' roll singer, Michael Stipe (lead voice for R.E.M.). Now just try to imagine these folks getting together at one place under any circumstances. (Normaltown in what universe?)
Despite its seemingly permanent state of decrepitude, Allen's nicotine-tinged walls drew students and townies for 48 years with cold beer, deliciously greasy burgers and the world's best jukebox. It's generally credited as a cradle for Athens' booming, vibrant live music scene.
Still, for all its standing as an Athens institution, the little dive closed in 2003, a victim of car culture. After bars and restaurants began to take over Athens' downtown district, students found they could park their cars and barhop to several hotspots in a single evening. Pedestrian-friendly Allen's had only a minuscule lot, and no other nearby bars.
You never think about institutions crumbling until they're long gone. So when UGA business school grads Hilt Moree and Mark Hammond agreed to meet at Allen's for a burger before a football game, prepared to introduce their 7-year-old sons to the tradition, they were shocked to find it closed.
"Someone was there selling T-shirts, and gave us Billy's business card," says Hammond. "Billy" was Billy Slaughter, Allen's then-owner, who had bought the place from original owner Allen Saine. The place had come back into his hands after the death of his former partner and manager Danny Self, who developed many popular recipes.
Hammond and Moree already had jobs – they're actually friendly rivals in the mortgage business – but they began to wonder how they might bring the beloved hangout back. Moree made contact with Slaughter, who also mourned the loss of the bar, but could no longer operate it. After many meetings and discussions, Moree convinced Slaughter that with their business training, he and Hammond could give Allen's another life.
"It was Hilt's persistence," Ham-mond says, that convinced Slaughter to give the pair the Allen's name, logo and recipes – in exchange for a handshake. By 2005, that was all there was to give – the original building was demolished. (A medical supply company now occupies the spot at Oglethorpe and Prince.)
The Business Plan
Moree and Hammond loved the idea of bringing Allen's back – and owning it – but realized they needed to think as clearly with their heads as they were longing for it with their hearts. They set a few parameters with their business plan: The bar had to capture Allen's original vibe, down to every detail (except the grime).
They would consider the project a failure if the place couldn't attract the same wildly divergent patronage. They weren't looking for a major moneymaking project, but the bar had to be self-supporting, and provide some funds for the partners' favorite charities, such as the local YMCA.
"It's a for-profit venture with a philanthropic heart," Hammond says. "We're really only stewards of the Allen's legacy."
For mortgage brokers, the duo also had a surprisingly subversive mission in mind, describing their project as "a strike at corporate hegemony." Which perhaps makes perfect sense when you remember they were Allen's regulars. Hammonds describes their mortgage businesses as "helping small banks compete against the big banks for mortgage loans."
The new project dovetailed nicely with that outlook, he wrote in an email: "Our business philosophy in our day jobs transcends nicely into our motivation for bringing back Allen's. We feel strongly that America has become too 'corporate,' whether it's in banking or a night out for a meal." Giving his mortgage customers personal touches they can't get at big banks, he says, is the same as giving Athens dining options beyond the usual chain restaurants and franchises.
Their labor of love had an overall budget of $500,000 – they took out loans between $300,000-$350,000, and chipped in an additional $75,000 apiece. ("It's an expensive hobby," says Hammond.) They found a suitable space for transformation – with plenty of parking – at Oglethorpe and Hawthorne, not far from the original location, that included a five-year lease, with first right of refusal to buy the property. After months of renovation, the new Allen's opened its doors in August 2007.
Their attention to detail is apparent from the moment you pull into the lot. The familiar sign in Allen's script hovers over the storefront – which is identical to the original, even down to the murals below the windows, newly painted by Normaltown artist Stephanie Cowan. Step inside and be greeted by a photo of original owner Allen Saine, who serves as a kind of patron saint of the grill. To the left, you'll find the pool tables – just like the old Allen's, except not torn or scratched.
The place is bright and clean, with a UGA-inspired color scheme of black-and-white tiled floors and red walls. "We like to think of the décor as Redneck Chic," Moree says. Still, despite the hygiene (and the hilariously upscale bathrooms), Moree and Hamilton have managed to pull it off. A recent lunch was packed with students, townies, artsy types, math geeks, truck drivers, lunching ladies and some older alums on a pilgrimage who worshipfully inspected some of the original Allen's posters and "Hall of Fame" photos of regulars on the walls.
The Menu
In addition to the atmosphere, Moree and Hammond have also lovingly re-created the original Allen's menu. While they've also added some updates to reflect current tastes (including vegetarian options), they thought long and hard about whether to change the joint's touchstone: the Allen's burger.
The original, thin "slider"-style burger, with a toasted bun, had nurtured patrons for almost half a century. But it was also based on a frozen beef patty. No matter how many ways and times the new owners tried updating it with fresh ground beef, "it just didn't taste the same," says Hammond, between bites of the sandwich in question.
Only after tracking down the original source of frozen patties, were the partners satisfied they'd done their job. However, they also added a "Billy's Burger," named for former owner Billy Slaughter, a larger burger of fresh ground beef.
The health department mandated another change: The familiar faux woodgrain bowls filled with chopped onions (usually sporting a couple of buzzing flies) that once graced each table are no more. "Now you have to have sneeze shields," says Hammond, sighing. (You can, however, still order the hand-chopped onions, served on the side.)
For all their persuasive powers, Moree and Hammond couldn't talk Slaughter into giving them one more highly desirable Allen's asset: Its jukebox, which today still sits in Slaughter's office. However, he did allow Moree and his wife, Marisa, to take digital photos of every page of its flip-page index – and yes, the playlist is re-created in its entirety in a newfangled jukebox near the front door.
In addition to successfully capturing the original Allen's energy, the partners also have met their own goals for creating a self-supporting enterprise with a charitable mission. They say Allen's takes in between $15,000-$25,000 each week, "very steadily," Hammond says. "Everybody tells us the first year is the hardest, but we've been cash-flow positive from the beginning." As for the mission: Their opening raised $4,000 for the local YMCA, and they hold other fund raisers regularly.
Two original members of the Normaltown Flyers now play the club regularly. In addition, Allen's website (www.allensbarandgrill.com) supports itself with T-shirt sales – and offers a message board for alums and newbies to trade tales. (There is also an Allen's MySpace page, at www.myspace.com/allensbarandgrill, and a mention in the Athens Wikipedia entry).
The partners are looking ahead to all kinds of possibilities, including hiring a bus to ferry fans to and from Sanford Stadium on game days, and creating more new menu items. Hammond patiently responds to each and every complaint posted on the message board – many of them expressing shock that the burgers are thin and based on frozen patties. However, many more posters rejoice at this unexpectedly successful revival, and recently, even Ort wrote in a paean:
"My visits to Allen's aren't for memories … they're for the present, not the past. Far from the new place being some sort of living museum, it is an eatery/drinkery with a considerable soul of its own already developing. … Every now and then I just have to dig in to a serving of their Ms.-Fannie-Fleming's-recipe amazing German potato salad to taste a wondrous, unchanged icon of Athens eat-culture. The burgers are just as I remember them from the old location, too. Highly recommended."
The new owners are clearly proud, not so much of themselves, but for re-lighting a briefly extinguished flame. Says Moree, "It's kind of like a torch thing."
Allen's is located at 810 Hawthorne Ave. in Athens; phone is 706-353-6244.