Celebrating Revitalization
This year's Heart and Soul of Georgia bus tour showcased nine Metro Atlanta communities that are rehabbing, refurbishing and rethinking their downtowns.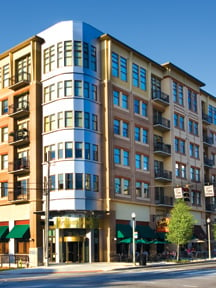 Taking place, as it does each year, in early spring, the annual Heart and Soul Bus Tour, sponsored by the Georgia Cities Foundation – a subsidiary of the Georgia Municipal Association – offers an unparalleled opportunity to see the seeds of economic redevelopment efforts in Georgia in full bloom.
Over the course of the tour's eight-year history, the GCF – in collaboration with the Georgia Depart-ment of Community Affairs and with help from a challenge grant from the Robert W. Woodruff Foundation – has seen some $14 million worth of projects from Athens to Zebulon revitalize downtowns with economic and residential development stimulus.
Cities across Georgia have seen an exodus from their centers, caused by sprawling residential development and the defection of retail to malls and scattered strip developments and lifestyle centers. But in Atlanta's suburbs and exurbs, many downtowns have come back so successfully that they're taking revitalization past the square into adjacent neighborhoods. Others, meanwhile, are starting the process entirely from scratch.
This year's Heart and Soul Tour visited Decatur, Lawrenceville, Su-wanee, Norcross, Buford, Roswell, Woodstock, Acworth and Kennesaw, and spotlighted a number of these "off the square" efforts, often funded in conjunction with the Atlanta Regional Commission's Livable Centers Initia-tive (LCI).
In an effort to reduce traffic congestion, these grants encourage cities to rebuild, mixing residential and retail, and connect new and existing communities with trails, greenspace and other alternatives to roads and highways. It's impressive to see these urban concepts catching on in far-flung cities such as Buford and Suwanee. It's also nice to note the re-emergence of street-facing, storefront shopping districts.
The year's tour began in Decatur – a community actually older than Atlanta, which has successfully reinvented itself and is now home to million-dollar loft apartments, a thriving restaurant scene, busy shops and bustling offices. The transformation was spurred by MARTA construction 30 years ago. More than a thousand new residences have been added over the last decade alone, many of them occupied by citizens who walk or bike their way around the city.
To make sure downtown dwellers have easy access to amenities, the city has developed a transportation plan, and hired an active living director. "Baby boomers and seniors who want to move into downtown, but want to remain active, are a critical part of our plans," says Decatur Mayor Bill Floyd. "The active living director is looking at everything we do, from how we pick up the trash, to all of our developments. We have a plan and we know what we have to do."
Now that the city's mid-rise condos with street-level retail are catching on along Ponce de Leon Avenue, City Manager Lyn Menne says plans are afoot to reduce outbound Church Street to three lanes (with bike lanes to the city limits) and redevelop the corridor with more mid-rise apartment buildings, expanding De-catur's urban footprint. While stimulating the economy with a broader pedestrian flow, Church Street's revitalization will also provide a better gateway to a community that has become increasingly popular with young families as well as empty nesters. A redesigned MARTA station paid for with LCI grants further emphasizes the city's pedestrian flair.
Downtown transportation also is on the mind of Lawrenceville Mayor Rex Millsaps. "We're going back to two-way streets, where now they're all one-way," he says. Using a $3 million LCI grant, plus $600,000 in local funds, Lawrenceville has widened Jackson Street and is swapping it with Georgia Highway 20 to take that busy route's traffic off the town square. "That will slow the traffic down and make it more pedestrian friendly," Millsaps says.
And there will be more pedestrians with construction of a new 35-unit residential project under way downtown. When eight future tenants showed up for a groundbreaking, most proved to be longtime local residents. "They had moved out of town and now they're moving back," Millsaps says. "One of them was my mother-in-law."
Some may be attracted by such quality of life options as the newly relocated Aurora Theater; some by downtown restaurants and retail; and some by the possibility of the "Brain Train" to Athens, which would come right through the city.
Downtown With A Twist
With newcomers the largest segment of Suwanee's population, leaders have been working to build a city that's welcoming to all. In a surprise twist that required some bold thinking, a decision was made to leave the original downtown the way it was – and build another one. Residents passed a $17.7-million bond to build a massive mixed-use community at the corner of Lawrenceville-Suwanee Road and Buford High-way, which features 225 acres of open space. A large component of the original design, created by University of Georgia students, is interconnectivity.
"At the beginning of the 21st century when we started to create Suwanee's new sense of place, we created Town Center Park," says Dave Williams, the city's mayor, referring to the mixed-use development. "But the historic downtown is the center of our heritage." To maintain a tangible connection between past and present, the city is building a railroad underpass with a pedestrian walkway that will link its historic downtown with Town Center Park.
Suwanee residents have come together every Saturday night since 1964 for a free, family-oriented bluegrass music get-together at a barn on the edge of town. "That is one of the true treasures we have in Suwanee," Williams says. Suwanee also plans to connect the new and old villages with the four-mile Suwanee Creek Greenway.
In Norcross, the challenge is to make sure downtown development remains consistent as the city expands its revitalization efforts from the square east toward busy Buford Highway. To that end, the city has acquired property and created a master plan managed by the Downtown Development Authority (DDA) for use in a kind of partnership with private developers.
"The DDA tells the developers, 'Here is what we want you to build,'" says Norcross Mayor Bucky Johnson, "and if you build it according to the plan we will sell you the land."
The plan's centerpiece is the new Lillian Webb Park, between the square and Buford Highway, which the city hopes to turn over to a developer as a potential mixed-use project. The DDA already has presided over the development of more than 200 downtown residences. A new cultural center will be housed on the grounds of a church complex slated for renovation.
As Buford Highway leads to its namesake city, Buford, one can see the proof that exurban growth is hotter than ever. In addition to myriad subdivisions, the city now has a massive mixed-use mini-city (not unlike Suwanee's Town Center), which includes an amphitheater, an historic looking retail area and a townhome development.
Things have clearly changed since the 1930s, when the city of Buford was a center for the manufacture of leather goods, and was even home to a semi-pro baseball team called the Shoemakers. The field on which they played has been acquired by the city and is now serving as greenspace, with a view toward future development.
But there are two more recently developed attractions that city leaders feel factored into downtown's destiny. "We have the Mall of Georgia just two miles away," says City Manager Bryan Kerlin. "They have buses going there and we try to plug into that and get [shoppers] into downtown." Kerlin says promotional materials touting the town's virtues have been placed at nearby Lake Lanier.
By clinging fiercely to a quality-not-quantity growth mantra, as well as a penchant for annexation, the city of Roswell has carefully managed the flood of new residents coming to town, says Mayor Jere Wood.
"We've always been focused on seeing that the development that comes in here is of the highest standard," says Wood, who has welcomed 30,000 new residents to Roswell in his 10 years as mayor.
Roswell provides another example of successful revitalization of areas adjacent to a city center. With a $3 million streetscape project unfolding from city hall to Holcomb Bridge Road, what Wood calls the "new central business district," attention is being shifted to the future of the city's former historic district, where an 85-room hotel with retail and condo features is being proposed.
"There is a lot of community support for redevelopment on that side of town," Wood says. "If that happens, I think when the market turns around we'll see a lot of other projects come along in the historic district, too."
Sleight Of Hand
Woodstock is employing a little sleight of hand when it comes to downtown redevelopment. "People are saying, 'I love what you've done with the old cotton mill,'" says Mayor Donnie Henriques. "Well, there is no old cotton mill. There never was."
Instead, Henriques says, there's a brand-new building built to look like a rehabbed project. The building features 320 townhomes surrounded by shops and other residences. "There's a nice park smack dab in the middle of it," Henriques says.
It's all part of Woodstock's two-year-old master plan, which calls for adding 2,000 new residences over the next decade, as well as 250,000 square feet of commercial space. Walking and biking trails are being woven into the city's landscape to accommodate new residents. "We've had people from all over the world come and look at our downtown development," Henriques says.
Many of this year's Heart and Soul communities were built along rail lines and were prosperous stops along the way to Atlanta, once called "Terminus" for its large number of connecting tracks.
While Woodstock built an entirely new community alongside the old train stops, Acworth has revitalized its existing buildings along the railroad track with a number of quality restaurants and specialty shops. It helps, too, to have a lake within walking distance of the tracks.
In fact, Acworth has two beaches, courtesy of that lake, and they are being used by downtown residents for recreation, and by the city as development-attracting lures. "Having a lake with beaches in our downtown central business district has been an important component of our quality of life," says Acworth Mayor Tommy Allegood.
And with 400-acre Lake Acworth as the central amenity for development, the city is coming alive with plans and projects. "Within the next three or four years we will be looking to redevelop much of the property in our downtown business district so that we can create what we call a downtown village," Allegood says. The city already has recruited developers for a new $47 million four-story building that will offer housing for active seniors and those requiring assisted living.
Few rail stops are as famous as the one in Kennesaw, where The General, a locomotive hijacked by Yankee soldiers in what was a critical move to ending the Civil War, has a final resting place.
History is big here, and when developers were considering a mixed-use project for downtown Kennesaw, they knew they would have to conform to the city's historic preservation codes and architectural standards. So they went out into the Cobb County countryside, rounded up some 19th-century buildings and transported them downtown to create what eventually became Fuller's Chase.
"The Fuller's Chase development is part of the central business district, and it led to [new] design standards and a [new] zoning category," says Mayor Mark Mathews. "That sort of set the tone and theme of what we wanted for some of the development downtown. To see some of this change and still preserve some of our heritage is very exciting. And we're just getting started."
Integral to Kennesaw's plans is a pedestrian tunnel to accommodate visitors and residential growth surrounding its bustling downtown, built along the train tracks. Expanding outward from the central downtown area, the city opened Swift-Cantrell Park last year. The 42-acre tract, the city's largest, is popular with both workers and players and is expected to spur additional quality residential development within walking distance of downtown.
The ability of these cities to take the urban concepts that helped revitalize their downtowns to the next level and, literally, to the next ring of neighborhoods, is a testament to the Georgia Cities Foundation's success in spurring economic and community development in cities large and small. The welcomes these communities offered to Heart and Soul participants were both a celebration and a thank-you.