All Real Estate Is Local
At a Georgia Trend roundtable, six experts talk about the state's residential markets. The picture's not entirely rosy, but it's far from doom-and-gloom. In fact, the worst may be over.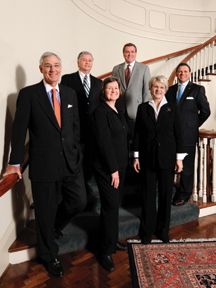 Despite some tough times, brought on by the subprime mortgage crisis, residential real estate is strong in Columbus, on the coast and in Atlanta's high-end market – and looking better in north Georgia.
Georgia Trend invited six industry representatives to share their perspectives at a roundtable discussion in Atlanta, just as the traditional spring selling season was getting under way.
Panelists included Lewis Glenn, president and CEO of Harry Norman, Realtors, Atlanta; David Ellis, executive director, Atlanta Home Builders Association; Bob Kinard, Coldwell Banker Kinard Realty, Dalton; Sandi Green, associate broker, Waddell Realty Co., and president of the Columbus Board of Realtors; Karen Gibler, associate professor, Department of Real Estate, Georgia State University; and Rick Floyd, Opteum Mortgage, president of the Mortgage Bankers Association of Georgia.
They answered questions from Georgia Trend's Neely Young, Susan Percy and Ben Young. Following are edited excerpts from the roundtable discussion.
GT: We'd like each of you to assess the current state of residential real estate from your perspective. Bob, could you paint the Dalton picture for us?
KINARD: Well, actually, we fared very well in '07. Our average home price went down only one-half of a percent. Right at the present time, there's some difficulties in the market. There is, however, some light at the end of the tunnel. We feel that the purchasers are beginning to come off of the sidelines, especially the investors. The interest rate is absolutely the best in 40 years.
GT: Sandi, how about Columbus?
GREEN: Things in Columbus are very good. The important thing for people to know is that all real estate is local. We can't be compared with Las Vegas, Florida, California, places like that. We haven't lost any value in our homes. Now we have quite a bit of inventory. We have huge numbers of jobs coming in. Fort Benning presently supports 120,000 people. We're going to have an additional 30,000 coming in with the new armor school.
GT: How do things look from the mortgage banker's perspective?
FLOYD: The market activity is good. We're seeing a lot of traffic as a mortgage company with a lot of real estate agents and a lot of the builders. Our biggest challenge is not sales and not refis. It's a lot of the government interventions. The government side is trying to correct our business. History will prove to you that it doesn't need the government intervention to correct it. It will correct itself. Our biggest challenge on the real estate side is the appraisal fees. They're coming down real hard on the appraisers. We're seeing a lot of appraisals not coming in at contract price.
Obviously, a lot of foreclosure business today is driving down values. We're back to 30-year conventional, FHA, VA, good old-fashioned lending, which is a great thing. I wish we'd never got away from it.
To me, it's turning around. I can't tell you if it's going to get back to where it was. Maybe it never gets back to the way it was the last five or six years.
GT: How about an Atlanta overview?
GLENN: Interest rates have never been better. We're probably going back to where we were several years ago, with very smart underwriting guidelines. We're going back to something that I haven't seen in a long time, which is FHA loans coming back into the market. Overall in the marketplace, we have seen a drop over the last 12 months, anywhere from 25 to 30 percent in units and volume. But what we're seeing in the upper price range – anything from probably a million up – has been very strong. We've closed the same number of houses in '07 that we did in '06 over $1 million.
ELLIS: It's really been a challenging time for my builders. They started houses in 2006 thinking they were going to move along at the same pace they had been moving along and all of a sudden the music stopped. But they had houses in progress. So all of a sudden, we have this inventory that's really created some challenges for us. The good news is that they've corrected that and they moved fairly quickly. It's a tough process just to adjust on a dime, but they've adjusted now. We're seeing permits off 50 percent.
GT: Is that good?
ELLIS: I'm thrilled. That's how we're going to eat up this inventory. We're starting homes at a slower pace than we're actually selling them. So we're now eating down that inventory. In terms of what we're hearing out there, in talking to builders, just this spring, they're seeing greater traffic. They're starting to see sales. They're still seeing a lot of bargain shoppers as opposed to buyers, and that's something they're still having to adjust to. All the numbers and things we're seeing tend to indicate we're at the bottom of it and we're going to start working our way out. I think a lot of us are keeping an eye on the spring buying season. I think consumers are starting to wake up.
GT: Karen, you have a different perspective.
GIBLER: What's happening currently in the market is something that probably should have happened. We had a lot of people in the market that weren't basing their real estate decisions on sound economic fundamentals. They watched television shows about buying homes and flipping them, making huge amounts of money. We have people trying to buy a home, assuming they're going to have high rates of return when they really couldn't afford the mortgage. All of their purchases were predicated on quick in and out, refinancing, not based on sound, long-term economic decision-making about buying a home. So that definitely was driving up prices. We see this as a needed correction in terms of overall demand.
Prices tend to be stickier coming down than going up. [Sellers] are probably going to hold out longer to try to get the price they could have gotten a year ago. That's one of the reasons we have some of the slowness in some of the markets.
GT: Is the high end holding its own in other parts of the state besides Atlanta?
KINARD: We're having a little bit of a problem in Dalton, and it's because we're unique. We're the carpet industry and we've experienced a lot of consolidation of the industry. The people that buy the high end are the upper management people in our community. And for that reason, we have experienced some difficulties on the higher end. Our demand will never be the same as it was when we had 20 carpet mills – we're down to three. So we'll adjust to that by bringing in new industry, and that's when we'll climb out of that situation.
GT: Rick, what's happening elsewhere in Georgia?
FLOYD: As far as my company goes, we've been predominantly a national company, scaled back down to metropolitan Atlanta. We're now venturing into the outlying areas. We've just opened up an office in Augusta. Augusta is just on fire. We're looking to go to Columbus and St. Simons and Brunswick and Tybee Island. The high end there is obviously still very much moving forward.
GT: It sounds like you are all saying the worst is over. Is that so?
GREEN: A lot of the excess inventory is going to be absorbed into the market, probably by the end of the summer, and we'll return to a more normal market, in Columbus anyway. We have an abundance of inventory right now. Never has there ever been a time of [such] low interest rates and high inventory. People that make good money and have job stability are going to get out there and buy.
KINARD: I think the media has played a huge part in this situation that we're in, in consistently talking about the doom and gloom, instead of talking about how resilient the housing market is. Last year, on a national average, the average house only lost one and a quarter percent in price. Now the stock market talks about a correction when it has a 10 percent reduction. Nationally, the foreclosure average has been consistently around 2 percent.
GLENN: We've been trying to get the message out there that it really is the best time to buy a house. And it's tough to combat some of [what] we have seen every morning in the paper, whether it's the mortgage business or the new homes. Yes, there is a national correction going on. Yes, there are pockets that are [in trouble]. But when you look at interest rates and you look at new home communities and the other options, whether it's condominiums, lofts, townhomes, small houses, big houses – the consumer has more choices today.
ELLIS: I have guys in my association, they came in the business in 1991 and they were young, 25 years old. They're in their 40s and they've never seen a downturn or even any sort of moderation in the market. And so for many of them, it's been an abrupt kind of awakening because most years their business plan for next year is, I'll just build 10 percent more than I did last year. Atlanta was such a juggernaut in terms of job growth. One of the things we're seeing in the home-building industry is clearly there's consolidation, people leaving the business.
GT: So your industry is changing, too?
ELLIS: One of the interesting factors [is that] builder licensing is going to start in Georgia July 1. There were many people that were on the fringes – you know, a couple of guys with a little bit of money and a little bit of spare time say, "Oh, we'll build a couple of houses and see what happens." Well, those guys won't be doing that anymore. Atlanta's always been a market where medium and smaller builders could do real well. I think with the things that are happening during this downturn, the national builders made their adjustments very quickly. They got out of deals, they adjusted some of their land positions, and I think they'll come charging out of this downturn a little quicker because of that nimbleness.
It was a real abrupt downturn. I think we're going to come out of it, but it's going to be a little slower uphill. The other day I had a builder ask me, when are we going to get back to normal? I said, "Well, it depends on how you define normal. Because if you define normal as 2005, 2006, it might be a generation away." Those just may not be sustainable numbers.
The one thing you come back to in Atlanta is job growth. The houses we build in Atlanta are primarily where jobs go to sleep at night. And so as long as we're growing, there's going to be a good opportunity for people to sell and build. There's a vibrancy here [in Atlanta] that hasn't been shaken during this time.
GLENN: We sold our company about two years ago to Berkshire-Hathaway – it's a company called Home Services of America, 20 companies across the country, real estate companies. Everybody's feeling the same thing that I think that we're talking about here, that maybe we're at the bottom of this. I think the consumer has been sitting on the sidelines, but I think there's a lot of pent up demand out there right now. We're going through the spring market, which is typically our best market, so I do think the crystal ball will become a lot clearer in June [once the results are in].
GT: How's the market for retirement homes?
ELLIS: For the builders, some of the hottest subdivisions around Atlanta are these 50-plus communities. They are selling very well, and they're driven, like the million-plus market, by different economic factors. These [buyers] are people that don't really have to sell something else or they may have [sold] already. It's been real strong for the housing economy in and around Atlanta, in the last year or so.
GIBLER: And it's not as dependent on the mortgage problems, the financing and things of that nature.
GT: Are they finding financing themselves?
GIBLER: Many do, or else they don't have to worry about the qualifying. It doesn't affect them at all, whether they want to self-finance or take out a loan, either way.
GT: How about vacation homes or second homes?
GLENN: We looked at the demographics several years ago and made the decision to put [offices] in Big Canoe, Blue Ridge, Savannah, Highlands, North Carolina. We saw a tremendous trend in the second home market – not the trend that some of us may have seen in south Florida or even on the Gulf Coast where people were going in, buying properties, holding them to flip as investors. We saw a trend where people actually wanted to buy a second home.
GT: How about condominiums?
GLENN: In Atlanta, there has been a lot going on, a lot of construction and a lot of announcements of new projects coming on the market. And there have been a lot of announcements of developers holding off, which is good. Very positive for the market.
You're going to see more condominiums. You're going to see different price points appealing to young, single purchasers, empty-nesters, a lot of demographics are going to fuel the purchase of these condominiums. But I think what's going to be the savior for the condominiums is quality of life. People want to live close in.
GT: Rick, you talked about corrective legislation: You want the government to stay out. Why?
FLOYD: We all had a part to play in this. It wasn't just the lender. It wasn't just the real estate [agent] or builder. It was from the government to Wall Street to the consumer. The consumer, he or she has a responsibility to know whether they can afford that house payment. I think we are making corrections, as long as we don't have any more bombshells, with big financial institutions. Everybody still has all this subprime paper on their portfolio. We've already done what we need to do. We've already tightened credit guidelines. We've already gone back to prudent lending, knowing that it got away from us. So we, as an industry, have already done the things we need to do.
GREEN: Don't you think that the subprime dilemma … most of those were loans that probably never should have been made in the first place?
FLOYD: Absolutely.
GT: Does anyone think there has been an over-correction?
FLOYD: We're a mortgage banker. We use our own money to fund loans and so forth. Wall Street came to all of us lenders and said, you know, originate these loans, we'll buy this paper, we'll pay you your premiums on it and so forth. Obviously, we all jumped in and were going along, just like anything else. The pendulum was way to the left … it's swung way to the right. I mean, with the investors, now as they're looking at the portfolios, they're looking for almost any reason not to buy the loans. So we have to underwrite – an underwriter's job in our industry today is enormously difficult because you're talking about every I dotted and T crossed. They've gone overboard.
GLENN: So it could swing the other way, negatively.
FLOYD: Absolutely. It could be where we're not making loans to people that really do qualify and so forth.
GT: What about people buying residential property as investments?
GREEN: They're going back to paying 20 percent and 30 percent down. Larger down payments.
KINARD: I personally find investors that know the market will buy and get into residential. The market is great for an investor right now. And so there are homes out there that they're buying, the foreclosed homes.
GIBLER: Traditionally, real estate is a long-term investment whether it's a rental home or home ownership. So definitely the opportunity is there now to buy, and especially in foreclosures for the long-term investor. The last few years we've had a lot of people in the market that were short-term flippers. I think of them like day traders.
GT: Any trends you can identify for us?
ELLIS: One of the things that I see is even greater movement toward green building and sustainability. Right now my guys are looking for competitive edges, and I see consumers becoming much more attracted to green building. And we're even in the business – through our association we have a program called EarthCraft which has become, regionally, a recognized green building program. We don't use the term green building as much as we talk about high performance homes, homes that save water, homes that save on electricity, homes that have better indoor air quality.
GLENN: And it is not a fad, it is a real trend. We are having a lot of our agents certified now, eco-brokers. We feel that it is going be a real selling point.
ELLIS: I'd be so bold to say what we are doing now and calling green, 10 years from now we are just going to call it how we are building houses. If you look at any of the numbers, it's growing in every price segment and people are attracted to it.
I think we have moved beyond the early adopter stage where people were willing to pay much more for it and they were not quite getting the return or waiting a long time for the return. The things we are doing now have a quicker return. They help the sale of the home and consumers are all for it – not only for the good healthy reasons but also for the investment reasons.
GT: It sounds like the green trend has not been adversely affected by the slowdown.
ELLIS: I go back to the competitive edge. For my guys, as they look to sell something, if they can put in their ad, hey, the energy costs in this house are less, the water costs are less, oh, and by the way your kids' allergies won't be as bad because the indoor air quality will be addressed … . You bet, that's going to sell a house.