A New Age On Ag Hill
A reinvented College of Agriculture and Environmental Sciences, an established vet college and the world's first stand-alone ecology school show a university redefining itself for the 21st century. UGA is the frontrunner for a new $450-million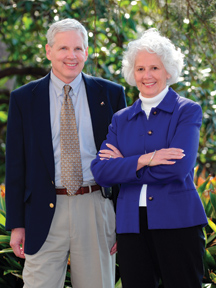 Beverly Sparks grew up the daughter of a bug man in the heart of south Georgia's agricultural swath. Her father, an entomologist for the United States Depart-ment of Agriculture (USDA) in Tifton, made a habit of taking his work home with him. Sparks remembers opening the family freezer to find – lying there among the ingredients for future suppers – plastic bags containing frozen, preserved insects.
"That was my childhood," says Sparks, assistant dean for extension in the College of Agriculture and Environmental Sciences (CAES) at the University of Georgia. "I've been interested in bugs for a long time."
Sparks' career with UGA goes back more than 30 years, when she'd ride her bike to work in the entomology department at the Coastal Plain Experiment Station while attending Tift County High School and Abraham Baldwin Agricultural College.
"The opportunities for employment were limited," says Sparks who, like her brother, followed in Dad's footsteps and became an entomologist. "You either worked at a fast food restaurant or the recreation center or with farmers. I cropped tobacco. It was very hot, very dirty – working in those tobacco fields in the summer is what made me decide to go to college."
She earned her undergraduate degree in horticulture and her master's in entomology at UGA's ag school and has spent her career in the extension service, first in Texas (through Texas A&M) and since 1989, back in Athens. Extension is the nexus where cutting-edge university research is applied at the local level, on the farm, in the greenhouse or in the home.
"My background has given me a perspective of what agriculture is," Sparks says. "It's row crops, it's the poultry industry, horticulture, forestry, biofuels, food safety, organics. But it's also environmental issues, in rural areas, in urban and suburban areas, issues beyond the traditional."
Without a doubt, CAES has moved well beyond the traditional, and Sparks is a perfect example. She's the first woman to head the state cooperative extension service in its 95-year-history.
The "Ag Hill" landscape has undergone a new age transformation. Last year, for the first time, CAES ranked first among UGA's 15 schools and colleges in total external support for research, attracting $31.8 million. After enduring years of budget cuts, including a 25 percent reduction in state aid and a hiring freeze on the research side, and a 25 percent slashing of the extension work force between 2000 and 2005, CAES emerges more relevant than ever, broadening its range as one of the nation's largest agricultural research institutions (No. 4, according to the National Science Foundation), and establishing itself as a hub of environmental investigation and research.
"As we think about this interaction between agriculture and the environment, it's quite clear that the goal of both communities have not been in tune with one another, even though they really both wanted the same things, but maybe for different reasons," says CAES Dean, Scott Angle. "Healthy soil, clean air and water. So we started to nudge the college in a direction where we are paying more attention to these issues.
"Agriculture is still the biggest industry in the state, and it's growing faster in Georgia than in most other states. It's the powerhouse of the state, but the state is changing and we're trying to make sure that the college changes along with it."
The evolved CAES, along with other established institutions, such as the College of Veterinary Medicine, and newer institutions, like the Odum School of Ecology – the world's first stand-alone ecology school – are all reflective of a university that is redefining itself for the 21st century.
Those resources, together with a collaborative spirit and the university's focus on growing its biomedical and health science programs, have established UGA as both a frontrunner for the $450 million National Bio and Agro-Defense Facility (NBAF) being planned by the Department of Homeland Security, and as the site for Georgia's next medical school.
"We feel like NBAF is something we've been preparing for, for a long time. I don't want to declare victory yet, but we're taking a lot of good things to the table on this one," says UGA President Michael Adams, who has been discussing the idea for a medical school campus on UGA grounds with MCG President Dan Rahn for the past several years.
"You consider the role of the land grant, flagship institution, and you start thinking about primary needs to improve the quality of life for all Georgians," Adams says. "Well, Georgia ranks pretty high in virtually every negative health category. We're 40th in the number of physicians per capita.
"It's almost a no-brainer to take the strengths we've developed in the biosciences in the last 10 years, investing something north of $300 million, and combine that with the strengths of our colleagues at the Medical College of Georgia."
The medical education proposal was approved this spring by state lawmakers, who set aside $10 million for a new MCG campus in Athens. Meanwhile, Homeland Security plans to make a decision on NBAF in October.
Animal Magnetism
The UGA/MCG Medical Initiative would result in a new public health campus on the grounds of the old Navy Supply Corps School in Athens. A medical school campus at UGA would increase MCG's class size from 190 to 300 medical students per class by 2020, and total enrollment to 1,200, with 240 students at the planned Athens campus and teaching hospital access to facilities in Athens and Gainesville.
"MCG has its long history of medical education and the honor being the state's only public medical school. Both institutions bring joint strengths in biomedical research and technology transfer capabilities, and UGA has some desirable programs that make this an outstanding collaborative opportunity," says Dr. D. Douglas Miller, dean of MCG's School of Medicine.
"That includes their College of Public Health, their behavioral health capabilities. They also have many years of expertise in veterinary science, and related to that, in the development of vaccinations. This is a chance to optimize and leverage our institutional strengths for a common goal."
The College of Veterinary Medicine has been a well-played ace for David Lee, vice president of research and UGA's point man in the campaign to bring NBAF to Athens. Proximity to Atlanta institutions like the Centers for Disease Control and Emory University are part of the critical mass of assets that would prove alluring to a facility like NBAF, but UGA's vet school houses the Animal Health Research Center and Poultry Diagnostic Research Center, both vital in the recruiting effort.
"The vet school has, over the last five to 10 years, built up tremendous expertise in infectious diseases, and in some regards the Animal Health Research Center is a smaller version of what NBAF will be," Lee says. "The primary focus of NBAF is on animal health."
NBAF, estimated to have a $1.5 billion overall economic output over 20 years, will focus much of its attention on zoonoses (diseases that originate in animals and may be transmitted to humans), placing veterinarians in a familiar position at the front lines of public health.
"That's an old role for veterinarians, but as our population grows and we move out geographically from urban areas, the interface between wildlife and people, between wildlife and domesticated animals, is getting closer and closer," says Sheila Allen, dean of UGA's vet college. "Most of the major public health threats you tend to think about in society today are diseases transmitted by animals to people."
The demand for veterinarians in non-traditional roles – pathology, for example, or in a public health setting – is increasing. The vet college is trying to expand to meet the need. The school serves 96 graduate students today (24 percent of whom have undergrad degrees from CAES) with hopes of expanding to 150.
"We're lacking clinical facilities, and that is our main bottleneck," says Allen, who is planning a $100 million capital campaign for a new animal hospital. She's also lobbying at the federal level for the Veterinary Public Health Workforce Expansion Act.
The vet school's Department of Population Health is an umbrella of units that focus on poultry, food animal health, wildlife disease study and lab animals, and includes the poultry research center.
"We're like a school of public health, focused on animals," says department head John Glisson, who is helping to create a joint position – food safety epidemiologist – with the College of Public Health, located across the street from the vet college. "The College of Public Health is a natural collaborator, because there is a lot of overlap in what we do, so many common goals and functions and ideas."
Glisson also is talking about a shared faculty position with the Warnell School of Forestry and Natural Resources, a scientist who will focus on wildlife disease. He calls this sort of collaboration "human bridge building."
"These are natural connections," Glisson says. "There is a tremendous amount of research synergy being built between departments and other schools within the university, a natural flow back and forth."
The work of some of Glisson's colleagues is also overlapping with UGA's newest school, the Odum School of Ecology, where dean John Gittleman is bringing ecology and the study of human public health together.
"We want to understand why diseases like the West Nile virus and Lyme disease and HIV have emerged, to look at how disease occurs within a particular ecological context," says Gittleman, co-author of a study that was published recently in Nature on global trends in emerging infectious diseases.
The study found that zoonoses pose the greatest threat in causing new diseases to emerge in human populations, and that most of these originate in wildlife-rich regions. Researchers have noted that protecting these regions from development would limit the interaction between wildlife and human populations, and that could prevent the emergence of future diseases.
Gittleman and his colleagues also are trying to predict and prevent future onsets by identifying the sites for likely future outbreaks.
"This is groundbreaking research. What we're realizing is that man's activities, changes in global climate, have a very real impact on the spread of infectious diseases," says David Lee, who is exploiting every possible angle in the pursuit of NBAF, and that includes the ag school.
"CAES has a novel agro-security educational curriculum that is delivered to farmers throughout Georgia, via our agricultural extension agents, reaching out to every pocket and hamlet of Georgia," Lee says. "We have certainly made that case to the Department of Homeland Security."
Every Drop Counts
Reid Torrance is a member of a vanishing breed, a veteran extension agent. His job description is much the same today as it was 24 years ago when he started working in rural Tattnall County. But his focus has broadened.
For example, in recent years Torrance has been trained in agro-terrorism and bio-security issues; and he's more in tune with water and soil conservation and quality issues than he used to be.
"We're doing a lot more in the environmental arena than we were doing 20 years ago," Torrance says. "And the organic movement has caught on considerably. I'm standing out here looking at organic onions now."
In the next five years Beverly Sparks, the CAES assistant dean who runs the cooperative extension service, will lose about 50 percent of her workforce, which reaches into all 159 Georgia counties (with extension offices in 157 of them).
"This is a huge issue for us, because a wealth of knowledge and technical expertise and mentoring is walking out the door," Sparks says. "So we're asking our current agents to become more involved in recruiting, and we're also looking to raise starting salaries, to be more competitive with our teaching counterparts."
Also, the cooperative extension has started an internship program, pairing CAES students with county agents. Four of the program's eight interns last year have since been hired. Extension agents play a key role in serving the state's $55.2 billion agriculture industry – they are the direct link between local farmers or families and the advanced research going on at UGA.
The National Science Foundation has ranked UGA's as the fourth largest agricultural research program in the United States.
"We believe we have the strongest set of university-based intellectual talent of any place in the country," says Bob Shulstad, CAES assistant dean of research. "They're working in biofuels, genetic modification of plants, stem cell research, watershed conservation, soil science, sustainable agriculture. So many different disciplines. And we're the world leader in turfgrass breeding."
A few years ago Shulstad was asked to coordinate a new office of environmental sciences, which merged with the college of agriculture to create today's CAES, which has 1,355 students on campuses in Griffin and Tifton in addition to its Athens hub – and most of those are female, another sign of breaking with tradition. Part of Shulstad's early research was in the area of ecosystem services, or placing a value on intact natural resources.
That is John Bergstrom's bailiwick these days. He's trying to develop techniques for measuring the economic value of services provided to society by healthy ecosystems, whether they are natural (rivers, wetlands, forests, wildlife, etc.) or managed (farmland, managed forestland).
"Now, let's say it would cost $600 million to restore and protect the ecosystem so that it provides clean drinking water. We save $400 million by investing in the ecosystem, which would be one measure of the net economic value to society."
The major challenge in Bergstrom's valuation research is the absence of market prices for ecosystem services like water and air purification, rainfall and temperature regulation. It's a new way of taking stock of the environment, but Bergstrom expects it will yield some old-fashioned results.
"Our research on estimating the economic values of ecosystem services will help business and government leaders make more informed decisions about natural resource and environmental management, with particular attention to the economic benefits and costs of these decisions," he says.
"As we expand our research, I would expect our extension and outreach personnel to become even more involved in passing on the results to private landowners, businesses and government agencies in the state, like we've done with research on agricultural production technology for over 100 years."