Sterling Reputation
For nearly 30 years, Beverly Bremer's shop has been the place where generations of Atlantans come to buy silver baby cups and place settings. She got her start by selling her own silverware at a local flea market.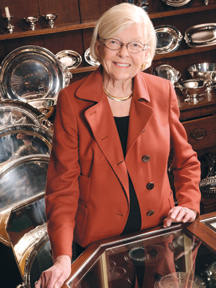 It's a small space, only 2,600 square feet, but like its owner, the Beverly Bremer Silver Shop strikes a high profile. This modest-looking storefront in an easily overlooked Buckhead strip mall is a nationally known source for new and "estate" sterling and hollowware place settings, decorative pieces and collectibles.
Inside, more than 1,500 popular and obscure patterns, meticulously organized in labeled boxes, line the shop's dark green walls, all the way back into its labyrinthine recesses. Glittering glass cases display an assortment that encompasses moderately priced everyday goods such as frames and baby gifts as well as museum-quality antique punchbowls, chafing dishes, trays and goblets, in sterling and rare American coin silver. (One baroque "gentleman's ice bucket" incorporates glaciers and polar bears to commemorate the Alaska treaty.) Prices range from $10 to $80,000.
"I just love all this Tiffany junk," Beverly Bremer says, standing in front of one locked case. Although she knows the exact worth of the pieces inside, she's not exactly clear on their provenance. "I'm a merchant, not an historian," she shrugs.
Despite Bremer's notable business successes, her shop's true worth isn't its inventory – it is its place in Atlanta's culture. For nearly 30 years, it has been the spot where generations connect and mark seismic shifts. It's where matriarchs joyously buy a first grandchild's silver baby cup, dreamy new brides outfit a sparkling holiday table and divorcees unload painful memories for much-needed cash.
At first glance, the shop's 76-year-old founder and redoubtable resident expert seems to fit the profile of what you might imagine as her stereotypical shopper: the well-dressed, fashionably coiffed and comfortably situated Buckhead matron who has never experienced real need. But Bremer quickly dispels that image. Sitting at a small antique table in the back of her shop with her daughter and business partner Mimi Bremer Woodruff, Bremer leans over on her elbows and describes the start of her career with a characteristically frank declaration: "I was penniless!"
In many ways, mother and daughter are alike – both are tall (Bremer is 6 feet; Woodruff is 5'10"), slim and attractive, with hawk-like intelligence and easy social graces – not to mention smart business suits and impressive jewelry. In other ways, they're opposites. Woodruff's business degree and international work experience help explain her circumspection, despite her comparative youth. Bremer's matter-of-fact telling of the twists and turns of her amazing career belies her home economics degree and ladylike demeanor.
Bremer is a student – of silver. She can trace its roots to royalty. ("It was the only metal that was hygienic. It probably saved several dynasties.") And well knows its mythic place in Southern lore – usually buried in the backyard, to hide from the Yankees. ("If half the people who had stories like that actually saved their silver, I'd be a lot better off today," she tsk-tsks.)
But she is more intimately familiar with its traditional role as a woman's savings account. Before they were allowed to own property, women accrued their net worth in jewelry – and silver. Like Queen Isabella, who funded Christopher Columbus' explorations with her jewelry box, women made deals with precious metals, often those hammered into sterling tea sets or place settings.
In 1975, Bremer joined a long line of women who reversed their fortunes by carefully trading her silver. She was at an inconvenient crossroads: divorced and looking for work in a time and social environment in which neither was acceptable. She had three young children.
Despite her family's accomplishments (her grandfather, John Collier Hart, was a state attorney general), she describes her background as "poor, but cultured." Still, there were three servants, and constant reminders to "Remember who you are," she says.
"Everybody was poor in 1931," she points out – especially in the South. She grew up the daughter of a soil conservation agent, moving from Dallas, Texas, to attend high school in Gray (between Macon and Milledgeville), graduating in 1948. In her senior year at the University of Georgia, an uncle gave her enough money to join the Kappa Kappa Gamma sorority.
Bremer's height bestowed a self-consciousness that still plagues her. "It's hard when you don't fit in," she says. But her stature proved to be a boon on her first job, as a sales clerk at Rich's department store, when merchandise manager Frank Neely sought her help in opening a tall girls' shop. "Those buyers were wonderful," she says of the first career women she encountered. "That was my first experience with target marketing." She took note of the way shoppers' preferences were recorded.
After her divorce, she went back to work at Rich's, and later the Swan House, where she says she felt the acute disapproval of her former peers – and was fired for "assuming too much responsibility," she recalls, laughing. She did the unthinkable for her time and social class: She reached out for help, going to counseling, and later, flying her entire brood to Big Sur, Calif., to attend seminars at the "alternative education" center, Esalen. "It was a grand way to examine your value system," she says.
Bremer was determined to make her mark – even if she didn't yet know how. On New Year's Day 1975, she accompanied a friend to a new flea market on Piedmont (on land now occupied by the Lindbergh MARTA station). There, scores of vendors had set up 8×12 booths separated by curtains. To her amazement, Bremer found that her Burgundy and Francis First silverware was bringing $60 per place setting – as a young bride, she'd bought her first at $15.
Before long, with her three children often accompanying her, Bremer had again done the unthinkable: The well-bred lady set up a table in the flea market, and started selling her silverware on weekends. Despite the unorthodox surroundings, the Bremers loved the colorful characters they met there.
"It was my first exposure to immigrants," she says. "We had Chinese food, a Jewish deli. It was glorious." One of their first friends was a gay man with a law degree who also sold jewelry. "He pierced my ears and drew up my will," Bremer says. The lawyer/jeweler's partner, a coin dealer, taught Bremer to weigh silver on the troy ounce system, to determine its value as a commodity. Pawn brokers became sources and trusted advisors.
"One day I'll write my memoirs – Tales of a Junior League Pawn Broker," she says. Old friends came by with pity in their eyes, and she just smiled – she was making more money than she could have ever dreamed: $50,000 that first year, "mostly out of my house," she says.
Her timing was impeccable – in 1973, the Hunt brothers had decided to corner the silver market, and the value began climbing steeply. Bremer, her children and motley crew of advisors held on for dear life. "I carried around a calculator – the value was rising that fast," she says.
Incredibly, by her fourth and fifth years Bremer was taking in $1 million annually from her flea market silver sales. As she had learned at Rich's, she kept notes on every buyer, and manually inventoried every salt spoon and asparagus server. In 1980, the silver bubble burst, dropping precipitously from a high of $54 per troy ounce to about $10, but by then she had learned the business well enough to survive.
That same year, she bought space on Peachtree Road, next to Tomfoolery, a small bar featuring a comic magician who worked the lights, played the music and amused the crowd with his series of cigarette tricks. "Here," says Bremer, motioning behind her, toward her desk, "is where he and his two dogs slept. That was his shower, over there."
After the magician vanished for a long-term gig in Vegas, Bremer expanded from her original smaller space next door, and dug in for the long haul. "I don't ever move," she says.
At a windowed room at the back of the shop, two men polish silver full time, so that estate pieces bought at the shop are sent home gleaming. The careful notes Bremer kept on customers eventually became an extensive database she still maintains – with 89,000 names, in the U.S. and abroad. She regularly informs clients what pieces in their pattern have become available. Premier auction houses such as Christie's and Sotheby's are among her rivals for rare old silver.
Woodruff, her daughter, earned degrees in French and business, and was set to work for Tiffany's in London, before a last-minute denial of a work permit kept her at home. She has helped bring the analog-driven Bremer (who does use a computer – but only DOS) into the digital age, heading up the effort to create a website on which thousands of individual pieces are for sale.
"The challenge," Woodruff says, "was to make it like visiting the shop," where many among the staff possess decades of institutional knowledge and expertise. (One part-timer is Joseph Brady, also seen evaluating silver on PBS' Antiques Roadshow.) Along with prices and patterns, the site (www.beverlybremer.com) carries a wealth of information on the history, care and use of silver. Up and running only since September, the site brought in $230,000 in its first four months.
It's clear that Bremer's business is approaching another crossroads. Although she seems little affected by it, Bremer says myasthenia gravis is taking a toll on her energy level. Woodruff, with children of her own at home, cannot yet afford to be at the shop full-time. More ominously, despite the fact that silver's value continues to increase annually, climbing steeply in recent years, sales have stagnated for the first time in her career, never recovering from the 9/11 crisis. "It's cultural," she says. She mourns the decline of elegance.
What's not yet clear is whether Bremer's shop is facing the end of an era, or the passing of a torch. Woodruff seems imminently qualified and poised to take the business into its next phase – although Bremer seems by no means ready to retire, still putting in long hours, six days a week. (She does, however, take a break at lunch for tai chi.) But what neither of them can yet envision is what kind of business it will be, and for what kind of customer.
One thing is certain – the shop's founder is like her own best merchandise: unique and malleable, an enduring symbol of both a forebear's gift and a future bequest, its value and beauty only increasing with time.