Heat And Light
Georgia's business incubators offer startup companies cheap rent, access to investors and consultants and an environment of innovation. They're boosting survival rates for new ventures in technology, agriculture and entertainment.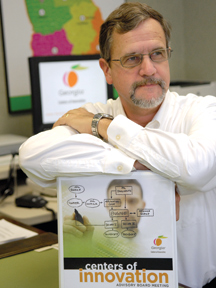 Business incubators are like almost any other hatchery – the most important component isn't the physical space. It's the heat that you cook with.
"Bricks and mortar are important, but you can get a building anywhere," says Don Betts, program director for the Georgia Centers of Innovation (COI). "What makes a real incubator, as opposed to a commercial lease, is the environment, the services, the interaction between entrepreneurs.
"The way I like to put it is, it's not the building that matters most, it's the love and attention."
Business incubators are near and dear to Betts' heart. A native of Decatur, he's spent most of his career working in economic development, assisting entrepreneurs and communities, particularly in rural Georgia.
"There is nothing more powerful for an entrepreneur than a properly functioning incubator that is really tied into the community," he says. "It's like the beacon up on the hill."
For almost 50 years, business incubators have been giving entrepreneurs a fighting chance and increasing survival rates for fledgling businesses. It's a concept that grew in the 1980s, exploded with the high-tech boom of the late 1990s, then lost traction as the subsequent tech economy fizzled and fully one quarter of the nation's incubators went cold.
But the numbers have crept up again, and Georgia's business incubators are a vital piece of the economic puzzle. There are now more than 1,100 business incubators in the United States – about 25 in Georgia, and at least 18 of those are outside of Metro Atlanta.
Part of Betts' mission is to gauge the landscape, build a definitive directory of incubators and provide additional assistance and guidance for those in rural areas.
"And by that, I don't mean money, but helping them network together, increase their access to quality professional development services. Georgia is one of the few progressive states that does not have a state incubator association," says Betts, who directs the Centers of Innovation from an office in Douglas, the seat of rural Coffee County. "One of the key roles a state association plays is providing that network and professional development platform. We're going to try to fill that role."
He hopes to do it through an emphasis on service, rather than bricks and mortar. Virtual incubators, for example, allow entrepreneurs to gain the advice of an incubator without locating at a specific site.
"What we're trying to do, for the incubators in rural Georgia and the people who are thinking about starting one, is get the leadership and everyone else involved to understand what a successful incubator is," Betts says. "It's easy to fund a building. But operating it successfully for 10 or 15 years after that is the hard part."
One of the nation's most successful incubators is the nationally renowned Advanced Technology Development Center (ATDC), developed in 1980 and headquartered at Georgia Tech. Now part of Georgia Tech's Enterprise Innovation Institute, the program has since added locations in Columbus, Savannah and Warner Robins. ATDC graduate companies, such as Mindspring (the internet service provider that has since merged with Earthlink) have generated almost $13 billion in revenue over the past 20 years.
Safety Nest
In the business incubator paradigm, start-up entrepreneurs can nest in a single location, where they enjoy cheap rent, access to investors, consultants and legal pros, who typically provide their services at reduced rates or, sometimes, pro bono. The patterns may change like a pendulum, but the basics remain.
"Around the time of the internet boom, when that was all the rage, we spent a lot of time helping companies prepare for investors, or investors would form their companies and apply at ATDC, then wait for them to grow," says Wayne Hodges, vice provost of the Enterprise Innovation Institute and director of ATDC who helped start the incubator 28 years ago.
"When it all went south in 2000 and 2001, that changed. A lot of what we found ourselves doing then was helping companies to bootstrap more, which is what we were initially doing in the early stages of ATDC – building relationships with customers, building revenue with customers. Back then, the first thing our entrepreneurs looked at was not presenting to angels or venture capitalists. They were trying to bootstrap.
"Well, now we're trying to do both – build revenue by building customer relationships, and preparing them for investors."
Even so, the best part of the incubator deal for some entrepreneurs is the contact they have with other start-ups.
"The opportunity to leverage the knowledge of your peers is invaluable," says Sean MacDonald, CEO of SimCraft, a family venture and ATDC client that develops and markets low-cost, full-motion simulators for race training, flight simulation and video gaming.
"We have a CEO roundtable every month at ATDC, in which we go around the horn and discuss the problems we're facing," MacDonald says. "It's an incredible learning opportunity, because there's a very good chance that the problem you're facing is something one of the other 20 CEOs has already faced. You can't pay for that kind of information."
ATDC is like the vast majority (94 percent) of business incubators in the country – a nonprofit organization focused on economic development. Most, about 54 percent, are mixed-use incubators, assisting a range of companies, and 39 percent focus on science and technology.
About 8 percent of U.S. business incubators are hybrids, with more than one sponsor, like the Centers of Innovation, which is supported by a host of organizations, including the University System of Georgia, the Georgia Department of Economic Development, the Georgia Research Alliance and Georgia Tech's Enterprise Innovation Institute.
Sense of Place
For some incubator clients, having a physical address equals credibility.
Michael Hammond's family has run a successful agribusiness in Tifton for 45 years, sending fleets of vans over south Georgia to deliver plow parts and other services.
So when he and his brother Lappin decided to start their own technology service agribusiness, they understood the landscape and had a network of potential clients when they set up shop in the Agriculture Innovation Center's 10,000-square-foot business incubator on the University of Georgia's Tifton campus.
"What we think was most important for us as a new company was getting into the center, having use of the conference rooms and the shared resources, so we could have large groups in for presentations. It gave us instant presence," says Hammond, 30, whose company, Ag-Networks, is leveraging its broadband satellite connection to provide multilingual phone service and payroll debit cards for the migrant agricultural workforce.
The Agriculture Innovation Center is part of the COI system. The centers focus their research and development powers on six strategic areas: aerospace (Warner Robins), agriculture, life sciences (Augusta/Medical College of Georgia), logistics (Savannah) and manufacturing (Gainesville/Lanier Technical College), each with an incubator component.
"We're surrounded by the agriculture research community, and that's real important for us," says Hammond, whose company has been an incubator client for two years. "We have a lot of relationships with growers already, so we've built a network. But now we're ready to hit the marketplace, and it's a good thing we're here, because it gives us a chance to connect with other agribusinesses."
The center is located in one of the country's leading agricultural centers, where UGA and USDA scientists are making discoveries in areas such as bioenergy, organics and also precision agriculture, a target for one of the center's graduating companies, PreSoft AG Solutions, which is creeping into the marketplace with a cutting-edge, web-based precision irrigation system.
"We gave them the research and technology boost they needed and teamed them up with other industry partners, and they're finding ways to use water more efficiently and irrigate more effectively, saving water, energy and labor," says Bill Boone, center director, who helped PreSoft identify its target market and sources of funding and gain entry into the Sunbelt Ag Expo, the nation's premier farm show, where the company demonstrated its products.
In some ways, the Agriculture Innovation Center is a typical business incubator – office and lab space at favorable rates, access to high-speed broadband, equipment, research, advice and potential investors. Water and electricity are free. The center is unique, however, in that it is the only business incubator in Georgia to focus on the state's largest industry, agriculture.
Meanwhile, up in Atlanta, another incubator has quietly created its own small niche for entrepreneurs with big screen dreams.
Forward Focus
The Force is with the Digital Arts and Entertainment Lab at Georgia State University. Really, it is. The DAEL has in its possession two of the high-definition cameras George Lucas used to shoot his last set of installments in the Star Wars saga.
Located in the heart of downtown Atlanta, the DAEL is entered through black doors beneath a neon sign, hidden behind a wall in the lobby of the old Fulton Federal Bank Building. "We're very mysterious," says Kay Beck, communications professor and director of the DAEL. "Like a speakeasy."
Behind the doors is a multimillion-dollar research and production facility, complete with a large blue screen studio, audience research theatre and some of the best video and sound editing systems in the state. There's also a business incubator – Georgia Entertainment Business Development (GEBD), which exists to help startup businesses make the grade in media arts creation, distribution and testing.
"We're trying to take the ATDC model and apply it to arts and entertainment," Beck says. "We're so much smaller than they are, and we have to be. But we do have one big success story."
That would be FrameFlow, the visual effects and animation studio company that sold a controlling interest to Sony Pictures Imageworks last year. Beck and her skeleton crew at DAEL began nurturing the business office of the Atlanta-based firm three years ago. The company (now called Imageworks India) had maintained its production operation in Chennai, India, where it created visual wizardry for big-budget films such as Click, Ghost Rider and Spider-Man 3.
Finding a sequel to FrameFlow won't be easy. And getting into the incubator isn't easy. GEBD manager Matt Rowles offers this directive to would-be entrepreneurs: "Intrigue us."
Rowles gets to the heart of why companies that start off in an incubator have a much greater chance at survival than other companies (some studies suggest 90 percent of incubated companies still thrive after three years).
"We choose our companies very carefully. A lot of companies would love to use our post-production facilities, but we have to draw the line somewhere," says Rowles, who looks for a realistic business plan, unique ideas, a strong management team, executive commitment and market traction.
Like Beck says – it's the ATDC model. And it's like every other successful incubator. It isn't an open casting call. There's a reason why incubated companies have a much higher success rate.
"We probably accept one out of 10 companies who apply," says the ATDC's Wayne Hodges. "One of the things we've heard repeatedly from investors is that we do our evaluations like they do. I think that credibility is what has allowed us to grow. We don't just accept everyone who walks through that door."
SimCraft CEO Sean MacDonald had done his homework before approaching ATDC. He understood the market, had a brilliant technology team that included his brother and brother-in-law, with multiple engineering degrees. He had a business plan and a desirable product with a bona fide "wow" factor – the racing and flight simulator system his father invented. But William "Skip" MacDonald died suddenly in January 2002, before the company really knew what it wanted to be. So the son took up the cause.
"I can't tell you how many times I've sat down and thought to myself, 'I wish Dad was here to give me advice' on one particular business scenario or another," says MacDonald, whose background is in software development. "A good incubator will help you think about those business scenarios and those hard decisions."
SimCraft maintains its ATDC membership, but has moved out of the office space to take its prototype on the road in a decal-covered trailer. Every bird has to leave the nest sooner or later – even if its flight is only a simulation.
Georgia Business Incubators
Metro Atlanta
Advanced Technology Development Center (Georgia Tech)
Collab Tech (Georgia State University)
DAEL Business Incubator (Georgia State University)
The Edge Connection (Kennesaw State University)
Emtech Bio (Emory/Georgia Tech)
Fulton County Business Incubator (College Park)
Gwinnett Innovation Park (Norcross)
HACED Business Incubator (Atlanta)
South DeKalb Business Incubator (Atlanta)
Beyond Atlanta
Agriculture Innovation Center (Tifton)
ATDC (Savannah, Warner Robins)
Augusta BioBusiness Center
Augusta-Richmond County Small
Business Incubator (Augusta Tech)
Burson Center (Carrollton)
Business/Workforce Development
Center (Albany State University)
Coosa Valley Technical Incubator (Rome)
Cunningham Center/ATDC (Columbus)
Georgia BioBusiness Center (University of Georgia)
Logistics Innovation Center (Savannah)
Manufacturing Innovation Center (Lanier Tech/Oakwood)
Medical College of Georgia Business Incubator (Augusta)
Microenterprise Business Development Center (Albany)
NGCSU Appalachian Studies Center (Dahlonega)
Public Service Center and Business Incubator (Fort Valley State University)
South Georgia Technical College (Americus)
Southwest Georgia Business Development Center (Vienna)
Middle Georgia Technology Center/ATDC (Warner Robins)
West Georgia Tech Business Incubator (LaGrange)
Sources: Advanced Technology Development Center,
Department of Technical and Adult Education, Georgia Centers of Innovation, Georgia Department of Economic Development