Carroll County: Seeking Balance
Industry vs. Agriculture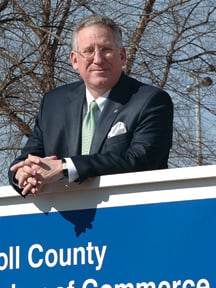 Carroll County President of Operations Daniel Jackson has a theory about why the area west of Atlanta hasn't seen the explosive growth other parts of the metro area have. And while it has to do with the commute, it isn't the distance, as you might think – but the perils of "sunshine slowdown."
"If you're on the west side," he says, "your commute is in the sun both ways."
Despite solar-induced squinting, this area straddling Interstate 20 about 50 miles west of downtown Atlanta is seeing growth. The challenge for community leaders is to try to maintain the agricultural character of much of the county – which seems to be one of the things drawing people to the area – while encouraging the kinds of industry that will keep locals from having to commute into the big city with the sun in their eyes.
Carroll County's economy is still largely agricultural, especially in the southern part of the county. "We are number one in goat meat, number one or two in beef and number seven in chicken," Jackson says of the county's meat production, as compared with the rest of the state.
John Pershing, executive director of the Georgia Agricultural Land Trust, is one of the folks helping protect farmland in Carroll County through conservation easements. Farmers agree to add a conservation easement to their property, which ensures that the land will never be developed, though farming can continue. Landowners are paid for or donate the development rights – the difference between what the property is worth if developed and the value as farmland. Carroll County is the only county in Georgia focusing exclusively on farmland for conservation easements.
The trust has closed on 400 acres and has an additional 900 acres set to close. "We want a good community in which to locate," Pershing says. "Our farmland preservation helps with this."
Meanwhile, growth and development have arrived at the northern end of the county. The city of Villa Rica, just north of I-20, saw its population more than double in the last five years, from 5,000 people in 2002 to more than 11,000 now, says City Manager Danny Mabry.
Planning Tomorrow
The differences in growth patterns have brought issues to the county that are hard to reconcile. "Carroll To-morrow allows people from both ends [of the county] to work through the issues," Jackson says.
Carroll Tomorrow, the county's economic development arm, grew out of the community's 2000 strategic plan for economic development, which identified economic goals, such as the kinds of industry the community needed to recruit, while also addressing quality-of-life issues such as teen pregnancy.
"This was the age of lots of incentives to recruit industry," says Loy Howard, co-founder and current chairman of the board of Carroll Tomorrow, as well as president and CEO of Tanner Health System. "Industry recruiting had become more sophisticated. We needed talented economic development people to get the attention of industry."
Slater Barr was brought in as CEO of Carroll Tomorrow in April 2001. "What has made Carroll Tomorrow successful is that I wasn't an outsider who came in with a plan," Barr says of his tenure as CEO. "It was a community plan that was handed to an outsider to implement."
The Burson Center, a business incubator located in Carrollton, the county seat, is one of the successes to come out of Carroll Tomorrow. Businesses such as VIDS Media, a film company, and TJ Word, a design/build firm, have made the Burson Center an extension of Carroll County's interest in a creative economy, Barr says. "The paradigm has shifted. Once communities attracted industry and industry attracted people. Now communities attract people with quality of life and then creative entities come looking for the people."
With the success of VIDS Media (its feature film Conjurer opened at the Fox Theatre in the fall) the Burson Center is going after grant money to make the center "uniquely equipped to attract film makers," Barr says.
The center, which opened in July 2006, is currently 83 percent full, says Donna Lackey, executive director. Additional space for more businesses (only two offices are available at this time) will come from remodeling a large meeting room into 13 more offices.
To qualify for the incubator, a business must have 10 or fewer employees, less than $500,000 in sales, be two years old or newer and be able to present a full business plan. Qualifying businesses that lease space receive access to business equipment, high-speed internet, fully furnished offices, networking opportunities and free chamber of commerce membership for two years.
"Part of the process is to help plug the gaps," Barr says. "Entrepreneurs have to be good at legal, accounting, marketing, everything."
An onsite attorney, John Pershing of the land trust, offers limited service to tenants for free in exchange for the office space. There also are chamber contacts to help with marketing. The only thing missing is an accountant; Lackey is hoping to find one who would like to operate an office out of the center.
"I was truly going to have to close my doors if I hadn't moved in here," says Marion Webb, who owns Marion Model & Talent Agency. Her firm has been in the incubator for about nine months. In that time she has booked clients with Bravo television, Abercrombie & Fitch and Verizon; and she had two extras in the locally filmed Conjurer.
Creativity is a watchword in other parts of Carrollton as well. Art galleries and studios are planned for the Maple Street Corridor, the main street running from downtown Carrollton to the University of West Georgia campus. Other visionary projects include a Green Belt and a state-of-the-art water filtration system. Leaders are determined to bring growth and new industry to the city on their own terms.
"The Green Belt is my pet project," says Casey Coleman, Carrol-lton's city manager. The first phase, a 12-foot-wide paved trail, will tie the waterfall on Hays Mill Creek to the city school property (the K-12 city schools occupy the same campus). "We've already constructed a parking lot, restroom and pavilion," he adds. Phase I should be finished in 2008.
When complete, the Green Belt will be a 13-mile circle around Carrollton. "You could actually get on it and go somewhere," Coleman says. "You could ride a bike to work or shopping."
A new membrane filtration system is being added on top of the current water filtration system to give the city of Carrollton super clean water. "We hope to attract pharmaceutical or medical processing facilities that need high quality water," Coleman says.
The Carroll County Water Au-thority also is looking at options to manage both the drought and growth. "We're in fairly good shape compared to some other counties," says Executive Director Matt Win-dom. "At the same time, we have to be wise and conservative with water. A gallon saved today is one we can use another day."
The county, which abuts the state line, has been selling water to Cleburne County, Ala., but now is negotiating to buy some back should the need arise. "This gives us more options, especially with the drought," Windom says.
Healthy Community
Tanner Health System also has found innovative ways to serve its patients. At press time, a $40 million, 110,000-square-foot heart center and health and wellness center was scheduled to open on everyone's favorite heart-loving day, Valentine's Day, at the Carrollton facility. The heart is "one of the most plaguing health issues in our area," Loy Howard says.
While the heart center will care for people with current problems, the health and wellness center will "emphasize education on wellness and various diseases, including controlling diabetes and childhood obesity," Howard says.
Tanner broke ground in October on a new 52-bed, inpatient behavioral health (psychiatric) hospital in Villa Rica. "Our mission is to meet the healthcare needs of the community," Howard says. "There is no inpatient facility in west Atlanta. Some of the long emergency room delays occur because of ER physicians trying to get mental health patients into a facility." The new Tanner facility will offer voluntary and involuntary placement to patients.
Tanner, a nonprofit community hospital, employs nearly 2,000 people – most of them very happy at work if the inclusion of Tanner on lists of best places to work in Georgia for the last several years is any indication.
That's important, Howard says, "because one of the biggest issues facing a healthcare facility is the ability to attract and retain quality people.
In an area of high growth, we need to put the emphasis on being a great place to work in order to recruit quality people. In order to extend our services, we must have great employees."
New County Commission Chair-man Bill Chappell calls Tanner a major economic engine in the region. "They continuously add high quality jobs, with medium to high incomes," he says.
Tourism Gold
Villa Rica, the county's fastest-growing city, is adding jobs and rooftops at a healthy clip, and has found a niche in the food service industry, says City Manager Mabry. Flowers Baking Co., Sugar Foods Corp. and Printpack Inc., which provides packaging for the food service industry and is the city's largest employer, have all made a home there.
"We were named a Main Street Community this year," Mabry says of the 2007 designation. "We have a strong commitment to maintaining the vitality of downtown."
That commitment included purchasing the Avanti Building, which was home to Avanti cars following its life as a textile mill. The downtown structure is being converted to municipal office space.
Another downtown addition expected to draw tourists to the area is the Pine Mountain Gold Museum. "The first gold rush in Georgia was in Villa Rica," Mabry says.
The museum will include a walking tour through the mine remains and provide opportunities for people to pan for gold. "This is a unique bit of history and a unique tourism opportunity," he adds. The museum is scheduled to open in 2008.
One project that should help maintain the character of downtown, which is on the National Register of Historic Places, is a bypass. The city is working with the Department of Transportation on the engineering now. Construction won't begin until about 2010.
The city also is 90 percent complete on the design of a $25 million wastewater plant, Mabry says. Construction was set to begin early this year.
Community leaders are working to enrich the quality of life for Carroll County residents. Their efforts include development of the arts, access to state-of-the-art healthcare, maintenance of the agricultural character and recruitment of high-paying jobs.
And that, Jackson says, makes selling the community the easiest part of his jobs.
Carroll County At-A-Glance
Population*
Carroll County, 107,325; Carrollton, 21,837; Villa Rica, 9,897; Temple, 3,910; Bowdon, 1,963; Mount Zion, 1,492;
Roopville, 196; Whitesburg, 583
Unemployment
(Dec. 2007)
Carroll County, 4.7 percent; Georgia 4.6 percent
Top 5 Employers
Carroll County Board of Education, 2,400; Tanner Health System, 1,935; Southwire Co., 1,585; University of West
Georgia, 1,160; Pilgrim's Pride, 830
Sources
Carroll County Chamber of Commerce, U.S. Census Bureau,
Georgia Dept. of Labor
* County, 2006; Municipalities, 2005