The Science Of Business
Robert Sumichrast, the new business school dean at UGA, is a frank, analytical realist with a fairly inflexible agenda. He plans to lead the Terry College into the upper echelon of business schools and, closely tied to that, raise $35 million for a n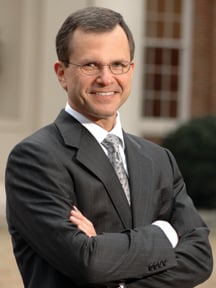 Robert Sumichrast is grounded in a reality where physics, philosophy and business converge. He's an academic, a scientist interested in how things work in the world, and humanity's place in it. And he thinks he can guide the Terry College of Business to unprecedented levels of success.
"We have such tremendous upside potential," says Sumichrast, who replaced George Benson as dean of the University of Georgia's business school last July. "We're in a good place now, but we can move tremendously forward. That's what we intend to do."
That's what Sumichrast told his audience at Terry Third Thursday, a breakfast speaker series for the business community at the college's Atlanta Executive Education Center in Buckhead.
He also told them, "I probably won't always tell you what you want to hear. I probably won't always tell you what you think is the right choice – we'll disagree and you'll be disappointed."
Pollyannas take note: When it comes to business and economic development Sumichrast is not a cheerleader. And if there was an underlying scent of anxiety at the Georgia Economic Outlook luncheon in December, it might be because Sumichrast's words were not layered in sugar.
"There will be no soft landing for Georgia's economy," he told the crowd of 1,000 or so executives, government leaders, alumni and media. "The only thing standing between us and a recession is one major crisis, or one unexpected shock, or one mistake by the Federal Reserve.
"The period of greatest risk is imminent. Georgia's economy will be most vulnerable in the first and second quarters of 2008. For the next six months, we will be living on the edge."
There is no bluster in Sumichrast – but he is a frank, analytical realist who may take some getting used to.
"I think Robert is the kind of person that wears well over time," says Pat Pittard, retired chairman, president and CEO of executive search firm Heidrick & Struggles International.
Pittard, who sits on the Terry College's Board of Overseers (the advisory board to the dean) and teaches a course on leadership as an executive-in-residence, says Sumichrast's unflinching honesty was one of the traits that stood out during the interview process.
"He elevated his candidacy and distanced himself from other candidates through steady, intelligent and thoughtful responses, but I think the thing that impressed me most was when he admitted things he did not know," Pittard says. "He doesn't let his ego get in the way."
From the outset at UGA, Sumichrast has insisted that his style of leadership is more consultative managing partner than autocratic CEO – he prefers the thoughtful, collaborative approach to dictatorial shooting from the hip.
"One thing I found is the faculty here are surprisingly flexible and open to new ideas," Sumichrast says.
But the dean has a fairly inflexible agenda. He plans to lead the Terry College into the upper echelon of business schools and, closely tied to that, raise $35 million for a new complex.
Studying Success
As a kid growing up in Indiana, Sumichrast wanted to be a scientist and his ambition was encouraged by the kinds of toys his father brought home.
"My father really liked to understand how things worked and enjoyed explaining those things to me, whether it was mechanical, electrical. He would get me toys like a working steam engine, or an internal combustion engine," says Sumichrast, who imagined for himself a life in science at a major research institution.
After earning his undergraduate degree in physics from Purdue University in 1979, with a minor in philosophy, Sumichrast went to Clemson, where he planned to get his PhD in physics. He'd never heard of management science until reading about it in the Clemson course catalogue.
"My whole live I've been around an environment of learning how things worked," Sumichrast says. "As I discovered management science there was the corollary – how do you make something work better? How do you squeeze more efficiency and effectiveness out of a process? How do you optimize a business process? It was an easy transition from physics to management science."
Sumichrast began his teaching career as an assistant professor of management science at Virginia Tech in 1984, eventually became professor of management science and information technology and found success as a teacher and researcher. But Rich Sorensen, dean of Virginia Tech's Pamplin College of Business, saw Sumichrast's potential as an administrator.
"You could see that once he was committed to something, he was extremely focused. Sometimes faculty is all over the place, but he was focused, and he has a good way of analyzing things, of pinpointing the three or four things critical to the success of a project," says Sorensen, who made Sumichrast associate dean of graduate and international programs.
Sumichrast revised the college's MBA program, engaging alumni, faculty and the business community in updating the curriculum, starting an active advisory board and launching an Executive MBA program. The quality of incoming students, based on testing and academic performance, was enhanced and the number of applications increased, as did the opportunities for international study.
"It was a fairly large responsibility, but he was so very successful," Sorensen says. "He's been like that his whole career. He was the most effective associate dean we had."
The net result was increased visibility for the Pamplin College, higher national rankings, better opportunities for students who were being recruited in greater numbers, and ultimately a new job for Sumichrast. In 2003, after nearly 20 years at Virginia Tech, he moved to Louisiana State University (LSU) to become dean of the E.J. Ourso College of Business.
At LSU, Sumichrast connected with alumni and the business community, increasing annual private donations from $1.5 million (much of that coming from namesake E.J. Ourso) to $4 million. Last February one donor pledged $15 million. The number of student applicants (and their academic qualifications) rose, as did the college's reputation – it climbed from 109th in the annual U.S. News & World Report business college rankings when Sumichrast arrived to No. 55 by the time he left last summer.
"But the most fundamental change was in our undergraduate program," says Sumichrast, who transformed the business degree program from a two-year to a four-year program, something he's considering for the Terry College.
Quick Change Artist
On the one hand, Sumichrast is a collaborator with faculty in charting Terry's future. But then, he also is a confident efficiency expert with his own ideas; and he wasted little time in making changes to suit his working style.
"I want to make sure we're doing as much as we can with what we have, so we've made changes in administration consistent with that," Sumichrast says. "I'm trying to work with fewer administrators, particularly faculty administrators"
For example, he has consolidated the leadership of three programs – Executive MBA, Evening MBA and IBM-Terry MBA (a customized program for IBM management consultants), which each had its own director. Now, associate dean Rich Daniels, who had been director of the executive program, will have responsibility for all three.
"These programs can gain a lot of synergy with one person providing the overall direction," says Sumichrast, whose other early administrative change was the elimination, at least in the short term, of the director's position for the International Business Program.
"I wouldn't want anyone in the college to think that I'm de-emphasizing our international business programs, although by eliminating the position it would be easy for someone to get that impression," Sumichrast says.
"The change allows the faculty member who was the director of international programs to focus full-time on the primary, traditional activities of a professor at a research university – teaching and research. By moving the international programs under the control of associate deans, the staff in their offices will be able to share some of the responsibilities, smoothing out the work flow."
He even plans to tinker with the popular, two-year-old music business program, a joint effort between the Terry College and the Hodgson School of Music. Sumichrast, a music freak with an eclectic appetite, wants to expand the program's scope.
"This can be the premier music business program in the country, and as we look forward I think we will look at ways we can offer it for graduate students. But it might make sense to stop focusing exclusively on music and start looking more at the entertainment business," says Sumi-chrast, whose own tastes range from Bach and Beethoven to The Clash, Steely Dan and The Bravery.
"We're looking to broaden our reach a little bit," says Bruce Burch, co-director of the music business program and a songwriter who has penned hits for country stars Reba McIntyre and Brad Paisley, among others. "Music, TV, games, the distribution method is moving toward digital, and the business discipline you teach for one kind of applies to all of them."
Burch tells students (about 70 now are in the certificate program) he can save them five years of searching and scrambling in the music business. When he graduated from UGA, he says, "I did not have a clue."
The handful of students who have completed the music business program have landed jobs within the industry, says Sumichrast, who adds, "there is tremendous interest but we're probably at the point where we need to become more selective rather than simply growing."
Climbing the Ladder
Sumichrast feels he has walked into the best of situations – a quality business college with the potential for improvement. Terry's undergraduate program was No. 27 overall (public and private institutions) in the latest U.S. News & World Report rankings. That included a No. 2 for the insurance program and No. 3 in real estate. The MBA program was ranked No. 33 overall and No. 11 among public schools by Financial Times.
"Right off the bat Robert said he was going to focus on rankings and that sort of surprised me, because the tendency is for academics to say you shouldn't run your program with the purpose of achieving high rankings," says Terry executive-in-residence Pat Pittard. "He doesn't like the rankings much more than any other academic, but he sees them clearly as a reality.
"Faculty and students are attracted to schools with higher rankings. Foundation and research money is attracted to higher rankings. It surprised me a bit, but I have to admit, now I agree with him."
Sumichrast calls the ranking game a tool more than a measure, but doesn't discount the importance of a good showing.
"It isn't an exact measure by any means, but the national rankings do correlate with true program quality," says Sumichrast. "We've done well, but we can do better."
He talks about "aspirant schools," business colleges he would like Terry to share characteristics with, like the Kenan-Flagler Business School at UNC-Chapel Hill, a perennial Top 10 institution.
Terry needs to add faculty, Sumichrast says. And it needs to recruit a more diverse student population. "I don't just mean racially, I mean geographically as well. To get the most out of your reputation you need to bring in students from different parts of the country."
The most significant obstacle between Terry and a top tier reputation Sumichrast envisions is legroom, or a lack thereof. The college has grown geographically and every other way, with facilities in Athens, Buckhead, Griffin and Gwinnett. The Selig Center for Economic Growth is located off-campus, in downtown Athens' Bank of America building. But Terry has outgrown its venerable headquarters on the UGA campus, picturesque Brooks Hall.
"We need space badly in the Terry College, and we need the right kind of space. If we're serious about attaining national prominence we need the same kind of resources the top schools have," Sumichrast says. "A campus within a campus."
A new Terry complex has been planned for a site near the intersection of Lumpkin and Baxter streets. The plan calls for three buildings eventually, and Sumichrast is leading the effort to raise at least $35 million in private funding for the first phase, a classroom building with meeting space.
"Getting the buy-in from the business community and our alumni is at the top of the list," says Sumichrast, who has tapped fund-raising consultants Grenzebach Glier & Associates, the same firm that helped put LSU's business college on course.
So there is a clear understanding between Sumichrast and his advisory board that a new campus for the Terry College is not a matter of if, but when.
"The primary thing he has to accomplish – and failure is not an option – is to build momentum for the new Terry facilities," says Pittard. "That is Robert's big challenge. He has to succeed."