Moving The Masses: Running On Empty
Challenges abound for the state's transit systems, even as roadways are increasingly gridlocked. Federal funding is evaporating, and Georgia is one of only nine states that provides no state operating funds for public transportation. That puts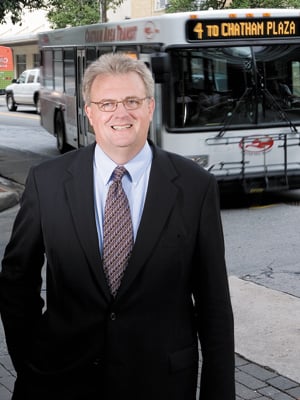 When Patricia Williams left Washington, DC, she chose Atlanta as her next hometown for two reasons: the climate and MARTA.
"I wanted to live in a warmer place – who needs six feet of snow? And I wanted a mass transit system comparable to the one in DC, because I use public transportation almost daily, and I use it for everything," says Williams, a self-described low income woman who lives in Sandy Springs.
She negotiates the region's transit network with the familiarity and dexterity of a spider traversing its web. An avid reader, Williams enjoys literature in her lap while getting from Point A to Point B.
It's a trip that may prove difficult for the transit riders who take more than 160 million annual trips on public transportation systems across the state. Even as mass transit is being touted as a key ingredient in solving the state's transportation challenges, federal funding is evaporating, leaving it to local jurisdictions to shoulder most of the load.
MARTA, because of the large population it serves, has never received federal operating funds – DeKalb and Fulton county taxpayers share that cost. Georgia's other urban areas with populations over 200,000 (Augusta, Columbus, Savannah) are losing their federal support. And state government has been notoriously tightfisted, so transit systems across the state have scaled back service and routes, cut staff and increased fares in an effort to keep their fleets moving.
"That's sad, because public transportation is one of the most important services in any urban or rural area," says Kenneth Lawyer, a veteran mechanic for Chatham Area Transit (CAT), the state's second largest system after MARTA.
CAT's Savannah commuters ride for free – even the homeless are allowed to ride the climate controlled buses to escape the heat or the cold.
"We spend billions on roads and traffic signals while public transportation is treated as an unwanted stepchild," Lawyer says. "It hasn't been taken very seriously at all."
Except by employees like Lawyer – or users like Williams, who doesn't own a car. For others – senior citizens or the disabled who cannot drive – public transportation isn't a choice, or a warm and fuzzy liberal talking point; nor is it a sound business proposition with a bottom line attached. It's necessary to maintain their lives.
"Look, even if I did have a car, I'd drive it to the MARTA station and take the train where I need to go. I value that time and I sure don't want to spend it in traffic," says Williams, an advocate for the disabled who, on a given day, will take the bus to the North Springs train station, ride the rails to Midtown Atlanta, or perhaps pick up a GRTA Xpress bus and go shopping at Discover Mills in suburban Gwinnett County.
Williams says she gets everywhere she needs to be and usually enjoys the ride, in spite of the fact that she's been robbed twice and feels smothered by the blathering of TV sets now installed on MARTA buses and trains. She also enjoys the connectivity of the region's various transit systems.
In addition to MARTA and GRTA, there are the active bus transit systems in Clayton, Cobb and Gwinnett counties, a stroke of luck for a commuter such as Todd Blandin, who lives 90 miles away from his Atlanta office.
Blandin, public relations director for Bright from the Start (Georgia Department of Early Care and Learning), lives in the mountains of rural White County. Most days, he leaves for the office at 5 a.m., drives 55 miles to a park-and-ride on the northeast tip of Gwinnett County then boards a GRTA or Gwinnett County Transit bus for the rest of the trip.
"I'd rather let someone else do the driving," Blandin says. "Typically, mornings are no problem because I'm ahead of the volume. The afternoons, you know there are going to be slowdowns; and the drivers, who are very professional, know it, too.
"I overheard a driver who was training new recruits. His advice was, if you're heading north and you can get through Spaghetti Junction (Interstates 85-285 interchange) by 4:07, it's going to be a good ride. One minute later, and it's anybody's guess. He had figured it out down to the minute."
Shifting Mindset
Jack Crowley has a vivid memory of a happy commuter from his past, when he worked as a ticket puncher on a rail line in Connecticut.
"The guy would get on at Old Saybrook and take the train to Grand Central in New York," says Crowley, dean of the College of Environmental Design at the University of Georgia and former director of the Oklahoma Department of Transportation.
"For the trip home he'd carry a fistful of canned martinis, The Wall Street Journal and a few magazines. He'd be buzzed by the time we hit Bridgeport, sober by the time we hit New Haven and well-rested for the short drive home to his little saltbox house in Madison, Connecticut. Here, I thought, was an informed, educated man."
Crowley also remembers the propaganda that started appearing at the time, print ads designed to get the happy commuter off the train and into a car.
"They'd show a bunch of businessmen, all wearing the same, goosestepping – idiots getting on the train," says Crowley, a veteran real estate developer and an advocate for passenger rail. "The message was, 'Be on your own schedule, drive your car, don't take the train like an idiot.' It was effective. The advocates against rail were only doing their jobs."
Getting people out of their cars and onto public mass transit is a huge mountain to climb, Crowley says. It's a mountain built by years of habit and shortsighted public policy.
For decades, Georgia concentrated virtually all of its transportation focus on spreading asphalt. Public transportation, in spite of the benefits to quality of life, congestion alleviation, energy consumption and economic development, was anything but a priority.
Georgia is one of nine states (the only one of the 10 most populated states) that provide zero operating assistance to public transit.
"In this state, you can't use the gasoline tax for transit," notes Tom Thomson, executive director of the Chatham County-Savannah Metropolitan Planning Commission (MPC), the organization charged with creating Chatham County's long- and short-range transportation plans.
"I think the state has an obligation to contribute toward public transportation," Thomson says. "Otherwise, we don't have a state department of transportation – it's the department of road building."
The mindset at DOT may be shifting, though, says Larry Walker, the former state representative who chairs the department's intermodal committee, which has shown unanimous support of proposed commuter rail lines from Atlanta to Lovejoy and Tucker.
"I think it's a new tone," Walker says. "We're hearing a lot of talk about public-private concessions and other public-private initiatives.
"There's this perception of a good ol' boy network lost in the 1950s, interested only in building highways. I don't think that's the image we want to present."
(In October Gena Abraham was named as the new DOT Commissioner, the first woman to hold the job.)
Walker says, "In the final analysis, the ball is in the court of the legislature and the governor."
To help redefine the rules of the game, a group of legislators called the Joint Study Commit-tee on Transportation funding has been holding meetings across the state, with the goal of making recommendations to the 2008 session.
Countdown To Zero
The primary funding re-source for roads, the money the DOT spends around the state, is the Federal Highway Trust Fund. It will shrink to zero within the next two years. The shortfall is such that the Atlanta Regional Commission (ARC) is dumping projects, as opposed to adding them, from its 30-year regional transportation plan. Metropolitan planning organizations across the state are facing the same prospect as they create or update their long-range transportation plans.
"The promise of federal dollars continuing at their previous rate, which wasn't adequate, is clearly not going to happen," says Savannah's Thomson. "There's the trust fund issue, and the fact that no one in elected life who wants to stay elected – in their minds – has the political will ask us to pay more at the pump."
The gasoline tax feeds the trust fund. Georgia's 7.5 cent gas tax, lowest in the nation, is levied on a per-gallon basis (for gas and diesel), which means it doesn't rise with the cost of gas. That rate hasn't changed in years, and in an era when the phrase "tax increase" is like ipecac in the mouths of the politically hopeful, it isn't likely to.
So transportation planners expect the legislature to act on one of two funding options – a statewide one-cent sales tax, or a proposal allowing two or more counties to create a regional tax. Other schemes, such as public-private partnerships – tolls and the like – also are seen as part of the solution.
"Originally, all roads were toll roads," Thomson says. "Some enterprising person put a few stones down and made a smooth path, then stood there with his hand out."
Like Atlanta, Savannah and the coastal area have a congestion problem, which will only get worse as the ports continue to set activity records, and the residential development continues to explode – population in the 10 counties covered by Coastal Georgia Regional Development Center (CGRDC) is about 670,000, and expected to double in the next 12 to 18 years.
"There are a lot of implications in that kind of growth," says CGRDC executive director Vernon Martin. "The projections for truck traffic alone are astronomical."
For example, State Route 21, the main path for commuters into Savannah/Chatham County from burgeoning Effingham County, is a clogged artery with about 5,000 trucks a day going to and from the Port of Savannah. Martin says that number will more than double in six years and probably triple in 10.
Thompson and his staff are prioritizing projects, taking into account the truck traffic and the commuters that come from contiguous communities, including Jasper and Beaufort counties across the Savannah River in South Carolina. The MPC envisions a regional planning entity.
Regional planning and implementation also may be in the cards for Georgia's public transportation entities. CAT tried forming a partnership with surrounding counties, in and out of state, a few years ago and will take that route again. And the regional approach is already being put to use in rural areas, where 103 transit systems account for almost 2 million trips per year.
"In many cases, a local system won't cross county lines," says Robert Hiett, president of the Georgia Transit Association and government services director for the McIntosh Trail Regional Development Center (RDC) based in Griffin. "That's a problem, especially in rural areas, where the clientele is more likely to need services, such as healthcare, that may be in another county. Regional systems create a larger service delivery area."
McIntosh Trail manages a six-county transit system, saving counties thousands in operational costs, officials say, because it is administered under one roof, the RDC. Air-conditioned, handicap-accessible vans are the typical mode of travel.
The rural trips are wide-ranging – work commutes, healthcare, shopping. The fee is low, about two bucks one-way, and it is generally a door-to-door service, depending on availability. Almost half of the riders in rural Georgia are senior citizens.
The Southwest Georgia RDC (based in Camilla) runs a regional system that serves 13 counties and a Medicaid transportation service covering 40 counties (about 2,600 daily trips). RDCs on the coast and in the Columbus area also are planning regional systems.
The federal government covers most of the capital cost (such as purchasing vans), with local government and the state handling the rest – the state covers only capital costs, not operating costs.
The funding formula for rural transit is complex and about to become more challenging, says Emerson Chew, transit manager for the Southwest Georgia RDC. The DOT contribution will shrink by about 75 percent in fiscal year 2009 unless a new policy is contrived.
"Rural public transit hasn't been on a lot of radar screens," Chew says. "You talk transit funding, and people's eyes glaze over. There isn't a two-minute sound bite that could possibly cover all of the challenges."
Climbing Aboard
Public transportation services in America's most congested cities save travelers 1.1 billion hours in travel time annually. Without public transportation, travel delays would have increased 27 percent. Americans take about 10 billion trips a year on public transit, and ridership has grown at a faster rate than highway travel over the past 10 years.
MARTA saves about 28 million hours in travel time annually. In spite of all the headaches over the years – financial challenges forcing cuts in manpower and service, crime and allegations of racial inequity – MARTA remains essential to the region's health.
"MARTA is not a luxury, it's a necessity," says Robert Bullard, Ware Professor of Sociology and director of the Environmental Justice Resource Center at Clark Atlanta University, who has researched and written extensively on the subject of transportation racism in America. "If we have a healthy MARTA, the whole region wins. A coordinated, seamless regional transit system in the metro area would benefit everyone, and MARTA is central to that."
MARTA announced in August that general manager Richard McCrillis was stepping down, and in September the board hired Beverly Scott, general manager of Sacramento Regional Transit in California because, "she is involved in a regional situation somewhat similar to what we have in Atlanta," says MARTA board member Michael Walls. "She's demonstrated her ability to work in that arena"
MARTA's next GM will play a vital role on the Transportation Planning Board (TPB), which represents Metro Atlanta's newest hope in creating a coordinated regional transit system.
"With almost 2 million people driving themselves to work every day, and millions more moving here over the next 30 years, we have to do something other than widening roads," says TPB Chairman Eldrin Bell.
Bell, who also chairs Clayton County's Board of Commissioners, has allies across the state.
"We're running out of space and we can't widen roads forever," says Butch McDuffie, director of the Athens Transit System, which provides 10,000 passenger trips a day on its buses. ATS last year moved into a $10 million multi-modal station that it hopes will serve as an outpost for the proposed "Brain Train," a commuter rail system that would link Atlanta to Athens.
"We need rail, and we need buses, we need new roads – they're all part of the overall transportation mix," says Carl Jackson, Macon Transit Authority general manager, who followed his father, brother and uncle into the public transportation business. All worked for the Long Island Railroad, part of New York's massive Metropolitan Transportation Authority.
"Rail will give choices to a customer base that hasn't been clearly defined yet," Jackson says. "You'll have the commuter market, but you'll develop a leisure travel market and a discretionary market – students, for example, who leave their homes in Macon for college in Clayton County, or all the way to UGA."
Transit dreamers, planners and leaders imagine a useful and economically viable network – in some cases utilizing already existing infrastructure – paid for with private and public dollars, serving a diverse and growing clientele.
There is general consensus among all planners and decision makers that transit is part of the solution for Georgia's transportation future. The overarching questions are: How will we pay for it, and what form should it take?
UGA's Jack Crowley believes the answers are on the ground. The men who built the transcontinental railroad in the 19th century didn't make a dime on laying tracks, he says.
"They made gazillions on the real estate play, because of the land on either side of the tracks. The land values went through the roof," says Crowley, who has been singing this tune for years, "like a voice in the wilderness. But I guess there is a fine line between being visionary and being goofy."