A Literary Triple Crown
A trio of Georgians – Hank Klibanoff, Cynthia Tucker and Natasha Tretheway – all native Southerners, won Pulitzer Prizes this year. Their common bond is a stream of racial consciousness that flows through their writing.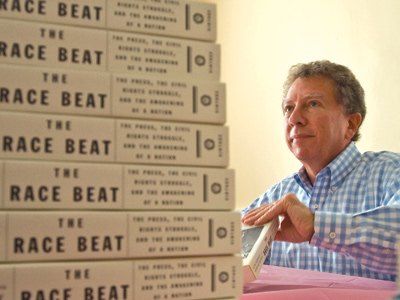 It is 1941 in the segregated South, and a young African-American journalist hops off a bus one town before his destination. He is pursuing the inside skinny for a story about a recent lynching. It is dangerous undercover work. So he ditches his city duds and as-sumes a local persona, hitches a ride to the lynching site, blends in with the local black population, gathers information and bolts the scene with his story and his life.
The tale of Vincent Tubbs is told early in The Race Beat: The Press, The Civil Rights Struggle, and the Awaken-ing of a Nation, which earned a Pulitzer Prize in history this year for Atlanta Journal-Constitution managing editor Hank Klibanoff, who co-wrote the book with veteran journalist Gene Roberts.
The Race Beat looks at the civil rights struggle from a fresh angle, highlighting the heroic efforts of black journalists, progressive South-ern editors and the national press in their coverage of the defining domestic news story of the 20th century.
"The book takes a story with which we thought we were familiar and adds a mountain of new material and new ways of looking at it," says former Pulitzer winner David Oshinsky, professor of history at the University of Texas in Austin and one of three jurors on the Pulitzer history panel.
Oshinsky might as well be describing the work of all three Georgians who won Pulitzers last April – Klibanoff, his AJC colleague Cynthia Tucker, and poet Natasha Trethewey – because their writing manages, in separate but equal ways, to bridge the gap between what we think we know, and realities that are unfamiliar, or forgotten.
They are a diverse trio, natives of the South, a white man, a black woman and a biracial woman, following in the bold pen strokes of Georgia's previous Pulitzer winners, a Who's Who list that includes Margaret Mitchell, Ralph McGill, Eugene Patterson, Jack Nelson, Alice Walker and Mike Luckovich.
The common bond among this Pulitzer class is a stream of racial consciousness that flows thickly through the works of all three writers, who combined to earn a rare literary triple crown for Georgia.
In The Know
Hank Klibanoff is juiced by the news. Always has been.
"In high school, and probably before that, I wanted to be a newspaper reporter," Klibanoff says. "I stay up late now and stayed up late as a kid, because I always wanted to know what was going on. My mother would ask, 'Why don't you go to bed?' I told her it was because I was afraid I'd miss something."
He grew up in the era his book profiles, in Florence, Ala., the northwest corner of the state – close to the sparks, but not close enough to feel the heat; an industrialized region where organized labor and Northern influences thrived, and the Tennessee Valley Authority gave the federal government a strong foothold.
"It was more open minded than much of the rest of Alabama, politically and socially," says Klibanoff, 58. "But I was a hardcore newspaper reader and there were a lot of Alabama datelines because of the Civil Rights stories. I was intrigued by the unfolding drama and couldn't quite understand how we could be living in the same state and not see all of what was happening."
Klibanoff and Roberts offer an eye-popping tour of the Civil Rights landscape – Birmingham, Little Rock, Montgomery, Tuscaloosa, Brown vs. the Board of Edu-cation, the blood trail of the Mississippi Delta, relating the experience of reporters who shed light on the brutal, drawn-out death throes of sanctioned Southern segregation.
The body was still twitching when Klibanoff began his newspaper career in Mississippi in the early 1970s, "covering everything, in a lot of towns that don't exist anymore.
"I can't tell you how happy I am for that experience, though," he says. "A lot of the giants were still roaming the land."
The Race Beat focuses on some giants who were virtually invisible to white America, black journalists such as Simeon Booker, L. Alex Wilson, Moses Newson and a husband-and-wife team, L.C. and Daisy Bates, as well as progressive white journalists, including Claude Sitton, Hodding Carter, Jr., Harry Ashmore and McGill.
This is the first book for both Klibanoff and Roberts, who were colleagues at The Philadelphia Inquirer, where Klibanoff worked for 20 years before joining the AJC in 2002. In 1994 Roberts, who had been working on the book for several years, enlisted Klibanoff, deputy city editor at the Inquirer at the time.
"I was thrilled with the idea without really knowing yet how justified that excitement would turn out to be," Klibanoff says. "I really threw myself into the research, body and soul. In fact, I probably overdid it."
They researched collections all over the country, studied published and unpublished work, diaries, personal letters and notes.
"The stories just jumped out at us," says Klibanoff, who was already working long days as an editor, first at the Inquirer, then at the AJC, while Roberts juggled responsibilities at The New York Times and the University of Maryland.
They shared the writing (and the $10,000 Pulitzer cash prize), editing each other's work, trying to maintain a consistent tone, then sending chapters back and forth via overnight mail because Roberts didn't use email. He wrote his chapters in longhand.
Oshinsky and his fellow jurors – all prominent historians – were impressed with the tandem effort.
"This book was not only lucidly and beautifully written, but extraordinarily nuanced and wonderfully documented," Oshinsky says. "Sometimes, collaborations don't work, but this one couldn't have worked better. It was seamless."
Klibanoff says his agent has been approached about a possible movie or miniseries treatment, and the book has become mandatory reading for at least one college professor.
"The idea that it's being used in college classes, that impresses me, because it puts students where I was," says Klibanoff, who spent most of August at home, recovering from prostate cancer surgery. "This book was a real learning experience for me.
"I grew up in the South, and I knew these stories to some small extent, but every day was like going back to school. Every day I wanted to learn more, wanted to see how the different storylines ended, wondered whatever happened to that guy, or how did that situation turn out, or what price did that person pay. I never woke up hating the book. The fact is, I loved it. Every day felt hopeful."
Voice Of Reason
She's too liberal, but not liberal enough; too critical of white people, but doesn't defend black people enough; an independent thinker, but she's joined to the Cox corporate hip. It depends on who is doing the labeling, but they all think they have Cynthia Tucker pegged.
"I am absolutely pigeonholed, for a couple of reasons," says Tucker, the AJC columnist and editorial page editor who won her Pulitzer for commentary. "First, we live in politically polarized times.
"Talk radio has exacerbated that trend and bloggers have enthusiastically taken up the cause, so that many news consumers are only prepared to see issues and pundits in terms of liberal or conservative. They're not prepared to think that some pundits might be a little more complex.
"The other thing is, I think, black Americans have been easily stereotyped, and that's a human tendency. I think we all are unfairly programmed by something in our primitive instincts to see the other differently."
It's the reptilian brain, the fight-or-flight instinct, and it bothers Tucker, a self-confessed Star Trek kid who grew up with the civil rights movement in Alabama, and remembers being sent to the back of the bus with her mother. But Star Trek, that weekly televised social commentary disguised as science fiction, gave her hope.
"It wasn't about aliens or other worlds, it was about what was happening in the U.S. at the time, and how people in the future conquered all of that," Tucker says. "People of different races – different species – working together on the ship. I loved the show, loved it. I've seen every episode, know the dialogue, and I honestly believed that's what I'd see in my lifetime.
"Then I watched other countries, watched Bosnia, where Muslims and Christians had lived side by side for years, and one day something happened. The lizard brain kicked in and they started killing each other over something that happened hundreds of years ago. I watched Northern Ireland, the Middle East. Now, I don't expect a Star Trek ending."
Race – along with the meaning of life – is the most complex topic this complex woman ever considers, and she considers it often. Race is central in all 10 of the columns she submitted for Pulitzer consideration, columns that the Pulitzer jurors said "evince a strong sense of morality and persuasive knowledge of the community."
Tucker's column about racial stereotyping chastises civil rights hero Andrew Young. A column about Cynthia McKinney (a regular subject) criticizes the former Congresswoman for race baiting. She attacks draconian voter ID laws, writes about a white candidate using racial epithets, and discusses immigration in pieces that appeared in more than 70 papers across the country.
This was Tucker's third time as a Pulitzer finalist.
"My first reaction was relief – I felt the pressure intensely, probably self-imposed," says Tucker, 52. "My next reaction was, wow, what a nice thing, to be recognized as one of the best journalists in America.
"It's a great thing to win the Pulitzer. I don't wish to confuse that with having had any great influence. Newspapers just aren't what they once were – they don't have the standing in the community that they had 40 or 50 years ago. Having said all that, I still believe that what we do matters."
Personal History
Natasha Trethewey's Pulitzer-winning book of poetry, Native Guard, her third collection, is a requiem for forgotten lives. The fact that one of those lives belonged to her slain mother intensifies the work's heartbreak and mesmerizing beauty.
The title refers to the Louisiana Native Guards, one of the Union's first black units during the Civil War, who manned a fort that housed Confederate prisoners on Ship Island, off the Mississippi coast near Trethewey's hometown of Gulfport (another common bond among Georgia's Pulitzer winners – Hank Klibanoff's first newspaper job was in Gulfport).
Some of her work recalls a childhood laced with societal tensions – her parents' interracial marriage was illegal in Mississippi when Trethewey was born, 1966. But the book is ultimately a lyrical dedication to Trethewey's mother, murdered in 1985 by her second husband.
"Neither my mother, nor the Native Guard, has a monument to mark their memory," says Trethewey, who holds the Phillis Wheatley Distinguished Chair in Poetry at Emory University. "That is the link between them, and I didn't realize it when I set out to write the book. There is little mention of the Native Guard on Ship Island, as if they've been erased from historical memory.
"At the same time, the 20th anniversary of my mother's death was approaching. It was a long time before I realized that this project of elegizing the Native Guard and elegizing my mother were intertwined by history and memory and forgetting."
Trethewey was born with poetry in her blood. Her father, poet Eric Trethewey, is professor of literature at Hollins University in Virginia, where she earned her MA in English and Creative Writing. But she never thought of literature as a genetic birthright.
"I always felt this sense of being out of place, a feeling that was rooted in being born in a region that would rather me not have been born," she says. "So I think that sense of being an outsider, a psychological exile, is probably a main reason I turned to language and poetry, to make a world I might feel at home in."
She started writing poems about her mother 20 years ago, but says they were horrible. As the 20th anniversary of her mother's death drew nearer and Trethewey moved back to Atlanta, the site of the tragedy, she found the voice, "a seamless blend of content and form that make the poems something beyond the narration of my experience. They had to be more than simply the articulation of my grief. They had to stand up as art."