People Who Care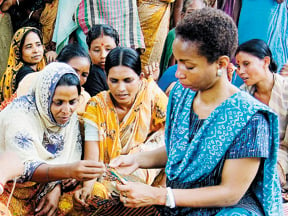 Dr. Helene Gayle is trying to work herself out of a job. In fact, after a year as president of Atlanta-based CARE, one of the world's leading humanitarian service organizations, she envisions a day when her work may no longer be necessary.
"We have the ability to truly make history and eliminate extreme poverty," Gayle says. "And I think we can do it in my lifetime. That's not an unrealistic goal."
Achieving the altruistic self-destruction – Gayle has in mind takes what she calls "the right kind of will – in terms of resources, and policies; changing the environments that are not favorable for the poor. "But it also takes cultural mind-shifts. One of the things that continues to be a huge driver for poverty is gender inequality."
Which is why, in recent years, CARE has focused much of its attention and money on empowering women around the world.
"We've put women at the core of a lot of the work that we do because we realize that's where the greatest potential is for ultimately having an impact on eliminating poverty," says Gayle, the first woman and first African-American president of CARE in its 61-year history – a significant point because most of the people served by CARE around the world are women of color.
Last year CARE worked in 66 countries, including some of the world's most dangerous places. The organization spent $590 million to assist more than 55 million people through 901 projects targeting poverty in Africa, Asia, the Caribbean, Europe and the Middle East.
CARE supporters and employees responded to crises in areas affected by natural and manmade disasters; expanded educational, agricultural and economic opportunities; helped millions protect themselves from HIV and AIDS or gain access to healthcare, food, safe water and sanitation; and tirelessly emphasized the needs of society's most vulnerable, particularly children and women.
In the vocabulary of CARE's current marketing campaign (aimed at women and entitled "I Am Powerful"), women are a natural resource with unlimited potential. It's something CARE's veterans have known for many years.
"We learned through our practical work in communities that women have the ability to multiply the effects and impact of our work," says Steve Hollingworth, whom Gayle tapped as the organization's first Chief Operating Officer.
"One of the things that people in our line of work point to is, in countries that have made sustained progress in advancing economically and socially, the most highly correlated element has been empowerment of women – better education, healthcare. Then you see those benefits spread within her family and throughout her community, and that affects the next generation.
"We've known this for a long time, so we're pleased that it's become a great central focus, not only in our programs overseas, as it has been for many years, but in our message here in the U.S., where we're encouraging women to become more involved in empowering women globally."
Hollingworth has spent 26 years living and working overseas, 21 on behalf of CARE. He espouses sincere humanitarian dogma with a practical passion for the work that runs like a DNA strand throughout an organization that got its start delivering CARE packages to Europe during the reconstruction following World War II.
Gradually, CARE organizations in other countries emerg-ed, giving rise to CARE Inter-national, of which CARE USA is the largest and most influential member.
In 1993, CARE USA moved its headquarters from New York to downtown Atlanta – a cost-cutting step at a time of shrinking budgets and public indifference. Being near the Centers for Disease Control and Prevention (CDC) and an accessible, busy airport also made it a smart strategic move.
In the past 14 years, CARE has expanded its influence and reach. Today the organization employs some 12,000 across the world.
This month, Georgia Trend focuses on five people who really care.
The First COO
As CARE's master organizational architect, Hollingworth works closely with Gayle, spinning his decades of practical experience in the field and the organization's analytical work into cohesive strategies.
"Poverty is complicated," he says. "It's not simple, direct linear relationships. There are many variables that determine poverty, that continue to keep people in poverty. Some of those variables are physical status, nutritional status, health status, access to education, to land and livelihood opportunities.
"What you find is, if you make progress in one area – access to health service, or example – that it actually has spillover effects into other areas. If you improve the health of a mother, that can improve a child's ability to survive. The confidence that children will survive may mean that families make choices about family size."
As CARE's country director in India, Hollingworth guided that office's transition from food aid to a broader focus, which led to advances in areas such as maternal and child health, HIV/AIDS prevention, as well as women's economic and social empowerment. India's 900 CARE staffers (less than a handful are expatriates, reflective of CARE's global employee network) support a network of 250 local organizations, effectively expanding outreach.
One of the best examples of how CARE has leveraged its presence, says Hollingworth, is a micro-credit program that puts 38 employees in touch with 35 partner organizations in five different Indian states. Those groups reach 1.4 million women.
CARE worked with Indian banking officials to create a policy environment supportive of loans to poor women in rural areas. And these women, many of them entrepreneurs, making and selling a variety of products (shoes, food, personal hygiene products, etc.), repay their loans at an astonishing rate of 98 percent.
It's a snapshot of a larger trend in an economically dy-namic country where 35 million poor women now have access to formal savings and credit – up from 3 million in 2001. And it typifies how CARE has managed to effect change in spite of cultural traditions that may discriminate against women.
"A unifying cultural value across the world is basic human dignity," says Hollingworth, who also has been CARE's director in Sri Lanka, and held leadership posts in Bangladesh, Lesotho and Bolivia.
"When people deal with situations of absolute indignity because of poverty, they look for potential lifelines – and these may be despicable things, like selling daughters into prostitution. When a community sees the win-win benefit from the roles women can play, empowering women becomes very acceptable."
Prime Time Player
For almost 50 years now, Marge Tsitouris has been heeding something President John F. Kennedy said during his inauguration speech.
"I was inspired," she says. "You know, 'Ask not what your country can do for you.' I was like a lot of young people back then, like a lot of my cohorts in CARE. I took it to heart."
In 1962 she joined the Peace Corps. Later, she joined CARE and spent almost 25 years with the organization, including a lengthy stint (1996-2002) as director of the organization's emergency response unit until her "retirement."
During her emergency watch, there were armed conflicts in Rwanda, Kosovo and Bosnia; Hurricane Mitch ravaged Central America, and there was famine in North Korea. That's the short list.
"A lot was happening, I guess I got a little tired," Tsitouris says. "But I guess the idea of retirement just didn't go over well."
Within a few months she was back working temporary assignments. Then, in December 2004, a tsunami swept over Southeast Asia.
Before long, Tsitouris was serving as CARE's senior advisor for the recovery effort. The quick work of assisting the survivors and surveying the damage had barely begun when Tsitouris and her colleagues were already thinking down the road.
"We started thinking long term, about how to build things back to better than they were before," says Tsitouris, whose most recent temporary assignment has been to direct India's office.
"In almost every emergency, we talk in terms of seeds and tools. Farms get wiped out, the farmers need seeds and tools to begin the work again. And that goes for big picture stuff, too," she says. "Getting people back to their livelihoods, whatever their jobs were before. And now we're talking about getting them to the point where they are better off."
There are immediate physical needs – shelter, food, water, clothing. There are psychological needs, which last longer. And the emphasis isn't just rebuilding, it's improving upon what was there before. "It takes a long time, and it takes money," she says. "In the U.S. we have some idea of what that means because of Hurricane Katrina."
Line Of Fire
As Executive Director for Development Foundations, Kevin Henry manages CARE's relationships with some of its largest donors, like the Bill & Melinda Gates Foundation. Increasingly, CARE has relied on the largesse of private donations – individuals, corporations, foundations.
"When I joined CARE 25 years ago, the U.S. government provided 75 to 80 percent of our funding," Henry says. "Today it's about 50 percent. Dr. Gayle is determined that we continue to diversify our funding base, more explicitly, to increase support from private sources."
Henry recognizes what a huge challenge that is in a nation where international causes attract 2 percent of the available philanthropic dollars. So Henry expects he'll be stepping up the effort to develop long-term partnerships within the private community.
All of this is still fairly new to Henry, who has spent most of the past quarter century in-volved with CARE's frontline operations overseas, in parts of the world torn apart by manmade or natural disasters – he started a new CARE program in Pakistan (just months before the devastating 2005 earthquake), headed tsunami re-sponse strategy development in Sri Lanka, worked in, among other places, Chad, Guinea, Kurdistan, Kenya, Sudan and Rwanda, his focus often on countries in conflict.
"Conflict is a major contributor to poverty, and conflict always affects the most vulnerable and the poorest people worse than it affects anyone else," Henry says. "The sad thing is, countries that have a lot of development potential or have even made headway can lose that overnight if it slips back into conflict."
Sri Lanka, he says, is faced with that grim scenario now. The country, which has a lot of development potential, has existed under a tenuous ceasefire for several years but, Henry says, "The civil war has resumed but hasn't been officially declared."
Henry had direct oversight for CARE operations in Somalia during that country's bloody conflict in the early 1990s. "That was the only time I was actually shot at," he says.
He helped re-establish Kurd communities in northern Iraq following the first Gulf War, spent a lot of time on the Afghanistan-Pakistan border following the 9-11 terrorist attacks, and was in the United Nations headquarters in Baghdad about 90 minutes before a truck bomb destroyed it following the first phase of fighting in the current war, working with Iraq's CARE director, Margaret Hassan, who was kidnapped and murdered months later.
Henry, who hitchhiked across the Sahara as a young man, has spent most of his life on the edge of catastrophe and when he thinks about the potential power kegs of the future, his mind wanders back to Pakistan.
"It's a country that isn't getting the kind of attention, I think, that it warrants," he says, noting the nation's sophisticated army, its nuclear weapons, and the Taliban remnants that operate in a fairly open fashion. It's situated between Afghanistan and India, with one third of its population (about 169 million) extremely poor.
"I'm concerned about Pakistan, from a political and security perspective," Henry says. "What happens there in the next five to 10 years will have a tremendous impact on the region and the world."
Still Carrying On
When Peter Bell was in high school, back in Gloucester, Mass., in the 1950s, he traveled to Japan to live with a family during the summer, part of the first group of American kids to visit the country after World War II.
"I learned from my Japanese mother that the family had lost relatives in the atomic bombing of Nagasaki, and they had invited me, a young American, as a way of reconciling. That left a deep impression on me. That experience got me very interested in peacemaking," says Bell, who retired as president of CARE last year.
Bell, the first president to serve his entire term while CARE was based in Atlanta, led the transition from a predominantly service delivery organization to the current status.
"CARE continues, where needed, to provide those services, but it is focused increasingly on building the capacities within countries to deliver those services, and it is not only focused on immediate needs, but very committed to reducing and ultimately helping to end extreme poverty," says Bell. He's continuing his work in the humanitarian sector, co-chairing an initiative focused on children with HIV/AIDS, and serving as vice-chair of the Bernard van Leer Foundation, concentrating his efforts on early childhood development and families in extreme poverty.
"The poorest people live every day on the razor's edge of crisis, and there's nothing they'd like more than to build a future for their children – the same thing we all want," Bell says.
His days still are guided by lessons from the past – from his "mother" in Japan, whose motto was, "Make the world more wonderful," and from a college professor who had lost relatives in the Holocaust who told Bell, "go forth and make the world less miserable."
"On my good days," Bell says, "I think of Mrs. Okajima. On my less good days, I think of Professor Weiss."
New Job, Same Pace
Helene Gayle has been working in the international arena for a long time, so she was well prepared to log tens of thousands of miles in the air on behalf of CARE. In her first year as president, she traveled to Afghanistan, Bangladesh, Guatemala, Haiti, Tanzania, Ghana, Kenya and Zanzibar.
"I really need to see CARE's work and understand what we've done, and where we're doing it," says Gayle, who came to the relief organization after five years as director of the HIV, TB and Reproductive Health Program for the Gates Foundation. Before that she spent 20 years based in Atlanta with the CDC, the last six as director of its National Center for HIV, STD and TB Prevention.
Gayle says there are three parts to her job – managing the operation ("Obviously with a lot of help."); policy and advocacy work; and fund raising. Especially fund raising. She says the United States can do more, referencing a U.N. Office of Development Assistance target that developed wealthy nations have made, to provide 0.7 percent of gross national income to foreign aid, with the goal of eradicating extreme poverty.
"We're not there yet," she says. "Not even close."
The United States is approaching .3 percent, trailing the rest of the West, except for Portugal.
"In any poll of the U.S. public, Americans estimate that we're giving anywhere from 10 to 25 percent. And if you ask the general public, people will say they think we should be giving about 10 percent, which tells me people's willingness far outstrips what we actually contribute," Gayle says. "But if we, as the largest economy, could in fact meet the goals that Western nations have set, we'd go a huge way toward creating the kinds of resources we need to make a difference."
Then Gayle would be one step closer to unemployment, which would suit her just fine.