On The Cutting Edge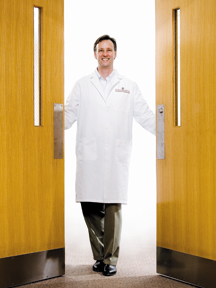 Steve Stice has achieved worldwide fame in a field once thought to be the domain of delusional, megalomaniacal mad scientists, but he might just be the sanest man alive. Unlike those caricatures from countless sci-fi B-movies, Stice is not out to rule the planet or enslave the human race – on the contrary, he wants to help save it.
Stice – part professor, part entrepreneur, a pioneer in cloning and stem cell research – is director of the University of Georgia's Regenerative Bioscience Center, where discoveries on the frontiers of biology are creating opportunities to improve quality of life for millions of people suffering from devastating diseases, while bolstering the state's $6 billion life sciences industry.
It's a big job and it isn't easy. Georgia offers a cacophony of mixed messages where bioscience is concerned.
On one hand, Stice's work helps keep Georgia on the cutting edge. The state was ranked 7th in the nation by research firm Ernst & Young in its most recent report on the biotech industry, and life sciences has been labeled a strategic industry by Gov. Sonny Perdue's Commission for a New Georgia.
On the other hand, Georgia is one of the nation's most politically and religiously conservative states, where some legislators have considered limiting (even criminalizing) the sort of groundbreaking research being done in Stice's lab – namely, embryonic stem cell research.
"It can be frustrating. But I feel like I'm a pragmatic person. I understand the situation," says Stice, 46. "It's incumbent on scientists, if we want to move the technology forward, to participate in the public policy discussion."
Stice would rather focus on science that can change the world, but he has one eye trained on elected leaders impatiently pointing to their wristwatches.
"It's tough to relay to politicians that what we see in the lab is very exciting – tough until you can show them how what you're doing will impact their constituents," he says. "Most seem really excited about the progress that we are making in this field, but in the end we – we being scientists – need to come up with something out of these cells that is really useful, instead of saying, 'Five to 10 years we'll have something.'"
Stice and his company, Aruna Biomedical, which he founded in 2003, appear to have come up with that something. Stice has developed a method to derive neural progenitor cells by the billions from human embryonic stem cells. The potential impact, he says, "is astounding."
Aruna will sell kits (for about $850 each) containing neural progenitors and the reagents necessary to reproduce them into neural cell cultures, which should accelerate the pace of neurological research for tens of thousands of scientists, who will work on developing treatments for spinal cord injuries and neurological diseases such as Parkinson's, Huntington's, Alzheimer's, even depression.
For someone like Ron Grabb, who has gotten to know Stice the hard way, this is potentially miraculous news.
"I'm enthused about the work Steve Stice is doing, because I've dedicated my life to helping find a cure for Parkinson's," says Grabb, 59, who found out six years ago he has the disease.
Grabb has visited Stice's lecture hall to talk with students about Parkinson's, a neuro-degenerative disease that causes its victims to shake involuntarily, to struggle against seizing muscles and sporadic speech patterns that often sound like choked tears.
"I was a teacher, but I had to give that up because of the shaking in my hands. My students couldn't read my writing," Grabb says. "Those stem cells are the best hope I have. I'm optimistic that they'll lead to a cure in my lifetime."
As a leader of Georgia's chapter of the Parkinson's Action Network (PAN), Grabb met with members of Georgia's Congressional delegation in an effort to discover what they did and didn't know about stem cell research. Sen. Johnny Isakson, who consulted with Stice while trying to craft national stem cell research policy, told Grabb about what was happening at UGA.
"I called Steve and here was this nice, down-to-earth individual that everyone seemed to like," says Grabb, who has shared a stage or podium with Stice on several occasions over the past several years. "I found out we have something in common. We're both graduates of the University of Illinois."
Nice Guys Finish First
Stice still carries the aw-shucks mannerisms of a Midwestern farm boy, a laid-back decency that comes across to everyone who meets him – and which disguises an intense competitor inside.
"I think Steve is deceptive in one way," says Cliff Baile, a colleague and mentor in UGA's bioscience hub, and the key recruiter who lured Stice to Georgia nine years ago. "The headlines and stories in the Atlanta papers talk about this 'Mr. Nice Guy,' and they're right about that, but people are surprised to hear that he is a very competitive guy."
Stice does have a low-key roguish smile that suggests a game is afoot – science, business or sports, it's a game he wants to win.
"I'm as fierce a competitor as anybody. My wife Tracey no longer allows us to play Monopoly in our house, especially when my brother Jim is around – the game tends to deteriorate too fast," Stice says.
"But, yeah, you do have to be very competitive to be a player in this field. Nobody gets recognition for being second. Well, maybe a little recognition. But it's nothing like being first."
Stice's resume is crowded with firsts: First cloned rabbit in the world (1989), first cloned bovine embryos from embryonic stem cell lines (1992), first cloned transgenic calf (1998), first human embryonic stem cells derived from discarded embryos (2001), the first cloned calf from a dead cow (2001), first motor neurons derived from human embryonic stem cells (2005), first human embryonic stem cell product to be commercialized – this year, through Aruna. Those are just a few.
"Being first is impressive," Stice says. "But it's also humbling, because there are a lot of smart people out there and you're never too far ahead of anybody."
That competitive drive is exceeded by a desire to create something useful, a trait he gets from his father, Dan, patent attorney and inventor who created a line of furniture, and developed a way of using solar collection to dry grain.
"Dad was ahead of his time," Stice says. "He's still inventing – he's got a new company to help foster seed germination. He's always got some new idea."
When Stice was 14, he moved from Minnesota to a 500-acre farm that his family had homesteaded generations earlier, in Roseville, Ill. He and Tracey, high school sweethearts, stoked their entrepreneurial fires at an early age. Today, she is director of operations and he is CEO of Aruna Biomedical; he has started or led a number of small biotech companies.
"Tracey and I have been in business together since the beginning," Stice says. "Back then, we raised sheep. All of these counties had county fairs, where you show livestock. We'd raise Cheviots, the Corvette of sheep – small, compact and fast, something that people didn't see very often. That was our business. We'd go to fairs and win prize money, and it was pretty good money, too."
Since then, the Stices have raised three over-achieving children – a daughter, Danielle, who is a senior at Berry College (pursuing a double major in Spanish and International Studies), and a twin son and daughter who just completed their freshman year at UGA: Phil, who was the high school soccer player of the year two years running in the Athens area, obviously inherited his father's competitive spirit, while Claire shares Stice's interest in animals.
Stice thought he wanted to be a veterinarian, but when he entered the University of Illinois he worked with a professor who was experimenting to create chimeric animals – combining the embryos of a goat and a sheep to create "geep." It wasn't long before Stice was hooked on developmental biology.
"It was my first experience in asking questions that nobody knew the answers to," he says. "It just opened up a whole world of possibilities for me. I was fascinated."
He graduated from Illinois with a BS in agricultural science in 1983, from Iowa State with an MS in animal science two years later, and after taking a year off from studies (during which he developed a ventilation system for pig barns), he entered the animal science program at the University of Massachusetts (Amherst), receiving his PhD in 1989. That's where he met professor James Robl, his mentor and collaborator.
In January 1998, they introduced the world to the first calves ever produced from genetically altered fetal cells – George and Charlie were the healthy results of combining genetic engineering with cloning techniques. They made headlines everywhere.
"It was far beyond what had been done before," Stice says. "We demonstrated that cloning could make its biggest impact in the production of pharmaceutical production." They proved that genes could be transferred from one organism to another during cloning, a process that could be employed to breed "pharm" animals that can produce an array of therapeutic products.
Within nine months of the historic announcement, Stice was in Athens, a prize recruit for UGA and the Georgia Research Alliance (GRA).
"We decided to recruit Steve as a GRA Eminent Scholar, which is what I had become after retiring from Monsanto," says Baile, who has launched or helped start eight biotech companies since arriving in Athens, where he's helped create a new academic model combining research and industry in a university setting.
Welcome To Georgia
Through the efforts of Baile and the GRA, Stice landed a sweet ground-floor gig – chief science officer of biotech start-up ProLinia, an endowed position as associate professor and senior research scientist, a salary of $140,000. Baile and Stice are just two of the 14 Eminent Scholars within UGA's College of Agricultural and Environmental Science (CAES).
"These are people who are continually courted by other universities, like Harvard and Stanford and Yale. Their presence here is a powerful sign that we are in the big leagues," says Scott Angle, CAES dean, who likes to use the baseball free-agent analogy when discussing his science superstars.
"Steve is one of our best examples. Around him we've built one of the country's leading stem cell research programs. He's doing things that benefit Georgia, developing intellectual property that becomes the basis for new Georgia companies," Angle says. "If we didn't have creative packages to keep these people here, they might go to Harvard, where their work becomes the basis for Massachusetts companies."
Creative packages or not, Stice is being courted by other teams. Earlier this year, Wisconsin, a leader in stem cell research, a state where the governor won re-election based on his commitment to growing that research, made a serious bid to lure Aruna in February. At the time, Stice's brother Jim, part of Aruna's management team, told a Wisconsin newspaper, "I think it's still a decision in the balance."
As of April, Aruna and Steve Stice still are headquartered in the Edgar L. Rhodes Center on the UGA campus, and he's considering the possibilities.
"I'm here and I'm going to stay here, but I want the company to stay here," he says. "I don't think we can make progress as fast if the company is in Wisconsin, or wherever else, and I'm here.
"Getting the Georgia investment community involved in biotech has been slow in coming. That's old news. This is a financial consideration for the company. Developing these products costs money, and you have to go where the resources are. I'm hopeful that the financial side of things will come together for us here in Georgia."
Even more unpredictable is the political side of things. In March the Georgia Senate passed a bill that encourages new mothers to donate post-natal tissue and fluids (placenta, umbilical cords, amniotic fluid) for nonembryonic stem cell research.
According to Senate Bill 148, sponsored by Sen. David Shafer (R-Duluth), an ardent opponent of embryonic stem cell research, such research has been "hampered by difficulties" and these stem cells tend "to form tumors" – language that proponents of embryonic stem cell research consider damaging.
Charles Craig, president of the Georgia Biomedical Partnership, says efforts such as Shafer's bill (which did not meet House approval before the regular session ended) send mixed messages from Georgia's leadership, creating "the perception that Georgia is hostile to embryonic stem cell research.
"It runs counter to Georgia's stated goal of promoting life sciences as economic development, even though a vast majority of Georgians are in favor of embryonic stem cell research," Craig says, referring to a poll last year that showed 67 percent of Georgia voters support such stem cell research.
Still, many conservative religious groups (and wary politicians, of course) oppose embryonic stem cell research on moral grounds, claiming it ends human life – and that in order to acquire new lines, embryos are destroyed.
Proponents, meanwhile, argue – among other things – that fertility clinics daily toss away thousands of unviable embryos that are incapable of developing into living people.
"It is a terrible waste," complains Kay Mixson Jenkins, a Savannah woman who has struggled with Parkinson's disease for 10 years, and who is, with Grabb, a leader of Georgia's chapter of PAN. "Just like throwing hope down the drain."
Adult stem cells have been used therapeutically for years (bone marrow transplants, for example). Embryonic stem cell research hasn't yielded an actual cure for anything yet, but unlike adult stem cell research, this is a fairly new science – the first embryonic lines were harvested in 1998, and only 21 fully developed lines are available for widespread distribution to researchers (Stice and UGA have access to three of them).
Stem cells have the ability to grow into any one of the body's more than 200 cell types. They may hold the keys to revolutionary new treatments for a host of diseases and disorders, including cancer, which Stice has survived.
About four years ago, after discovering a lump on his arm, Stice was diagnosed with a rare form of sarcoma. He had two surgeries and radiation treatment and has been cancer free for three years.
"There's nothing good about cancer, but I was lucky. We caught it early and the prognosis is pretty good," says Stice, who grew up in a Protestant household and considers himself a spiritual person. He maintains a sense of patience and calm even in the midst of what has become an emotional global debate.
"All we can do is help people understand. You're not going to change the opinion of someone who has a strong moral stance," he says. "I just would like people to make an informed decision that isn't based on rhetoric. There is hype on both sides of the issue."
The frightened and uninformed have accused Stice of making monsters, while the desperately hopeful have asked for miracles.
"Just the other day I got a call from a fellow whose dog was run over by a car. He wanted to know what we could do for his dead dog," says Stice, whose family has two dogs, a cat and a horse – none of them clones. "People are sincere when they ask those questions. I try to make them understand that cloning is a way to reproduce animals. It isn't resurrection."