Southeast: Prosperity, Connectivity
Looking To The Coast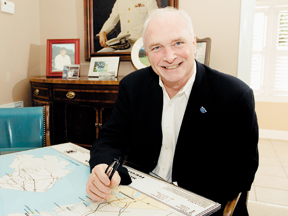 Development of the Georgia coast began in McIntosh County with the construction of Fort King George in 1721 on the north branch of the Altamaha River in what is now the city of Darien.
For a time, the port city was surpassed only by Savannah and Charleston in cotton exports. Later, while other coastal cities thrived, Darien and McIntosh fell on hard times. But the region has come full circle and now, almost 300 years after first being settled, it has been rediscovered as waves of development sweep over the Georgia coast.
"The level of activity we've seen in Savannah will continue over the next five years, but the incremental growth in the other counties, like Bryan, Camden, Liberty, Effingham, Glynn and McIntosh is really going to accelerate," says Bill Lattimore, whose Savannah-based Lattimore Company tracks residential growth along the coast.
Small communities can expect thousands of new residents thanks to mega-developments like the one planned on 750 riverfront acres at the former Durango Paper Mill site in St. Marys – 3,020 residential units, 250,000 square feet of commercial space, a 250 room hotel and convention center and marina with an estimated build-out of $1.3 billion.
Lattimore's current research shows a drop in housing starts in 2006 but forecasts dramatic, potentially overwhelming increases in coming years, especially in McIntosh, where the number of housing starts is expected to triple by 2012.
"We've been discovered in the past few years, so, as we plan our economic future, it's important that we preserve what makes our city desirable," says Darien City Manager Brett Cook.
Darien, home of the Altamaha Bioreserve, is mecca for history buffs and ecotourists, and the city has taken a bold approach to planning its future, with updated zoning ordinances and the annexation of about 20 square miles of state-owned marshlands (more than 80 percent of the city will be dedicated to greenspace). City leaders predict more annexation in coming years as speculators, investors and developers continue to circle.
"We can shape and mold the type of city we want, and control the type of businesses we attract and the development that occurs within the city," says Darien City Council member Kelly Spratt, who owns the Open Gates Bed and Breakfast.
Indigo Harbor, the city's first planned urban development, is on the drawing board, while north of the city, the McIntosh County Development Authority purchased 500 acres (increasing the size of its industrial park 500 percent) and a wastewater treatment facility. The city and county are working together on redoing its comprehensive plan, setting an example for a region that is already being slammed by growth.
Accordingly, Gov. Sonny Perdue issued an executive order that a Coastal Comprehensive Plan be developed by this September.
"About 78 million baby boomers will retire in the next 10 years or so. The bulk of that retirement migration will move toward the east coast," says Vernon Martin, executive director of the Coastal Georgia Regional Develop-ment Center (RDC). "We've made it clear to all of our communities that it's essential to develop land use projections and plans so that we can protect the rich cultural, historical and natural resources of our region."
Some project the population in Georgia's coastal communities will double over the next 10 years. Also, residential growth patterns already are moving westward, into counties like Charlton and Brantley (which is also marketing itself as a tourist destination, with its Twin Oaks Bluegrass Park and proximity to the Okefenokee, coast and rivers).
Meanwhile, new business development and expansion is augmenting the coast's largest industries – the military and federal government, which employ about 34,000 and provide a $2.2 billion wallop, and are also projected to increase.
Several things are sparking the region's accelerated growth:
• The coast and points west are hot spots for Floridians tired of hurricanes, retirees seeking a satisfactory quality of life and transplants from the Northeast for whom the average coastal home price ($261,000) is not expensive.
• Troop strength at Fort Stewart and Hunter Army Air-field should increase by 10,000 and the Naval Submarine Base in Kings Bay will be home to two new submarines, bringing 3,000 military personnel and their families into the area.
• Perhaps most important are Georgia's deepwater ports in Savannah and Brunswick, where 19 consecutive years of increased activity is creating ripples of expectation and development.
From coastal cities to rural inland outposts scattered across Southeast Georgia, a flurry of activity is enhancing and reshaping a region whose dots are connected by Interstates 16 and 95 and accessible ancillary highways.
Bill Mitchell, president of the Toombs County Develop-ment Authority, stationed about 90 miles away from Savannah, considers the port a critical device in his toolkit and a prime draw for Simonton Windows, which is moving a manufacturing operation from Florida to Lyons, a $24 million project creating 140 jobs. "I-16 keeps us close to the port, and that's a key selling point for any prospect," he says.
At the 5,300-acre Trade-port Business Center on I-95 in Liberty County, about 35 miles from the Savannah port, 500 people will go to work this summer at the new $95 million, 1.5 million-square-foot Target distribution center, which will eventually add more jobs.
"Target is attracted to our strong labor force," says Ron Tolley, CEO of the Liberty County Development Author-ity. "We have 200 to 300 people a month leaving the military while stationed at Fort Stewart. These are well-trained people with a great work ethic who will stay in our community if jobs are available."
Liberty County also has partnered with the Depart-ment of Defense in a joint venture at the fort's Wright Army Airfield, creating an expanded facility for both military and civilian use.
In Bryan County, 20 miles from the port, the Interstate Industrial Park (intersection of I-16 and U.S. 280) is attracting some sizable tenants, including Oracal USA, a German manufacturer of adhesive film ($45 million manufacturing plant) and Oneida (stainless steel flatware distribution center, 150 new jobs). An additional 1,000 jobs will be created if fire-truck manufacturer E-One decides to locate there.
Port accessibility is driving the development of business parks in the region. Technology Park/ Atlanta is developing a 505-acre site at Interstate Centre. And Nevada firm DP Partners plans to develop industrial parks on two parcels it recently purchased just a few miles from the port (including 1,738 acres in Effingham County).
"Our transportation network is a major driver for the kind of growth happening in Bryan County and elsewhere," Martin says. "So one of the things we need to address sooner rather than later is how to get trucks from Savannah's ports onto our highways without putting more of a burden on the existing network."
The ports generate about 6,000 trucks per day. With the $109 million expansion of Savannah's Garden City terminal, the additional 30 million to 50 million square feet of distribution space anticipated in the Savannah area over the next decade (not to mention continued growth at the Colonel's Island auto import processing center in Brunswick), truck traffic should double by 2014.
All of this connectivity is inspiring a diverse collection of business activity in Southeast Georgia, such as the Fram Renewable Fuels biofuel mill being built in Appling County, where wood fuel pellets will be produced. They are used extensively in Europe to generate electricity.
On the region's western edge, economic development professionals and community-minded entrepreneurs are shaping a hopeful future. In Atkinson County, for example, 120 jobs were saved when a longtime business was rescued from bankruptcy by members of the company founder's family. The Cady family invested $5 million to buy Cady Bag Company back from its previous owners and promised to invest another $1 million in improvements to create 50 to 75 additional jobs.
"That's a perfect example of a local family of entrepreneurs stepping up to the plate for an area that really needs that kind of support," says Joanne Lewis, president of the Coffee County Development Authority, who assisted in the company's re-establishment. "But it's been that kind of year."
Last spring American Insulated Wire announced plans to create 250 jobs with an investment of $26 million to convert an existing 340,000-square-foot facility in Douglas. In December, Premium Waters, Inc. committed to a $30 million investment that will create 100 jobs.
Two established companies, Diamond Builders and Elixir Industries, are expanding and adding about 50 jobs each. Local entrepreneur Francis Lott (Lott Properties) has invested $1 million to kick off the Coffee County Community Foundation Economic Development Fund, the first of its kind in the state, Lewis says.
Bacon County has been the fertile ground zero for agricultural entrepreneurs who have made Georgia a national leader in blueberry production. The current state yield of 25 million pounds a year is projected to quadruple in six years as more farmers who used to make their living growing tobacco turn their fields over to blueberries.