Pano's And Paul's: Still Fresh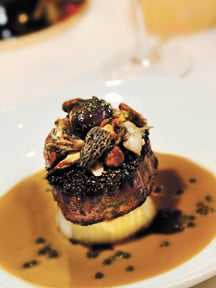 Pano Karatassos' Buckhead Life restaurant empire is so large and powerful – from gleaming Kyma to sleek Pricci, shiny Buckhead Diner and power pow-wow Bluepointe – that it's hard to remember that it started not so very long ago (1979) with a single restaurant: Pano's and Paul's. That opening wasn't just the start of Karatassos's remarkable career, but in some ways Atlanta's start as a real restaurant town.
Pano's and Paul's was the first local restaurant to make waves nationally, to spark competition among restaurateurs and to draw critical raves at the same rate as it drew diners – in droves. His irresistible new concept was "upscale casual": Impeccable seafood, steaks and produce; service with near-military discipline, but also a welcoming, unpretentious vibe.
Its continued success was even more poignant the night we drove to Pano's. On West Paces Ferry Road, we passed the former Seeger's, awaiting its re-invention. Guenter Seeger, arguably Atlanta's most daring chef, had been unable to garner Karatassos's signature business savvy – invisible, but hand-rubbed into each of his varied enterprises like beeswax into gleaming mahogany.
If you worried that over the years, Pano's might have devolved into a moribund Old World concept, think again: On a Saturday night, the valet parking stand was a vortex, and the entry foyer an efficient funnel into a lively, burbling dining room.
A lot has changed over the years. Founding chef Paul Albrecht now has his own restaurant, Paul's, and the once-garish dining room gave way to a sleeker Art Deco look in 2000. But the curved, cushioned banquettes still line the room, and the crowd has the look of people who are celebrating their arrival at the Place They Want to Be. It's a real Atlanta crowd – diverse in every way.
My one complaint is small: Pano's wine list earns a lot of praise, but the pickings are mighty slim by the glass, and heavily tilted toward tired, overly familiar labels.
But when it comes to food, somehow, the snappy staff and able Chef Gary Donlick make it all seem fresh – even that gilded-lily of a dish, the deep-fried lobster tail. Its feather-light jacket is expertly flash-fried; and as if you needed anything more, there's clarified butter or honey mustard dipping sauce. Salads, such as the chopped greens with mesclun, sliced Asian pear and fresh goat cheese, are enlightening.
And the entrees are a world tour – ever the businessman, Pano's offers a $40/four course dinner, featuring (on our visit) Australian barramundi (a white game fish), Maine skate and Niman Ranch pork. We opted for a study in contrast: milky-mild Maine lemon sole Françese, with the barest exterior crunch and al dente baby artichokes, carrots and capers; and the deep, dark "39-hour" beef short rib with foie gras – as rich and complex as the sole was light and classically simple.
For dessert, all we wanted was some good cappuccino, and to watch the unfolding play: The young engaged couple, defenses down, actually enjoying dinner with mom and dad. The dashing man, gauging the room's response to the slim, smashing woman on his arm. The sly, handsome, middle-aged woman, sneaking a wink at her trophy husband.
OK, maybe we should order the warm chocolate toffee cake, with toasted almond ice cream … and two spoons.
Pano's And Paul's
1232 West Paces Ferry Road
Atlanta
404-261-3662
www.buckheadrestaurants.com
Hours: Dinner only, Monday through Saturday.
Credit cards: All major.
Parking: Free in attached lot.
Dress code: "Upscale casual." Ditch the jeans and bring on the (subtle, but not too subtle) bling.