East Central: Art, Industry and Biofuel
Anticipating A Boost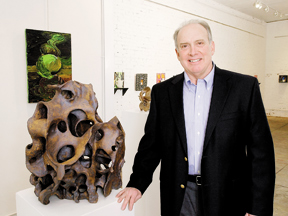 Communities throughout East Central Georgia are finding that creativity, industry and entrepreneurial spirit are a winning combination, especially where the region's economy is concerned.
Perhaps the area's biggest news came in February with the announcement that Range Fuels, Inc., a Colorado company, will build the state's first cellulosic ethanol plant in Treutlen County; it's expected to create some 69 jobs. The plant promises to be a boon for the state's forestry industry.
On the cultural side, the art scene in Jefferson County is jumping, from art exhibits to theater and music festivals – and the activity is attracting tourist dollars. In Louisville, the Fire Station Gallery is drawing people to town with its gallery shows, and the city has also launched a monthly music program. In Bartow, The School House Players' quarterly performances continue to draw attendance from surrounding counties.
"The Schoolhouse Players are one of the most active small schoolhouse groups – people come from all over the region, and that's a very positive thing for the local economy," says Tom Jordan, who serves as executive director of The Development Authority of Jefferson County.
Louisville also is breaking ground on a streetscape project and a façade grant program, and is seeking matching funds through its first Buzzards Blast this summer. The First National Bank & Trust is moving to Louisville, bringing 40 new jobs.
Elsewhere in Jefferson County, the city of Wadley is beginning a new streetscape project and applying for grants. The Downtown Development Authority recently purchased 650 acres for an industrial park in the northern part of the county.
For Emanuel County, industry is the big pull this year. R&F Marketing Company is investing more than $1 million to rehabilitate an existing building to house its new warehouse/distribution facility, which will employ 70 people over a three-year period. In January, Warren, Ohio-based Vista Window Company opened a manufacturing facility in Swainsboro and will hire 100 employees over the next three years – an investment of $1.5 million.
The Swainsboro/Emanuel County Joint Development Authority continues to develop its newest 570-acre industrial park. The rail line from Swainsboro to Vidalia, which skirts the new industrial park, is being completely rebuilt by the Georgia Department of Transportation.
Emanuel County's commercial economy also continues to grow. A new hotel is under construction, and several new shops opened in downtown Swains-boro. Just outside of Swainsboro, Flat Creek Lodge resort is expanding its facilities to accommodate 100 guests.
In Richmond County, Automatic Data Processing (ADP) is locating a business solutions center in Augusta. The move will create 1,000 new jobs and represents an investment of more than $30 million. ADP began hiring and training in early 2007 in a temporary location that will open in March; the permanent facility will open in late 2007.
CoastalXethanol moved into the former Augusta Pfizer manufacturing facility, creating 100 jobs for the community. And the $22 million Cancer Research Center at the Medical College of Georgia recently opened its doors, employing 40 people.
In Candler County, 105 acres have been added to the Metter/I-16 Industrial Park, using funds from a $500,000 OneGeorgia grant. "The 105 acres include a 50-acre parcel, which we think will be very attractive to port-related activities," says the Candler County Industrial Authority's Chuck Clark.
The authority also has repurchased a 42,000-square-foot building – the only one of its size available between Savannah and Macon – and is in talks with four prospects about moving into Metter.
In Burke County, Jerry Long, executive director of the development authority, says T-shirt manufacturer Ramstar Mills recently purchased a building, bringing 10 jobs to the county. The development authority also is considering constructing several spec buildings in the Waynesboro/Burke County Industrial Park.
TRW Automotive is moving to Warren County, employing 200 people by the end of 2007, and Plastic Tubing will open a production facility this summer with 25 new jobs. In Warrenton, efforts to rehabilitate the historic depot continue. Once completed, the building will house the chamber of commerce, welcome center, history museum and offices for the Downtown Development Authority and the Better Hometown program.
Meltblown Technologies opened a plant in Sandersville in late 2006. The company now employs fewer than 20 people, but will expand to at least 100 workers by 2008. Trojan Battery Company has a new facility under construction in Sandersville and will employ more than 200 when production begins this year. Advanced Biotechnologies will begin construction of a 60-million-gallon-per-year biodiesel plant in Sandersville this year as well, employing 25 to 30 workers when it begins production in 2008.
Other counties in the region also report strong economic growth.
Anthony Griswell, county commission chair for Glascock County, says a major announcement involving two large companies moving to the county is on the horizon. The county recently rehabilitated its courthouse and The Peoples House, an historic home, was rehabilitated to house several county departments, including the county commission office, transit office and development authority.
Subdivisions continue to sprout up in Lincoln County, home of Clarks Hill Reservoir, with many opening phase two of development. Several companies are opening distribution centers in the area, including Charles Owen, Inc., a $1.3 million investment that will add 10 new jobs, and Hero Furniture, a $1.1-million effort that will bring 20 new jobs to the county. Medac, a $2.5 million medical building facility, will initially bring 100 jobs to the county within 36 months, eventually rising to a total of 300 new jobs. The Lincoln County Industrial Park also received $1 million in improvements.
In McDuffie County, Shaw Industries just finished a $30 million expansion that will add 50 jobs, and several prospects are considering a move to the county, including a plastics manufacturer and a medical equipment service company.
The county also is rehabilitating and stabilizing the historic 144,000-square-foot Thomson Company site for apartments and light industrial space, representing an investment of $10 million over the next two years.
"We think 2007 will be a year where we turn the corner on downtown redevelopment," says Don Powers, executive director of Forward McDuffie, "as well as see the investments made over the past few years pay off with regard to projects looking closer at Thomson-McDuffie as their new home."
In Treutlen, infrastructure work continues both in Soper-ton and at local industrial parks. After two years of work in the industrial park and three years replacing downtown water and sewer lines, the projects are almost complete.
Wilkes County is seeing considerable activity as well. David Jenkins, director of economic development, says several companies are expanding, adding a total of 60 jobs and 120,000 square feet of new building space. Two prospects in the manufacturing and high-tech industries are considering a move to the county, which would add another 165 positions. Fiberglass manufacturer Hexcel moved out, taking 100 jobs with it, but the county is seeking new prospects to fill the space.
In Washington, several historic buildings have been rehabilitated for loft apartments and other uses.
Johnson County expects to complete a training center on Highway 51 early this month. A company is interested in building a new hotel outside of Riceville, and a water bottling plant is in the works at an artesian well near the Washington County line.
In Jenkins County, the 75 jobs gained when Jockey's sewing operation opened in 2005 were short-lived. The company decided to move the sewing operation out of the country, taking 200 jobs with it. Still, the cutting operation remains. Other good news includes development of the 97-acre Millen Industrial Park and 180-acre Paramore Industrial Park.
"We've had some visits from some prospects, but we haven't had any takers yet. But we're not going to give up, that's for sure," says Jenkins County's Paula Harrington.
A total of $950,000 has been invested to help revitalize downtown Millen, and the county is in the process of becoming an Entrepre-neur Friendly Community, a Georgia Department of Economic Develop-ment designation that helps create and encourage small business strategy within the community's overall economic development.
In Bulloch County, many local residents have recently opened up new businesses in historic downtown Statesboro.
"People are investing back into their communities, and that to me says worlds about this community," says Peggy Chapman, president of the Statesboro-Bulloch County Chamber. "It says that we are a growing economy, that we have made good decisions in how our community is growing, and that people are willing to invest in that."
New retail and subdivisions continue to pop up in Bulloch, with more apartments under construction near Georgia Southern University. The county recently purchased the 300-acre Gateway Regional Industrial Park adjacent to the existing 615-acre park. Many existing companies have expanded over the past year, including Brodie Meter Company, which added 28 employees.
"This whole region has grown tremendously," Chapman adds. "There's just a lot going on. I think we're very fortunate to live in this part of the state right now."