Added Incentive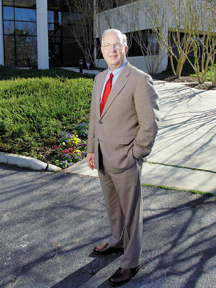 It was Kia's second visit to Georgia, maybe the third, Chris Clark isn't sure which. But he remembers it was a late dinner date with company executives and Clark knew that if this courtship was going to develop into a more intimate relationship, if Georgia wanted to seal the deal with the Korean auto manufacturer, he was going to need some help.
"We had a busy schedule planned the next day, looking at potential sites," says Clark, deputy commissioner of global commerce for the Georgia Department of Economic Development (GDEcD). "At some point they asked, 'Can Georgia get us a workforce?' We said we'd arrange a briefing about Quick Start at some point, and they said, 'How about tomorrow?' I walked out and made a phone call. It must have been around 11 p.m."
Clark called Jackie Rohosky, assistant commissioner for economic development programs for the Georgia Department of Technical and Adult Education (DTAE) and then-commissioner of DTAE Michael Vollmer. Rohosky administers Georgia Quick Start, the workforce-training program and a not-so-secret weapon in the state's economic development arsenal.
"I told her, 'I know this is crazy to even ask, but can you do a Quick Start presentation tomorrow, and by the way, they've had bad impressions of other states' workforce training programs – they don't think we can train their workforce,'" Clark says.
It was such short notice, it was almost unfair. Clark didn't know what to expect. The Koreans were also expecting lunch. But the next day, when they arrived at West Georgia Technical College for the impromptu presentation, the Quick Start team was waiting. They had pictures on the wall of auto manufacturing processes they had fostered, a power-point presentation of past projects for Korean companies, translated into Korean. And fried chicken for lunch.
"Jackie and her team absolutely blew the Kia representatives away," Clark says. "From then on, workforce training was not an issue."
The rest is old news – Kia is investing $1.2 billion in a new auto assembly plant in West Point. Quick Start representatives already have made several trips to Korea to analyze the company's needs as they prepare to identify and train the 2,800-plus workers needed at the plant.
Number One Incentive
Quick Start is 40 years old this year, having evolved from a typical workforce training program into the DTAE's version of an economic development Delta Force, customizing its training to the needs of individual companies at no cost to the company.
Working on a budget of $11 million to $12 million, Quick Start has projects that span the state, with more than 70 percent of the activity happening outside of Metro Atlanta. In fiscal year 2006, that meant 256 projects. Since 1967, Quick Start has delivered on almost 5,200 projects, with more than 610,000 people benefiting from training services.
"We can put all of the cash on the table that we want to, but when we start talking incentives, if a prospect is not comfortable with the workforce, the deal isn't going to happen," Clark says. "We're fond of saying that Quick Start is our number one incentive."
With Quick Start at the front end of a project and the state's wide-ranging system of 33 technical colleges (with 85 locations, including education centers and satellite branches) providing long-term education and training, Georgia has an economic development infrastructure that is the envy of other states. In 2005, Expansion Management magazine polled 80 corporate site location consultants, and Georgia's workforce training program was number one in the nation.
In addition to Quick Start, technical colleges have broadened their reach into diverse areas. Their marketing slogan – "not your daddy's trade school" – actually rings true. Colleges are offering training in culinary arts, massage therapy and interior design, in addition to old standards like heating and air conditioning, automobile technology and information technology.
They still offer welding – but they've added underwater welding. They still train workers for the manufacturing sector – but now the training includes robotics and advanced education through new resources such as the Center of Innovation for Manufacturing Excellence at Gainesville's Lanier Technical College.
"Employers still need a trained workforce, and they have greater expectations," says Ron Jackson, who stepped in to serve as interim commissioner of DTAE when Vollmer retired last December. "Development of the 21st century workforce is not negotiable. It's something we have to do."
Spanning The Globe
Jackie Rohosky is hosting a tour of Quick Start headquarters at Technology Square in Midtown Atlanta. Between Rohosky's high-energy, rapid-fire spiel and the sheer amount of stuff at Quick Start's disposal, her visitor is reeling and dizzy. This is the sales pitch a client company receives when considering Georgia.
Quick Start has a full service production studio that creates a client's marketing and training material; it's worthy of Madison Avenue, with countless Telly and Aurora trophies (statuettes, similar to an Oscar, for video and film production) scattered throughout the complex.
Then Rohosky moves the tour upstairs, where the latest class of Certified Economic Development Trainers (CEDT) is acquiring tricks of the trade, so they can go forth and conquer. If there is a deal to be struck in Georgia – a company considering a site or an expansion – a CEDT is usually at the table. These generally are vice presidents of economic development, stationed at the technical colleges. They are the local Quick Start contacts, serving as project manager for workforce training in their regions.
When a client company decides to locate in Georgia (like Kia) or expand an existing operation (like Gulfstream in Savannah – 1,100 new jobs, $300 million-plus expansion), Quick Start becomes a partner, an integral member of the team, designing, developing and delivering company-specific training.
"Every company has its own unique processes," Rohosky says. "That's why Quick Start keeps its focus on customized training. One size doesn't fit all."
In 40 years, Quick Start teams have traveled all over the world as Georgia trolls the globe looking for new industrial residents. For Toyo Tire, which opened its $150 million plant in Bartow County last year, the Quick Start team worked at Toyo's facilities in Japan for two weeks, studying company processes. Ultim-ately, it developed an online, e-learning system for Toyo that included everything from operational procedures to a unique troubleshooting program for every piece of equipment and each process.
"The company liked it so much they had it translated into Japanese to use back in Japan," Rohosky says.
The Quick Start program is what tipped the scales in Georgia's favor, says Jim Hawk, vice president of operations and plant manager for Toyo in Bartow County, where 390 workers were hired. "We didn't have to organize a training effort up front," Hawk says. "It saved us at least six months in mobilizing this project."
The Quick Start team already has been to Korea several times to begin studying Kia's processes.
"We're still learning about Kia and what their needs are," says Daryl Gilley, president of West Georgia Technical College, where Kia's Georgia corporate offices currently are headquartered.
"When you talk about 3,000 new employees it almost boggles the mind," Gilley says. "And that doesn't include the supplier companies that will emerge as a result of Kia locating here."
Specialized Training
To get a jump start, West Georgia Tech is refocusing its auto manufacturing and tangential training areas, adding new programs that should serve as adequate precursors to the Quick Start job training to come. "We won't turn the school into a purely automotive training institution, obviously," Gilley says.
"We can't disregard what we've been doing here the past 40 years, our excellent programs in areas like health science, digital media, social work, sports and fitness – we're fairly diverse. But Kia and all of its suppliers will certainly change the nature of our business and promises to drive our enrollment up."
For an expansion project like the one at Gulfstream in Savannah, Quick Start will help the company assess applications and train new employees. Savannah Technical College already is on the job, partnering with the city of Savannah and local organizations to create opportunities for a disenfranchised inner city population, through a series of information and recruitment sessions.
"We've had well over a thousand people in a variety of community orientation sessions, people whose lives could drastically change for the better with the opportunities becoming available at Gulfstream," Savannah Tech president C.B. "Biz" Rathburn says.
Savannah Tech serves an area that includes Bryan, Chatham, Effingham and Liberty counties – a region that is positively buzzing with activity, including one project bearing local fruit of economic and cultural relevance. At Midway in eastern Liberty County, Savannah Tech is offering community-based instruction in warehousing and distribution at historic Dorchester Academy, which was the first school for freed slaves in Coastal Georgia and later a hub of Civil Rights activity planning.
The training programs at Dor-chester will help support the workforce at the new $95-million Target distribution center in Liberty County, where 500 people will clock in this summer. The Dorchester learning center is a fitting representation of Rathburn's customers – the community, students and employers.
"We have to continually listen to our customers, to understand what their challenges are, where they want to take their careers or what programs will produce the best employees," Rathburn says.
"It's all part of the 'magic waltz' we do every day, the combination of being responsive to the needs of today, being proactive and having a pretty good crystal ball to understand the needs to come."
To serve the changing needs of industry, Georgia's technical colleges depend heavily on program advisory committees that meet regularly to identify strengths and weaknesses, coming trends or areas in which changes are likely to occur so that resources can be deployed accordingly. Every instructional program in Georgia's technical colleges has an advisory committee made up of local industry people – plant managers, human resource professionals, production specialists and so forth.
New Ballgame
DTAE depends on a budget of $329 million to manage its colleges, the adult literacy program, its economic and workforce development programs, as well as operations. But technical colleges stand to lose $7 million that would be slated for personnel due to a shrinking student population – technical college funding is based on enrollment. That could mean faculty layoffs and a reduction in programs.
More than 144,000 students (42,000 online) were enrolled in technical colleges in fall 2006 – about 7,000 less than 2004. For one thing, the cap in the number of credit hours covered by the HOPE scholarship (approved by state lawmakers in 2004) has caused a reduction in the number of dual-enrollment high school students.
Also, once-popular programs – such as computer technology – have seen a dip in student numbers. These programs cost less to provide (about $100 per credit hour) than healthcare related programs (more than $300), Jackson says. Meanwhile, enrollment in these more expensive programs has gone up, with thousands of students (8,700) on waiting lists for programs in healthcare and eldercare – identified as a strategic industry by Gov. Sonny Perdue's Commission for a New Georgia.
The commission identified six industries on which the state is supposed to focus its economic development efforts: aerospace, agribusiness, energy and environment, healthcare and eldercare, life sciences, and logistics and transportation. DTAE has responded with programs in these fields, but tech college tuition is a flat $31 per credit – whether you're talking massage therapy, computer science or healthcare.
"The funding formula is broken and needs fixing," Jackson says. "This agency is easy to love because we can demonstrate a $1.1 billion return on the investment. We've been responsive to business and have generally done yeoman's work. The budget office and everybody is chewing on a funding formula.
"Right now, the state picks up around 29 percent of our operational costs. Most of the rest comes from tuition dollars, which ought to go to classrooms, not for running colleges. We can do better. The question, I suppose, is a matter of when the political will exists to fix it."
According to DTAE figures, the 3,086 students who graduated in the strategic industries in 2004 earned a collective raise of $46 million.
Another challenge, Jackson says, is public relations in the K-12 school systems, and the challenge of putting technical college into the thought process of high school counselors.
"There is still the sense that the path to success is a four-year college degree, and technical college is a distant second choice," Jackson says. "The challenge then is for us to communicate effectively, to change that image of daddy's old trade school. It's a daunting task."
On a freezing night in January at the Freight Depot, around the corner from the State Capitol, the scene was anything but daddy's trade school. DTAE held its second annual Taste of Georgia Technical Colleges event for state legislators, who feasted on French, Japanese and Moroccan cuisine, on tandoori chicken, Korean barbecue, tiramisu and polenta, all of it made and presented by the culinary arts students from across the state.
Dozens of booths were set up for technical colleges to put their programs on display – motorcycle service technology at DeKalb Tech, environmental horticulture at North Metro Tech, wildlife and plantation management at Ogeechee Tech, healthcare displays, forensic science technology, interior decorating. The technology that was on display was the domain of science fiction writers when daddy went to trade school.
Not on display, but just as integral to the technical college mission, were the artisans – plumbers, electricians, carpenters. "These are not identified as strategic industries, but these are the people we need, to install and maintain our heating and air conditioning systems, build our houses," Jackson says.
"These are high-paying jobs that we can fill with new technical college graduates right now. Even in a somewhat soft construction market, for every graduate that comes out of our system, there is a construction job waiting. You can't build a building with workers in China, you can't wire a house with workers in China."
Point taken, and the message hit a bulls-eye for some culinary arts students serving up exotic dishes to state representatives – students like Rosemarie Allen, a mother of five who lost two factory jobs before landing at Albany Tech, and Kathy Christopher, one of the 900 people laid off when Fruit of the Loom closed its plant in Rabun County, blaming offshore competition.
These women and their fellow students are learning not only how to cut sushi, prepare and cook food, but also about restaurant management, with an eye toward Georgia's second largest, and growing industry – tourism and hospitality.
"Textiles plants are closing up all over. It's been a real head's-up for me," says Christopher, a North Georgia Tech student who was munching on sushi as the evening's activity was winding down. "I always knew that if I had the opportunity, I'd go to school. This is my opportunity. People will always need to eat, and this is a job that won't go overseas."