Swainsboro/Emanuel County: Full Of Surprises
New Direction And New Industries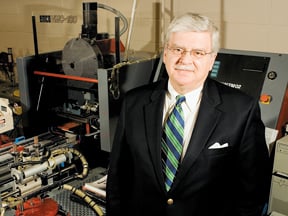 At first glance Emanuel County seems like a typical rural middle-Georgia county – covered in pine trees, nothing much happening.
A closer look reveals an area being transformed in unexpected ways. From the Swainsboro square (Swainsboro is the county seat), where palm trees flourish around an elaborate fountain in place of the traditional domed county courthouse, to an upscale hunting lodge, complete with therapeutic massages and elegant swans (not for hunting), to the first nanotechnology production facility in the country, surprising sights characterize the region.
A fairly easy drive from Macon, Augusta or Savannah, Emanuel County, located about 10 miles north of I-16, has a history firmly rooted in the pine trees that thrive throughout the area. The rural county has long turned to timber and farming to provide for residents.
"When I was born in the 1950s," says 2006 Emanuel County Commis-sion Chair James Canady, "the county was agricultural and the ladies worked in the textile mills. When the mills were phased out, nothing came in, so we had agriculture."
Canady says other industry wanted to locate in the area, but the local leaders, who also happened to be the landowners, wouldn't sell land for new industry. "As they died out and land became available, we could bring in new business."
Canady also points out that residents' attitudes have changed. "Our young people left, got higher education degrees and wanted to come back here, but couldn't," because they couldn't find jobs.
All that's changing now, in part due to cooperation between the city of Swainsboro and the county, says Canady, who also credits Swainsboro/Emanuel County Joint Development Authorities President Andy Riley. "Andy's been very proactive in fulfilling his job," Canady says.
Given the number and variety of new businesses that have come to Emanuel County or announced an intention to come in just the last year, it would appear that Riley must work night and day – and he shows few signs of letting up.
Thinking Small, Acting Big
Following construction of what was the first technology park in rural Georgia; the announcement came in February 2006 that the National Nanotechnology Manufacturing Center (NNMC), the first of its kind in the United States, would open at Pathway Technology Park.
The center is the result of a partnership with the Joint Development Authorities, the U.S. Army's Picatinny Arsenal in New Jersey and Georgia NanoFAB, a private company in Cartersville. The center will serve as the clearinghouse for Georgia NanoFAB's manufacture of nano- and micro-scale technologies for both military and commercial use. Research universities from across the nation will provide projects for the center to produce.
"This has never been done before," Riley says. "We didn't know what we'd produce or what equipment would be needed. So we couldn't build the building."
Lab space at Swainsboro Technical College will allow NNMC to get up and running while the building is constructed to nanotech specifications at the technology park.
The center itself is exciting enough, but what's equally exciting, Riley says, is the prospect of "ongoing projects generated for this region because Georgia NanoFAB can't do all production. Instead of begging [technology companies] to come here, we'll have contracts to give out to companies who will come."
"The military said, 'This should be in Boston or Los Angeles or somewhere,'" Riley says with obvious pride.
While Swainsboro is definitely not Boston or Los Angeles, city officials are doing their big-city best to dress up the town and encourage tourism. In 2007 "we're bringing in a full-time marketing person to push tourism," says Mayor Charles Schwabe.
The town square has been dressed up with a fountain, palm trees and the newly renovated 1928 building that houses the Swainsboro/Emanuel County Chamber of Commerce and Joint Development Authorities. The next step, Schwabe says, is to establish a walking market area. "We're figuring out our strategy to draw people here," he adds.
Once tourists or businesspeople arrive, the place to stay is The Coleman House Inn, an early-1900s Victorian that now serves as a bed and breakfast and hopping lunch spot for Southern comfort food such as fried chicken and fried okra. Located just two blocks from the square, the 10,000-square-foot gingerbread house has been featured in the book America's Painted Ladies, which includes Victorian houses from across the country. The inn also is listed on the National Register of Historic Places.
"Tourism and recreation will be as big as industry," Schwabe says. "We have a common mindset among the workers and dreamers about where we want to go and what we want to do."
Helping take Swainsboro where it wants to go is Flat Creek Lodge – a hunting and fishing complex complete with spa, massage therapist and award-winning chef. Whether hunting appeals or not, Flat Creek Lodge is a beautiful place to get away from everything. The 13 guestrooms in the lodge proper have no televisions and cell phones don't work in the middle of the 2,000-acre pine forest located about nine miles from downtown Swainsboro.
"We do have wireless," says owner Caroline Harless, "but we hope folks will unplug."
The sprawling, five-year-old facility features a dining room, game room, Stumpknockers lounge, conference room (with T-1 lines for those who just can't unplug) and a decommissioned fire tower from Oak Park in Emanuel County. The lodge is nestled beside a lake, one of 20 on the property, where black and white swans, ducks and fluffy-feathered geese preen for guests, secure in the knowledge that no hunting is allowed around the lodge buildings.
Across the lake, six two-bedroom cottages opened in 2006. Plans call for six more, with four bedrooms each. "Our goal by the end of 2007 is to have lodging for up to 100 people," Harless says. They won't have to cross back to the main lodge for the spa, because a bathhouse, featuring Japanese-style mineral baths and milk baths – using milk from the Flat Creek dairy – will open in spring 2007.
Flat Creek doesn't just house people in style, it provides employment for 34 full- and part-time workers – including a number of college students – such as the dining and hospitality manager Adam Smith, a senior at Georgia Southern majoring in hospitality.
Artwork and furnishings also are provided by locals. From the sculpted iron gates opening into the property, which feature a huge fish and larger-than-life-sized duck, to the custom furniture used throughout, the work of Emanuel County artists and craftsmen is a vital part of the spirit of the lodge.
Christmas Every Day
Scheduled to open in January, Vista Window Co.-Peach, will soon be providing employment to more than 50 people. Located in a 55,000-square-foot building previously owned by a different window manufacturer, Vista will produce windows for new construction and impact windows for hurricane-prone areas.
"We were geared up to go to Jacksonville," says Jim Collins, Vista's president, about the planned expansion from the company's home in Ohio. But a general statement sent to communities about the company's anticipated move led officials to Swainsboro, via "Andy 'My Hero' Riley," as Collins refers to the man who helped put together the deal to bring Vista to town.
"It feels like ending up here was good," Collins says. He said the company has been pleased with the quality of job applicants and the friendliness of the people in the area.
"We'll get up to 100,000 windows out of the plant within two years," he says – all thanks to the pool of talent he's found, including new general manager, Swainsboro native Tim Hendley.
"There's a lot of excitement with a new business," Hendley says. "Like Christmas every day."
Another company adding to that holiday feeling is Huber Engineered Woods. Huber announced in May 2006 that its next oriented strand board (OSB) plant would be located in Emanuel County. Unfortunately, excitement cooled along with the housing market when the building slowdown led to a decreased need for OSB. Huber insists the plant will move forward once the market picks up again.
"The momentum has slowed a little," says Mayor Schwabe, "but it's still there. We're ready to go when the economy gives us a signal."
The Huber folks echo the mayor's sentiments. "Emanuel County is where we know and believe we need to put our project," says Billy Martin, director of sustainable resources for Huber and point man for the Emanuel County plant.
"The Huber board has approved a $3.5 million loan to the community to purchase the site," Martin says. The joint development authorities will purchase approximately 500 acres from the various landowners. In addition, Huber was scheduled to submit an application for a permit to construct its plant to the Georgia Environmental Protection Division in the first quarter of 2007. Huber plans to begin construction at the first inkling that the housing market is rebounding.
"Emanuel County is situated in a sustainable wood basket," Martin says, referring to timber, the resource needed for OSB.
Just as important to the decision to build the new plant in Swainsboro is the transportation network, both interstate and rail. A rail line, which is being upgraded, runs from Swainsboro to Vidalia. From Vidalia, rail access is available south into Florida, north to the rest of the country and east to the port of Savannah – and the world.
"Between the markets and raw materials and the great education system (two colleges in the county, plus Georgia Southern just 30 miles away), we believe it's a perfect fit," Martin says.
Huber will be located off U.S. 1 about three miles south of downtown Swainsboro. During the plant construction phase, the area needs to plan accommodations for 600 to 800 construction workers, says Bill Rogers, president of the Swains-boro/Emanuel County Chamber of Commerce and lifelong resident of Swainsboro.
"We went to Broken Arrow, Okla., to visit Huber's newest plant and visit the townspeople," Rogers says of the chamber's preparations for this huge influx of people. One of the shopkeepers in Broken Arrow told about a Huber employee who walked into the store and needed to buy 50 pairs of boots, Rogers continues. "The store didn't even have 50 pairs."
Rogers and the chamber have held a series of meetings with area business owners, including hotels, restaurants and retail establishments, to plan for the successful care and feeding of Huber's construction workers. "We're trying to keep the money local," Rogers says. "We want to be ready for them."
The Next Big Thing
Chamber and development authorities want Emanuel County to be ready for the next big thing that follows Huber, as well, whether it's another timber operation or additional high-tech work that spins off from the NNMC. To ensure the next generation of locals is ready, they have partnered with the school system to teach kids as young as ninth grade to think about their futures and the careers available to them.
"Lots of kids in this rural community don't know what's out there," says Butch Frye, superintendent of Emanuel County Schools. "If your family's been in pine straw, that's all you know."
Directions, a program developed in partnership with area colleges, the development authority, chamber of commerce and school system, teaches ninth graders and their parents about college scholarship opportunities, extracurricular activities, the economic outlook and how much money available jobs pay.
"We also have programs with Georgia Tech to get kids excited about technology," Frye says.
With the Department of Trans-portation working to four-lane U.S. 1 from I-16 north to Swainsboro and the rail renovation from Swainsboro south to Vidalia, other new businesses are interested.
The development authority owns a 500-acre industrial park (with rail access) at I-16 and U.S. 1 that it will begin developing in 2007. Leaders will be looking for warehousing and logistics operations – perhaps with goods that would need to ship overseas – to move in.
In seeking business opportunities, no one has forgotten that overseas access cuts both ways. R&F Marketing, which will open in 2007, "is bringing in [home furnishings] products from plants in India and China and doing assembly and distribution from here," Riley says. The company will hire 65 to 70 people once it is up and running.
From the education system, which includes Swainsboro Tech-nical College and East Georgia College, to the transportation system and the determination of area business and political leaders to bring in new business, and to treat businesses and their people right once they arrive, Swainsboro and Emanuel County are poised for growth in surprising ways.
Read More About Swainsboro/Emanuel County:
Swainsboro/Emanuel County At-A-Glance
Strong Foundation