Strong Foundation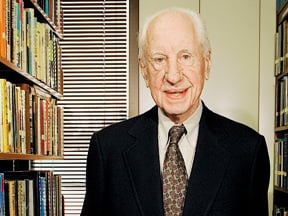 In rural areas, sometimes the money to fund the extras is hard to come by. But a couple of good neighbors in Emanuel County have been working together quietly for years to make life better for people in their neck of the woods.
"Mill Creek Foundation is unique," says 93-year-old Executive Director Jimmy Morgan. "Instead of the old man leaving his money to his kids," the son made the money, set up a foundation and the old man runs it.
Swainsboro native John Morgan, Jimmy's son, was one of the founders of INVESCO Capital Management in Atlanta. When his son made his money, Jimmy recalls, he remembered something his mama told him: "Give 10 percent to the church or something." But, says Jimmy, John didn't want to give it to that crowd in Atlanta. He wanted to support his hometown.
In 1986 John Morgan established Mill Creek Foundation, which has touched the life of nearly every person in Emanuel County since. Every two months, the seven-member board of grantors meets to consider grant applications from nonprofit organizations in the county. As the foundation's first and only executive director, Jimmy Morgan says his job is "to call up folks and tell them when they don't get money."
"Which doesn't happen very often," says Bill Rogers, Swainsboro-Emanuel County Chamber of Commerce president and member of the board of grantors.
The foundation has made grants to organizations such as the Franklin Library, Sunshine House Children's Advocacy Center, Emanuel Medical Center, Swainsboro Arts Council and East Georgia College. It has distributed more than $1.5 million since its founding.
Jimmy Morgan graduated from Georgia Tech with a degree in architecture in 1934. He never worked as an architect – there wasn't much call for the profession during the Depression – though he did design the First Baptist Church in Swainsboro. Since his move to Swainsboro in 1938, he has owned a Ford dealership; owned the weekly newspaper, The Forest-Blade, where he also wrote a weekly column for more than a half century; and been a local banker.
Jimmy's wife Jean shared her husband's love of the newspaper business, working as an editor in Collierville, Tenn., and publisher in Kent, Wash. The two met at a newspaper association event at the White House in the early 1970s.
"So something good came out of the Nixon administration," Jimmy says with a smile.
Jean Morgan also has had a profound impact on her adopted home as a leader in establishing the Vision Series at East Georgia College. The series brings speakers, such as Jimmy Carter and Andrew Young, and arts events, including authors, dance ensembles and orchestras, to the rural college and offers them free to students and the community.
When talk turns back to the foundation, Jimmy Morgan's face glows. "It's been a lot of fun," he says. "We have a great group of grantors."
It's not all about fun, however. "The application review is a great process to go through. There's endless need." – Karen Kennedy