Lake Effect
Mercer Reynolds relishes his role of developer and caretaker of his family's land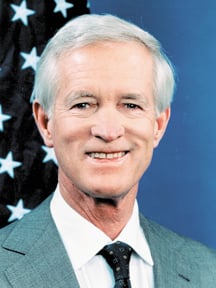 Mercer Reynolds, born and raised in Tennessee, remembers being 7 years old, spending time at his family's "cabin in the woods," as he calls it.
"My grandfather [Mercer Reynolds, Sr.] was from Greensboro, Georgia," Reynolds says. "He bought the land in the early 1930s and built his 'getaway.' He called it 'Linger Longer.'" The getaway was a rustic cabin surrounded by acres of pristine forest for hunting and fishing located in Greene County, in between Atlanta and Augusta.
In 1971 Georgia Power began construction on Wallace Dam, blocking several rivers, including the Apalachee and Oconee. The end result was that the family getaway was on the bottom of what was now called Lake Oconee, but a good deal of the land surrounding it belonged to the Reynolds family. In the 1980s the family formed Linger Longer Development Corporation to create a strategy for developing the property without disturbing its natural beauty and fragile ecology.
"I don't claim to be a visionary," Reynolds says. "I knew I loved the area, the land and the lake, and I had a sense that as people grew older they would move to warmer climates."
Add to that the fact that the property is a quick 90-minute drive from Atlanta, easily accessible from I-20, and there's a recipe for development success.
The corporation created Reynolds Plantation, a premier residential community, with more than 10,000 acres of property that includes 80 miles of shoreline, five championship golf courses, walking and hiking trails, and access to water sports and recreation on Lake Oconee. Reynolds serves as the board's CEO and Chairman.
The Reynolds family also owns the Ritz-Carlton Lodge, Reynolds Plantation. "Although it was our capital exposure," Reynolds says, "they took a big chance with us. This was their first property using an 'outside of city hotel' model."
The risk paid off. "Since 2001 when it opened, the resort has had the highest revenue growth of any Ritz in the business," he says. In October 2006, the prop-erty received the prestigious American Automobile Association's Five Diamond Award.
Reynolds is used to success. After graduating in 1967 from the University of North Carolina at Chapel Hill and earning an MBA in 1968 from the University of Tennessee, he joined the Coca-Cola Company in Chattanooga and was eventually transferred to Ohio.
"They sent me to Cincinnati to be a district manager, responsible for 19 bottling plants," Reynolds says. After two years, he left Coca-Cola for the world of finance and investment.
In 1979, with business partner and friend, William O. DeWitt, Reynolds co-founded Reynolds, DeWitt & Co., an investment firm based in Cincinnati. He served as co-chairman of the company from 1979 until 2001 when he resigned – as required by law – chairmanships at Reynolds DeWitt and at Reynolds Plantation, to assume the post of United States Ambassador to Switzerland and Liechtenstein, an appointment made by President George W. Bush.
Reynolds' association with Bush dated to their days as investors in the Texas Rangers baseball club. A longtime Bush supporter, Reynolds was a member of the Bush-Cheney 2000 National Executive Committee. After returning to the United States in April 2003, Reynolds served as National Finance Chairman of the Bush/Cheney '04 campaign.
But his role as a caretaker of his grandfather's legacy is the one he relishes. "I'm most proud of the fact that, even in developing the land, we're maintaining the look and feel of what we knew long ago," Reynolds says. "We've won several Audubon Awards for our work enhancing wildlife in the area."
Reynolds Plantation employs two full-time naturalists. "We do a tree survey of every tree on every parcel of property being developed," Reynolds says. "Trees are selectively removed and all the houses around the lake are tucked back in the trees to protect the look and the environment."
The community is also enhancing the economies of Greene and surrounding counties. "Development [of Reynolds Plantation] has a magnifying effect," Reynolds says. "For every job created or every customer that visits, there is a great economic boost to the local economy."