True Believers
Meet Three Dedicated Political Advocates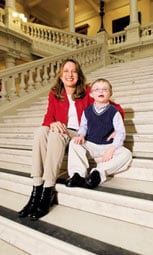 The small African-American woman stood in front of the Georgia State Capitol, her eloquent left hand held high above a shambling sea of bobbing heads. She was using sign language, offering up a silent voice as a sea of hopeful, colorful, wounded people drifted around her. This was the scene as the Healthcare for Kids Rally was wrapping up on a Saturday morning in November, when 700 people from across the state gathered in Atlanta.
While the signing woman spoke in quiet, persistent gestures to anyone in the dispersing throng who could listen with their eyes, behind her, at the top of the Capitol steps on the plaza, Heidi Moore was lending her own loud voice to the cause, putting together faces she'd never seen with names she recognized from her voluminous email address book.
Moore, whose 6-year-old son Jacob has Down syndrome, is an advocate for families with special needs children. A trained civil engineer who leapt off the corporate ladder into a world she knew little about, Moore has become the go-to person for families on the brink, an email campaigner who is working to enhance the lives of Georgia's disabled children.
Now the mother of two, Moore speaks out until her voice is hoarse for children whose government subsidized services seem perpetually poised for the legislative guillotine.
"If our leadership and our society won't take care of those who can't take care of themselves, then we'd better re-evaluate what the U.S. stands for," Moore says.
"What does it say about the pulse of our state if we view these children as a liability? What does it say about our morals and ethics? It's a fundamental concept, really. Our children are the future of the state, and if we see them as a liability, they will become a liability and that will cost us a whole lot more."
In making the transition from the corporate fast-track, Moore has become a living definition of what an advocate is: someone speaking up for others, someone who identifies, embraces and promotes a cause greater than herself.
Advocates lobby, but they are not lobbyists, per se. Typically, lobbyists are paid professionals who mingle, communicate with, or entice office holders in an effort to influence government decisions, usually on behalf of monied individuals and organizations. Advocates strive to educate, to shape public perception or effect change that may or may not require legislation, usually on behalf of nonprofit interests; tax laws limit the amount of lobbying a nonprofit can actually do. For example, a nonprofit advocacy group can't spend money or resources to support individual candidates for public office.
"What it boils down to is, we can't buy steak dinners for members of the House or Senate," says Allie Wall, executive director of Georgia Watch, a consumer advocacy organization based in Atlanta. "But we couldn't afford to, anyway."
This month, Georgia Trend profiles three advocates who are making an impact on the state. Two of them work for organizations they founded, one is a mother who does most of her work from a home computer and doesn't earn a dime for her efforts. "I'm not asking for money," says Heidi Moore. "But I do want change."
Our advocates all have at least one thing in common. They are true believers.
Force Of Nature
James Holland became a conservationist when his bottom line bottomed out. A commercial fisherman for more than 20 years, Holland saw his business disappear with the blue crab population on the Georgia coast.
"I started looking around, to find out what the hell happened, researching and digging deeper," says Holland. "It was something we couldn't control ourselves, and I'll tell you, over the last few years when I was a commercial fisherman, we did everything under the sun to save the blue crab fishery and we failed miserably. We found out it was a water quality issue, a loss of freshwater on the coast was basically it."
Holland blames the degradation of Georgia's rivers and estuaries, and the decline and development of swamps and marshes, the thousands of acres of wetlands that were converted to pine plantations. "It got to my pocketbook, it impacted my way of life, my family's life and the recreation I enjoyed," says Holland, who founded the Altamaha Riverkeeper (ARK – www.altamahariverkeeper.org) in 1999, to protect Georgia's largest watershed, covering more than 14,000 square miles.
Today, the Riverkeeper has more than 1,000 members – including Holland's lifelong friend and ARK's first volunteer, Wendell Berryhill, honored as the 2006 Conservationist of the Year by the National Fish and Wildlife Association – and Holland keeps tabs on the entire river basin, from Central Georgia down to the coast. Through his research, and his grilling of scientists and fishermen, he's become an expert on the basin's rare plant and animal species, a fragile ecosystem in one of the planet's unique and endangered settings.
Holland is a tireless field researcher who investigates natural areas, development sites, industry sites, sewage plants and transportation projects from a variety of vantage points – land, water and sky. He's become a respected nature photographer, documenting troubled areas with thousands of photos.
Holland and ARK volunteers aggressively monitor pollution and polluters throughout the watershed, taking countless water samples over the years. The group's efforts have only increased along with the unbridled development along Georgia's coast (leading to the pending creation of a new staff position and program – the Altamaha Coastkeeper).
Meanwhile, Holland has written hundreds of letters to local, state and federal regulators, wielding Georgia's Open Records Act like an expert swordsman, forcing developers and government to obey clean water laws. In 2005 the Georgia First Amendment Foundation and The Atlanta Journal-Constitution named him a Citizen Hero for his effective use of the open records laws.
"Georgia has some good laws, and they could be very effective if they were enforced," says Holland, who blames the lack of enforcement on a lack of funding for the state's Environmental Protection Division (EPD). Holland says his vigilance has landed him in jail twice and he's received death threats. "I'm just too dumb or too stubborn to let it bother me."
Deborah Sheppard, ARK's executive director, calls him, "a force of nature. When James sees a problem there is no stopping him. He will not stop addressing it until he gets some kind of resolution."
For about five years, Holland has been working on some kind of resolution with the Rayonier pulp mill upstream in Jesup, to reduce the color and odor of the 50 million gallon a day discharge into the Altamaha. Working the legal side of the equation is environmental attorney Don Stack, a longtime colleague of Holland's.
"We're probably a month away from Rayonier committing about $50 million to improvements that will reduce the negative impacts of that discharge," says Stack, who adds that he'd take 10 self-educated Hollands for 100 PhD experts. "Would this have happened without James? Probably not."
Consumer TLC
Allie Wall is never going to forget the elderly woman from Cobb County who called the Georgia Watch office last winter. She was crying, and she wanted the consumer advocacy organization to help her with a life or death issue.
"She and her sister were sharing an apartment. She was on a breathing machine and her sister just had surgery," Wall says. "She was trying to decide whether to pay for rent, pay for the medication her sister needed to ward off infection, pay to keep the heat on, or pay the utility bill to keep her breathing machine on. She was leaning toward her sister's prescriptions. How do you answer that?"
Wall found a way. Georgia Watch worked with the Public Service Commission (PSC) to get the elderly sisters some assistance with their heating and utility bills and convinced the landlord to ease off. They were able to smooth over the crisis, probably due more to Wall's adherence to the Beatitudes than to Georgia Watch's mission of consumer advocacy.
It was written in the stars, or the Bible, that this woman was going to be called to serve. It's the primary lesson she took from 10 years in a Christian school while growing up in Atlanta. "I've always had this strong sense that you do something for others before you do something for yourself," says Wall, who is planning to join the Peace Corps with her husband, writer Michael Wall, when her work is done at Georgia Watch.
For now, there's plenty left to do. In the current legislative session, Wall is focusing heavily on identity theft. Her group has been working for the past several years for some sort of credit freeze protection and it looks as if she'll have bipartisan support working on a bill.
"The Federal Trade Commission estimates there were 263,000 victims of identity theft in Georgia in 2005 alone, and that it costs businesses $10,000 per incident," Wall says. "Just do the math. We're talking about $2.5 billion drained from the state's economy."
A former model, Wall entered the corporate world following graduation from the University of Georgia, working for UPS as part of its international team, helping to develop strategies for places like China and the Middle East. A political science major, she loved policy issues but never lost sight of her personal golden rule. "I felt like there was something more, and I wanted to work in the nonprofit sector," she says.
She worked several years in the conservation movement for the Georgia Environmental Enforcement Project, then formed Georgia Watch (www.georgiawatch.org) in 2002 at the suggestion of Dan Lambe, founder of Texas Watch. "Working on consumer issues, on dinner table issues for people lost in the shuffle, was right for me," she says.
So she's dedicated to keeping Georgia consumers abreast of the health care, insurance and financial issues of impact, and she supports consumer-friendly public policy and greater protection for victims of fraud, malpractice and misinformation. Georgia Watch has been unwavering in its research into predatory lending, insurance reform and patient safety, meeting with state leaders, testifying to legislative committees and conducting consumer workshops with church and civic groups across the state.
In the past, Georgia Watch was part of a coalition of groups lobbying the legislature to pass the nation's strongest law against payday lending. On the other hand, it worked hard in the fight against tort reform, but ultimately lost that battle. In both cases, Georgia Watch was closely allied with the AARP.
"We'd been working on the payday lending issue for years when Georgia Watch was formed," recalls Kathy Floyd, Georgia AARP's associate director for advocacy. "They got involved and were very important in getting the legislation passed. Allie and Georgia Watch definitely fill an important need – consumer advocacy is not a crowded field."
Family Values
Seven years ago Heidi and Steven Moore learned that their unborn child had Down syndrome, a genetic disorder resulting in various physical and mental challenges. Doctors said their son might not live through the pregnancy.
"I carried him for 20 more weeks and Jacob was one of the most prayed-for little boys in the world," Heidi says. "By the time he was born, it was really like a miracle. I truly believe he was put on this Earth to make change."
Through the determined work of his mother, he is. She gave up a lucrative career in the oil industry and jumped headlong into a place she was only vaguely aware of, the disability community.
Now she sees inspiration around every corner, children with brave and brilliant smiles, audacious little people bent by diseases and disorders, struggling to improve, to carry on, to live as completely as possible, or just to live.
"I look at my son every day, and I can't imagine what it would be like if he didn't have the resources he's had, and I wonder where he would be today," says Moore, who relies on her husband and her faith as wellsprings of strength. "So I fight for Jacob and advocate for children, including the ones that aren't born yet."
The struggle, she says, isn't about getting more money from the state – it's about keeping in place the services that already exist, and easing the weighty bureaucratic process so families struggling with the expensive and emotional burden of raising a disabled child can focus on care, and not on the recurring nightmare of applying and re-applying month after month for essential services.
November's rally called attention to what challenged children stand to lose if cuts are imposed – such as therapy, access to doctors and medicine, Medicaid assistance, like the Katie Beckett waiver, a supplemental insurance that allows already-insured families with disabled children to receive Medicaid for services that aren't covered by their primary insurance.
In recent years Georgia's legislature, in a continuous effort to slash the budget, has considered imposing a premium for this coverage, and thanks to the work of Moore and her fellow advocates, the premiums haven't yet been imposed.
"For 71 percent of the families on Medicaid, it isn't their primary source of insurance, it's secondary; and Katie Beckett is less than .7 percent of the entire Medicaid budget," says Moore, a longtime Republican who has learned to ignore dogma in favor of deeds when considering state decision makers.
"Look, I was a hardworking, taxpaying citizen all of my adult life, never asked the government for a dime," she says. "Thousands of families in the state are in the same boat, but through no fault of their own they happened to have a child with a disability. Now they need a little extra help.
"Why go after the kids with disabilities, who represent such a small pocket of society, when there are bigger issues that need to be addressed? It speaks volumes when state leaders turn their backs on these children, so we need to do a better job of educating our elected officials, otherwise they'll keep making short-term decisions to solve long-term problems."
Moore is in the fight for the long-term, and she's assembled a grassroots coalition of families and organizations to join in her crusade. In the past three years, especially since the disability community has fallen under the parsimonious eyes of the state's budget watchdogs, she's moved her advocacy into fifth gear and her email list has grown from 150 names to more than 2,000 families and organizations.
"She's done a great job of keeping families informed, making the process as easy as possible for families," says Heidi Fernandez, another powerful advocate and the mother of an autistic boy. In the community they serve, Moore and Fernandez are known as "The Two Heidis."
"We both know about time and pressure – running from therapy to therapy, doctor to doctor, taking care of your child, balancing that with seeking out insurance, filing claims, re-applying for services, developing IEPs." [individual education programs, required for developmentally delayed school children] Fernandez says. "There are so many battles."
The bleak irony, Moore says, is that the people who need to be advocating the most have the least time to do it – caring for a special needs child is all-consuming.
Ultimately, the greatest advocates for special kids are other kids, the next generation, like Jacob's little brother, 5-year-old Jared. "He is Jacob's number one advocate, his protector and he is society's educator," says Moore, who is leading the charge to develop a nonprofit organization (www.kidshealthcarega.org) and a parents' advisory panel for legislators.
"About a year ago, my boys were at the playground and Jacob was using sign language and moaning – something he does when he's excited, an expression of happiness. Two other boys started making fun of him.
"Jared turns to them and says, 'Hey, that's my brother and he understands what you're saying and he communicates differently, with his hands.' So they all played together. Jared cut the tension. It was proof to me that education is the key."