Executive Education: Career Boost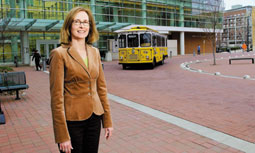 Jim Kennedy grew up on the edge of the final frontier, feet on the ground, eyes to the heavens. He spent his professional life helping modern explorers boldly go where few had gone before, watched men fly to the moon, walk in outer space.
But in 31 years with NASA, the most important lesson in career aerodynamics that Kennedy learned was this: Being a rocket scientist isn't enough – you have to bring something extra to the mission.
For Kennedy, for engineers, scientists, techies of all types, that something extra is a Master of Business Administration, an MBA.
"It's the best academic decision I could have made, and I almost didn't make it," says Kennedy, who was raised in Cocoa Beach, Fla., and earned his MBA at Georgia Southern in 1977, after a last minute change of direction.
Kennedy, who retired as director of the Kennedy Space Center in January, began his career with NASA in 1968 in the Aerospace Engineering Cooperative Education Program, earned his undergraduate degree in mechanical engineering from Auburn in 1972, then served a hitch in the Air Force. He was a design engineer at Emerson Electric in Statesboro in 1976 when he decided to go after a master's degree in engineering.
On the Friday before classes were to begin, he was at a retirement party for popular GSU professor Tully Pennington. That party changed Kennedy's life.
"There was a contingent of business faculty at the party, including a Dr. Parrish, who suggested that it was better to balance my education portfolio with an MBA," Kennedy says. "Of course, it made perfect sense. On Monday, I made the change from engineering to business in time for the evening program. It turned out to be a great career move."
Kennedy went back to NASA in 1980 as an engineer in the Space Shuttle project at Marshall Space Flight Center (Huntsville, Ala.), and later became manager of the Shuttle Program Planning and Management Systems Office, then manager of the Solid Rocket Booster Project Office.
"In NASA, you don't become a project manager – which is what we all wanted in my world – without the business management training and experience," says Kennedy, who shot up the space agency ladder, becoming deputy director and then director of the Science and Engineering Directorate at Marshall, then deputy director of the entire center, deputy director at Kennedy Space Center (KSC) and, finally, director at KSC, where the journeys to outer space begin.
"That MBA made all of the difference," says Kennedy, who is considering a new career – he wants to teach leadership and management. "It presents the bigger business picture, provides a deeper understanding of money and finance and economics. It opens doors."
For technologists approaching critical forks on their career paths, the choice is often between delving deeper into technological training, or expanding their horizons with an MBA, even a so-called "techno MBA." Georgia Tech, for example, offers a Master of Science in Management of Technology (MSMT). This business training is an attractive alternative for techies, who are playing larger roles in corporate decision-making as technology continues to grow in use and importance, and other professionals with a science background.
"You see a trend among physicians who have figured out that if you're going to practice medicine today, you'd better have a deep understanding of business and economics," says Bruce Robertson, a managing director of H.I.G. Ventures, who earned a BSE in Chemical Engineering, a BA in Mathematics and a PhD in Chemical/Biomedical Engineering before earning his MBA from Harvard Business School.
Robertson was a scientist who focused on development of medical devices, but the MBA sheepskin allowed him to re-brand himself.
"There are so few venture capital jobs out there and they're highly sought after," says Robertson, who specializes in biotechnology investments. "I already had good business sense and was doing a lot of business stuff before, but the MBA gave me credibility.
"It would have been difficult to tell a prospective employer, who looked at my resume and saw a PhD in engineering and eight years in research and development, 'I'm the rare exception that understands the business side of technology, trust me.' That would have been a tough sell."
Robertson is indeed a rare exception in that he quit his job and went to Harvard full time. Fortunately, for Georgia technologists who want to re-brand themselves, or expand their horizons, there are plenty of top-notch local options that don't require giving up a salary.
For example, the part-time MBA programs at Emory's Goizueta Business School and Georgia State's Robinson College of Business are ranked among the best in the nation by the Financial Times. The University of Georgia's Terry College of Business is number 11 on Financial Times' list of top public business schools. The business schools at Emory, Georgia Tech and UGA also are among the top 50 in U.S. News & World Report's 2007 rankings.
From Lab To Market
More than 75 percent of engineers seeking advanced training choose an MBA over other degrees. And the National Center on Education and the Economy predicted that the positions most in demand are hybrids of management and technology.
"Technologists are understanding that it isn't good enough to say, 'Look, I just invented this cool widget,'" says Nathan Bennett, senior associate dean and professor of organizational behavior who oversees both the MSMT and Global Executive MBA programs at Georgia Tech. "They have to invent the widget and be able to build a business case that shows how the widget can make money."
That's a directive Rafael Andino is familiar with. He had his own Jim Kennedy moment while working as a project engineer at C.R. Bard, a medical technologies firm. Andino, now president and CEO of Biofisica, an early-stage medical device company in Atlanta, already had an undergraduate degree in mechanical engineering from Georgia Tech and a Master of Science in biomedical engineering from the University of Alabama-Birmingham. He was considering a PhD in the biomedical realm, but a scientist mentor at Bard suggested an MBA.
"I'd always had this interest in entrepreneurship, the whole Amer-ican Dream, and this interesting, older scientist told me to forget the science degrees and get a business degree," Andino says. "I'd spent my career in the lab, inventing stuff, far away from the business side, but I wanted to know what business people know."
This was the late 1980s and, Andino says, there weren't many evening offerings – he couldn't afford to leave his job. Mercer University's Stetson School of Business and Economics was the right fit. That's where he met Bob Schwartz, an expert in entrepreneurship and former Georgia Tech professor who played a pivotal role in the early days of the now-vaunted Advanced Technology Development Center (ATDC) program.
"He was a big influence on me, helped me change my career and my career ambitions," Andino says of Schwartz, who is now at Eastern Washington University. "The MBA program helped me learn how to network, how to communicate like a business person, introduced me to a whole other world. It was my springboard."
Like Andino, Karen Bond caught the entrepreneurial bug. Unlike him, though, she was already running a company when she decided to go after her MBA. Bond left Hewlett Packard in 2000 to start Intendere, a consulting firm that helps organizations develop technology strategies. She earned her undergraduate degree in electrical engineering from Auburn.
"Academic degrees, on average, can become obsolete in three or four years," says Bond, currently in the MSMT program at Georgia Tech. "I wanted to stay current, update my skills. Hopefully, I'm adding more value for my clients as well. And I'm in school with a lot of folks who are trying to figure out the same things I am."
Bond's class (it meets every other Friday and all day on Saturdays) has completed one year of fundamentals – economics, accounting, organizational behavior. "Next year we'll be putting it all together, putting together a business plan, work through marketing and financing."
Most MBA students don't own or run their own companies, but they usually bring real-world experience to the classroom, adding another teaching element to the old "sage on the stage" professorial lecture.
"These are people with careers, their average age is 30-something, and they're very achievement oriented," Bennett says. "When the topic is something like conflict resolution and you're in a classroom with 40 executives, it doesn't take long before you have 40 examples of conflicts, and then our job is to teach about the tools and how to use them. As an instructor, you're like the conductor of an orchestra. Everyone has something to contribute. It's a dynamic classroom."
Cyber Classroom
One MBA program in Georgia is stretching classroom size beyond institutional, state and national boundaries, relying heavily on the marriage of modern technology with student self-motivation.
Eight years ago the leaders of five regional Georgia university business schools started discussing the plight of mid-career professionals who had neither the time, nor the geographic accessibility, to pursue advanced business degrees.
"There are a lot of people who simply can't leave their jobs, or their jobs require extensive travel, so they can't commit to nighttime or weekend classes," says Mike McDonald, director of graduate studies at Georgia Southern's College of Business Administration.
So the five-school consortium – Georgia Southern, Georgia College and State University, Kennesaw State, Valdosta State and West Georgia – formed Georgia WebMBA, which has become one of the top ranked Internet-based MBA programs in the country, fully accredited by the Association to Advance Collegiate Schools of Business (AACSB), generally regarded as the most prestigious of MBA accreditations.
"We don't have the big-time name-brand recognition yet, but we have the highest level of accreditation you can get," McDonald says. "The new wave of communication technology has swept over the world, and it's saturated down in the grassroots of higher education. We're getting student inquiries from all over the world."
That includes the Canadian diplomat stationed in Afghan-istan, students from across the United States. Most students in the WebMBA program, about 70 percent, reside in Georgia and most come from tech- nology backgrounds, including physicians, a nuclear physicist and a biophysicist.
"These are no-nonsense people who need the convenience of a timeless program," says Joe Bocchi, program director. "And they are very involved. The tempting thing in an online program with a team environment is to say, 'Go forth and learn.' But our faculty members are fully engaged."
Faculty members from each of the five universities bring various areas of expertise to the program, and balance traditional classroom instruction with their interactive WebMBA duties. As with traditional classroom MBA programs, WebMBA students study the basics, leading up to the final business strategy, or capstone class.
"The capstone class pulls everything they've learned together," says Gary Roberts, the Kennesaw State professor who teaches that course in both the traditional and cyber classrooms. The capstone class puts students in a sophisticated simulation, in which they develop a business plan and run a business for eight years (simulated years – the actual WebMBA program lasts five semesters).
"Some of my students have gone to MBA competition, competing against teams from Emory, Georgia State and the other business schools," Roberts says. "We tend to do quite well."
Two years ago, one of Roberts' WebMBA teams took second place in competition that measured how well students developed turnaround plans for struggling companies. UGA took first, but the cyber class edged out the rest of the field.
"In terms of quality and content, this program is as good as anything we do in the traditional classroom, and it's widely accessible," says Roberts, who recalls one student, an Air Force officer from Florida, who flew all over the world and took his classroom with him. "He'd be communicating from Saudi Arabia one week, from California the next."
Constance Campbell, who teaches the Global and International Business course at Georgia Southern, has added a real-world element to the program. Every year, WebMBA students work with German students, and have the opportunity to travel abroad. Likewise, German students visit Georgia and their Web-MBA counterparts, dispelling the myth that has developed about lack of human contact and professional networking in an online program.
"You'd think the level of interaction would be less in the online environment than the actual classroom, but I've found the exact opposite to be true," says Dr. Steve Menear, a WebMBA graduate and Marietta resident whose accent gives away his Celtic upbringing.
"First of all, you meet all of your fellow classmates in person at orientation, and then online you get a level of participation that you wouldn't ordinarily see, even among shy people, who will contribute in ways you wouldn't dream of in a classroom," says Menear, who earned his PhD in physics at the University of Wales more than 20 years ago.
The WebMBA program seems to have been created for the likes of Menear, who has six children, works 60 hours a week and has logged at least 3 million miles on Delta for his job in the software and telecom industries.
"I can vividly remember submitting assignments and posting messages from Uganda, India, Russia, Vietnam," he says. "As long as I had internet access, I was in school. Normally, my fellow classmates were asleep when I was working, but the level of communication and interaction, if not live, was always deep."
Deep enough for Menear to develop such a close association with one of his cyber classmates, Caroline McMillan, that they launched their own company upon completion of their MBAs, based on the business plan they wrote in Gary Roberts' class. Their enterprise, The Gold Center, offers a suite of interactive online courses to help clients improve business communication skills for the 21st century.
"We were inspired by our own experience, and this company is the direct result," Menear says. "The potential for online learning is vast. It's had to overcome a checkered past – remember when online institutions awarded degrees to pet cats? When you experience a top-notch collaborative program like we did, you understand the potential – this model removes obstacles like time and space."