Art Of The Meal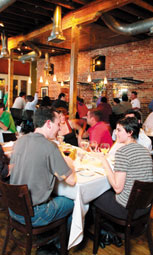 Oh, these people and their food issues. You know one, or you are one – that person who claims to eat anything, and then adds, "Except seafood, of course." Or "Unless it's spicy," or "liver" or "not in the Serbo-Croatian diet I'm on right now."
They can bust up a dinner party or carjack a menu, and when it comes to choosing a restaurant, they can stump the panel with their particular subset of demands: "Let's see, it needs to be intown, take reservations, serve wine and interesting food for us, but also vegetarian [or meat-and-potatoes, or unspicy, or not-weird] specialties for them … "
One of my favorite restaurants, Wisteria, is a kind of Venn diagram solution – a safe purple roundtable joining the red circle of food conservatives and the blue ring of food progressives. Perhaps because it's an unashamed crowd-pleaser, focused on building consensus rather than making a statement, Wisteria has long been an underrated, low-profile establishment.
Make no mistake, however: Wisteria's fare is as seriously good as its atmosphere is invitingly intimate. It's perfect for a quiet, romantic Valentine dinner, whether yours is a "mixed marriage" of adventurous and timid tastes, or perfectly attuned.
Traditionalists' eyes will leap to such Southern menu offerings as molasses-rubbed pork tenderloin with sweet potato soufflé, fried catfish, iron-skillet chicken with bacon-braised collards and corn pudding, iceberg-wedge salad with Point Reyes blue cheese dressing and applewood-smoked bacon crumbles.
Daring diners' pupils will fix, and then dilate on the crab bisque laced with Calvados and goat cheese crème fraiche, kobe beef carpaccio, skate wing in lemon brown butter, pan-seared ahi tuna over wasabi potato dumplings. Though there are only a few options for vegetarians, they will rejoice at these "mainstreamed" entrees and sides, from the simple to subtly nuanced, including the seasonal vegetable platter (grilled, stewed, sautéed and roasted), caramelized onion tart, black-eyed pea hummus with sweet potato chips, pumpkin ravioli with arugula and balsamic-candied walnuts. (Most entrees range from the mid-teens to around $20.)
Chef/Proprietor Jason Hill delivers on these delicious-sounding dishes, with presentations visually equaling the gustatory delights. There are no precious stacks or towers here, no strange stems sticking out like proclamations – just perfectly cooked herb-crusted rack of lamb, with crisp roasted asparagus. Just creamy grits with that buttery, pale-centered skatefish. Simply paper-thin raw delectable beef with horseradish dribbles, and finely shaved, aromatic Parmesan. And that chicken? You could serve it to Casper Milquetoast or Joan Jett – and they'll both ask for a take-home box.
Although the food is the main reason to go to Wisteria, it's not the only one – open nightly, accepting reservations and serving dinner relatively late, it makes a handy after-theater destination if you can get there quickly. When I'm not in a rush, I like to go in time to have a cocktail, because the bar attracts a loose gathering of interesting and chatty folks, and serves up one of the best Manhattans in town. I also love the wine list, with a big selection of interesting stuff by the glass, half-bottle and bottle (including one of my favorites, Sokol Blosser Evolution No. 9, at a reasonable $33). Finally, the service is great – jill-and-johnny-on-the-spot without being intrusive; friendly but not obsequious.
It's the fine dining solution to the question, "Can't we all just get along?"
Krista Reese is Georgia Trend's restaurant critic. E-mail her at gtcritic@mindspring.com
Wisteria
471 North Highland Ave. (at Freedom Parkway)
404-525-3363
www.wisteria-atlanta.com
Hours: Dinner nightly.
Credit cards: All major.
Parking: Complimentary valet.
Dress code: Stylish casual.