New Year, New Career
The traditional road toward a gold watch and a retirement dinner is increasingly less traveled.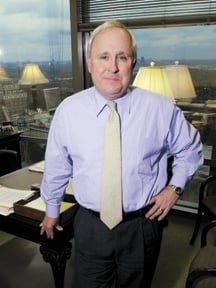 If your New Year's resolution involves earning more money, more recognition or greater satisfaction from professional accomplishments, that may mean you're contemplating changing jobs – or even careers.
You're not alone: For most of us, the old model of a lifelong career with a single employer and a gold watch and solid pension at the end of it, is as outdated as a slide rule. The most frequently cited statistics usually estimate five to seven job changes over a lifetime, and a career shift three to five times.
If you're business-savvy, well-educated and old enough to feel comfortably established, you're probably successful enough to believe that most of your previous New Years' career resolutions have paid off quite well. Along with financial happiness, you probably feel satisfied you've done your job well. Surprisingly, according to a study by executive search firm Korn/Ferry, you're just as likely – if not more so – to be thinking of switching professional gears.
In the survey, 67 percent of 1,700 global executives describe themselves as successful, and nearly the same number would "definitely" recommend their field to someone just starting out. And yet: When asked if they anticipated a major career change before retirement, fully three in five consider it "highly likely," with an additional 26 percent predicting it "likely."
Craig Dunlevie, managing director of the firm's Atlanta office, offers a couple of explanations: "People are more opportunistic in the way they think of marketing themselves now," he says. On the lookout to advance into positions that dovetail with their experience, many professionals keep a constant weather eye on the business climate, assessing the value of their resumes like a stock chart.
Still, he says, established professionals are more likely to be conservative than the workforce as a whole, changing jobs only two or three times, and careers not more than once: "Despite the fact that they're shopping more, they're probably a little more risk averse. Some may have gotten burned by leaving established careers to jump into some short-term opportunities, like dot-coms." Many focus on serving on boards, heading nonprofits or hanging up a shingle to work for themselves.
Personal finances motivate another group of mid- to late-career job-seekers, Dunlevie says: "A number of baby boomers are not retiring according to their original game plans. They may have thought they'd quit working by 58 to 60. But either their nest egg isn't built, or the stock market wiped it out in 2000-01. Now they're in the economic position of pursuing something else. It's the haves and have-nots to some extent, but there's also a fear of being idle, along with the need for more security – and health care benefits."
Whether the color of your parachute is gold or lead, Dunlevie says the first of the year is the best time to be looking. "A company starts the new year awash in new budget. In a recruiting budget, you use it or you lose it. Also, people have waited for their year-end bonuses," giving them a little extra cushion for the job search.
Alpharetta career counselor and psychologist and Rick Van Haveren says his mid-career clients range from age 25-30, when many "fell into a major, picked something they liked, then got out there and realized there isn't a real career track. They're not doing what they want to do, and not real happy." Another group are around 40 – "the second half of their working life," he says – and "after a couple of promotions, know what they like and don't like. They start thinking about 'what I really want to do.'"
He also describes an emerging group, "around 55 to early 60s. They're retiring early, but they're not ready for retirement. Some are coming from the military, or government jobs, and they have a pension. There's a sense of 'This is a big part of my everyday life, so let's do something worthwhile.'"
Reverse Stereotype
Sharon Burford represents a kind of reverse stereotype: The licensed clinical social worker has spent more than 15 years in mental health counseling, with 10 years working with professionals such as doctors, lawyers and dentists with addictions.
In 2002, suffering from severe burnout, she decided to take steps toward a complete career turnaround. After considering law and human resources – "I wanted to use my people skills," she says – she eventually opted for a more adaptable preparation, began working part-time and enrolled as a full-time MBA student at Georgia State. She hadn't decided exactly what she wanted to do in business, but "I decided education is rarely a bad thing."
Burford says she doesn't regret the decision, despite the grueling work/study schedule that earned her an MBA in two years.
However, many educational institutions are making it easier for professionals to go back to school without quitting their day jobs. Just as businesses are adapting their old models, colleges and universities are morphing into much more than bricks-and-mortarboard. Many offer whole flights of program options for career-changing professionals.
"Universities for the first time are realizing that there are so many more nontraditional students out there," says Lisa Kozicki, program director for Evening at Emory, which provides many "self-enrichment" night courses, in addition to Emory University's professional training programs, such as weekend MBA, modular MBA (featuring brief on-campus residencies with online "distance learning") and "mini-MBA" courses. (Emory also offers "custom education," individually designed for employers seeking to educate whole departments or companies.)
In addition to after-work schedules, many colleges and universities offer courses at satellite campuses – such as the University of Georgia's Terry College of Business Buckhead site for its weekend MBA program (among other professional development courses). Yale University may have made headlines recently for offering free online courses this coming fall, but many local educational institutions have long employed so-called "distance learning" (online courses, including videotaped lectures and tests by mouse-click) as part – or all – of a course's requirements.
Smaller, more community-oriented colleges are also catering to adult professionals: John Shiffert, director of university relations at Clayton State University, says his campus has always been populated by larger numbers of nontraditional students, most of them skewing slightly older.
"I've been here 11 years, and the average age has always been 27 to 29," he says. "Many are coming back to get a second degree, or finish a degree" they started long ago; some are in their 60s and 70s.
CSU has long allowed such students to "bridge" previous academic experience and course credit into new degrees, and several programs are specifically designed for professional career enhancement: "The bachelor of applied science is designed specifically for people with associates' degrees," he says. "It allows you to take those course credits and roll them into a bachelor's, so you don't have to start all over." (A satellite location at Fort McPherson offers a specially designed "degree completion" program for military veterans.)
Another, newer CSU graduate program is a master's of arts in liberal studies (MALS), designed for recent grads and private-sector professionals – doctors, lawyers, state workers – who are already working, but may look forward to writing, teaching or consulting as their career's second or third act. (Shiffert himself has signed on for MALS evening courses, and looks forward to teaching history after he retires from CSU in 2012.) CSU also offers a "build your own curriculum" option, allowing you to design a degree around the classes you really want to take (no more trig tests for right-brain lit majors, and vice versa).
Beyond Shop Class
Among the state's institutes of higher learning, Georgia's wide web of adult and technical schools provides multiple solutions for professionals seeking new careers. And if "tech school" means "shop class" to you, think again.
"We're not your daddy's trade school," says Mike Light, communications director for the Georgia Department of Technical and Adult Education (DTAE). "It's not just welding, but underwater welding, photography, computer animation, Web design, interior design, health care." A motorsports program may include an internship with Panoz Racing School in Braselton.
Demand for two-year associate's degree grads from around the state (including Valdosta Tech, Sandersville Tech, Moultrie Tech and tech courses at Bainbridge College, Clayton State University and Dalton State College) is so high that the system boasts a 98 percent placement rate, Light says. There are waiting lists to enter some health care programs, as well as veterinary assistant and nursing programs.
A recent issue of Results, the state's tech schools' magazine, includes a photo essay of recent graduates in their new professional gear, their old outfits hanging empty behind them on coat trees: Licensed practical nurse Jeffery Gass stands in green scrubs, with a stethoscope around his neck, his old flight attendant's shirt and tie in the background; former south Georgia cattle ranch manager Steve McCoy stands in front of his duster and cowboy hat holding a laptop and wearing a tie festooned with keyboards, surge protectors and floppy disks – after taking computer courses at Southwest Georgia Tech, he eventually became the school's information technology director.
Tech school rates are much lower than the state's liberal arts colleges and universities, averaging only $30 per quarter hour, compared to CSU's $127 per credit hour. Compare those costs to UGA's executive MBA program, combining an Athens residency with Buckhead classes, and including airfare for an international residency, at $59,000. Emory's weekend MBA program's total cost is $88,000 and the three-week Goizueta Executive Program is $14,500.
"We're the best-kept secret in state government," says DTAE's Light.
Time Management
Korn/Ferry's Dunlevie says older professionals should carefully assess their timeframes before embarking on an MBA program. "I don't know that it would be worth it if you're already in your 50s," he says. Certification programs, such as a CFP (certified financial planning), might be more cost-effective. At Emory, certification programs for paralegals, CFP and Web certificates (for Web designers), usually run around six to nine months, with evening and weekend schedules, for anywhere from $1,800-$6,500.
Dunlevie points out that senior executives may have more to give than to receive from a college or university – as teachers and guest lecturers. His company also places experienced executives in short-term management positions. "Interim executives and consulting are the flavor of the day," he says.
In 2002, Sharon Burford decided to pursue her MBA full-time, partly to take advantage of student loans' low interest rates – then 2.6 percent. "If I were paying 8 percent, it might be different," she says.
However, there are other financial incentives to explore – especially if you went to high school in Georgia. HOPE funding isn't just for kids – even if you graduated before the program started in 1993. If you meet the requirements (some include maintaining a 3.0 average and not defaulting or owing on previous student loans) at an eligible college, you may be eligible for a HOPE scholarship. Also available are HOPE grants, designed for those pursuing a diploma or certificate (as opposed to a degree), and the requirements are a little less strict – you must maintain only "satisfactory academic progress, as defined by the college," along with other criteria. (For more information, www.gacollege411.org.)
The first step? Figuring out what you want to do. Career counselor and psychologist Rick Van Haveren says that older professionals who choose to change careers usually find it much easier going than those who've been "downsized" or fired. "I recommend a lot more counseling with that group," he says. "There's a lot more anger and cynicism – especially among men. Their identity is often tied with their jobs, and they just feel dumped on. In your 40s, you might still think of it as an opportunity, that you can now write a different chapter. But later, they can feel this is the end of the story. You have to work with them to feel a bit of optimism."
In such cases, Van Haveren advises counseling or self-help to regain that confidence before blindly grasping for a new direction or hurtling into interviews unprepared. To help steer undecideds toward new options, he recommends scanning lists of a field's related professions to see if you can use your experience in another way (he suggests the Bureau of Labor Statistics' Occupational Outlook Handbook at www.bls.gov,) or networking and joining professional groups, to see if you like the profession's "community." At the Princeton Review Web site (www.princetonreview.com), you can match college majors with careers, and take a free test to evaluate what kinds of work might suit you best.
Another group of professionals may have little, no or outdated experience, yet they've mastered the art of orchestrating a wildly unpredictable set of circumstances – they've raised children. Moms returning to the office may arrive with innate skills and vision, yet be completely unaware of new technology, or how they now fit in the workplace – and yes, there is a course for that.
Evening at Emory's "Women Ready to Make Their Move," taught by professional coach Cathy Perry, focuses on training women to take the next step, whether it's returning to the workforce or getting a promotion, with a reading list that includes Julia Cameron's The Artist's Way. "It's not just touchy-feely, Stuart Smalley stuff," promises Kozicki of the six-class/$145 course, "but a strategy."
And what if, after all your training and education, you should decide to return to your old job? Sharon Burford believes the journey was still worthwhile, after returning to social work with her MBA. Frustrated in her search for a business job, she says she returned to her profession with renewed energy and a healthier outlook.
"It helped to get away from the field for a couple of years, and stretch a different part of the brain," she says. "I interacted with a lot of people, and it was really refreshing to meet them. [The degree] has helped me socially, and with my personal financial planning."
Besides, she may still use that MBA – whether as she did in a recent job that required her to supervise 14 employees, or if she eventually goes into another, entirely different career. "I don't know how that's going to unfold yet," she says. Either way, she will be prepared