2007 Georgian of the Year
In five short years, Atlanta Mayor Shirley Franklin has reversed the course of a city.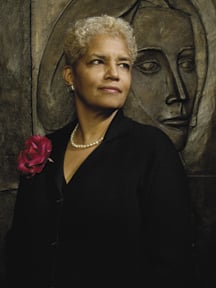 If you look closely at Shirley Franklin, if you push past the no-nonsense administrator, the skilled negotiator, the vigilant steward, the popular, bridge-building mayor who has energized Atlanta's business community for the first time in decades, you're left with a defining insight into her success: sheer willpower.
Franklin uses the term herself in citing the example set by Coretta Scott King and other civil rights leaders who found the resolve to push, against all odds, to right wrongs and drive reform. Clearly, opportunities for women and other minorities have expanded dramatically over the decades (even as politics has become more retrograde), but what were the odds of a blonde, middle-aged black female who'd never run for elective office in her life becoming mayor of Atlanta?
And yet, in five short years Shirley Franklin has seemingly reversed the course of a city hamstrung by corruption and mismanagement, a city bleeding red ink as surely as its antiquated sewers were bleeding wastes, where the toxic fumes of cynicism and discouragement afflicting so many urban centers had begun to seep. With an unlikely combination of can-do enthusiasm and rigorous discipline, Franklin has rekindled the sense of promise, rebirth and reconciliation that defines the best of Atlanta.
For these and bottom line accomplishments like balanced budgets, improved policing and ethics reform, for her tenacity in pursuing visionary projects like the Beltline and the acquisition of the Martin Luther King, Jr. papers, Shirley Franklin is Georgia Trend's 2007 Georgian Of The Year. Franklin, whose leadership has been hailed in Time magazine, U.S. News & World Report, The Wall Street Journal and numerous other media outlets, calls herself an "unintentional politician," a phrase that precisely captures her approach to governance. Predecessors Bill Campbell and Maynard Jackson were lawyers, adversarial in training and approach; Franklin is a sociologist with a keen understanding of human interaction and dynamics that serves her well in the difficult negotiations, the give and take, the compromises and tradeoffs, that are so vital to her job. Make no mistake, behind the exuberance, the offbeat fashion sense (more SoHo than Buckhead), the warmth she exudes in person, Franklin is tough as nails.
She'd arrived in Atlanta in 1972 after a stint teaching at Talladega College in Alabama. In 1978, Maynard Jackson appointed Franklin cultural affairs commissioner for the city, a nettlesome job given the overwrought personalities of some of the artists she encountered. Photographer Robert Simone remembers Franklin even then as a "terrific negotiator who knew how to use power and make things happen."
Franklin went on to serve as chief administrative officer and city manager for Andrew Young and executive officer for operations in Jackson's third term. Projects like airport improvements, construction of the new City Hall and Municipal Courthouse and Centennial Olympic Park proposals all passed across her desk.
As ACOG's senior vice president for external relations, she quietly built bridges to the communities and labor unions, relationships that have served her well. In 1998, Gov. Roy Barnes appointed her to the Georgia Regional Transportation Authority Board. In short, Franklin mastered the day-to-day, nuts and bolts operations of the city from the ground up and, despite what her few critics allege, she did it without the push and pull, sturm and drang of partisan politics.
Particularly, she seemed free of the animus between the business community and Atlanta's black leadership that had bubbled beneath the surface even before Maynard Jackson became mayor in 1974. "The business community has always been willing to contribute formally or informally," says Art McClung, director of city of Atlanta operations for Georgia Power. "Mayor Franklin has created an environment of opportunity for partnerships between the city, the business community and citizens. It's a win-win situation for all players."
When Franklin (at the urging of Andrew Young and Maynard Jackson) decided to run, Atlanta existed under a cloud of corruption. For eight years, her predecessor, Bill Campbell, had run City Hall almost as a criminal enterprise. When the dust settled, Campbell was convicted of tax evasion and sentenced to 30 months in federal prison. A dozen other individuals, senior city officials and contractors among them, were either convicted or pleaded guilty to bribery and other charges.
In November 2001, Shirley Franklin was elected mayor, barely winning 50 percent of the vote. She walked directly into an $82 million dollar buzzsaw, a budget deficit $37 million higher than projections. Atlanta's turn-of-the 20th century sewer system was in violation of the federal Clean Water Act; the EPA was fining the city $20,000 a day. Potholes outnumbered pedestrians, and a surging homeless population was threatening to blunt the vital downtown housing boom that had blossomed after the Olympics.
Welcome To City Hall
Franklin acted quickly and decisively, pushing the city council to sign off on a one percent sales tax and a hefty hike in property taxes that left intown homeowners howling, but also wiped out half the deficit. She cut 1,000 jobs from the city payroll and instituted a hiring freeze. She demanded that city employees turn in nonessential cars and cell phones. She cut her own staff by half and took a $40,000 pay cut, a painful but effective piece of political theater.
"I could not imagine being mayor of a city that was broke," she says today. "The job is hard enough if you pay your bills, but if you're running from your creditors and can't spend money to hire police officers and upgrade services, it's just unthinkable. I had this great fear of coming to work every day trying to hold the place together with hairpins, so the decisions that would put us on a fiscally sound approach were relatively easy to make."
She turned her attention to the bubbling sewage crisis with an enthusiasm reminiscent of Ed Norton in "The Honeymooners," even dubbing herself the "Sewer Mayor." Franklin constantly lectured hapless constituents on the finer details of sewage treatment and infrastructure while quietly building bridges and mending fences with congressional, county and state officials, ultimately negotiating a package of loans and other agreements that allowed the city to embark on its ongoing $3.2 billion "Clean Water Atlanta" overhaul.
(Her impressive track record and her personal credibility helped her through two controversies at the end of last year: the Atlanta Police Department's fatal shooting of an elderly woman who reportedly fired on officers as they were serving a warrant and the mayor's own participation in campaign ads for a Fulton County candidate that critics saw as divisive.)
Much of her success derives not from inspiration or outsized ambition (Franklin is barely 5'1″), but the consistent application of sound management principles, accountability first among them. "I believe you recruit the best talent you can and go with answers that are databased and researched and targeted to best practices," she says. "If you can't sell a best practice, you can't sell anything."
Franklin has never hesitated to draw upon the expertise of Atlanta's business community. (Indeed, during an interview for this story, Bob Nardelli, CEO of The Home Depot, phoned in; one had the sense this was not an unusual occurrence.)
Public-private partnership is a hallmark of her approach to governance. "I learned early on, particularly from Andy Young, that the business community is an important part of what makes a city great," Franklin says. "These are the people who invest and reinvest. They hire most of the residents … . When I began running Andy, Tom Cousins [Cousins Properties Chairman] and Bob Holder [former Holder Corp. CEO] introduced me through a series of letters. [Editor's note: Cousins has a financial interest in Georgia Trend.]
"For four months, all I did was go into a business, meet with the CEO or the highest-ranking person who would talk to me, and listen for an hour or two. I met 75 to 100 business leaders. I learned they all love Atlanta; they want Atlanta to succeed, and to a person, they said, 'If you're elected and I can ever help let me know.'
"Here's the caveat: Most of them didn't ever expect to be asked. On the other hand, when I asked, they extended themselves. What they really do is bring the success factors they've utilized in business and help us understand very complex issues like homelessness, a complete redesign of the Peachtree Corridor, the Beltline."
Upon taking office, she'd marshaled a battalion of private sector companies as consultants – often on a pro bono basis – to audit and, in effect, deconstruct Atlanta's budgetary, infrastructure and social services responsibilities. Bain & Co., for example, conducted a comprehensive study of the city's finances. Franklin, who is 2006-07 president of the Georgia Municipal Association, expanded the city's talent pool, tapping executive search firms to recruit candidates for chief operating officer, city attorney and police chief positions.
Business Community Alliances
"Mayor Franklin is very unusual because she's willing to ask the business community to help her solve problems and identify opportunities at the embryonic stage," says Sam Williams, president of the Metro Atlanta Chamber of Commerce. "For example, she brought the business community in to help her on the sewer crisis and we, in turn, appealed to her to help recruit Novelis." (The packaging and building materials company established its headquarters in Atlanta in December 2004.) Franklin was a player in Atlanta's vigorous but unsuccessful bid for 2009 Super Bowl and its successful 2008 NCAA Final Four bid.
During Franklin's tenure, Atlanta has run five balanced budgets in a row, including a $17 million surplus in 2005. When she ran again in 2005, Franklin garnered an astounding 90 percent plurality. "Look around downtown," says Georgia Power's McClung. "You see cranes everywhere. You see potholes being filled. You see new players taking leadership roles. Shirley seized the opportunity to make a difference from day one."
"Seized" is probably the operative word. Franklin is as unhesitatingly unsparing and transparent in answering queries about her personal and professional experiences as she is about the city budget. There were certainly doubters, particularly in her first term, and unspoken messages about her competency, gender and marital status (divorced mother of three). In that toxic mix, Franklin's race was not the predominant factor.
"There are people, black and white, who have said to me, 'I don't think a woman is tough enough to do this job,'" she says. "It was not uncommon for business people and civic leaders to say, 'So far, you're doing well.' Now, isn't that an interesting comment. Remember, I studied sociology and psychology, so I'm paying attention to the interaction as much as the words. They would say, 'So far, you're making good decisions … . 'So far, you're having a honeymoon with the media.' It was almost as if they expected me to fall off a cliff and start making bad decisions! It would just slip out and it became clear that the expectation was, 'This good news can't last forever.' But I would contend that as long as the process is databased, research-driven, value-based, good, solid decision-making and you're laying out all the facts, the good news can last forever."
Franklin does believe the hard lessons of divorce, single parenting, gender or minority status, are significant, even vital, but only when transposed to other settings and challenges. "For most of my life, I've been underestimated," she says. "People have assumed that I could not achieve excellence or be successful. And for most of my life, I've used that as an advantage and exceeded their expectations."
This was true when Franklin was 13 years old and attending the intensely competitive Philadelphia High School for Girls (diva Marian Anderson's alma mater) and studying "six hours a day and all day Saturday" determined to break into the top 25 percentile of her class. She did. And it remains true in her second term ("Three years and two months to go," she grins) as she begins to focus on issues – poverty, education, population growth, infrastructure, water, pollution – that will impact Atlanta and our nation not years, but decades, after she's left office.
Georgia Power's McClung has it right when he says, "Real leaders aren't willing to wait forever to make something happen." Shirley Franklin isn't waiting and, as she's demonstrated, she's more than willing. "This job can be grueling and tiring and gruesome," she admits. "And not everyone has the sheer determination to plow through the mess. I do. I have the sheer will."
One senses that this mayor's career arc is still accelerating, that her future is wide open, and yet she remains fascinated and intrigued by a city – so much like Shirley Franklin herself – that is constantly transforming, surprising, and forever seeking its stride.