Canoe: Familiar And Brand-New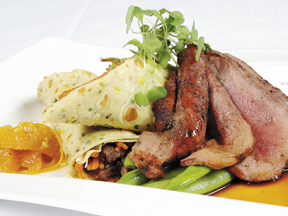 Up the creek because you've promised your family (or: your date, your staff, your clients) a nice holiday gathering – and you're floundering for ideas?
Canoe to the rescue. The Vinings staple has reinvented itself so many times – from a family resort, to an upscale uber-'90s gourmet paradise (under the able direction of former chef Gary Mennie, now steering Taurus), and now to a worldly-within-reach foodie destination – that it's morphed from rustic raft to gleaming handcrafted vessel.
At once familiar and brand-new, Canoe has the recipe right: Pretty view (of the Chattahoochee), merry little lights, patient staff, and a bar stocked with jovial bartenders, chatty regulars and happy newbies.
New chef Carvel Grant Gould is the latest to hold the rudder. Her staff's almost tactile pride in her menu is evident in every employee we encountered – beginning in the bar, where we decided to turn up early to check out the scene, and try a couple of appetizers. The bar is often a restaurant's heartbeat, and it's especially true at Canoe, where the young bartender gave us menus, full table service and an insider's guide to the best dishes and specials.
"That's one of Carvel's best dishes," she confided about the cubed, roasted ruby and yellow beets, looking like stained glass atop creamy, fresh goat cheese and caramelized pecans, topped with basil microgreens. The diver scallops were also stellar, lightly seared with crisp disks of celeriac, drizzled with rhubarb vinaigrette.
My companion has the habit of ranking his personal favorites in restaurants. Canoe's Bloody Mary earned his "best ever" nod, and no wonder: The house-made mix swims with little swirls of horseradish, flecks of black pepper and sports a veritable salad bar of garnishes: An olive, pepper and onion, speared by a little wooden paddle, rest across the top of the salt-rimmed glass. Canoe sailed through one of my personal tests – an exceptional bread basket includes crisp, seeded flatbread, heavenly, yeasty ciabatta and sourdough, served with chilled sweet butter.
Guided to our table overlooking the river, we admired the view and our surroundings – in Canoe's intimate, flattering light. If you're looking for only a glass of wine, Canoe offers a very limited selection, but they're solid choices, such as the Perriere sancerre, and Harlequin viognier. The menu, too, is a comparatively short list of dishes, with a few specials, always seasonal, with an abundance of seafood and game, but often ingeniously paired with unexpected vegetables and garnishes.
I wanted to try a cool-weather dish, and mulled the options: Rabbit? Duck? Quail? I settled on pheasant. The succulent small bird was mostly deboned, the breast in thick slices, almost creamily pale and tender. The dark meat is shredded and presented in two small croquettes, and the whole affair rests across a pillow of sweet potatoes, Swiss chard and huckleberries.
Among the finny fare, you'll usually find halibut, trout, salmon and more of those beautiful scallops. The tuna steak is just-seared, over wasabi-drizzled sunchoke puree, roast maiitake mushrooms and steamed bok choy. The ingredients sound exotic, but the deeply earthy flavors would thrill the most hidebound meat-and-potato eaters.
To end, we wanted to salute the season, without going overboard. In the hands of pastry chef Robyn Mayo, the humble spice cake becomes something both rich and airy, served with a jumble of diced apples, cranberries and nuts, and an improbably delicious housemade ice cream of African squash.
I could use a rescue mission like this at least once a year.
Canoe 4199 Paces Ferry Road, NW Atlanta 770-432-2663 www.canoe-atl.com
Hours: Lunch, brunch and dinner. Open daily. Credit cards: All major. Parking: Free in attached lot. Dress code: Despite the usual understated elegance, like diamonds, cashmere and fur details, you'll find an occasional scruffster at the bar – he's probably a regular; and no one bats an eye.
Krista Reese is Georgia Trend's restaurant critic. E-mail her at gtcritic@mindspring.com