Biotech: The Big Picture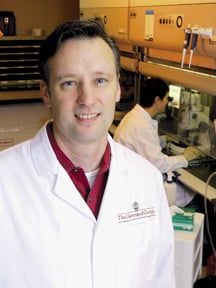 Every one of your cells comes readily equipped with a genetic instruction manual containing the information needed to develop and operate your body, as well as handy tips on how to cure diseases and improve human health.
This guidebook is called deoxyribonucleic acid – DNA – and soon after scientists learned how to manipulate it, the biotech industry was born.
That was 30 years ago in San Francisco, when Genentech was launched as the first biotech company. Genentech, still one of the world's top biotech firms, with tendrils reaching into all areas of drug development, is the progenitor of a global industry in which publicly-traded companies alone accounted for $63.1 billion in 2005 revenues.
California, birthplace of the modern biotech industry, dominates the nation's current portfolio (400 companies), followed by Massachusetts (about 250), with North Carolina a distant third – business as usual. But Georgia wants in on the action and has been creeping like kudzu up the national charts. In just five years the state has moved from 11th place (2001) to 7th, according to Ernst & Young's "Beyond Borders: Global Biotechnology Report 2006."
With more than 50 biotech companies employing some 10,000 people, Georgia's industry leaders and economic developers are pleased with the progress and steady growth. But Atlanta is hosting the 2009 BIO (Biotechnology Industry Organization) International Conference, and now the community has a few loftier goals in mind.
"We've got our sights set on being in the top five by then," says Jeff Strane, director of the Georgia Department of Economic Development's Innovation and Technology Office. "The BIO conference is the World's Fair, the Olympics of biotechnology. All eyes within the life sciences industry will be focused on Georgia and we expect about 22,000 people to attend, from all over the world."
The annual convention and exhibition is the largest biotech event in the world, with representatives from at least 60 nations typically attending and a media force of more than 500.
"This is an absolute coup for Georgia, Atlanta and the Southeast," says John Richard, managing director of Georgia Venture Partners, a bioscience seed fund. "Biotechnology success requires a witches' brew of three components: technology, management and capital. All three factors will be mingling together at the BIO conference. It's a tremendous opportunity for the state to raise its profile."
Billion Dollar Baby
In another effort to help the state reach the upper echelon, biotech leaders compiled an ambitious wish list that would position Georgia as a national leader in bioscience industry development. It's called the "Billion Dollar Initiative."
"We were asked by the state to put together a bold vision to transform our bioscience industry, so we came up with a plan that contains four basic elements," explains Charles Craig, president of the Georgia Biomedical Partnership, a nonprofit organization representing the interests of the state's life sciences community.
The strategy asks for a five-year commitment of $1 billion from state government, and includes: $250 million for a venture capital fund to create, expand and recruit companies and technologies; $200 million for a facilities fund to build the infrastructure that would support bioscience industry growth; $150 million to construct the Georgia Bioscience Commercialization Center as a single point of contact for industry information and collaboration between government and private industry; and $400 million for the Georgia Research Alliance and Georgia Cancer Coalition to continue their missions (strengthening university research and generating the discoveries that inspire economic growth).
State economic developers have identified life sciences (especially biotechnology, which falls under the broad "life sciences" umbrella) as a strategic industry to pursue and nurture, but many industry insiders say Georgia's investment has lagged behind other states, and Georgia has fallen just short in the bid for new, major bioscience employers.
North Carolina particularly has been Georgia's chief rival in the biotech race. In the past year, large employers like Merck & Co. and Novartis scrapped any thoughts of building manufacturing facilities in Georgia (blaming a lack of qualified workers), choosing North Carolina instead.
"Recruiting these large companies is just one strategy to grow our life sciences economy, but not the only strategy," says Chris Clark, deputy commissioner of the global commerce division for the Georgia Department of Economic Development. "Now, we've had some successes and failures, and there's a lot of competition out there. I'm not talking about just state-to-state competition – we compete on a global scale.
"A greater part of our strategy is growing our own industry, giving our eminent scholars the space and resources they need, looking at the companies, small and large, that already are in Georgia, making sure they can grow and continue being an asset. But I don't think there's one magic pill to get us into the top five. It's going to take a multi-pronged approach, not just catching the big fish."
The Billion Dollar Initiative could go a long way toward supporting Georgia's homegrown industry, while helping to lure new players, some industry leaders believe.
"For a long time, there was a sense of disappointment that the state, while doing some great things for biotech growth, just wasn't doing enough," says Michael Gabridge, director of the Life Sciences Innovation Center at the Medical College of Georgia (MCG) in Augusta. "This is just a proposal, but for those of us in the industry, this is exciting and long overdue."
To this point, the largest chunk of biotech funding has come from the Georgia Research Alliance, which has invested $400 million in state funds over 15 years, creating a world-class university research infrastructure; but bioscience is just one in a range of supported technologies. Additionally, in recent years the state has allocated about $8 million for a seed fund to support start-ups and $8 million in facilities funding. By comparison, California voters approved a $3 billion bond measure (over 10 years) for stem cell research. Georgia's neighbors – North Carolina, South Carolina and Florida – also are spending big money to enhance their biotech portfolios.
Still, Georgia has invested in an impressive cluster of research and development centers, such as the Center for the Study of Systems Biology (Georgia Tech), UGA's Paul D. Coverdell Center for Biomedical and Health Sciences and the Animal Health Research Center biocon-tainment facility, and MCG's Cancer Research Center.
The Case For Georgia
In October, the Georgia Biomedical Partnership introduced its first Life Sciences Industry Analysis. According to the report, the broadly-defined life sciences industry, of which biotechnology is a part, has outpaced the rest of the Georgia economy. Sales increased 32.2 percent between 1997 and 2002, reaching $4.5 billion.
At that rate, Craig says, the state should reach $6.2 billion this year. And while annual wages in private industry average $39,500, in the life sciences it's close to $58,000, with the highest being paid in biotechnology (defined as life science research and development, and medical devices firms).
"We've put together a new vision, and we're challenging state leaders to think bigger than they have in the past, to become more competitive with other states," Craig says. "But Georgia is not a newcomer in the field. We have an established footprint."
Georgia has a strong base of significant bioscience players, including companies like Solvay Pharmaceuticals (Marietta), CIBA Vision (Duluth), Monsanto (Augusta), AtheroGenics (Alpharetta) and Merial, the world's largest animal pharmaceutical company, headquartered in Atlanta, with an extensive presence in Gainesville and Athens. And Atlanta is also home to a variety of national research programs and centers, including the American Cancer Society and the Centers for Disease Control and Prevention (CDC).
There's hope that the U.S. Department of Homeland Security's proposed $500 million National Bio and Agro-Defense Facility will land in Athens. As of October, the University of Georgia was still considered one of the three likely sites for what would be the national leader in meeting threats from potential pandemics, such as SARS or the avian flu.
"We're emerging, we're becoming a player, getting recognized as a regional hub of activity, which isn't bad considering we weren't even on the map 10 years ago," says Michael Cassidy, president and CEO of the Georgia Research Alliance (GRA).
Georgia has been busily churning out those small, research-intensive companies thanks to the state's intellectual capital, a roster of eminent scholars and scientists assembled by the GRA and the Georgia Cancer Coalition. The list of rising-star life science companies is huge and diverse, and includes Metastatix (pharmaceutical company based in Tucker), CardioMEMS (medical device company based in Atlanta), Alimera Sciences (ophthalmic pharma company in Atlanta), Insectigen and Aruna, both based in Athens, and EMThrax, based in Augusta.
What many of Georgia's biotech companies have in common is a lack of presence in the marketplace. "We're showing the ability to take technology from the lab and develop that technology into useful products," says Lee Herron, who works with early stage biotech companies as general manager of biosciences for Georgia Tech's Advanced Technology Development Center (ATDC) – a big reason why Georgia Tech is ranked 4th in the world for start-up companies.
"But getting to and proving yourself in the marketplace comes with time," Herron says. "You need key ingredients, like early stage financing and skilled entrepreneurial managers – managing a start-up is not for the faint of heart. But it all starts with great science and technology, and we have quite a bit of that in Georgia."
Georgia's Triangle
It starts with university research centers in the three corners of Georgia's Triple-A Triangle – Atlanta, Athens and Augusta. Out of these cities a number of business incubators have been fostering the early stage development of small biotech companies.
The nationally renowned ATDC, for example, has a presence beyond the imaginary obtuse triangle that connects Georgia's dominant bioscience centers (locations include Atlanta, Columbus, Savannah and Warner Robins). Atlanta also has CollabTech (Georgia State) and Emtech Bio (one of several fruitful collaborations between Emory and Georgia Tech). Athens is home to UGA's Georgia BioBusiness Center while Augusta has the Gabridges – Michael Gabridge at MCG's Life Sciences Innovation Center, and his wife Lenie Roos-Gabridge, who runs the Georgia Medical Center Authority and has overseen creation of the Augusta BioBusiness Center.
These incubators have rosters of some of the world's top scientists, whose companies are working to put the next great miracle drug, treatment or device into the hands of consumers; but it takes time for development, clinical trials and approval, and it takes a lot money – it takes, on average, about 10 years and $850 million to bring a drug to market.
And sometimes it takes a bit of political courage and common sense. Last April, former President George H.W. Bush made a dedication speech at UGA's $40 million Coverdell Center for Biomedical and Health Sciences, a place where, he said, researchers would "tackle some of the most pressing health-related challenges we face and … push back the frontier of discovery and progress."
In an ironic twist, the former president's son, current President George W. Bush, swept aside concepts of discovery and progress particularly germane to UGA when he vetoed a bill that would have loosened the restrictions on federal funding for stem-cell research.
Five years ago, Bush said he would allow federal funding only for research on the 61 stem-cell lines that existed at the time; but many of those lines are contaminated and useless for research. The bill he vetoed would have allowed funding for additional lines. Scientists say stem cells could be a renewable source of replacement cells and tissues to treat diseases such as Parkinson's and Alzheimer's, as well as spinal cord injuries, diabetes, strokes and more.
There are few places in the country that have as much experience in stem-cell research as Georgia has. "We need to take advantage of that and move things forward," says Steve Stice, the world-famous scientist and GRA eminent scholar, who manages UGA's stem-cell lines. "I think the real losers in all of this are the people who have hope for cures, people who have Parkinson's right now."
Stice, director of the Regenerative Bioscience Center at UGA, worked along with Georgia's U.S. Sen. Johnny Isakson and professors at Emory to craft a proposal that would allow federal funding for unviable embryos, which are incapable of developing into fetuses.
That proposal was not part of the bill Bush vetoed, but Isakson, a Republican who believes his plan can bridge the gap in the embryonic stem cell debate, will try to push his compromise in the new Democrat-dominated Congress.
Georgians declared overwhelming support for research using unviable embryos in a poll funded by the Georgia Biomedical Research, released in September.
"Stem cells are a resource to discover new drugs, and that's something a lot of people don't understand – that stem cells can have immediate impact on forming new drugs to treat devastating diseases," says Stice, whose cutting-edge research lab has produced neurons that will be used to develop new drugs for diseases like spinal muscular atrophy.
Stice, who has spawned several biotech companies in the past, started a new firm, Aruna BioMedical, to provide the most advanced neural cells to researchers around the world. In Sanskrit, Aruna means "new beginning." It's an adequate assessment of biotechnology in Georgia, where scientists are making world-changing discoveries and industry leaders are trying to devise new ways to make it profitable.