Energy In Georgia, Part I: Natural Gas Supply And Demand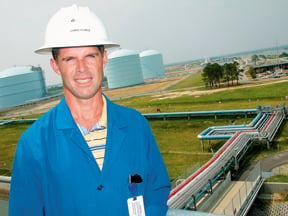 Energy is the capacity or ability to do work. In Georgia, a national poster child for population growth, there's a lot of work to do, and we use a lot of energy to do it.
From 1984 to 2004 the state's population grew 51 percent, while energy consumption grew 76 percent, as Georgia's Division of Energy Resources (DER) and Environmental Protection Division (EPD) point out in their joint 2005 energy review.
Simply put, our energy consumption is outpacing our population growth.
But so far Georgia has been spared the grand-scale hardships of other high-density states, like California and New York, where rolling blackouts and shortages leave many citizen consumers freezing, sweating or groping in the dark.
"Most people don't understand what really happens when they flick on the light switch," says Kevin Kelly, Energy and Environment Program manager for the Georgia DER.
Over the next several months, Georgia Trend will discuss what happens and why, and we'll meet people who pull the strings when we flick the switch.
Our three-part series is really about energy conversion more than anything else – the use of energy to produce the type of energy we want when we want it. This month we discuss natural gas, specifically liquid natural gas. Next month we'll take a broad look at electric power, especially nuclear generation. After that we'll look at renewable or alternative forms of energy.
Throughout the series we'll explore environmental and regulatory issues, the policies and legislation that govern all of those light switches, and Georgia's effort to create a comprehensive statewide energy strategy – an effort being directed by the Division of Energy Resources.
Inevitably, given the constraints of time and space, our stories will be thumbnails of a much larger picture. Our hope is that the questions we raise today will inspire thinking about the solutions for the future
.
"Everyone relies on energy and the energy infrastructure," Kelly says. "Our reliance has an environmental impact and a societal impact. When we become more cognizant of our link, we can contribute and see that our own actions have a positive impact."
The sun glares at Elba Island with an unwavering 5-billion-year-old stare, soaking grass, asphalt, metal and humanity in 100 degrees of pitiless heat.
We are on the gangway tower at the north dock, 80 feet above the island, and we are soaked in sweat and electric potential, positively immersed in energy here: Currents passing through our cells, converting one form of energy into another, like infinitesimal power plants; solar rays, reflected on pervasive metal, manufactured into plant food; and below, stretching away from us like arteries, diving over and into the landscape, are the pipes.
This island, an 840-acre Savannah River estuary, is the first stage of an American journey, where liquid natural gas (LNG) enters the country, is stored and vaporized and finally pumped through pipes to the rest of Georgia and points beyond, vital new lifeblood for the economy, feeding the grid, helping to satisfy a nation's voracious appetite for energy. Nourishing and sustaining the grid that sparks our laptops, light bulbs and thermostats, while trying to conserve resources and devise renewable, cleaner forms of energy has become an obsession and an obligation among state and local leaders, activists and utility companies, requiring or inspiring technology, innovation and legislation.
This is particularly true in Georgia, where the population is expected to exceed 9.8 million by 2010 and 10.8 million by 2015. More people mean more development (residential, business and otherwise) and more air conditioners.
Meanwhile, burgeoning economies in nations like China and India are placing a greater demand on fossil fuels – oil, coal and natural gas. More humans want energy, fossil fuel is a finite resource, prices soar, supplies are tightened and the competition intensifies. It's a global case of "he who controls the thermostat has control."
Delicate Balancing Act
"It's the ability to move something from Point A to Point B that is so important," says Georgia State Rep. Jeff Lewis (R-White), who chairs the House Public Utilities & Telecommunications Committee. "Energy drives our economy, drives our quality of life. A capitalistic society is built around its economy and the economy is built around energy."
Energy is life-giving and life-threatening – a dialysis machine, for example, needs electricity, but generating electricity emits harmful elements such as carbon dioxide (CO2) into the atmosphere, compromising the wellbeing of the planet and its people. So, we try to balance our need for energy with our need for a prolonged healthy environment. Then we mix that with the rights of consumers to receive reliable and reasonably priced energy, and the rights of investor-owned utilities to satisfy shareholder interests.
"We're talking about a delicate balancing act with no one solution," says Elizabeth Robertson, director of the Division of Energy Resources, which operates under the umbrella of the Georgia Environmental Facilities Authority (GEFA). "A lot of interests are at stake. Energy issues, societal issues, health issues. You cannot look at energy without looking at the natural environment and balancing that with economic issues."
Robertson has been appointed to lead a new crusade in Georgia, the creation of a statewide comprehensive energy strategy. In March Gov. Sonny Perdue officially launched the process, directing GEFA to design policies, with massive public input, for a future "characterized by affordable, reliable and environmentally responsible energy."
The Division of Energy Resources' traditional role has been to implement programs supported by federal funding, like weatherization assistance, which helps low-income households become more energy efficient. But a statewide energy plan has been on Robertson's agenda for at least five years.
"It was never a question of 'if,' but of 'when' Georgia decided to develop a comprehensive energy plan," she says. "Why are we just now doing this? Because we weren't paying $3 a gallon for gasoline five or 10 years ago. We weren't being personally inconvenienced back then."
GEFA posted its 135-page draft plan on the Web (www.georgiaenergyplan.org) June 1 and sought public input on topics that included energy reliability, projected supply and demand, costs, conservation and efficiency, incentives for using alternative and renewable energy sources, water and clean-air issues.
The public comment period ended July 5 with 229 pages of input, much of it from utilities (Georgia Power, Atlanta Gas Light, Oglethorpe Power) and advocacy groups (Choosing Green, Southern Alliance for Clean Energy, Sierra Club). A revised draft was due for release Sept. 1, followed by a month of public meetings across the state held by the Energy Policy Advisory Council, which is charged with submitting a final plan to the governor Dec. 15.
Not surprisingly, one of the most debated plan chapters involved Elba Island, liquid natural gas and the question of whether or not more pipeline capacity is needed. It's a subject that was still giving off heat rays following the saga of House Bill 1325 in the 2006 state legislative session, and it's a tale that offers an enlightening glimpse into LNG and public utility regulation.
Island Of Liquid Gold
Florence Martus lived most of her life on lonely Elba Island in a two-story cottage facing the Savannah River. Known to sailors worldwide as "the waving girl," she greeted sea vessels for 44 years from her front porch, brandishing her lantern and a long, billowing handkerchief. In 1978, more than 30 years after "the waving girl" died, ships started docking at Elba to unload their cargo of liquid natural gas.
The Elba Island Terminal was opened by Southern Natural Gas (SoNat), built for $150 million in response to the energy crisis to bring affordable LNG from Algeria. LNG is natural gas chilled at minus-260 degrees Fahrenheit. In its liquid state the gas can be shipped thousands of miles, and stored easily – 600 cubic feet of natural gas equals one cubic foot in its liquid state. At Elba, the liquid is unloaded, stored, vaporized and pumped into the nation's pipeline system.
By 1982, the combination of new domestic natural gas discoveries and plummeting prices sent the facility into mothballs. In 1999 SoNat was absorbed by natural gas kingpin El Paso Corporation, which reopened Elba in December 2001. Today the facility is run by Southern LNG, a division of SoNat, which retains its identity even as a subsidiary of El Paso.
Dwindling domestic resources (the industry often blames this on lack of drilling access in places like Alaska, or offshore) and rising prices (even before the spikes following Hurricanes Katrina and Rita last year) rekindled U.S. interest in LNG. Today, Elba is one of only four U.S. LNG terminals, with several more scheduled to come online in the next few years.
Growing Demand
"The country needs more natural gas, if you want to get any supply and demand balance," says John Somerhalder, president and CEO of Atlanta-based AGL Resources, one of the nation's preeminent natural gas distributors and the largest customer for El Paso – which owns North America's largest natural gas pipeline system (about 55,500 miles). "Under every scenario, we see the demand for natural gas growing."
In recent years, though, Georgia's demand has seesawed. Georgia used just under 388 billion cubic feet (bcf) of natural gas in 2005 and we're on the same pace this year. Most of that gas, more than 80 percent, comes from the Gulf of Mexico (not LNG). Georgia's gas consumption dropped from 408 bcf in 2000 to 343 bcf in 2001, then went to 376 bcf in 2002, 372 bcf in 2003 and 386 bcf in 2004. But the U.S. Energy Information Administration (EIA) predicts a steady increase in the nation's consumption of natural gas, especially east of the Mississippi.
According to the EIA's Annual Energy Outlook 2006 report, higher world oil prices will push all sectors of the global energy market toward natural gas. The report projects an increase in U.S. natural gas consumption, from 22.4 trillion cubic feet (tcf) in 2004 to 26.9 tcf by 2030, while total domestic production (including the Gulf of Mexico) is expected to reach 21 tcf – more demand than supply.
LNG, seen as the most economical solution to the fill the gap between supply and demand, accounts for less than 5 percent of all U.S. gas usage today. But oil industry leaders are betting that LNG will be the world's main fuel source within 20 years, making up 20 to 25 percent of the gas demand in the U.S.
Part of that demand, Somerhalder says, "will come from residential and commercial growth, but a big part of it is for power generation, power plants."
Per-resident use is down, stagnated by warm winters and high prices. But power plant demand is up – those peak power plants that kept air conditioners running this past summer run on natural gas – and it's going to increase. "Electricity demand is projected to grow more than natural gas demand," Somerhalder says. "Most of the new power plants are natural gas fired. We know that gas has to play a role in generating electricity.
Georgia Power definitely thinks so. In 2005 the company used more than 57 billion cubic feet of natural gas to generate electricity at its peak plants. According to company projections, that figure could exceed 87 billion by 2011. Even with that increase, Georgia's base-load plants and electric capacity will continue to be dominated by coal, which generates about 60 percent of the state's electricity today.
Natural gas is no longer a seasonal commodity for heating the house in winter. All those air conditioners during this past sun-blasted summer, for example, burned a lot of gas at the power plant. "We just had one of our busiest days on record," says Elba Island's general manager, Chris Humes. "Seems like we've been setting records the past several weeks."
During July's heat wave, Elba was sending out near record quantities of natural gas, more than 700 million cubic feet per day, still well below the terminal's send-out capacity. The $157 million Elba II expansion, completed in February, doubled the terminal's daily send-out capacity to 1.2 billion cubic feet, and added 3.3 billion cubic feet of storage (for a total of 7.3 billion).
Taking Precautions
There's more to come. El Paso's Elba III $1.2 billion expansion will double storage and send-out capacity yet again by 2010 and add additional pipeline. That means river traffic on the busy channel that leads to the Port of Savannah won't be lightening up. Elba currently receives, on average, about five ships a month, but with all of the new activity, safety and security concerns around Elba are justifiably heightened – especially in light of a scary incident last spring.
In March, a 940-foot tanker discharging its LNG load at Elba's south dock broke from its moorings, pulling away from the pier in a surge caused by a passing ship that was exceeding the regulated speed limit. An emergency disconnect coupling system on the terminal's off-loading arms prevented the flow of LNG and a potential disaster. "It worked the way it was supposed to," says U.S. Coast Guard Cmdr. Dave Murk, captain of the port. "I'm relatively comfortable with how it all turned out."
The only notable LNG disaster in the United States occurred in Cleveland, Ohio, in 1944, when a storage tank burst, spewing LNG which evaporated and ignited, killing 128 people and injuring 225.
LNG's record has been good since then. Cold storage technology has improved significantly and the likelihood of a similar incident is remote. But security concerns abound in the post-9/11 world. Al-Qaeda, for example, has specifically cited LNG as a desirable target. And a 2004 report published by the Sandia National Laboratories, a division of the U.S. Department of Energy, says an LNG "pool fire" would be hot enough to burn skin over a mile away and melt steel a half mile away.
As a mandatory safeguard, other ships are not allowed within two miles of an LNG tanker moving upriver. And with a new expansion coming, the Coast Guard is conducting a waterway suitability assessment to further gauge potential navigational and safety issues.
Accessible Resource
Elba's growth is driven by commitments from British Gas and Shell, the terminal's LNG suppliers. Today, 80 percent of the LNG coming into Elba is from Trinidad. But Shell is spending billions on facilities in Qatar, where the LNG output is expected to quadruple by 2012, making it the world's leading producer.
To distribute all of this new gas, El Paso is adding pipeline capacity. From Elba the Cypress pipeline heads south and, according to Humes, in 2007 will start serving communities in southeast Georgia on its way into Florida. The Elba Express pipeline, due in 2010, will head northwest alongside an existing pipeline, interconnect with a SoNat system in Wrens, in Jefferson County, and continue north until it interconnects with Transco Pipeline in South Carolina.
El Paso says the project's purpose is to increase the supply of natural gas into Georgia, South Carolina and the eastern United States. But the leadership at AGL Resources isn't convinced that Georgia will get its share.
"Where is all of that gas heading?" asks Lindsay Thomas, AGL Resources senior vice president of governmental relations. "Are we just operating an import facility to serve Florida and Transco? What about Georgia and a pipeline to serve Georgians?"
A joint House-Senate study committee set out to answer the question of Georgia's LNG future last year, prior to the legislative session and the H.B. 1325 debate. The committee included representatives from AGL and El Paso, as well as gas marketers (companies such as Scana, which sell you gas and send you the bill), industry leaders, legislators and members of the Georgia Public Service Commission (PSC).
"As we began looking at the issue, the question was, 'Do we have enough LNG coming into the state of Georgia?' The answer was a readily apparent 'yes,'" says PSC member and committee participant Bobby Baker. "There is sufficient capacity to serve Georgia. In fact, there's more LNG at Elba than they [SoNat] can sell."
Even so, AGL and legislators who drafted and supported the bill argue that Georgia needs the pipeline to ensure or boost gas supply to a growing state.
"We've had very high dependence on production in the Gulf of Mexico, so we think [the proposed pipeline] is very important from a diversity of supply and reliability of supply standpoint," Somerhalder says. "We're lucky to have an LNG terminal in Georgia, and a facility that has doubled in size and will double in size again. But our access to that LNG has not grown at the same pace. So we think that additional infrastructure to make sure Georgia has access to its share of that LNG is very important and will really protect this state's energy future."
Critics of the bill argued that an intrastate pipeline built by AGL would be superfluous and have no effect on the supply of LNG going to Georgia. While supporters of the bill invoked memories of last year's devastating hurricanes (which thwarted natural gas production in the Gulf of Mexico) as a reason for building the pipeline, opponents contend that El Paso's new pipelines will suffice and point out that the flow of gas from Elba to Georgia customers actually doubled in the storm's aftermath.
And, according to Norm Holmes, SoNat's Senior VP for business development, the company has 300 million cubic feet of unsubscribed capacity – pipeline capacity that isn't being used, by AGL or anyone.
"I think that [Georgia's] demand is pretty well met by existing infrastructure," says Kevin Greiner, president and CEO of Gas South, a marketer and subsidiary of Cobb EMC. "I haven't seen a comprehensive study yet that would indicate one way or another that a pipeline project would yield benefits to Georgia."
Nevertheless, H.B. 1325 was introduced and quickly tabbed "the pipeline bill." After the bill was hustled through the House it failed to gain Senate approval before the session ended. Ultimately, one thing that supporters and opponents of the bill agreed on is, it was never technically a pipeline bill.
"The bill was designed to create certainty," says Somerhalder, who left El Paso Corp. to join AGL in March, as the legislative clash was winding down. "Certainty that we would earn a fair return that would justify spending quite a bit of capital on a pipeline project."
Thomas adds, "Everybody called it the pipeline bill, but it wasn't really. It was about the financing procedure or the procedure of recovering costs."
The bill attempted to streamline the process for building a major asset, in this case a $300 million pipeline. The PSC would still have to approve such a project, though its oversight as an elected regulatory body would be restricted. And ratepayers would foot the tab once it was completed (as customers normally do when a service provider incurs new costs), but as a surcharge rider, not as a rate increase, per se.
"Cost recovery through a stand-alone rider would take the project out of the rate-base, which would not allow for future PSC review," says Baker, who, like other bill opponents, worried about long-term effects of the PSC's ability to provide meaningful regulation.
"It went far beyond what is in place and applicable to a utility company like Georgia Power in its ability to recover investment. We believe there should be consistency in how regulated utilities are treated," says Roy Bowen, president of the Georgia Textile Manufacturers Association. "One of the concerns rate payers should have is, if AGL is given the ability to recover its investment costs outside of the rate base through a surcharge, then Georgia Power, who is considering building more nuclear generation capacity – which we support – would find that an attractive option as well.
"That's a real break from the regulatory treatment of cost recovery, and outside the framework that has served Georgia consumers fairly well."
The bill didn't survive the Senate because, as Sen. Mitch Seabaugh (R-Sharpsburg) says, "The devil was in the details."
Despite the devil and the uncertainty, Somerhalder says AGL will continue looking for a way to build an Elba pipeline. Just don't expect another pipeline bill, Thomas adds.
"I don't expect it to be reincarnated," Thomas says. "But something else is always possible. This company's fortunes are based on transporting gas. We serve a growing area in a changing world dynamic. Of course we're gonna be looking at everything we can to make our operation better."
Which leaves Public Service Commissioner Angela Speir wondering about the 2007 legislative session. "I don't think we've seen the last of this," she says.