2006 Most Respected Business Leader: Corporate Citizen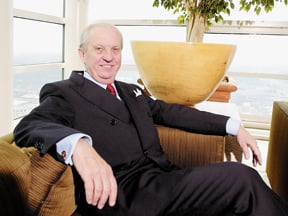 Throughout his career, including the 13 years he ran Georgia-Pacific, Pete Correll had a reputation as the transcendent workaholic.
Six-day, 70-hour weeks were the norm for Correll, Georgia Trend's 2006 Most Respected Business Leader, who put his legendary work ethic to the supreme test a few years ago when he discovered the hard way that stress can indeed kill.
But even a brush with death didn't keep him off the job very long. It was October 2002. Georgia-Pacific's stock prices were plummeting. The company was almost $12 billion in debt, undervalued and unappreciated on Wall Street, partly because of a decades-old asbestos liability problem, partly because of GP's $11 billion purchase in 2000 of the Fort James Corporation.
"The world was convinced Georgia-Pacific wasn't going to survive," says Correll, who proposed splitting the company into two separate publicly traded entities to reduce debt, increase value and quite possibly protect some divisions from the asbestos liability that threatened to tear the company apart.
"I was working so many hours under so much pressure, I think that's why I had the heart attack. I actually died and they had to use the paddles to bring me back," says Correll. "But then I woke up with a stovepipe down my throat," he adds. "I looked up and saw a TV and realized I wasn't in heaven because there are no TVs in heaven. I wrote that down for my nurse and she said, 'How do you know you're not in hell?'"
Unperturbed by the after death experience and his rude reawakening, Correll was soon communicating with the office via the Blackberry his son smuggled into the ICU. A couple of years later, back at Emory to have a cancerous kidney removed, a nurse had to take the Blackberry from Correll's hands en route to the operating room.
"Here's a guy who would work around the clock," says Georgia-Pacific Executive Vice President Mike Burandt, who oversees the company's $7.5 billion North American Consumer Products division.
Correll, who left Mead Corporation to join Georgia-Pacific in 1988, became CEO in 1993 and spent most of the next 13 years steadying a ship rocked by long-term debt stemming from the 300,000-plus asbestos claims (the company used asbestos from 1965 to 1977 in some products). Along the way, Correll skillfully reinvented Georgia-Pacific, transforming it from a timber company heavily invested in commodity businesses into a global consumer product powerhouse. He always seemed to be putting in as many or more hours than anyone else, on and off the job.
"The thing about Pete is, he continues working long after office hours to a level I've never seen," says Dave Paterson, executive vice president of the $5 billion building products division. "He does more than anyone with his commitment to the community and organizations outside of work."
Correll became the manifestation of the corporate citizen leader, embodying and enhancing Georgia-Pacific's long reputation as a civic benefactor.
He helped lead the charge to change Georgia's flag. Atlanta Mayor Shirley Franklin tapped him to co-chair the racially sensitive task force to honor mayors Maynard Jackson and Ivan Allen. More recently, the mayor recruited Correll to lead the Atlanta Committee for Progress, a sort of "kitchen cabinet" group of business and civic leaders who have launched the Brand Atlanta campaign and the Beltline Partnership.
"Being a CEO means more than making money for your shareholders," says Sam Williams, president of the Metro Atlanta Chamber of Commerce. "It means giving back to your community. I think Atlanta's corporate community has been blessed with that value system and Pete personifies that."
It was Correll, chairing the board of Central Atlanta Progress (CAP) at the time, who persuaded Williams to leave Portman & Associates to become president of CAP. When Correll chaired the Metro Atlanta Chamber of Commerce, he persuaded Williams to become president of the chamber.
Correll serves or has served on more boards and councils than he can remember, including the Georgia Chamber of Commerce, Keep America Beautiful, the President's Council on Sustainable Development, Atlanta Symphony, Boy Scouts of America, the Nature Conservancy, the Georgia Aquarium.
"I guess I've been around so long it just became my turn," says Correll, whose stint as Georgia-Pacific CEO came to an end in dramatic fashion.
Correll, who turned 65 in April, was supposed to retire this month, and his second-in-command, Lee Thomas, was supposed to become CEO. All of that changed in November, when Wichita, Kan.-based Koch Industries bought Georgia-Pacific for $13.2 billion. Shortly after the deal was announced, Koch inserted one of its own, Joe Moeller, into the CEO role at its new Atlanta subsidiary. Correll moved out of the top-floor CEO's office into temporary limbo, and Thomas left the company altogether.
Another Change
So Correll helped change Georgia-Pacific, founded in 1927, once again, this time from a publicly traded Fortune 500 corporation with 55,000 employees into a subsidiary of Koch, which became the country's largest privately held company with the acquisition.
The deal left Correll feeling vindicated when Koch agreed to pay $48 for each share of GP stock, which had risen to $34.65 by November, well above the $9.80 that was adding to Correll's heavy heart in 2002.
"There are two events I'm proudest of," Correll says. "One is winning the Catalyst Award. That says we'd truly changed the company, gone from a check shirt, white male culture to becoming a leader in providing opportunities for females and minorities. [Presented by the national nonprofit of the same name, the award recognizes corporate efforts to build inclusive environments and expand opportunities for women at work.]
"The second one is selling the company for $48 a share. That says we created an incredible amount of value and the market simply refused to recognize it. I wish the stock had just traded for $48 and we never would have had to sell the company."
As a result of the deal Correll, eligible for a yearly pension of about $1.4 million, stood to receive about $130 million in stock-based compensation, much of which will be funneled into the Correll Family Foundation that he and his wife Ada Lee are creating.
"Clearly the world has been very good to me, and I've had a lot of luck being in the right place at the right time, or having someone give me the right experience at the right time in my life," says Correll, who along with Ada Lee is still trying to figure out exactly who or what their family foundation will benefit. But he hinted that whatever those things are, they may not be in Atlanta.
"I thought you could do a whole lot more outside of Atlanta," says Correll, thinking back to his roots on the Georgia coast. "There is so much money in Atlanta, but in rural Georgia, in Glynn County, where I'm from, or Emmanuel County, where Ada Lee is from, the dollar goes a lot further."
When he takes the time to think about it Correll, who now owns a home on Sea Island, 15 minutes from where he grew up, often is astounded at how far the poor kid from Brunswick has come.
Shadows Of The Past
Correll keeps the steadfast shadows of his past hanging on an office wall. When he was CEO and president of Georgia-Pacific three framed neckties hung behind his desk, near a framed dollar bill. When he moved out of the CEO's office the ties followed him downstairs to a new space. And wherever Correll is today, the framed ties are somewhere close, reminding him, defining him.
They are mementos from Correll's Men's Store in Brunswick, where he grew up quickly and absorbed the basics of business that have helped carry him for half a century.
"Our store was a simple business, and I concluded as I ran bigger and bigger businesses that most of them are pretty simple if you can just watch the money," he says. "In Correll's Men's Store, that was done easily. If there was more money in the register at the end of the day than there was at the beginning, it was a good business day."
Correll, an only child, was 12 when his father, Alston Dayton Correll, Sr., died suddenly, leaving the store to the care of his wife and son. He inherited his father's nickname, Pete, but never discovered its origin. From his mother, Correll inherited something else.
"I probably learned more about business from my mother more than anyone else," Correll says. "She was a very tough woman who simply refused to fail. Through the years I've been quoted saying a lot of the things she used to say. One of them is, I could accomplish more in 12 hours than most people can in eight. You work a long time, you get a lot done."
The pressure of running Georgia-Pacific in tumultuous times may have caused a heart attack, but Correll learned the real meaning of stress and anxiety at an early age. "Someone asked Pete about the pressure of running Georgia-Pacific, and he said it was nothing like running a men's shop when you know you have to sell one more suit to eat that week," says Charlie Fiveash, Correll's roommate at the University of Georgia. "That store sort of shaped his life."
Correll and Fiveash, an Atlanta CPA who also grew up in Brunswick, are old pals going back to the fourth grade. They played on the high school golf team together. Correll earned a golf scholarship to Georgia Tech, but left the school after one year to work as a runner on the New York Stock Exchange. Eventually he earned his undergraduate degree in business administration at UGA.
Later, after being accepted at the Harvard Business School, Correll instead went to the University of Maine, where he earned masters degrees in pulp and paper, and chemical engineering. "It sounds stupid, but turned out to be a smart decision," Correll says. "Ours is a very technical business and having two graduate degrees in engineering helped me understand the industry."
Correll has been in paper for more than 40 years. He stared with Westvaco, worked for Weyerhaeuser for a decade, moving around the country as the company opened new plants. He landed at Mead in 1977 and joined Georgia-Pacific in March 1988. Then-CEO Marshall Hahn had hired Correll as his possible successor. In 1993 Correll hit the trifecta – president, CEO and chairman of the board. He imposed his agenda quickly, reducing mill costs while improving efficiency. Under Correll's leadership the company started recording the best safety records in the industry and became a better environmental steward.
Correll was steadily moving G-P out from under the trees and closer to the consumer. In 1997 the company spun off its millions of acres of timberland in The Timber Company, a separate operating group with its own common stock.
In 2000 Correll made the biggest move of his career with the acquisition of Fort James, maker of leading brands such as Brawny, Dixie and Quilted Northern. Added to G-P's roster of brands, including Angel Soft and Sparkle, the move made Georgia-Pacific the world's largest tissue maker. In 2001 G-P completely sold The Timber Company for $4 billion to Plum Creek Timber Company, a real estate investment trust.
Since then the company has become predominantly a consumer tissues company. In 2004, a little known private firm, Koch Industries, bought a couple of pulp mills from G-P. Shortly afterward, Charles Koch invited Correll to play in a member-guest golf tournament in Wichita.
"They weren't interested [in buying Georgia-Pacific] at the time, but I came away impressed," Correll says. "You spend three days golfing with one of the owners of a large company, and you get to know something about them. You talk about 100 different things in a golf cart, over drinks at night, dinner. I came away thinking this is a real gentleman, and I have to feel the company reflects Charles' values and ethics."
The Next Phase
In the fall of 2005 Koch called Correll again, and this time it was all business. Correll says the deal progressed rapidly, and before long he was out of a job. In his temporary office one floor down from the CEO's top floor digs on a brilliant February day, with a 50th floor view of Atlanta, Correll isn't sure what his future will be at Georgia-Pacific.
"I'm not sure what my job is now, nor are they [Koch]," Correll says. "I'm not an employee, but I am, quote, chairman of the board. For a while I can add some value just from my institutional knowledge. I have relationships with hundreds of people that need to be transferred to [CEO] Joe Moeller.
"For a little while I can be helpful, how long I don't know. I'll be leaving soon. At the point I'm not helpful it will be very obvious to me and to them. Don't know what I'm gonna do, but I'm not retiring."
That's music to the ears of many, including Bernie Marcus, the Home Depot co-founder and good Samaritan who built the Georgia Aquarium, and one of Correll's closest friends in Atlanta's philanthropic community. "We can't afford to lose a Pete Correll, because when he commits to something he jumps in with both feet," Marcus says. "Pete gets things done."
Like that time a couple of years ago, when Correll learned that Ebenezer Baptist Church, where Dr. Martin Luther King, Jr. preached, stopped its renovation project for lack of funds. Correll called the church and said to start the construction, he'd get the money.
"We got 10 companies to give $100,000 each, and we did it in one afternoon," Correll says. There are some advantages of being CEO of a big corporation. You can do good very quickly. You can do bad very quickly, too, but you can also do good."
Doing good has been on Correll's mind a lot as he makes the transition into the next phase of his career and life. In fact, the Salvation Army's Georgia Division presented Correll with its Doing the Most Good Award late last month in recognition of Georgia-Pacific's support for the organization during the time he was at the helm. He wonders about the next generation of corporate leaders and what they can give back to the community.
Marcus says not to worry. "Every generation has its great benefactors. Before us there was Bob Woodruff; and I think there are people out there now who, after making their money, will want to improve the civilization they live in."
It's part of the Atlanta corporate culture, Sam Williams says. "Atlanta always has had an innate ability to engage business leadership to rise to the challenge of the day. Leaders navigate the obstacles of their times in different ways, and I think we'll continue to see business leaders actively engaged in the community."
But the days of a Pete Correll serving on every important board in the city have virtually disappeared. Time seems to have shrunk as job pressure and scrutiny has increased in the wake of scandals, a la Enron and WorldCom.
"In today's world, it's unrealistic to expect CEOs to give back as much time as I was able to give," Correll says. "In fairness to today's CEOs, the demands of the job have changed. They don't have the time that I had to be involved in the community.
"Today, the average CEO tenure in the U.S. is down to less than three years. I had the job for 13 years. And by the end of 13 years, I was pretty good at it."