Connecting The Dots
Civil Engineering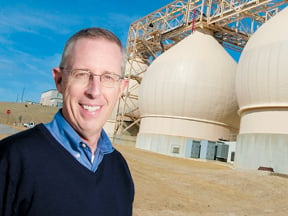 Every day of your life is affected by the intelligent design of a civil engineer. Turn on the tap. Flush the toilet. Take the sidewalk or the highway to work. Ride the elevator to your office on the 10th floor of a high rise that seems to have evolved in place between other naturally selected buildings springing spontaneously from fertile city streets.
Civil engineers design and guide our physical environment, connecting the dots of society with highways, railways, canals and airports, constructing bridges, dams, buildings and wastewater treatment systems. They plan communities, holistically integrating diverse specialties and technologies to build and maintain the underpinning of civilization, with minimal fanfare."
We prefer to conceal our work so nobody has to see it or worry about it," says Steve McCutcheon, former president of the Georgia Section of the American Society of Civil Engineers (ASCE) and director of ASCE's 14th district, comprising Alabama, Georgia, Louisiana and Mississippi."
Making it so you can turn on a tap and have pure water come out takes a lot of time, effort and work," says McCutcheon, a senior environmental engineer for the U.S. Environmental Protection Agency and a University of Georgia instructor. "If we had our druthers we'd stay in the background and people would never know about civil engineers."
There isn't an exact head count to tell us how many of Georgia's 17,000 licensed engineers are civil engineers, but the ASCE's Georgia Section claims 2,600 members. There are roughly 230,000 civil engineers nationwide, many of them working on the unseen infrastructure that supports our way of life."
There are enormous projects taking place all around us but we don't get to see them," says Joe Hughes, chairman of Georgia Tech's School of Civil and Environmental Engineering, who does see vast possibilities ahead for civil engineers."
This state is undergoing tremendous growth. There will continue to be significant opportunities in water resources and transportation systems, including mass transit," Hughes says. "And I think as we look at our coast for economic development and growth, we're thinking about hurricanes and the devastating effects they could have on Georgia."
With an eye toward the Gulf Coast, Georgia might consider shoring up its own coastline, where construction is buzzing. "Even when the economy was down, our company didn't see a slowdown in business," says Cristy Llewellyn Lawrence, a consulting engineer and project manager with Thomas & Hutton Engineering Co. in Savannah. "We can't build houses fast enough."
Lawrence, the 2006 Young Engineer of the Year (named by the Georgia Society of Professional Engineers) is a rarity in that only 10 percent of the nation's civil engineers are women. Ten years ago she was the firm's first female engineer. "I felt outnumbered, but we have something like eight women in the firm now, many of them younger," says Lawrence, who is interested in cultivating the next generation of civil engineers and has developed an internship program at the firm for local students.
The next decade holds a lot of potential for civil engineers, who can earn more than $40,000 right out of college and average $70,000 a year after five years; $90,000 after 10. Population growth and need for better infrastructure, safer buildings, a durable water supply and pollution control mechanisms will drive growth.
There's plenty to keep a civil engineer busy in Georgia right now. Highways, airports, seaports; all those subdivisions and massive underground sewer tunnels. But it doesn't come close to what's happening on the post-Katrina Gulf Coast. "
It's the largest construction project we've ever seen in the states," Hughes says. "Trying to protect that region from a category 5 hurricane will mean a scale of construction most of us can't even fathom. And yet, I can point to projects happening right now in China that are even bigger."
Hughes should know. He's spent plenty of time in China forging a collaborative relationship between Georgia Tech and Beijing University, focusing on education, research, the interplay between industrialization and the environment. These days, China is a living laboratory for any student of civil engineering.
About 25 percent of the world's construction cranes are in China, where civil engineers are reshaping the country of 1.3 billion: railroad infrastructure for speedy magnetic levitation trains; thousands of miles of highways; modern wonders like the $30 billion Three Gorges Dam and the $60 billion web of channels and pump stations to divert water across the nation. It's part of the largest building boom in the planet's history, and it doesn't include the multibillion-dollar dress-up of Beijing for the 2008 Olympics."
The Chinese people joke that their national bird is the construction crane," says Hughes, who thinks of the joint engineering college venture as a way to prepare for life in a global community. "Georgia, for its economic growth, needs to be part of the overall globalization and this relationship [with Beijing University] will open up opportunities for our students, who will have an increased ability to function in their professions in Asia, which is a tremendous growth market."
War Zones And Hurricanes
John Smeaton, an 18th century Englishman, was first to call himself a "civil engineer." Smeaton, who built bridges, canals and harbors, among other things, used the phrase to distinguish himself from engineers who worked on military operations.
Military operations made Jim Meredith the engineer he is today. The Atlanta consultant and current president of the Georgia Section of the ASCE served 24 years in the Army Corps of Engineers. "One of my jobs was to stand out there with bulldozers to block the hordes of Soviets we just knew were gonna come over the top of us," he quips.
In addition to Cold War era Europe, Meredith served in hot zones, such as Honduras, where he dropped bulldozers by parachute to build C-130 airfields for the Panama invasion, and the Middle East, where he developed roads, wells and helipads for the Persian Gulf War. He also worked emergency disaster operations in St. Croix following Hurricane Hugo. All of this has served him well in post-hurricane New Orleans."
I saw what happened in St. Croix, saw battle-torn Panama, but I've never seen such widespread devastation," says Meredith, who spent more than three months doing damage assessment, developing scopes of work and developing cost estimates at New Orleans International Airport.
Meredith, who earned a Masters of Science and Ph.D. in civil engineering at Georgia Tech after retiring from the military, followed some of his Georgia ASCE colleagues to the Gulf Coast and wound up staying longer than any of them. He worked 12 hours a day, seven days a week much of the time, in a warehouse crammed with 120 engineers sitting at folding tables.
As District 14 director of ASCE, Steve McCutcheon toured the Gulf Coast to rescue the livelihoods of civil engineers living near the shore. "By mid-September five or six small engineering firms were about to hand out pink slips," McCutcheon recalls. "That would have been bad for the area's recovery because those engineers have the best knowledge of the local infrastructure. We had an outpouring of offers from all over the country of people and firms wanting to hire displaced engineers."
The coastal engineering firms suffered because their pre-hurricane contracts with local communities were cancelled immediately after the disaster, and governments applied to FEMA to rebuild their infrastructure. At the ASCE's urging Mississippi Gov. Haley Barbour made a plea to President Bush, who asked FEMA to re-let some of the reconstruction contracts to include small and minority-owned businesses. "
But what really saved the companies down there is, we put the word out among all of our ASCE members in Jackson, Mobile, Baton Rouge and surrounding areas, told them about the firms on the coast that were hurting," McCutcheon says. "Competing companies came together and shared the workload, and we were able to get by without a single engineer being laid off."
The Envelope, Please
National Engineers Week is celebrated during the week of George Washington's birthday – before he was a general or president, Washington was a military engineer and surveyor. So every February, engineering societies, corporations, government agencies and universities nationwide hold banquets and honor the best individuals, firms and projects of the previous year. It's academy awards season for engineers.
The Atlanta-based firm Jordan, Jones & Goulding is like a Spielberg or Scorsese because it always has a number of projects up for award consideration. With 500-plus employees across the Southeast, JJ&G is an example of one company integrating multiple disciplines under one civil engineering project umbrella."
You're looking at $530 million right there," says John Watkins, JJ&G senior vice president in charge of project management, who points to a picture of Gwinnett County's F. Wayne Hill Water Resources Center hanging on his office wall. It's the largest project the firm has undertaken, slated for completion this summer.
"First you have your surveyors, and not just a ground survey, but an archaeological survey to make sure there are no Indian mounds, and an extensive environmental survey," Watkins says. "You look at soil conditions, you bring in the geologists, the biologists and so on. Then the structural, mechanical and electrical engineers, the architects, safety engineers, corrosion engineers, chemical engineers."
Watkins, who spent 10 years on the project, says about 200 people have had their hands on the water treatment facility, which was designed in a trailer on the project site.
Watkins' co-worker, Refik Elibay, has spent much of his 35-year-career underground. As JJ&G's director of tunneling, he manages the projects that are helping Atlanta solve its sewer problems. He got the tunnel bug by accident. "
I went to the work placement office after graduation and picked up one of the cards posted on the bulletin board," says Elibay, who earned his civil engineering degree at City College of New York. "I went for an interview the next day, got hired and showed up for work the following Monday at a tunnel job site. An elderly gentleman said, 'You must be the new inspector on the north heading,' and he gave me a hard hat, boots. "
They were drilling an 18-foot-wide tunnel. I had ear plugs and my bones rattled from all the vibration."
A tunnel project usually takes about five years, from concept to completion, and no two are exactly alike. For one thing, the ground in Cobb County is different from the ground in Buckhead. The $113.5 million Chattahoochee Tunnel, 18 feet in diameter and stretching 9.5 miles 200 feet below the ground, was the first major project of its kind built in a 200-million-year-old geologic fault zone called the Brevard. After extensive geotechnic investigation, work proceeded and the project was finished on time and under budget. Last year it was named the Civil Engineering Project of the Year by the Georgia Section of the ASCE.
"On a job like that the daily costs can range from $100,000 to $150,000," Elibay says. "If a project is delayed 10 days you're into the millions. It adds up in a hurry. Unlike other forms of construction where most of the money goes into building the structure, most of the money in tunneling is spent on creating the space, and that's right where the tunnel boring machine is."
Elibay's team, led by senior tunnel engineer Mike Robison, recently completed the $132 million Nancy Creek Tunnel, an 8.5-mile, 18-foot wide bore 150 feet below busy city streets. JJ&G is working on the $210 million, 27-foot-wide, 8.5-mile West Area Combined Sewer Overflow Tunnel. Both are part of Atlanta's mega-sewer project.
These tunnels serve two purposes, Elibay explains. "Conveyance and equalization. The tunnel conveys the water to a treatment plant, and also stores water at peak times to prevent overflow, then pumps it to the plant once the storm is over."
Increasingly, as the open spaces and water sources diminish in the wake of a rising population and increasing development, civil engineers are influenced by the environmental regulations and ecological best practices that are seen as vital for sustainability.
In Clayton County, south of Atlanta, the water authority wanted to sustain its limited supply of raw water. It hired the Atlanta office of CH2M Hill to construct wetlands for wastewater treatment. Special ponds were created on terraces ("think of rice paddies," says Jay Kirk, CH2M Hill program manager) to provide additional wastewater treatment. Natural biological and biogeochemical mechanisms help provide a final cleansing before the water is discharged into Shoal Creek, the county's primary drinking water source. "
Basically, we're trying to mimic the processes of the natural environment," Kirk says. The firm is working on similar constructed wetlands projects in the region.It's the kind of project that makes an engineer like Steve McCutcheon take notice. An internationally known expert in ecological and environmental engineering, McCutcheon is president of the American Ecological Engineering Society.
Ecological engineering involves the design, construction and maintenance of sustainable ecosystems for the mutual benefit of human society and the natural environment. It isn't part of the traditional engineer's curriculum, and that's something McCutcheon would like to change."
I guess I've learned more biochemistry than any civil engineer has a right to," says McCutcheon, a leader in the development and practice of phytoremediation (the use of plants to contain, remove or degrade contaminants), who believes nature, with a little coaxing and time, can be a decent civil engineer."
It isn't far-fetched to think that in the future we might grow structures to serve in place of buildings," says McCutcheon, who is working to make "ecological engineer" a licensed discipline. "For the first time we'll have engineers who focus equally on the needs of mankind and the needs of the ecosystem. That's a good thing because the best way to ensure the survival of the human race is to ensure the survival of the ecosystem."