The Gospel According To George Israel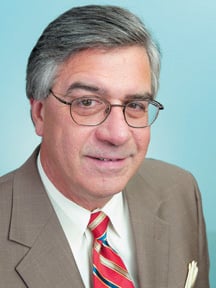 In the beginning there was business. For 25 years, George Israel has spread the Word from corporate boardroom to statehouse, to allies in the governor's mansion, to small town mayors and school board members, to senators and congressmen and anyone else who'll listen: Georgia must nurture and grow its robust business environment.
To do otherwise, he says, at a time increasingly defined by global markets, cutthroat competition and rapid technological change, is to invite disaster. "I believe in what I'm doing," Israel says. "My conviction is the biggest thing I bring to the table."
For the last three years, Israel's bully pulpit has been the Georgia Chamber of Commerce where he serves as president and CEO. Those familiar with the workings of the chamber say Israel has taken a sinecure – a job seemingly designed for golfing, glad-handing and preaching to the corporate choir at ceremonial breakfasts – and turned it into the point of the spear of the business community's aggressive agenda. For these reasons, Israel is Georgia Trend's 2006 Georgian Of The Year.
Under Israel and other activist chamber leaders, like Southern Company CEO David Ratcliffe and BellSouth's Phil Jacobs, the chamber has moved aggressively on hot button issues like tort reform, corporate tax abatement, unified environmental statutes, workman's compensation and unemployment. Israel has massaged Sonny Perdue and the legislature masterfully, working both sides of the aisle equally. "We try to keep a very close relationship with each member of the house and senate, Israel says. "We try to understand the forces that are driving them to sponsor or entertain legislation."
In fact, the chamber's government affairs council includes 200 lobbyists drawn from member companies, enough viscosity to keep the Roman senate happy. "If you don't communicate," Israel adds, "you have no power."
The chamber flexed that power with the passage of 17 of 18 bills it supported or endorsed in 2005. The big win was Georgia Senate Bill 3, signed into law by Perdue last February, that eliminated so-called "joint and several liability" in cases involving multiple defendants, strengthened expert witness provisions, limited liability for emergency room personnel, implemented class action, venue and other reforms, particularly targeting the flood of medical malpractice lawsuits inundating Georgia and the rest of the country.
"It was a huge win for us," says Israel, who associates say criss-crossed the state giving innumerable stem-winding speeches advancing the chamber's positions. Now his sights are set on education, tourism, reducing health care costs and continuing to move – there has been good progress in the legislature – on corporate tax reform.
Those who know him say Israel, whose resume includes two terms as Macon's mayor and a string of private sector executive positions, is not driven by ego or ambition. Outside of his chamber duties he stays so far out of the limelight that associates who have known him for decades say they have never seen him swing a golf club or sit down to a dinner that wasn't job-related.
He's a believer, a crusader in pinstripes whose core beliefs are more subtle than the seeming elevation of unbridled capitalism suggested by his blunt, in-your-face approach to unions, environmentalists and trial lawyers. "George has a great vision," says governmental affairs consultant and former state Labor Department commissioner Joe Tanner who worked with Israel on then-governor Zell Miller's Governor's Privatization Commission. "He is able to look out into the future and say this is what we really ought to be doing to take Georgia to its next level. Very few people who are visionary are good at getting the vision implemented. He does both very well."
George Israel's vision can be encapsulated in one precept: "Business is the source of job creation in our state. We need to provide opportunities and jobs for our young people, so they can stay at home, so they can stay in the state. We must have economic development all across Georgia."
Woe to those who stand in the way. Israel's tort reform initiative led to an exodus of trial lawyers from chamber membership "You understand," he says, "we're a business organization. We have to be very focused. If we make lawyers mad, that's fine. They probably shouldn't have been members anyway. Of course, we appreciated them sending us money, but they're not businesses. They're professions."
Other "special interests" the chamber finds anathema include the Sierra Club, Riverkeepers ("which are the tree-huggers," Israel explains) unions, anti-growth advocates and assorted "people of the socialist bent."
Out Of The Desert
Like Moses, Israel spent years wandering in the desert of Georgia Democratic politics. He was a Reagan Republican when Newt Gingrich was no better known than Pat Swindall. Like any savvy desert creature, he mastered the art of camouflage and protective coloration. "I've had friends in and around the legislature since 1975," he says. "Even as a Republican, I had a lot of friends on both sides of the aisle. I've tried to maintain that, even when Democrats were in power and control. I attempt to be as nonpartisan as I can and issue-oriented."
George M. Israel III grew up "on a dirt road in Bibb County." His parents, Margaret and George, struggled up, thanks to the flurry of economic development in middle Georgia after World War II. His father, an engineer at Robins Air Force Base – still the largest industrial complex in the state – worked on the C-130 transport and F-15 fighter planes. His mother juggled family – she had four boys to raise – and a teaching career, helping returning veterans earn GED degrees.
The family was tight-knit – his father's sister Nancy was like a "second mother" to him – with roots, according to family legend, running all the way back to a Revolutionary War land grant. Israel's "great, great, great grandfather and his brother" walked over the Appalachians from North Carolina to Sumter County in South Georgia. "I was not born on a manor," Israel says. "I guarantee I came from very humble beginnings."
When he met his vivacious wife Pam, he was selling cookware to pay his way through Middle Georgia College. She was working as a dental hygienist; he walked into a framing shop across the hall from Dr. Ralph Pace's office. It turns out that Israel, a man who would rather have a tooth pulled than discuss his personal life, is a talented landscape painter. And a gourmet cook. He has a sense of humor dry as cooking sherry, but Israel cracking a joke is an occurrence as rare as a solar eclipse.
He and Pam married in 1971 and have two children: Katie Beth, 30, and Matthew, 24. The family has lived in the same house for more than 30 years; Pam still works a few days a week in a Macon dental office. Deeply, but quietly religious, George teaches Sunday school at Macon's Church of Christ; Pam handles the children's class on Wednesday evenings.
In 1975, Israel was working as an underwriter for Massachusetts General Insurance Co. when he suddenly announced he was running for city council, a move that even caught his wife by surprise. "I never knew he had any political aspirations," she says. He won, no small feat for a 27-year-old conservative Republican in Jimmy Carter's Georgia. "He literally knocked on every door in our district asking for votes," Pam recalls.
Four years later, Israel, 31, was elected mayor, the first wave of Ronald Reagan's conservative tsunami. He served as chairman of the Reagan reelection committee in Georgia, working with Gingrich, Mack Mattingly and Paul Coverdell to ignite the Republican revolution that has since swept the state. He was reelected four years later, this time on his own groundswell. "Oh, he was so responsible," Pam says. "It's amazing to me, but he just is."
He considered a return to politics – a run at the governor's mansion was not out of the question, but backed off and returned to the private sector. He served as CEO of Fickling and Walker, a real estate development company, and later the privately held, managed care organization, Secure Health Plans of Georgia.
Key to Israel's success – the chamber has grown to more than 4,000 members during his tenure – has been his understanding that the seemingly conflicting thrusts of private enterprise and the public sector can be harnessed, in his view, for the common good. "That comes from his background as a businessman because he understands the need for good representation on behalf of the business community," says Southern Company CEO David Ratcliffe, who serves as the chamber's chairman.
"At the same time, it comes from his public service experience. He understands that when you get the business and public sector together in a synergistic and effective way, we can do good things."
In Macon, Mayor Israel was known for integrity, attention to detail, fiscal conservatism and the willingness to compromise and cross party lines to achieve his goals, characteristics that he's carried over to the chamber. "I learned a long time ago that you don't ever burn bridges because you might have to cross that bridge again," he says. "You may have a political opponent on an issue today who may need to be your partner tomorrow."
No proposed piece of legislation (and certainly no legislator under the Gold Dome) escapes the scrutiny of Israel's governmental affairs council led by chamber volunteer and former legislator Arthur "Skin" Edge IV, now a lobbyist. The chamber carefully tracks how each legislator votes; broadcast faxes and emails alert business leaders across the state to proposed new bills. "There are so many special interest groups down there lobbying for this cause or another," Israel says.
"It's critical that we be there to evaluate and at least to attach an impact note to the general assembly and every legislator. We bring to their attention, 'Well this may sound good on one hand, but your really need to think long and hard about it if you want economic development, a business-friendly environment, or this or that.'"
Work To Be Done
Under George Israel, the chamber has labored mightily to unshackle the engines of commerce and industry, willing in some instances to downplay its byproducts like pollution, destruction of greenspace, traffic, in pursuit of a greater good: jobs, economic prosperity, opportunity. The years ahead will be telling ones for Georgia. There's an elephant in the room that cannot be ignored. An elephant that commissions and committees and happy talk initiatives cannot budge.
High-paying jobs go to competent and skilled workers. Corporations can pick and choose where to invest capital. They are right to demand workforce readiness. Certainly, they will not continue to pour money into a state that cannot educate and train 21st century workers.
Much progress has been made in the last decade, much treasure spent, but it's obvious more insight, risk-taking and creativity – the lifeblood of private enterprise – is required to support our educational system. "We have an ongoing opportunity to educate the general public and business community on the reality of the need for the improvement in public education," David Ratcliffe says.
Corporations, for instance, can do more with volunteerism and adopt-a-school programs. They can step up and fund preschool and daycare centers for workers, initiatives that pay back their investments many times over.
The chamber created the Georgia Partnership For Excellence In Education to "find better ways of teaching, find best practices, serve as a forum for ideas to be exchanged." Under hard-charging IBM executive Ann Cramer, it has undertaken an industry-by-industry survey to determine critical competencies. It organized a two-week bus tour, traveling the state like a medicine show singling out exceptional schools and progress.
Yet, George Israel, the avatar of private enterprise, has yet to deliver on this education promise. The terms of the bargain the chamber has struck for business extend both ways. Without a dramatic improvement in our schools, prosperity cannot trickle down, and the gospel of George Israel may become an empty slogan.
"Education is always the toughest area to get the groundswell of support," he admits. "It's also very difficult to get change implemented. You have forces at work within the profession and the discipline that make it very difficult, people steeped in the old adage, 'We've always done it this way and we're not gonna change.'"
There's George Israel's next challenge.