A Farm Family Portrait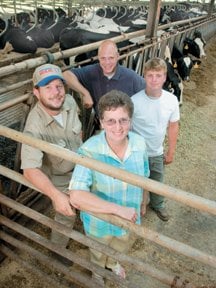 At first glance, a calendar on the whitewashed walls of Everett Williams' Morgan County dairy farm ought to read 1950.
Hundreds of lowing Holsteins move through the milking parlor three times daily, producing 39,000 pounds of raw milk. In the confinement barn, as many as six calves are born each day, wobbling unsteadily to their feet. Farmhands sluice torrents of manure into muddy lagoons that capture runoff for processing. Silage ferments under plastic tarps, next year's feedstock.
Look a little closer. DRMS (Dairy Records Management System) software hums on a personal computer. Detailed printouts track location, reproduction data, lactation history, output, vaccinations, etc., on each of Williams' 470 milking cows. There are no breeder bulls on the farm; every cow is artificially inseminated. Milking machines now have electronic sensors that cut off vacuum when a cow is finished milking; a video camera supervises the operation; $28 an hour nutritional consultants have displaced the Farmer's Almanac. Feed — some 52,500 pounds per day — is nutritionally balanced, according to Williams, 51, "down to four decimal places."
This is a snapshot of a successful Georgia dairy farm. Forward-looking, technologically sophisticated, micro-managed … consistently profitable, but subject, as all farms are, to the vagaries of the weather and the uncertainties of pricing. Such success is increasingly rare at a time when soaring land values, production costs — fuel alone has jumped almost 100 percent in the last two years — and the ever-present specter of environmental regulation are putting the economies of scale needed for success beyond the reach of the average family farmer.
"To be successful at a dairy, you need to be a business instead of just an occupation," says Everett Williams. "An occupation is just getting up and doing it, not necessarily managing it."
Today, there are approximately 340 dairy farms in Georgia, down from more than 1,000 in the 1980s. In Morgan County, 30-odd are still in business; there were 120 in the 1970s, many of them former cotton farms that had hastily retooled in the '50s and '60s to supply Atlanta's growing thirst for dairy products.
The county, with its lovely antebellum county seat, Madison, is a magnet for high-end residential and commercial development, one of the catalysts driving the changes sweeping the dairy industry. The Williams farm, a third-generation family operation, is a precise microcosm of that transformation.
Everett and Carol Williams, a husband and wife team, work hands-on, full time at the dairy. Their eldest son, Justin, 25, a UGA grad with a finance degree, recently quit his loan officer job in an Atlanta suburb to return to the farm. A second son, Daniel, 22, now a senior at UGA's College of Agriculture and Environmental Science, plans to come back to the land.
The Williams dairy employs 12 full-time dairymen. These workers illustrate another of the sweeping changes impacting Georgia farmers: the majority are Hispanic; one is an H2A worker from South Africa, and the herdsman is from Zimbabwe. (The H2A program allows farmers who anticipate a shortage of domestic workers to employ nonimmigrant foreign workers on a temporary or seasonal basis.) Williams provides housing and utilities, a nod to a tight labor market and the job's demanding hours. The shotgun shacks of the past are gone, replaced by doublewide trailers and neat wood frame houses.
Revenues at the dairy topped $2.2 million in 2004 (compared with $1.8 million in 2003) thanks to a run of strong wholesale prices. Feed costs ($40,000 – 45,000 monthly) labor, maintenance and other working expenses eat up some 85 percent of gross, not counting mortgage expenses. In 2003, Williams dramatically expanded his operations, purchasing an additional 418 acres, land needed to make room for Justin, further ramp up production and take advantage of a good opportunity. The new land cost approximately $4,000 per acre; today the going rate for pastureland among the county's rolling hills is $10,000 per acre.
"It will not pay for itself in the dairy," he says, "but it's an excellent investment for the future. It may become something we have to sell."
The days of farm families delivering Daisy's milk and cream to the local grocery are long gone. Carol Williams buys her dairy products at the supermarket like everyone else. (The country doctor on his rounds has also disappeared. The family's health care coverage is provided by a local electric co-op whose board Everett sits on.)
The dairy's output — 6,000 gallons every 30 hours — is pumped into tanker trucks operated by Southeast Milk Inc. (SMI), a co-op, and hauled to a Publix processing plant in Dacula. Based in Belleview, Fla., SMI represents most of Florida's dairies, approximately half of Georgia's, along with operations in Tennessee and Alabama.
"If you're a producer in Georgia, you have to sell your milk through a co-op," says Everett Williams. "Publix will not buy from you. On the other hand, SMI keeps a close watch on costs. Three times a month, I get whatever they sell my milk for, less expenses."
Deep Roots
The Williams family's Morgan County roots run deep as a juniper tree. Everett's granddaddy, Roy Williams, bought the original tract in 1938 — land was $10 an acre at the time. His father, John E. Williams, grew cotton on the 120-acre farm until 1967, when the best yield of his lifetime left him barely able to meet expenses. At the time, dozens of farms set among the county's rolling hills and pastures were stretching to supply Atlanta's ever-growing population with dairy products. With nothing to lose and a regular paycheck from the processors to gain, he jumped.
Owning a milk cow does not a dairyman make. Like all farming, dairying is cyclical, but the cycles are shorter, interdependent and overlaid on each other like steel bands that can crush the hardest-working farmer: Cows must be milked, fed and bred. Feed crops must be grown and fermented in silage; manure processed, milk shipped out to the co-op.
"Dairying is less risky than other kinds of farming in that you have a stable income," Carol Williams says, "but it's more risky in that you have a lot more to manage. Two full operations — crop production and animal husbandry — have to mesh together. If you don't get the animals bred, you're out of business. If you don't get the crops planted and harvested in a timely fashion, you will have a very tough time. The margins are very tight."
The workload makes cotton farmers seem like men of leisure. Everett's father, John Williams, a stubborn, independent man, got up every day at 4:30 a.m. to milk, came home, grabbed breakfast and soldiered on until dark, fell into bed and started all over again the next morning. Over the years, the workload was so killing, Everett says, the black farmhands who'd lived on the land eventually "played out."
Everett Williams was born into the life in 1953 and it's all he's ever known. He fulfilled his father's fierce desire for a college education, a generation later — earning a Bachelor of Science degree in 1974. For Williams, life at UGA's agricultural college was not about cramming for tests or hoping the Bulldogs would beat Auburn.
"I went to college to prepare to come back," he says. "UGA is 40 miles away. I would milk six times a week some quarters — Friday afternoon, Saturdays and Sundays mornings and afternoons, Monday morning. Stay up there during the week, come home, milk and then go back to class."
From Athens, he took away Carol — a dedicated, hands-on woman who was studying animal science — and a sense of the possible, a view not always apparent knee-deep in manure. "Daddy excelled at production," Everett says, "but as far as free money to spend, he didn't accumulate much."
He arrived home in the winter of 1974, head swimming with technical know-how and strategic ideas for improvements. Convincing his frugal, stubborn father to think in terms of "economies of scale" and "business models" was no easy task. "Daddy was … hardheaded," Everett says, laughing at his own understatement. A month later, he left for Quitman, where he spent three years working as a herdsman for Jackson-Wortman, a large commercial dairy.
"I got my Ph.D. there," he says. "The operation was extremely bottom line-oriented. They didn't spend a dollar unless they got two dollars in return."
The need to deconstruct a business to its elemental parts, to balance expenses and revenue like feedstock to "four decimal places," to input cows or workers like an auto manufacturer adding robotic welders, is seemingly counterintuitive to farming, an industry very much dependent on the weather and the commodities market; but it has been the key to Williams' success over the last 25 years.
"I'm not selling Coca-Cola," he says. "I'm selling an nameless commodity. Volume is the biggest determinant. To succeed you have to be one of the low-cost producers."
Three months ago, one full-time worker, assisted by a half-timer, handled Williams' milking operations. "It was becoming hard to manage," Everett says, "so we went to two full-timers. But now we have two people doing what 1.5 used to do. We needed to add more cows to cover that expenditure." When eldest son Justin decided to quit his city job to return to the farm, no fatted calves were slaughtered. In fact, his daddy added 100 Holsteins to cover the cost of the homecoming.
Coming Home
Justin Williams' decision to return home guarantees the dairy will continue for at least another generation. (Younger brother Daniel, the family jokester, seems likely to follow suit.) Articulate, with a solid background in finance, he spent a year in Duluth financing farm equipment for ADCO before the tidal pull of home and family drew him inexorably back to Morgan County.
"To say it simply," he says, "something was always missing. I spent a lot of time trying to outrun what I was, who I was, how I grew up ? . Working in an office was a challenge at times, but once I got acclimated, it wasn't very hard. It was very monotonous. I can't pinpoint what was missing, because everything was: the family, the land, the work, actually putting something in the ground and seeing it grow. Harvesting it. Everything rolled into one."
Trading a cube and a white collar to return to the land is a noble notion. The reality, on a humid spring day when the flies are biting and the manure is particularly fragrant, is a lot grittier. Dressed in stained jeans and work boots, Justin grabs a quick sandwich alongside Everett and Daniel at the kitchen table of the four-bedroom farmhouse that once belonged to his great-grandmother.
"I'm overwhelmed at this point," he admits. "I've taken on a lot of responsibilities. It's information overload right now."
One piece of information Justin cannot compute is how his fiance, a woman raised in a leafy Atlanta suburb, will take to country living. It's a subject that inspires some good-natured ribbing — the family is big on teasing — including a reference to Duluth's "Runaway Bride." "She doesn't have a clue," Justin admits laughing. "It's going to be shell-shock." Carol Williams, who grew up in suburban northern Virginia, promises she'll be there to help out.
"Being there" describes the Williams family more accurately than "business model" or "bottom line." It explains why, at a time when Georgia's rural young are leaving the land in droves and the typical farm family has at least one member working outside the farm, this family is drawing closer even as it grows more successful. Justin Williams, if pressed, admits "taking some of the load off my father's shoulders" is just as important to him as improving profitability. It explains why the best aspects of country living — the bonds of family, kinship, community and faith — still resonate powerfully.
Justin, who played football and baseball at Morgan County High School, cannot remember a time when his parents didn't show up for a game, "even if they were in work clothes covered in grease and manure." Everett and Carol are still there for Daniel and the girls, Katie, 16, and Michelle, 15, at county fairs and exhibitions where the kids show prize cattle and horses.
"Very few people we know spend the amount of time with their kids that we do," Carol says. "Granted, we're working, but we're with them and we're all together. When we finish a job, it's something we've done together as a family. Sure, we scream at each other because we're tired and frustrated That's part of it, but let something happen to anyone and watch the others respond."
There are no happy endings except in Hollywood. Today, the dairy is not threatened by pleuropneumonia or anthrax, but the most invasive pest of all — the real estate developer. Steady encroachment has begun around the Williams' property and other surviving Morgan County dairy farms, an infestation of wealthy, weekend horse aficionados from Atlanta who do not want ripe farm smells wafting into their mini-mansions and ranch-ettes.
Eventually it will overwhelm the natives. Everett Williams says it's only a matter of time before the newcomers swamp the county commission — still run by natives — with demands for tighter environmental controls and development easements.
"We're getting more and more affluent neighbors," he says, with unconscious irony, threatened by the very wealth he has worked hard for all his life. "It only takes one of them to make life miserable for us by taking offense to the dairy and filing a lawsuit. The suit may not have merit, but it could tie me up and cost a lot of money."